Beit Dajan… laying over a water an aquarium, yet thirsty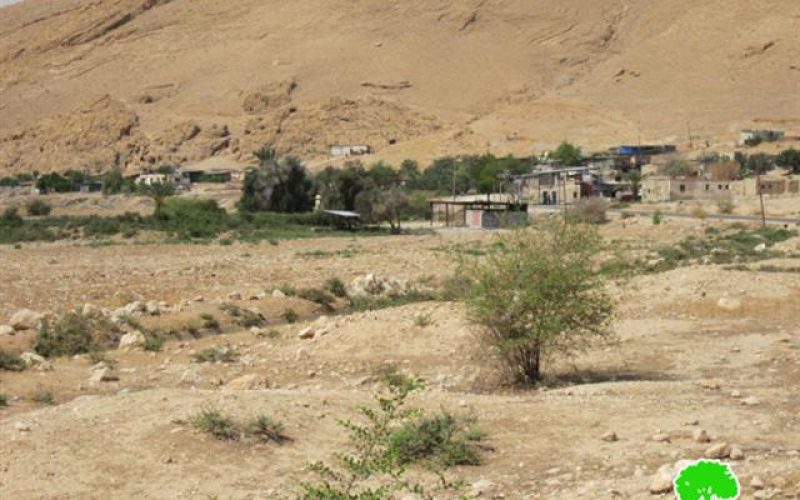 Violation: the Israeli Occupation Authorities prevents Palestinians from using water in the area.
Location: Beit Dajan – Jericho.
Perpetrators: the Israeli water Authority and the Israeli Occupation Army.
Date: April 18, 2012.
Details:
Bit Dajan is loated to the east of Nablus and is part of the middle Jordan Valley area. It is surrounded by Israeli colonies which are pushing towards taking over the whole village. It must be noted that in the 1970's, the Israeli dug al Hamra well, a 600-meter deep well. Knowing that the deepest of the Palestinian wells is no more than 150 meters deep; the water levels were lowered significantly. Only three Palestinian wells are functioning in the area, pumping 60 m3/ hour.
According to Munjed abu jesh, Manager of PARC, only 1 % of the water productivity; he said: 'there are 9 wells in Beit Dajan, all of them were built before the Israeli Occupation but most of them have been dried out and the rest pump salty water because of its scarcity. As for the wells in Al Hamra colony, which is inhabited by twenty families, the extracted water is pumped through a pipe that extends from Bisan to the southern parts of the West Bank, supplying any colony on the path with water. He also said that the lack of an electricity network forces the locals to use diesel-pumps which cost around 180 ILS to pump 70 m3 of water which is considered highly costly. Thus, many farmers were forced to uproot their trees and replace them with seasonal crops; the area planted with citrus was reduced to 500 dunums, originally 2000, as a result'.
Mass land confiscations:
The Israeli Occupation Authorities captured around 10,000 dunums of the 12,000-dunum village in 1967 to establish Al Hamra colony. They also forced the inhabitants to pay monthly rents, claiming that they are using absentees' lands.
There are only 8 houses that are officially registered in the village; however, the owners of these residences are prohibited from doing any amendments or even renovations. The rest of the houses are primitive mud or metal residences and are all threatened with demolition.
Mr. Azem Mohammad, a member of the village Council, pointed that the Israeli measures drastically affected the living conditions in the village. The population of the village was reduced from 6000 in 1966 to 1200. the Israeli measures resulted in the closure of the gas stations and cutting the phone network as well.