The Israeli Occupation Army demolishes Two Sheds in Jiftlik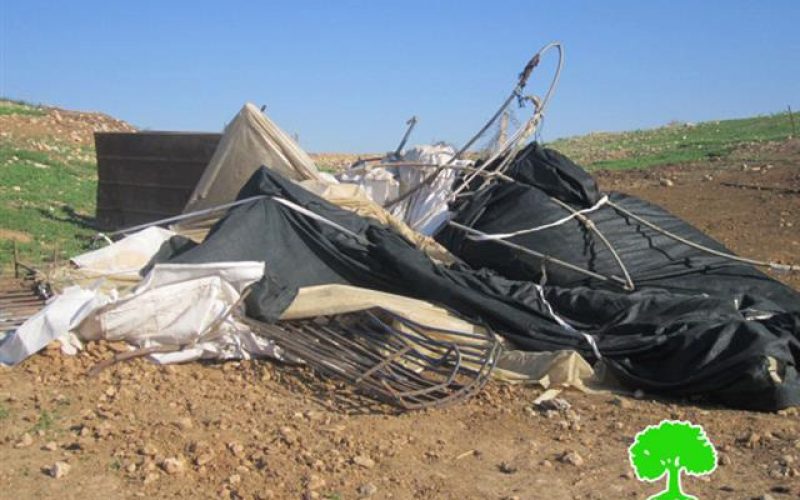 Violation: demolishing two sheds in Jiftlik.
Perpetrators: the Israeli Occupation Army.
Date: March 17, 2012.
Location:Jiftlik, northern Jericho.
Details:
On March 17. 2012. Israe;I troops accompanied by a dozer broke into the village from the northern side before demolition two sheds. See Table 1
Table 1: affected Palestinian owner
| | | | |
| --- | --- | --- | --- |
| shed area | children | family members | victim |
| 60 | 4 | 9 | Ayman Dahdoor |
| 45 | 5 | 7 | Ibrahim Bsharat |
| | 9 | 16 | |
It must be pointed that Jiftlik has been living under the Israeli Military rule since the occupation of the WB in 1967. The Israelis reject any organizational plans for the village or the surrounding communities. Construction is prohibited since it is considered to be a closed military zone.
Sabbah Msa'ed of Jiftlik Village Council said: "in order to face the Israeli brutality and injustice we were left with no choice but to build primitive houses in an attempt to preserve our basic rights. Nevertheless, the situation reflects the hardship we are facing, simple and basic needs, such as water, are becoming hard to get despite laying over a sea of underground water which we are not allowed to use. As for the electricity network, it is basic and does not provide enough power."
More than 28 structures in the village received demolition orders that are pending execution. In addition, land confiscations and blockades all contributed to the overall deterioration in the village economic and social situation.
In the 1980's, the Israeli Occupation has been drying out most of the water springs in and around Jiftlik. Part of these springs turned into semi-springs unable to provide water for agricultural purposes. The Israeli dug underground channels that turned the direction of the water towards Mikrot tank placed at a mountain summit and feeding the Israeli colonies of Miswa and Hamra built over Jiftlik lands.
The scarcity of water in Jiftlik caused by the low rain season and the Israeli Occupation measures urged the locals to buy their water from the nearby Palestinian village of Beit Dajan. The locals pay an average of 25 NIS per liter of water which is a very high cost.
This has drastically affected the agricultural sector in the village causing the area of planted fields to be shrunk into less than 15000 dunums.
The scarcity of water has also affected the biodiversity in the village; in the past, the locals used to plant various types of vegetables, palm, and citrus. However, the high cost of water caused things to change and many of these are hardly seen in the village. Houses and fields in the village were turned into Israeli Army training grounds and shooting ranges. The Israeli measures do not seem to be targeting only water, they seem to be targeting the residents as well in an overall Israeli scheme that tends to clear the lands from its Palestinian residents.