The Israeli Civil Adminstration targets a Palestinian house in Nahhalin village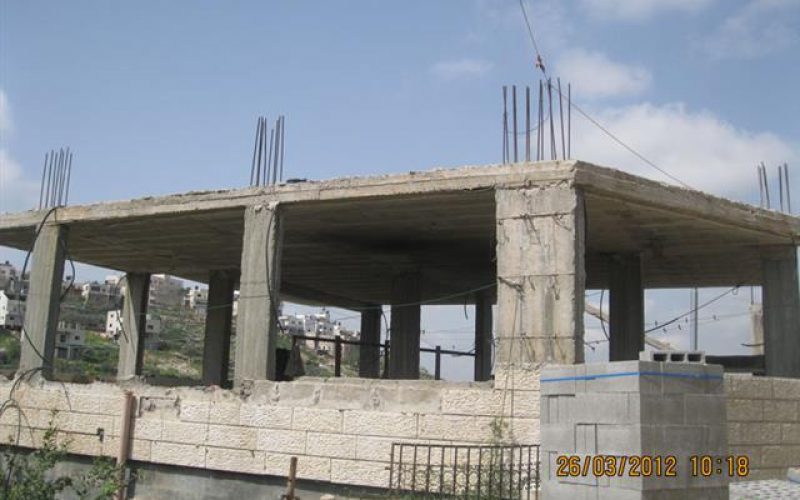 Violation: issuing a demolition order for a 120-m2 residence inhabited by a 7-member family.
Location: Nahhalin – Bethlehem.
Date: March 22, 2012.
Perpetrators: the Organization and Construction Committee – Israeli Occupation Civil Administration.
Victim: Husam Shakarna.
Details:
On March 22, 2012, the Israeli Occupation Civil Administration handed Husam Shakarna a demolition order for his 120-m2 residence. The family has been building the house for 7 years pumping in it their life savings and effort. The construction of the residence cost an estimate of 300,000 ILS and it is almost ready to use.
The Israelis issued the order on the pretext of constructing in area classified 'C' according to Oslo Agreement before acquiring a construction permit from the Israeli Authorities. The house is the property of Husam Shakarna, a 27-year-old worker who is the sole supporter of his 7-member family, 5 of them are children.
Picture 1-2: threatened residence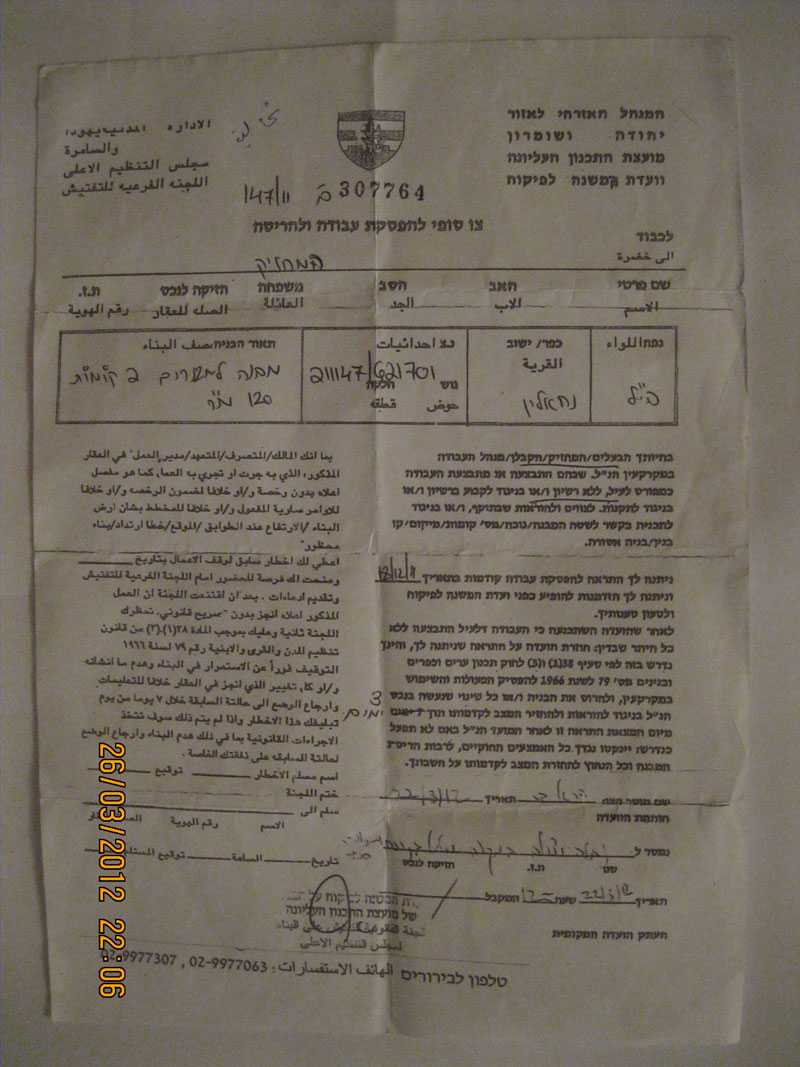 Previous aggressions:
The village received its share of the Israeli oppression throughout the years. It lost thousands of dunums to various Israeli colonization activities including Israeli colonies, by-pass roads, and the Israeli separation plans. The Israelis tend to fully control areas west Bethlehem in where Ezyon colonial compound is located. In 2005, Israel made public their intentions to keep annex the large colonial compounds in the West Bank; the likes of Ezyon, Ariel, Maale Adummim among others will be within the 'Israeli State' borders for good. In addition, Israeli colonists of Bitar Illit pump the waste water into the main water spring in Nahhalin which feeds the wholre village, rendering it unusable.
Nahhalin:
The village is located 9 km to the south west of Bethlehem and 3.5 km to the east of the armistice line of 1949. It is edged by Bitar Illit and Hadar Bitar colonies (north), al Khader (east), Wadi Fukin and the armistice line (west), and number of Israeli colonies (Rush Tzorim, Ealazr, Allon Shevut, and Ezyon) (south). The village's total area is 17250 dunums including 496 dunums of built-up area, inhabited by 7460 people according to the PBS statistics of 2007. Israel has confiscated 2988 dunums of the village lands for colonial expansion purposes. 5 colonies inhabited by more than 30,000 colonists reside over the village lands. They are all part of Ezyon colonial compound which hold 11 colonies within.
Prepared by