Israeli Settlers Ravage 220 Olive Trees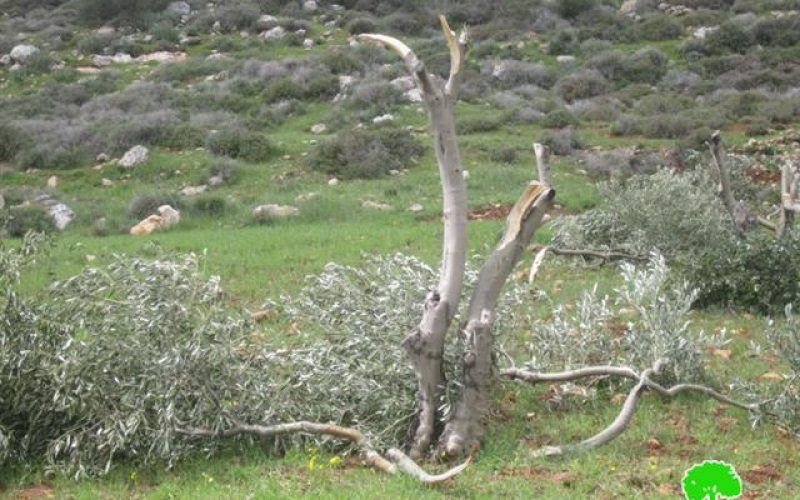 Perpetrators: Adi Ad colonists.
Location: Al Lahf – Duma.
Victims: 5 families of Duma.
Date: March 16, 2012.
Preface:
Olive trees have always been considered as a symbol of goodness and peace. This was obvious in the artworks originated from the region throughout time. In addition, olives are considered one of the most important source of income for Palestinians which is apparent in more than 10 million olive trees covering and area of 900,000 dunums in Palestine. Areas planted with olive form 80% of the areas planted with trees in Palestine; it mainly covers the mountain areas.
At the same time, it seems that the Israelis consider the olive trees as their enemy! The Israelis has become aware of the importance of olive trees to the Palestinians since the first days of the conquest of Palestine. The colonists have been trying to destroy as much trees as possible in addition to attacking the farmers in an attempt to prevent them from working in their fields. Every year, the olive picking seasons forms the peak of the Israeli colonists and Army aggressions against the Palestinians.
Details:
On March 16, 2012, Duma village was awakened on the sound of another catastrophe. A group of Israeli colonists broke into Al Lahf area and brutally ravaged 220 trees, around 15 years of age. The trees were property of Abdul Razzaq Dawabsha (50 trees), Hasan Salawda (72), Mohammad Dawabsha (6) Abdul Hamid Qasrawi (70), Othman Salawda (20). It must be noted that al Lahf area has been a target for numerous attacks by colonists of Adi Ad and Shilo colonies.
Duma:
Duma is located 24 km to the south east of Nablus city. It is edged by Majda Bani Fadel village from the north, the Jordan Valley from the east, Khirbit al Maghir from the south, and Qusra and Jalud from the west. Tens of Duma's houses are built outside the village's organizational plan due to the limited area. Thus, 27 houses had received demolition orders. Duma's total area is around 18000 dunums.
Two Israeli colonies are built on the village lands; these are Shivut Rahel (east) and Ma'ale Afram (north). The village population was 2500 people in 2006. The residents depend largely on agriculture, especially rain-fed agriculture and trees. They also depend on herding in their living.
There are three main springs around the village (Fasayel (west), Ein Duma (south), and Um Umeir); Fasayel, the largest of them, was captured by the Israelis and is now used for supplying the nearby colonies with water.