Iraeli Occupation Forces Level tens of Dunums in the Jordan Valley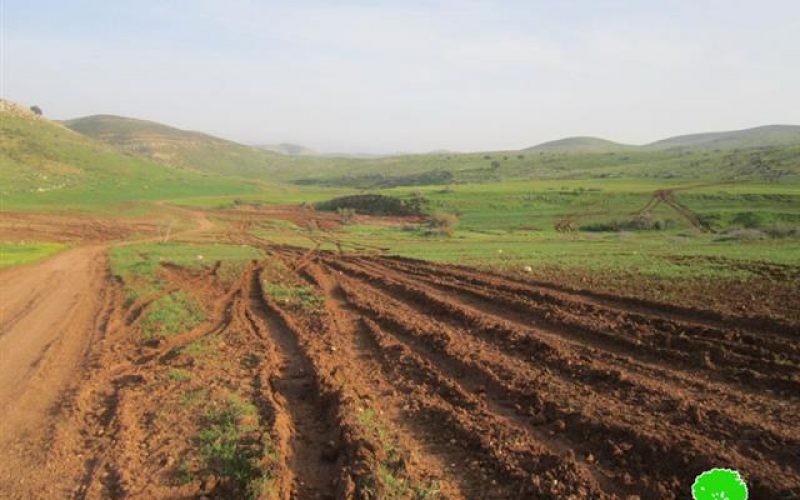 Violation: devastating tens of dunums of agricultural lands.
Perpetrators: the Israeli Occupation Army.
Location: Al Maleh, Al Farisiyya, and al Hadidiyya.
Date: March, 2012.
Preface:
The Jordan Valley area has been known of its fertility and ability to accommodate of various types of crops. However, this has changed in the last 50 years due to the Israeli colonization in the area. More than 26 Israeli colonies inhabited by around 7500 colonists inhabit the area.
On the other hand, 18 Palestinian communities inhabited by around 35,000 Palestinian exist in the target area. In addition, the Israelis consider the Jordan Valley as the eastern border of the Israeli State. The Israelis have declared 70 % of the area as military zones including mind fields, shooting ranges, and training grounds. Palestinian have been disallowed to exploit the lands for years in addition to the ongoing confiscations and demolitions. It is clear that the Israelis take every scrap of a chance to damage the life of Palestinians in the area in an attempt to drive them away. Training and maneuvers take place in various times of the year and in various sites to ruin grain harvest for instance or breeding of cattle.
Details:
Since the beginning of March, 2012, the Israeli Occupation Army declared huge areas in the Jordan Valley as closed military zones; it is suspected that the Israelis are planning a huge skirmish in the area.
Picture 1-4
The Israeli act resulted in the destruction of more than 150 dunums of fields planted with peas as well as various grains. The Israeli act also forced the deportation of some communities due to the use of their dwellings for shooting trainings. No consolidators or press agencies were allowed in the area which indicated the Israeli unwillingness to show the damage they are imposing on the people. Aref Daraghma of Al Maleh Council stated: "crimes are being committed against farmers and environment for years; these nomads dwell in communities unrecognized by the occupier who intend to dismantle them and erase them. The Israelis also tend to to take over natural resources, especially water and destroy the environment. In addition, maneuvers in winter and flashbangs in the summer devastate agriculture in all its forms".