Demolishing a Shack in Beit Dajan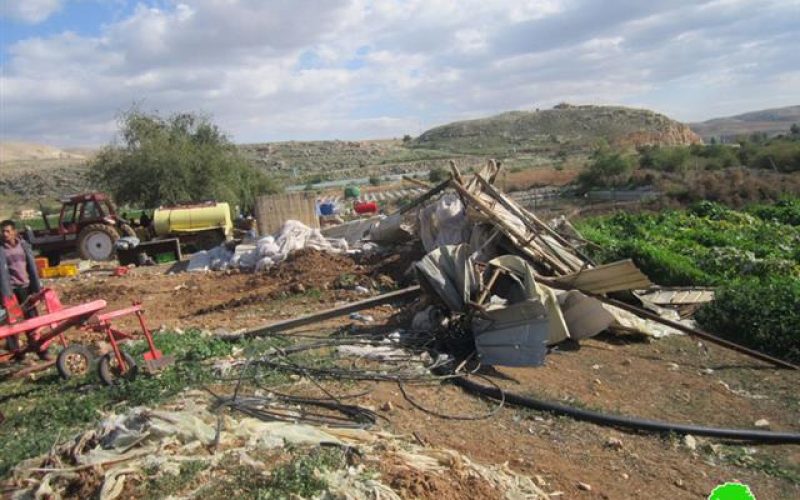 Violation: the Israeli Occupation Army demolished a shack.
Location: Beit Dajan – Nablus.
Victim: Kanaan Kanaan family.
Date: March 26, 2012.
Preface:
A new wave of aggressions has been launched towards the Jordan Valley area, specifically Beit Dajan Village. It must be noted that the Israeli attacks against the helpless Palestinians selves and properties are directed towards forcing them away from their residences to pave the way for further colonial expansions. Kanaan family suffered another demolition campaign in less than 3 months; this time, the Israelis targeted the families' farm and shack which is the only source of income for the 6-member family. Kanaan tried every possible way to protect the land, he even sought the Israeli Judicial system's aid by providing them with proofs of his ownership of the land, unfortunately, his efforts were futile.
Details:
On March 26, 2012, the Israeli Occupation Army targeted 7 Palestinian farms including Kanaan family, a total of 35 people were affected by the attack. The destruction campaign also hit a 24-m2 tool shed and a 12-m2 room. In addition, around 150 meters of irrigation pipes were sabotaged.
Picture 1-2: the damage in Beit Dajan – Nablus
Beit Dajan is located to the east of Al Hamra checkpoint.
It is known for the fertility of its lands and the variety of grown crops; however, the Israelis took over around 10,000 dunums of the village land totaling 12,000 dunums. In addition, the Israelis laid their control on every source of water in the village which drastically affected agriculture. Furthermore, pastures have been turned into closed military zones, inaccessible by the Palestinians. These Israeli measures among others forced many villagers to immigrate in search for better living conditions.
Prepared by