The Confiscation of 76 Dunums of Al Khas Lands in Bethlehem Governorate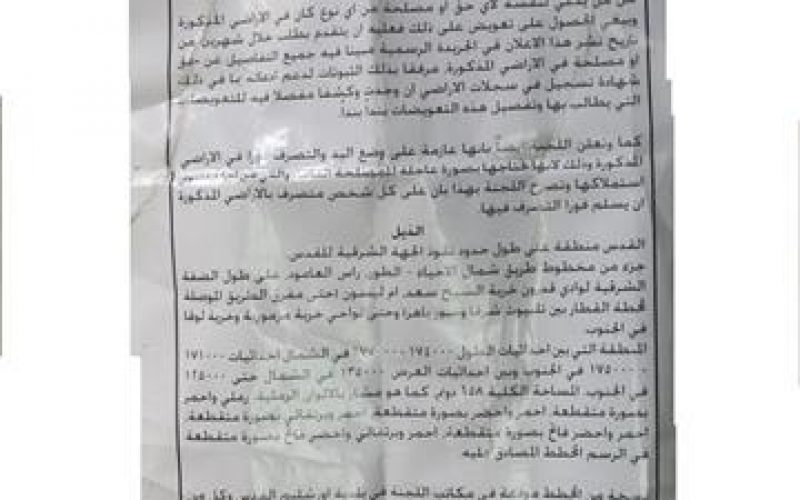 Violation: The confiscation of 76 dunums of the village of Al Khas in the Bethlehem Governorate
Date: 31/1/2012
Preface:
The village of Al Khas is located on a hill about 650 meters above sea level. Its climate is partially dry with a mountainous topography. It is located on the southern parts of Jerusalem at around 5 kilometers north east of the city of Bethlehem. Its area is more than 7,000 dunums. It has a number of historical houses that are preserved in one form or the other. Some of these houses are still inhabited. These houses point to the continued settlement through the history including the Roman and Byzantine eras.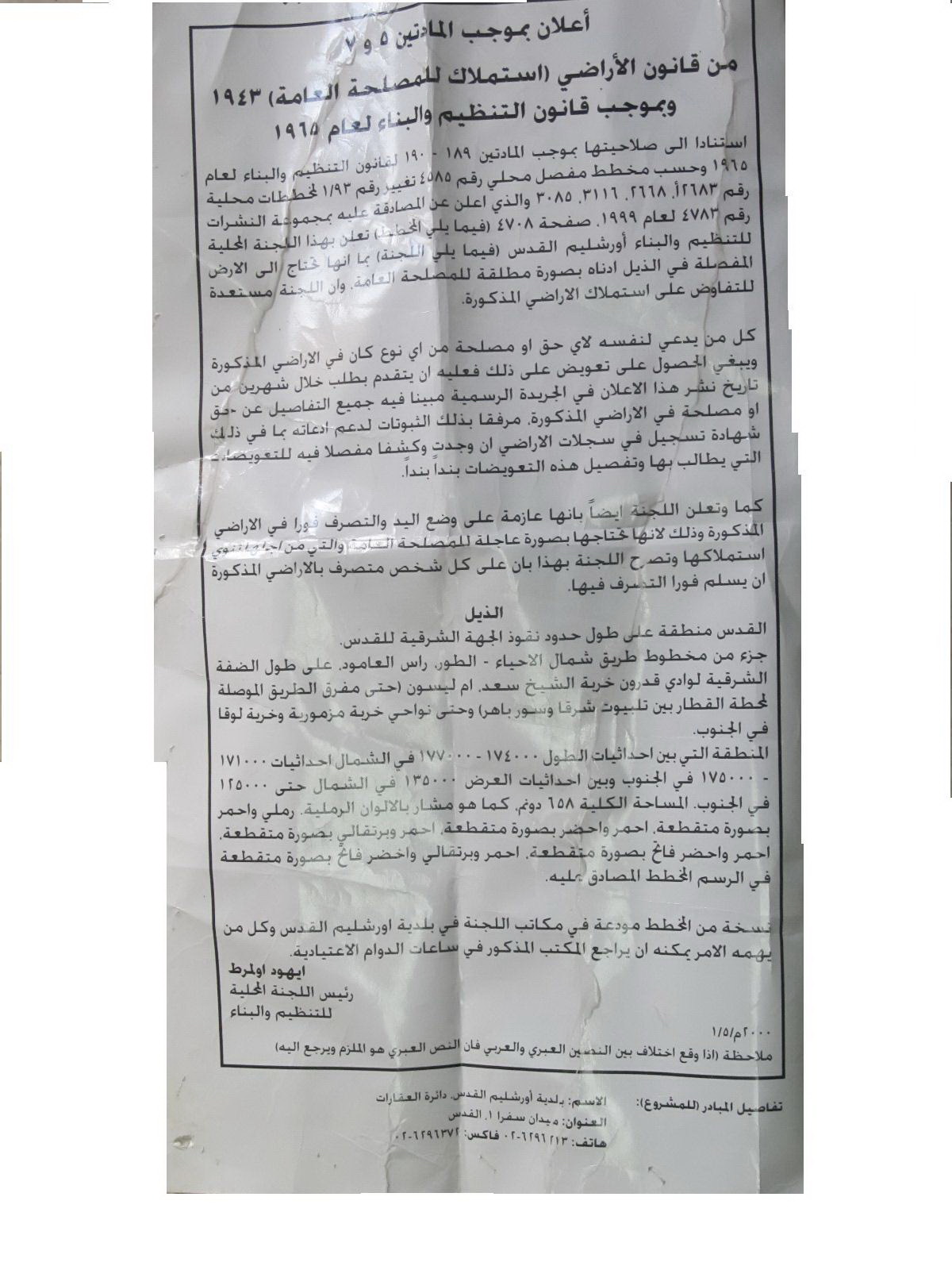 Details:
In January 2012 one of the herders of Al Khas found a piece of paper indicating the confiscation of 76 dunums on Al Khas lands by the Jerusalem Municipality for "the public's benefit". The confiscated lands are owned by a number of Al Khas families including Mr. A'ayesh Abdullah Hamdan, Mr. Ibraheem Musa Hmeidan, Mr. Ali Musa Hmeidan, Mr. Khalil Musa Hmeidan, Mr. Mohammad Salem, Mr. Ilyas Ibraheem, Mr. Ali A'amer Salman and Mr. Lutfi Omar Salman. The residents of the village were furious about the confiscation and hired the lawyer Ghayyath Nasser to challenge the confiscation order.
Previous Violations:
The twin village of Al Khas and Al Nu'man are suffering on continued basis from the siege of the Israeli colonies and the continued violation and harassment carried b y occupation forces on them since the year 1992. In that year, the Jerusalem Municipality issued a decision claiming that the lands of both villages lie within the boundaries of the Municipality. As such, and given the fact that most of the residents hold West Bank IDs, they all live in their houses "illegally" and that they have to leave. In the year 1997, Israeli occupation forces established the colony of Har Homa on the lands of the nearby Jabal Abu Ghneim which is located on the western edge of the village. Future plans for the colony indicates that additional lands of the twin villages will be confiscated to enlarge it.