Covered by darkness… the Israeli Occupation Army demolishes two residences in Jaba'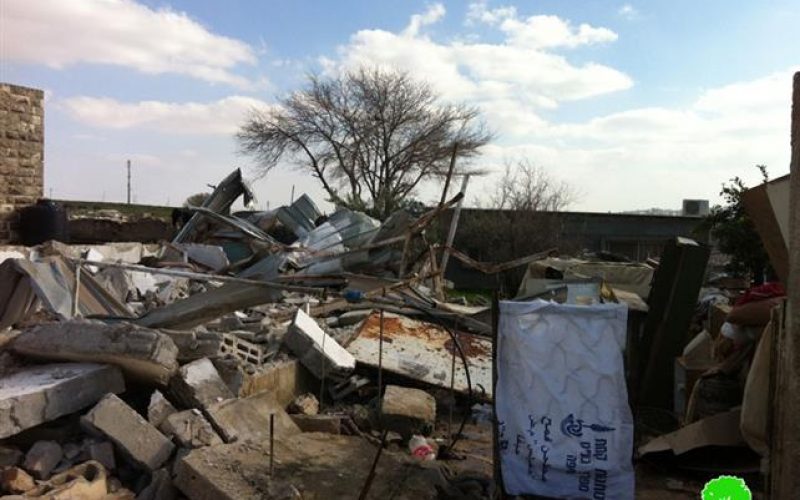 On February 26, 2012, Israeli dozers demolished Mousa and Ahmad Ka'abna (brothers) residences in Jaba'. The Israelis claimed that the reason for demolition is that residency is illegal in the designated area and the houses are unlicensed. Mousa Ka'abna stated: 'at around 4:00 pm, Israeli troops wandered around our residences without talking to us. 7 hours later, we heard the engines of the Israeli vehicles approaching; they came to demolish my brother, Ahmad (married with four children) residence. They brought with them an officer of the Civil Administration, and an official of the nearby Adam colony. They surrounded the house and forbade anyone from approaching. They also threatened my brother of arrest if he resisted. Our suffering is indescribable while living in continuous anxiety; when night falls, the area becomes more like a military zone. In addition, Adam colonists try to get to our houses to attack them. Our kids face constant danger while crossing what we call 'death road' or Hizma road which was the scene for a number of accidents and deaths. The only way to get to Jaba' from where we live is via a channel which is muddy in winter and snakes and reptiles dwell in the summer'.
The loss of the two families is estimated to be around 50,000 ILS. The families are now residing in tents offered by UNRWA. It is worthy to mention that the Israelis demolished two sheds and a residence in the same area. Al Ka'abna have been dwelling the area since the 1970's, long before the establishment of Adam colony which has been devouring Palestinian lands since the placement of its cornerstone. Mousa said: 'it does not matter how much pressure they impose on us; if they demolished our residences or arrested us, we will never leave this land'.