The Israeli Municipality in the Occupied City demolishes a residence and Assaults its Inhabitant … "It was a mistake" they said….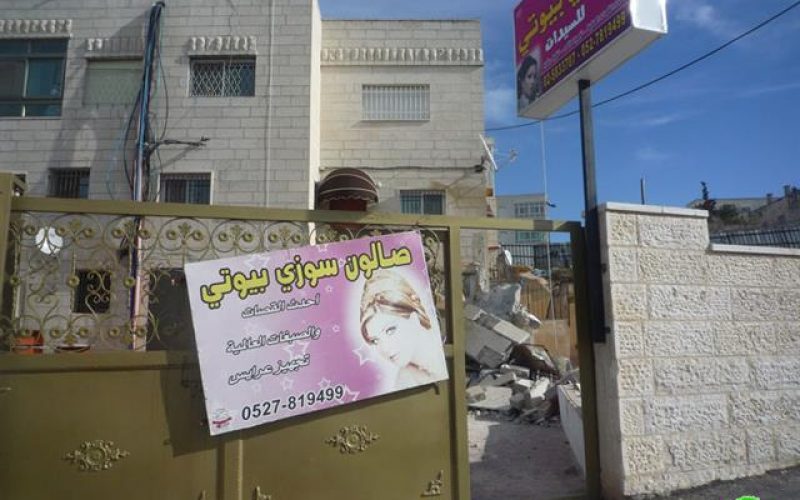 At 6:00 am on January 30, 2012, the Israeli Occupation demolished a caravan in Beit Hanina. The caravan was inhabited by Mohammad Samara's 7-member-family. Its total area is 72 m2.
Picture 1 & 2: ruins of the house
Mohammad stated to an LRC observer: 'at 6:00 am, we were awaken on the sound of K9 units. Around hundred soldiers and dozers surrounded the house. They cut the water and electricity supply before ordering us to leave the house. I showed the officer in charge the Court Order deferring any demolition order then he calmly replied by, there is a new order. He never showed me the order although I asked him to hundred times. The soldiers attack my son Shadi (28), and his cousin (21) because they insisted on seeing the demolition order. They also attacked a woman in the scene when she started screaming at the soldiers and detained her 3 children. When I told my lawyer, he was shocked and told me that it is a breach of a Court order, then he said that he will ask around. He then called me and said that it was a mistake and that another house was supposed to be demolished. However, I know it was not a mistake; they came early in the morning before the working hours start so I would not be able to stop the demolition or object in the official bodies. My losses are around 220,000 ILS.'
The Israeli carelessness and disregard is outrageous; it is also an insult to all the international agreements and conventions. It must be noted is around 1000 away from Rekhes Shufat colony which reflects the purpose of demolition. Hundreds of Palestinian residents close to Israeli colonies were demolished. Rikhis Shu'fat colony over looking the rubble.