Demolition a Palestinian Residence
Expansions in Karmael Colony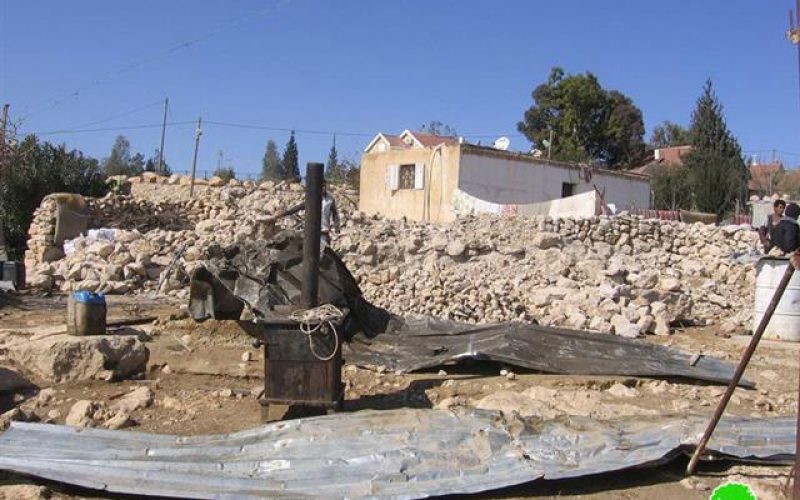 On January 25, 2012, the Israeli occupation Authorities demolished Halima al Hathaleen residence in Um al Kher area in Yatta. The family received no prior warnings. Abdullah al Hathaleen, one of the residents, told an LRC observer: 'Israeli troops accompanied by a dozer broke into the dwelling and commenced the demolition; we had not received any prior warnings or orders'.
Picture 1: ruins of the house
He added: 'the house was inhabited by an 8-member family (including 6 orphan children). After the demolition, we took refuge in a nearby shed to protect us from the blistering cold.'
Picture 2-3: the house – before demolition
It must be noted that the 60-m2 residence was built in the 1970's; it was expanded by amending an extra room in 2008. The residence was built of bricks and mud and had a metal roof. Meanwhile, Israeli dozers started to lay the foundation of a number of extra colonial units to be added to the adjacent Karmael colony.
Picture 4-5: Israeli Occupation dozers leveling Palestinian lands
Eyewitnesses stated that the dozers have started leveling lands adjacent to the southern part of the colony. Abdullah said that such attacks are part of a ware waged against the Palestinians to drive them away and make clear the way for colonial expansions. On the other hand, the Israeli Occupation Authorities issued 7 stop-work orders for structures in the area by the beginning of January, 2012.