Destruction of Al Syat Road – Nablus governorate
Violation: destruction of Al Syat road connecting Beta and Huwwara villages.
Location: south east Huwwara.
Date: December 20, 2011.
Perpetrators: the Israeli Occupation Army.
Victims: villagers of Huwwara and Beta.
Details:
On December 20, 2011, the village of Huwwara was awakened on the roar of Israeli dozers plowing Al Syat road. The 1600-meter-long road has been closed since May 15, 2010. 6 Israeli vehicles, a dozer, and a number of soldiers participated in the destruction.
Picture 1-2: Al Syat road
The road opening cost around 200,000 USD, funded by the Municipalities fund; it was planed to connect the villages of Huwwara and Beta. The road was closed on the road's opening ceremony day.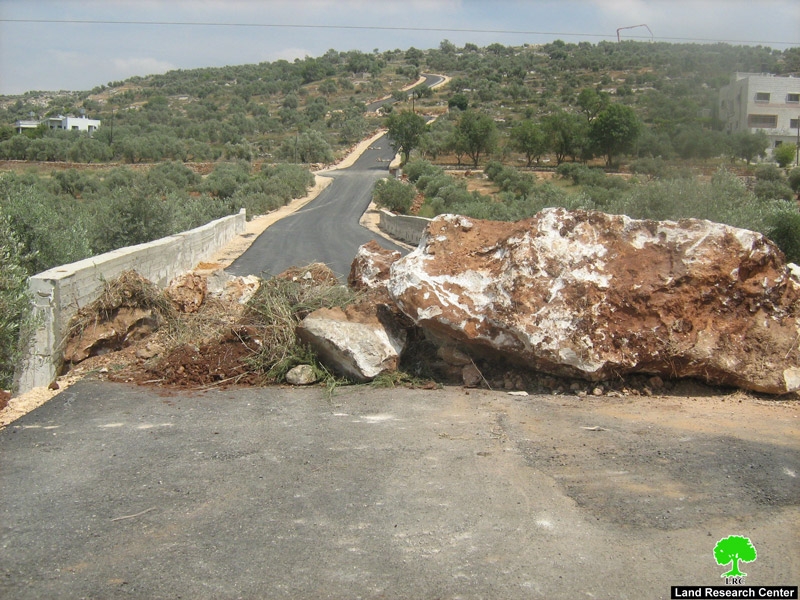 Picture 3: closed road
Targeting the infrastructure in Huwwara is done concurrently with the expansion in the nearby Yizhar and Baracha colonies. The colonists are placing new mobile homes all around the colonies to devour more Palestinian lands while, at the same time, the Palestinians are deprived from their basic rights of using their lands and developing them.
Samer Odeh, a villager of Huwwara, stated to an LRC observer: 'the Israelis are targeting the infrastructure in Huwwara and its surroundings; the Municipality is not allowed to renovate the main road not to mention being disallowed to construct or have future plans for doing so. What happened to Al Syat is just an example; it just shows that the village is in crisis as it will limit connection between Palestinian communities as well as limiting the infrastructure needed for expansion.'
Huwwara:
Huwwara is located 8 km to the south of Nablus, edging by-pass road '60' (known as 'death route' because of the large number of accidents that occurred there). Huwwara Municipality tried in vain to fix the road and add some traffic signs but their efforts were denied by the Israelis.
Huwwara is inhabited by 5570 people, 3% of the population are refugees. Its total area is 8520 dunums including 1116 dunums of built-up area. Yizhar colony is built over Huwwara; the colony took over 331 dunums of the village lands; in addition, the village lost more than 430 dunums for the milling of by-pass road '60'.