Ravaging 55 Olive Trees Using Chemicals in Turmus'ayya town – Ramallah Governorate
Violation: using toxic substance to chemically burn olive trees.
Location: Ad Dheirat – Turmus'ayya.
Perpetrators: Adi Ad colonists.
Date: October 21, 2011.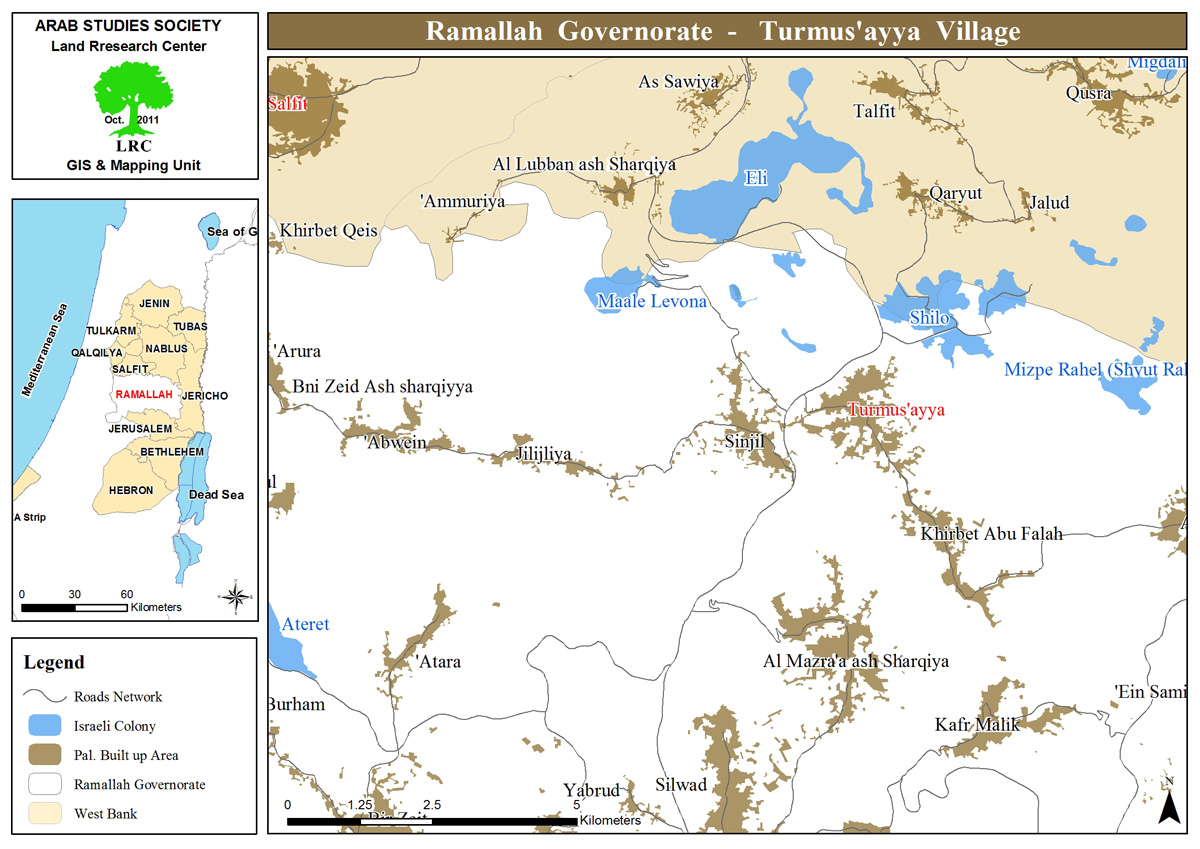 Preface:
Turmus'ayyais famous for its high quality olives; huge spaces of the village are planted with olives which cover the need and provide decent surplus. However, the village and its fields are considered a constant target for the Israeli colonists' aggressions especially in Ad Dheirat area which connects the village with the nearby Al Mughayyir.
Early 2001, Israeli colonial activities were fueled by the unabated support of the Israeli Governemnt led by PM Ariel Sharon. Adi Ad colony was established on Jalud and Turmus'ayya lands. The area has been suffering from daily aggressions ever since.
Details:
On October 21, 2011, Mahmoud al Arja (69) found that Israeli colonists had injected his trees with a toxic substance that go through the stem, killing the tree and destroying any chance of revival. The colonists sneaked under the night shadow and killed 55 30-year-old olive trees. A similar attack took place in the same area a year earlier; 70 trees were damaged during the attack.
The Israeli Police was informed with the incident, however, no investigation was carried out and the perpetrators had nothing to worry about. The damaged trees spread over 15 dunums of lands. Fares al Gabi, an expert in olive trees, stated to an LRC observer:'the colonists use a substance called 'Gaglon 4′ which they spray the tree with after cutting parts of it. The substance causes the dry out of the tree and prevents any chance of revival. Such an act does not only affect trees but also damages the biodiversity in the area.'
Turmus'ayya – an overview:
It is located 23 km to the north east of Ramallah city; it is 660 meters above seal level and is only 500 meters away from Nablus-Ramallah main road. Its total area is 17600 inhabited by around 5200 people by the end of 2010. Most of the inhabitants depend on merchandize and free lancing in their income; agriculture is a side income generator.
The Israeli Occupation Authorities confiscated 4000 dunums in the eastern part of the village; lands mostly planted with trees.Shilo colony was established in the confiscated lands in 1978 which reached 1600 dunums in area.The colonialists did not stop there; land confiscations continued unabated and were used later for the establishment of Adi Ad colony.