Israeli Colonists Treat Palestinian Lands as their Own
Violation: Israeli colonists increase their attacks on Palestinian lands.
Location: Ad Dush, Ash Sha'ra, Al Jaladat, Ras Hazem, and Khallit Raqiq areas in Deir al Hatab.
Perpetrators: Alon Moreh colonists.
Victims: 18 families in Deir al Hatab.
Date: October 9, 2011.
Preface:
For the Palestinians, the olive picking season is a season of blessing and joy, whereas it forms an opportunity to Israeli colonists and Army to attack Palestinian villages and farms. Every year, the colonists try their hard to prevent the Palestinians from benefiting from the season; they cut, torch, and uproot trees as well as stealing and ravaging crop. Sometimes, they go even further by pumping sewage into Palestinian lands.
Alon Moreh was found to deprive the Palestinians from their lands:
Alon Moreh purpose of existence was not to occupy the eastern mountains of Nablus but to also turn tens of olive fields into closed military zones, rendering them inaccessible by declaring it a buffer zone needed for the security of the colony. The Palestinians are allowed in their lands some days a year, only during the olive picking season. The Israeli Army allowed the farmers to get into their lands from October 9 to 15.
Nevertheless, every time the farmers reach their lands, they find their lands were manipulated. Ahmad Zamel headed to his farm (5.5 dunums) on October 9, 2011, when he was shocked to see that all the trees were wiped off and cereals were planted there instead.As for Abdul Rahman Amer and the fifteen families (94 people) who own 55 dunums of olive fields in parcel 8, they were shocked to see Israeli colonists gathering the crop in their lands. The colonists had also used saws to cut 25 trees.
The owners were trying to stop the colonists when Israeli soldiers intervened and pushed the Palestinian owners away as a punishment and allowed the colonists to freely roam the lands. Nidal Zamel and his family headed to their 51-dunum-field to the east of Alon Moreh; they found two mobile houses placed there and found that that their lands no longer have any olive trees but grape.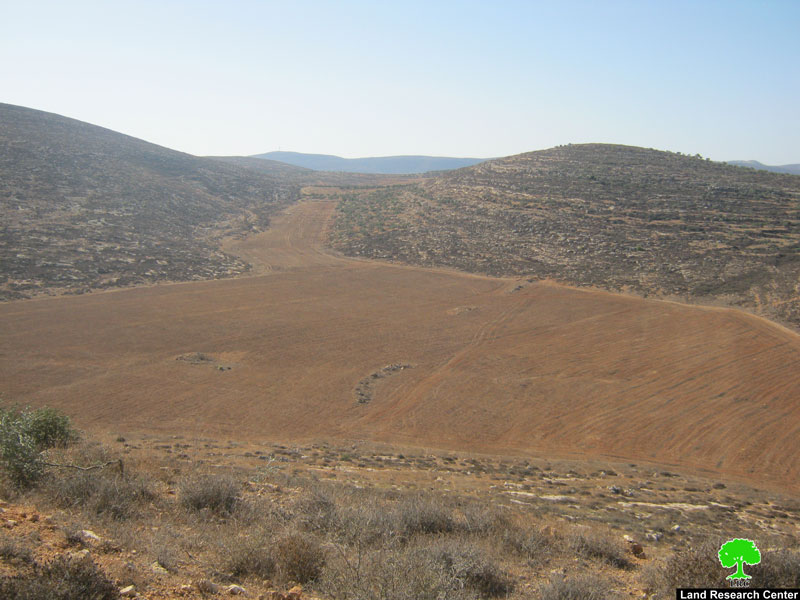 Picture 1: one of the mobile houses
It must be pointed that the Palestinian owners filed hundreds of complaints to the Israeli Police in regard to the colonists actions and manipulation of lands.In fact, in 2007, the Israeli Supreme Court (ISC) ordered the removal of the colonists from the lands surrounding the colony and the stoppage of any alterations.
However, the ISC orders were not enough to stop the colonists from returning to the lands. The fact that these colonists, who are fully protected by the Israeli Army and Police, believe that they are above any laws and that they have the right to do whatever they wish to the Palestinian territories.
Picture 2-3: Nidal Zamel lands