Uprooting 60 Olive Seedlings in Qusra – Nablus Governorate
Violation:
uprooting 60 olive seedlings.
Perpetrators:
Yish Kodish colonists.
Victims:
farmers of Qusra.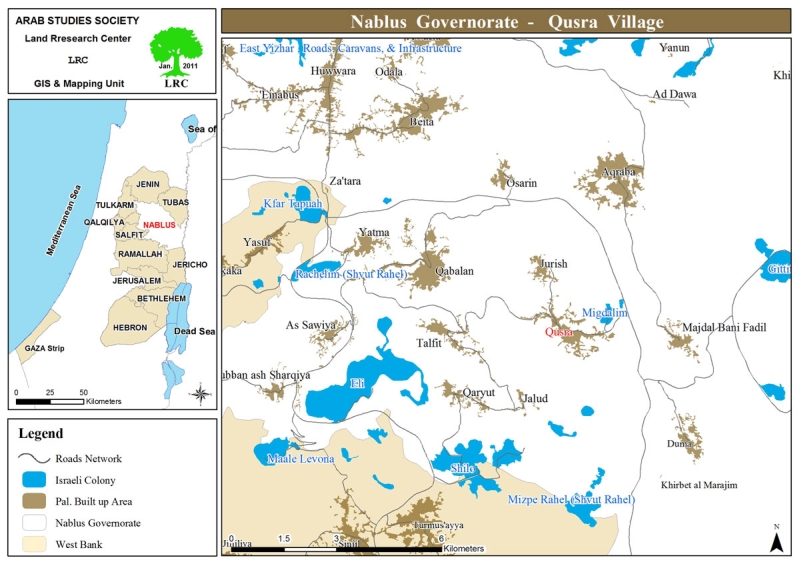 Details
Yish Kudish colonists increased their aggressions against Qusra farmers on August 21, 2011.

In the early morning hours, a group of colonists broke into 'Baslatu' area in Qusra.

They uprooted 60 -2-year-old-seedlings that were planted 4 months prior.

Baslatu area suffers from daily aggressions commited by colonists residing in Yish Kodesh colony, located to the south east of the area.
The colonists take every chance to attack Palestinians, their property, their cattle, or their fields; in addition to sabotaging irrigation networks and crop.

On March 2, 2011, 350 olive seedlings were uprooted in the same area in addition to the closures of agricultural roads using earth mounds rendering more than 420 dunums inaccessible
Hani abu Reida, Qusra Village Council stated to an LRC observer: 'Baslatu is the main target for colonists who tried over and over to take over the land by sabotaging tools and equipment, uprooting trees, and closure of agricultural roads.

The Israeli Occupation Army provides them with the needed protection and aids them by preventing the Palestinians from getting into their fields.
This is considred dangerous as many fields are facing drought and many farmers has become unable to exploit their lands due to the Israeli measures.
'
Qusra, an Overview:
It is located 18 km to the south east of Nablus city and is administered by Qusra village Council.
Its total area is 9878 dunums that include 776 dunums of built up area. However, this area does not cover the expansion requirements of the village which forced a lot of the locals to build their houses in areas classified 'C' according to Oslo.
Qusra is inhabited by 4377 people according to the PBS statistics of 2007.
It must be pointed that in 1982, Qusra and the nearby Jurish villages faced a large scale land confiscation campaign in preparation for the establishment of Majdulim colony which now covers an area of 170.6 dunums inhabited by 152 colonists.

On the other hand, Qusra is suffering from the increase in demolition orders issued against structures in the village. More than 15 structures are facing real demolition threats.