Israeli Colonists Set 194 Trees Ablaze in Burin village – Nablus Governorate
Violation: torching 90 olive trees and 104 figs and prunus trees.
Location: Al Sabi' Mountain – eastern part of Burin.
Date: July 29, 2011.
Perpetrators: Bracha colonists.
Victims: Eid and Najjar families.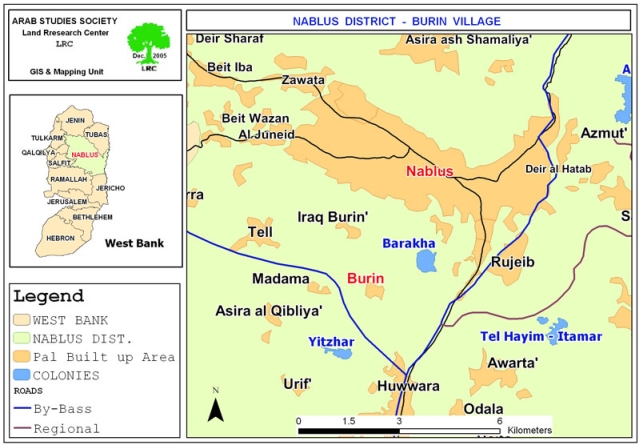 Preface:
The village has been set as a target for the Israeli discriminate actions and aggressions in the area. Since the Israeli conquest of the West Bank in 1967, not a day passed without an aggression being recorded. The Israelis systematic attacks seem to be pre-coordinated between the Israeli Occupation Army and colonists.
Details:
On July 29, 2011, Israeli colonists set 90 olive trees and 104 fig and prunus trees alight in an area known as Al Sabi' Mountain. The damaged trees were the property of Qasem Eid, Mahmoud Eid, Hasan Eid, and Salah al Najjar. The colonists took advantage of the fire trucks absence; the trucks were needed in the nearby Qabalan village.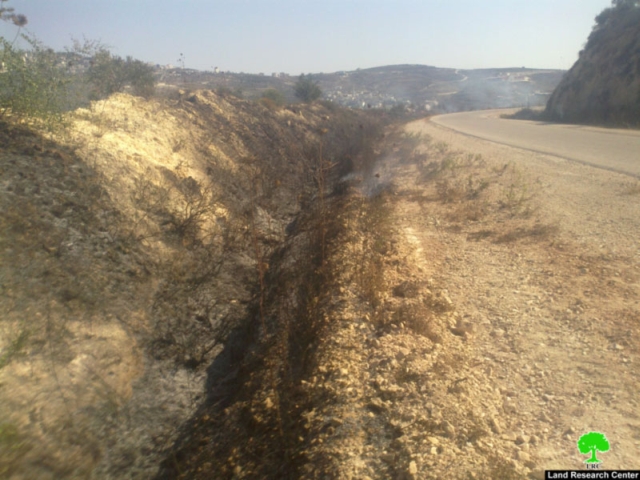 The attacks against the olive fields became a daily matter; the colonists seem to be enjoying torching olive trees while knowing that they are getting full legal and military support by the Israeli Government and Army. Furthermore, they are getting religious support from rabbis who call for killing the Arabs and cutting the trees belonging to them.Since the summer of 2011, more than 4000 olive trees were burned either partially or fully in addition to 500 more trees of other types.
Ali Eid, Burin Village Council President, stated to an LRC observer: 'Targeting olive trees has become a routine task for the colonists spreading destruction in the area. Since the establishment of Yizhar and Bracha in the mid 1980's, Burin colonists have been launching a continuous attack on the village. The colonists captured more than half of the village lands and planted terror and destruction all around it; they operate with the sole purpose of cleansing the area from its Palestinian residents.' 'He assured that the colonists and the Israeli Occupation Army conspires to push the Palestinians away despite their ownership of the land.
However, all the complaints filed to Israeli Courts were ignored; his shows that even the Israeli Judicial system is there to protect the colonists and their interests'.
Burin:
The village is located about 8 km south of Nablus. Its total land area is 10416 dunums (1 dunum = 1000 m2) of which 367 dunums are built up zone imposed by the occupation authorities before the signing of the Oslo Accords in 1993. It has a population of approximately 2800 people, approximately 70% hold refugee status according to UNRWA .