Israeli colonists Roam Beit Ummar Conducting "religious" rituals in a Muslims cemetery
Violation: a 6-hour-ritual
Date: August, 2011.
Location: Beit Ummar – Hebron.
Perpetrators: Karmi Zur colonists.
Victims: Beit Ummar and Jala residents.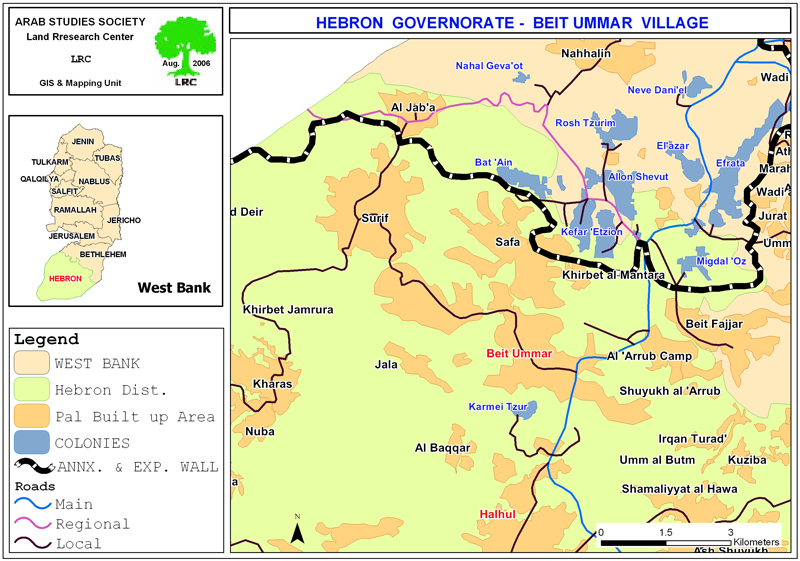 Details:
A group of Karmi Zur colonists, built over Halhul and Beit Ummar lands, a provocative tour around Beit Ummar. Eyewitnesses said that they saw tens of colonists accompanied by Israeli soldiers roaming Beit Ummar before heading to old wells in the town. They pointed that the colonists had maps of the area and seemed to be looking for something. They ended the tour by conducting some sort of religious rituals in a Muslims Cemetery.The colonists also visited a water-well in the cemetery and prayed there.
Mohammad Awad said that while he was trying to take some pictures, the soldiers fired a couple of rounds towards him and preventing him from doing so. The locals fear for the water sources in the western parts of Beit Ummar; the colonists might simply claim it's theirs and capture it the way they did to many other sites and properties. So far, no one knows anything about the purpose of the tour.
Jala cemetery