Israel resumes construction of the segregation Wall in Al-Walajeh Village Northwest of Bethlehem Governorate
Al-Walajeh, a Palestinian community located about 4 kilometers northwest of Bethlehem governorate and 8.5 km southwest of the city of Jerusalem. It has a population of approximately 2000+ residents and considered one the most devastated and severed communities by the Israeli occupation activities in the occupied Palestinian territory. Al-Walajeh,
On August 3, 2011, field workers from the Applied Research Institute Jerusalem- ARIJ and documented ongoing Israeli activities relating to the Segregation Wall –currently under construction- to enclose the village from all four sides turning it to one big prison. The Israeli Army bulldozers resumed the preparation of the infrastructure relating to the Wall at the village's east, northeast, north, and northwest, where sections of the Wall will be place to enclose the village.
According to the updated Wall plan of April 30, 2007, the Wall will place Al-Walajeh village in an isolated enclave, sealed off from all directions, east, west, north and south and from the neighboring Palestinian communities; Battier, Hussan, Beit Jala and from Bethlehem city center. The Wall, according to the map, was shifted northwards to include the neighborhood of 'Ein Al Juwaiza on the Palestinian side of the Wall, but sealed off the village completely from its southern part with a 2.5 km long Wall that will run alongside bypass road number 436.
In Total, the Israeli segregation Wall plan will extend for 7.9 km on the lands of Al-Walajeh, of which 3.5 km will be barbed wires. The Wall will isolate a total sum of 2210 dunums of the village's lands that is 50.2 % of the total village area. The road protection strip (the road security buffer zone) will cause the isolation of an additional 1100 dunums of lands from Al-Walajeh village, where these lands will fall south of the Wall and will be inaccessible to the Palestinian residents. Currently, 1.2 km of concrete wall exists around the village, 1.2 km is under construction and 5.5 km are in planning phase to be constructed around the village before the end of 2012. The pictures below captured by ARIJ filed workers during the field visit: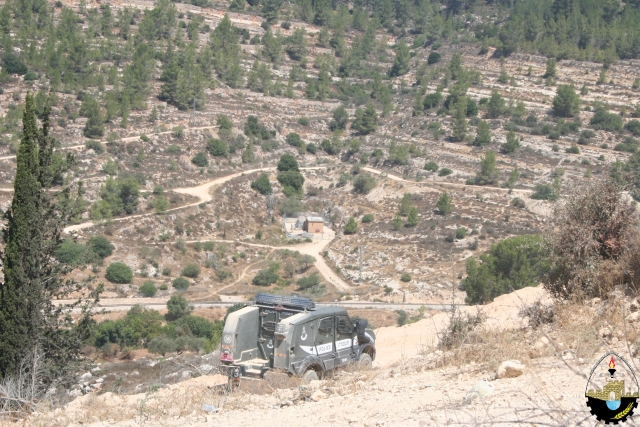 Photos for building of the Segregation Wall in several locations in the village
Demolition orders for Palestinian Houses
On May 11, 2011, the Israeli Occupation Army handed over seven Palestinian residents from Al-Walajeh village demolition orders notifying them that their houses will be demolished under the pretext of lacking building license. The demolition orders issued by "The Israeli Planning and Construction Committee of Jerusalem District" related to the Israeli Ministry of Interior.
For more details about the seven threatened houses in Al-Walajeh, refer to previously written case study: The Israeli Occupation Authorities Targeted Al-Walajeh Village northwest of Bethlehem Governorate with a new Seven Demolition Orders. May 12, 2011.
Archeological Excavations
On the other hand; led by an Israeli archeologist conducted digging at suspected historical location where the Wall route will run through. Palestinian archeologists are denied any participation or information regarding the excavation mission or on any discoveries at the targeted location. See the photos below:
Photos for Israeli archeological excavations taking place in the northern parts of the village
Prepared by: