Setting 1200 Olive Trees Alight in Burin village – Nablus Governorate
Violation: torching 1200 trees.
Location: parcels '14' and '5', also known as Habayel abu Ismael – Burin.
Perpetratos: Yizhar colonists.
Victims: farmers of Burin.
Details:
Yizhar colonists escalated their attacks against Palestinian Olives during July, 2011. On July 15, 2011, a group of Yizhar colonists broke into the village, under the protection of the watchful eye of the Israli army, and set 1200 trees alight, damaging hundreds of trees.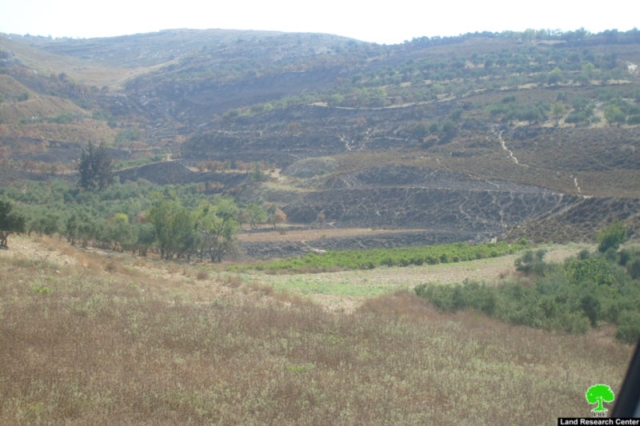 picture 1: scorched earth
The flames erupted mostly in the eastern part of the village, parcels 14 and 5. According to OCHA, 230 olive trees; the trees belong to 12 families. On the southern parts, 970 trees were partially destroyed due to the erupting flames.
ِ
Ali al Najjar, Burin's Village Council President, stated: Targeting olive trees is part of some of the Jewish radical societies' vision; on of the Israeli Rabbi stated that the Jews should kill, and fight Palestinians as well as attack the olive trees because of its symbolic value.
The attacks against olive trees in Burin and other Palestinian villages have been taking an annual schedule.
The Palestinians expect an Israeli attack to occur wherever they are. However, the Palestinians are standing firm against any aggression while showing utmost dedication to the land which have been standing against the modifications the Israelis have been trying to impose.
Yizhar:
The colony of Yizhar was established in 1983 on Palestinian lands belonging to the villages of Burin and Asira Al Qiblia south west of the city of Nablus. The colony has expanded multiple times ever since as additional tens of dunums were confiscated for that purpose. The additional dunums were taken from the villages of Burin, Asira Al Qiblia, Oreef, Madama and Huwwara.
The built-up area of the colony was 158 dunums as of 2005 while the area of land under its jurisdiction is about 1,800 dunums located in Parcel 8. The confiscated lands were from the locations of Salman Al Farisi, Al Marj, Jabal Al Nada and Khalil Salameh Al Muhr. The number of Israeli colonists in the colony has grown over the years; in 1983 there were 64 colonists while in 1998 the number grew to 291. In 2004 around 534 colonists lived there. Around 90% of them are from the Israeli extreme right.