Demolishing 9 residential and Agricultural Structures in Ramallah Governorate
Violation: demolishing 5 houses and 4 shacks in addition to 20 hay bales.
Location: Maghayer ad Deir – Deir Dibwan – Ramallah.
Date: July 25, 2011.
Perpetrators: the Israeli Occupation Army.
Victims: four families of 'Mleihat' clan.
Details:
As part of the continuous Israeli plan for ethnically cleansing the Jordan Valley area and push the Palestinians out of it, the Israelis have been ruthlessly expelling people. On July 25, 2011, Israeli troops demolished 5 residential tents and 4 shacks in Mleihat. 4 families (28 people including 20 children) were rendered homeless due to the operation that was held because the structures are located in area classified 'C' according to Oslo.
Table 1: victims of the recent demolition campaign:
Victim

Family members

Children

Damage

House

Shack

kitchen

Mousa Mleihat

9

7

2

1

2

Mohammad Mleihat

6

4

1

1

1

Mohammad Ali Mleihat

7

5

1

1

1

Ibrahim Mleihat

6

4

1

1

1

Total

28

20

5

4

5
It must be pointed that it is the second demolition campaign held against Mleihat in the past three years. In October 30, 2008, Israeli troops demolished 25 structures in Mleihat without any prior warnings.
Continuous aggressions against Mleihat:
Maale Mikhmas colonists' aggressions against Mleihat people are being held concurrently with the demolitions. On July 20, 2011, colonists set 20 hay bales alight in day time; it seemed to be a sign of defiance.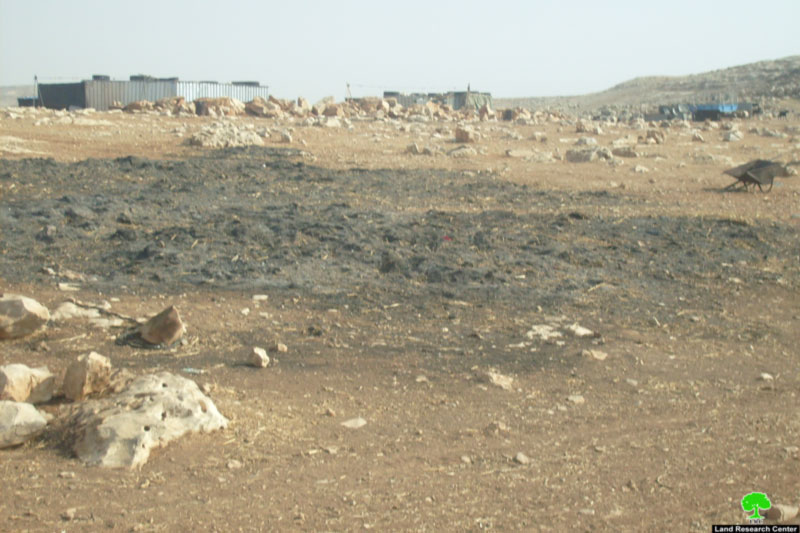 Picture 1: torching the bales
Furthermore, colonists started a fire in Maghayer ad Deir area and tried to accuse Mleihat people in order to impose more pressure on the Israeli government to drive them away.
Mleihat – an overview:
Mleihat gathering near Deir Dibwan is inhabited by somewhere around 250 families (around 750 people). These people live in primitive and simple houses while depend solely on herding in generating income. They have settled in the area 35 years ago.
The people (tribe) come originally from Beer Sheva; they were forced to leave their lands after the Israeli conquest in 1948. They were scattered into different areas of the West Bank; their lifestyle and dependency on herding in living facilitated their arbitrary departure. They were expelled again in mid 1980's and moved to the site they are using now. Nowadays, they are facing a threat once again but this time; they'll have no place to go to.