Chopping 51 Olive Trees in Sinjil – Ramallah Governorate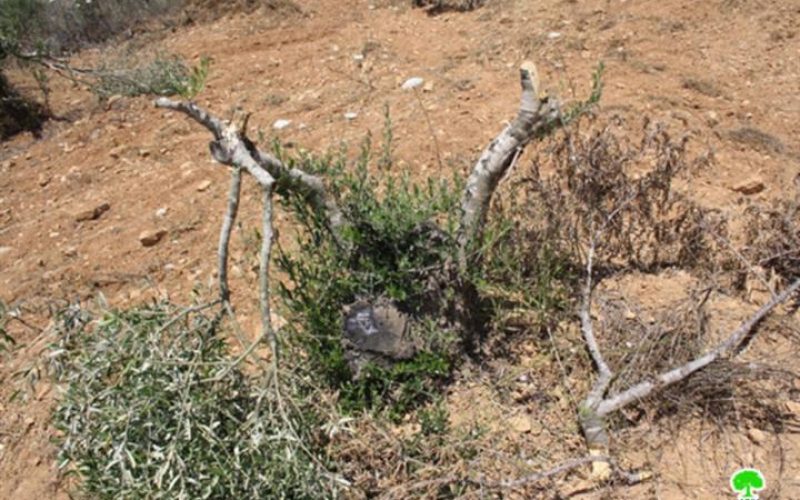 Violation: cutting 51 olive trees.
Location: Adh Dhahra – north west Sinjil.
Perpetrators: Shivut Rahel colonists.
Victims: Khalil and Awad families.
Date: June 22, 2011.
Details:
In a new escalatory aggression, colonists of Shivut Rahel chopped 51 34-year-old olive trees using saws. Adh Dhahra, where the attack took place, suffered from similar attacks by the same assailants in 2000 and 2004. The olive trees symbolize blessing, peace and stability; it is why the Palestinians value these trees.
However, it has been a target for the colonists' aggressions, the colonists who believe in the contrary of what the trees signify. The colonists save no effort in attacking olive trees; hundreds of similar attacks are recorded every year.
Sinjil:
It is located 20 km north Ramallah and is adjacent to by-pass road '60'. The village total area is 14000 dunums including 2800 dunums of built-up area which is inhabited by around 7000 people. The unemployment rate in Sinjil has reached up to 25%; many of the locals depend largely on humanitarian aid in their living.
The village has been suffering from the colonists aggressions which occur almost on daily basis. The Israelis planted 5 colonies and a military camp over the village; they used more than 40% of the village lands for colonization and military zones. 5 colonies reside over Sinjil including, Shilo, Ma'ale Livona, Shivut Rahel, Rahut, Albaten.