Brakha Colonists Partially Damage 42 Olive Trees in Burin – Nablus Governorate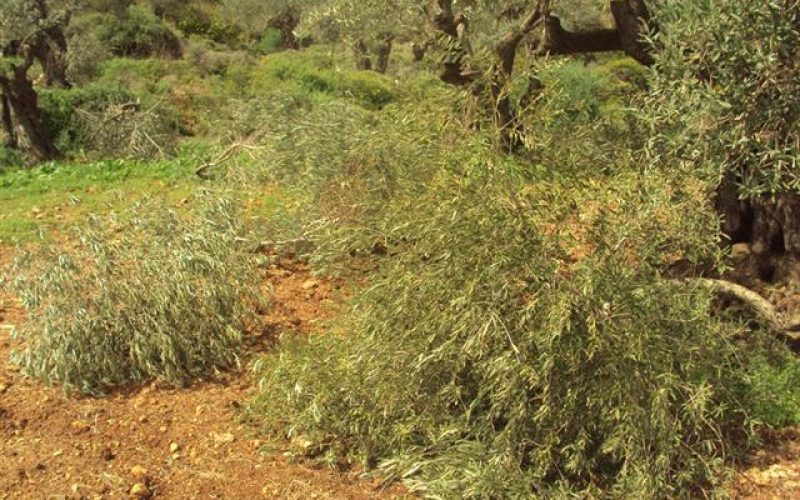 Violation: The partial damage of 42 olive trees.
Location: The village of Burin in Nablus Governorate.
Affected: Mr. Jamal Qadoos and Mr. Mustafa Saeed Qadoos of Burin.
Date: May 3rd, 2011.
Details:
Israeli colonists of Nablus Governorate have escalated their attacks on Palestinian lands and humans of the village of Burin; Only a week after a group of Yetzhar colonists uprooted 40 olive trees in Burin, the colonists of Brakha carried out a similar campaign in the early morning hours of May 3rd, 2011, when they have partially damaged 42 olive trees in the eastern side of the village in a location known as Al Jaheer.
Pic. 1-3
The colonists embarked on their campaign from the colonial outpost of Giva'at Roniem. They have used sharp tools in cutting the 40-year-old trees in an area that is located a mere 200 meters away from the outpost. The damaged trees belong to Mr. Jamal Mohammad Daqoos (13 trees) and Mr. Mustafa Saeed Qadoos (29 trees) from the village of Burin.
Mr. Ali Eid, the head of Burin's Village Council, expressed the following to the Land Research Center (LRC)'s field researcher:
'The policy of targeting the olive tree in Burin is an old-new one; not only did the Israeli occupation forces steal our land and established the colonies of Brakha and Yetzhar on it, Israeli colonists have taken an active part in this aggressive campaign against everything that is Palestinian. Tens of injuries and a number of martyrs went down as victims of this campaign. That is in addition to the hundreds of dunums that were confiscated for colonial purposes and "Military Closed Areas" as well as the thousands of olive trees that were virtually destroyed via burning, uprooting and the usage of harmful chemicals. However, the persistence of the Palestinian farmer is stronger than these thugs. Here we are and we will stay here and I have faith that this land will come back to us one of these days.'
Israeli occupation have come to realize the importance of the olive trees to the Palestinian farmer as it has become the symbol of his steadfastness and the continuous challenge to its hegemony. The attacks of colonists against this holy tree has become a daily occurrence; in Burin, for example, attacks against the tree especially during the olive picking season were conducted under the watchful eye of Israeli occupation forces with no reaction against such violence.
However, these attacks do not affect the resolution and determination of the Palestinian farmer to continue to be present on his land.
It's worth mentioning that the colony of Brakha was established in 1982 on lands belonging to the colonies of Kufr Qallil, Burin and Iraq Burin. Its current population is 880 colonists living in 647 dunum of which 291 dunums were confiscated from Iraq Burin.