The Israeli Municipality in the Occupied city of Jerusalem Demolishes Nine Structures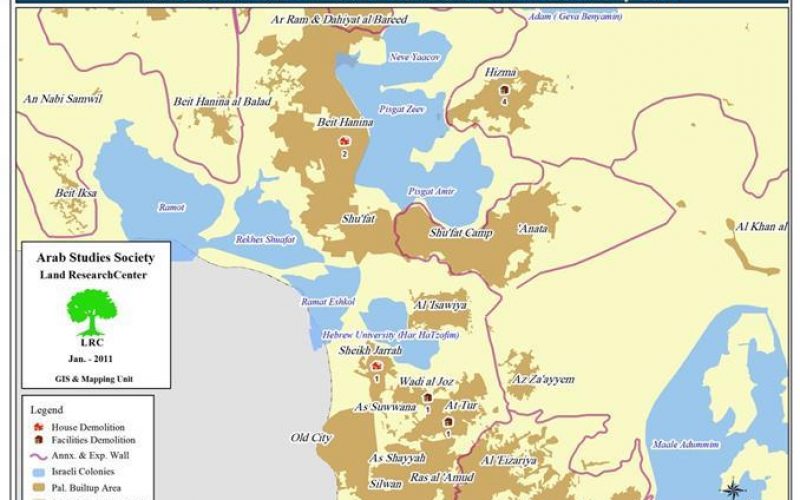 Violation: demolishing 9 different structures.
Perpetrators: the Israeli Occupation Municipality of the Occupied City.
Victims: Uweida, Syam, Al Khatib, Idkedek, and Isbitan families.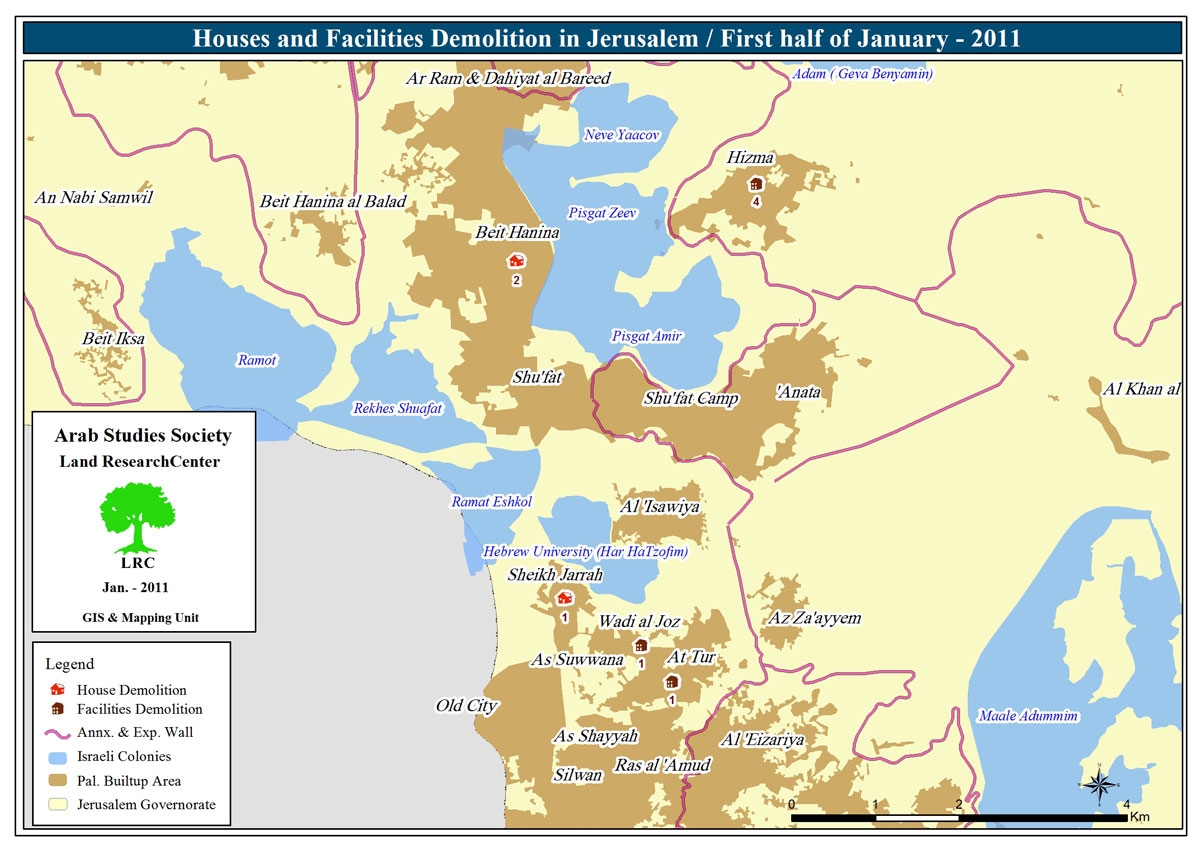 Preface:
Since the conquest of Jerusalem in 1967, the Israeli Occupation consecutive Governments policy has never changed. It consisted of the destruction of Palestinian homes to force them out and replace them with Jewish colonists. The Israelis justify their acts by the lack of construction permits; permits that are impossible to acquire.
According to the Municipality organizational plans, most of the Arab lands are classified as green zones (for public usage), white zones (unclassified), or military zones (located near an Israeli colony, by-pass road, or a military camp). In addition, structures that receive construction permits from the PA will be demolished for the slightest error.
On the other hand, the Municipality supports any efforts of colonial expansion; it has recently approved 197 colonial units in East Jerusalem colonies and 1400 other in Har Gilo colony.
Details:
The Israeli Occupation Authorities demolished 9 Palestinian structures including 3 residences. The residences were inhabited by 14 people (including 4 children) who were rendered homeless. The demolitions affected more than 40 other people who used to benefit from the commercial and agricultural structures demolished
.
Table 1: victims and structures:
No.

Victim

Date

Location

Structures

Area (m2)

Family members

Children

Structure type

remarks

1

Naser Syam

3/1/2011

Ard al samar – Al Masharef

1

100

6

2

Residence

a 25-m2-room was left unharmed

2

Nayef Uweida

4/1/2011

Wad al Dam – Beit Hanina

1
60
3
0

Residence

Two-storey-building

1
60
5
2

Residence

Total

3

220

14

4
Source: Land Research Center – Field Unit.
Table 2: victims and structures:
No.

Victim

Date

Location

Structures

Structure type

remarks

3

Abdul 'Aziz al Khatib

4/1/2011

Hizma

4

Car wash, car repair shop, and construction materials shop

Estimated loss: 200,000 NIS

4

'Asem Idkedek

10/1/2011

Wadi aj Joz

1

Horse farm

2 horses were confiscated

5

Maher Isbetan

10/1/2011

At Tur

1

Horse farm

Total

6
Source: Land Research Center – Field Unit.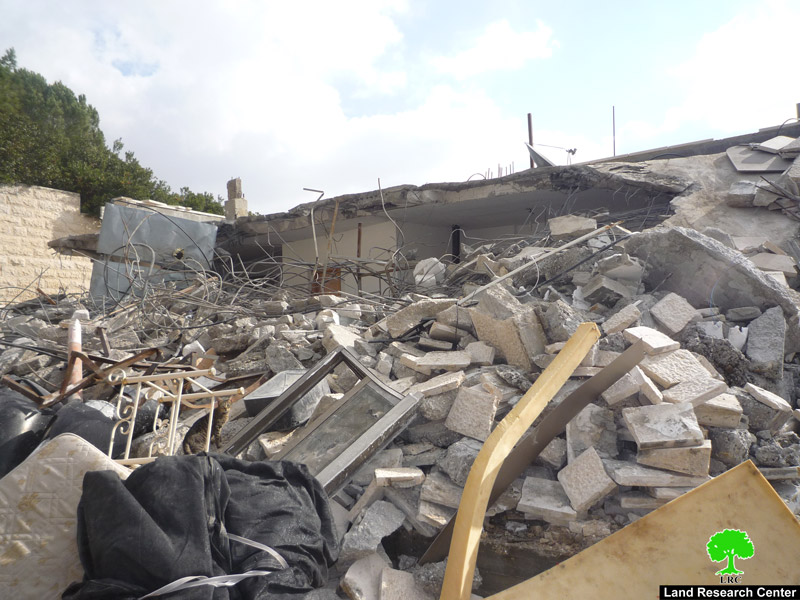 Picture 1: Syam's residence rubble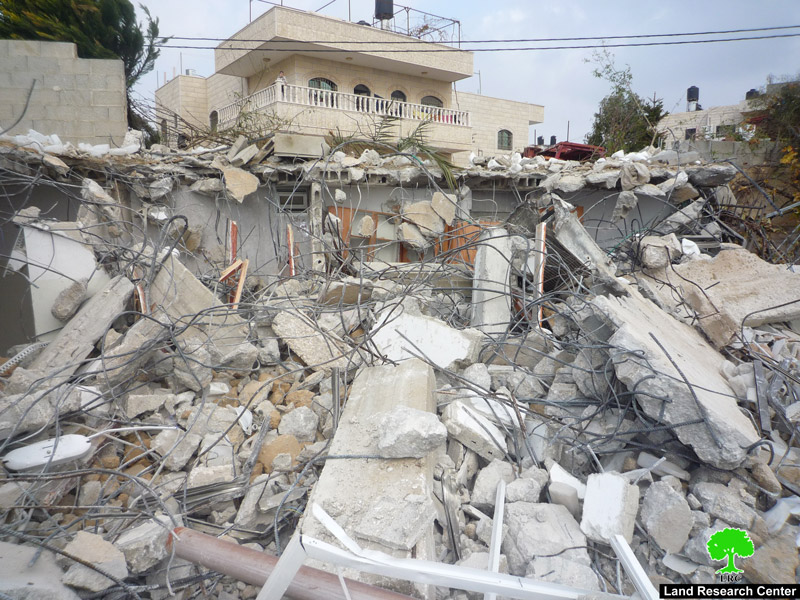 Picture 2: Uweida's residence ruins
All of these aggressions, and many others, confirms the Israeli Occupation colonial plans; the house demolitions and seizures were never based on any organizational plans or security purposes, their sole purpose is strengthening the Jewish presence in the Occupied City of Jerusalem.
Milling by-pass roads and establishing railway networks forms other parts of the Israeli Occupation overall plan.
The Land Research Center – Arab Studies Society – views the Israeli Occupation measures as a clear violation of the basis of the Human Rights principals and the International Humanitarian Law.
Demolition of properties is a violation of
article 53 of the Geneva Fourth Convention stating:" Any destruction by the Occupying Power of real or personal property belonging individually or collectively to private persons, or to the State, or to other public authorities, or to social or cooperative organizations, is prohibited, except where such destruction is rendered absolutely necessary by military operations.".