Yetzhar Colonists Increase the Frequency of Tree Cutting and Field Burning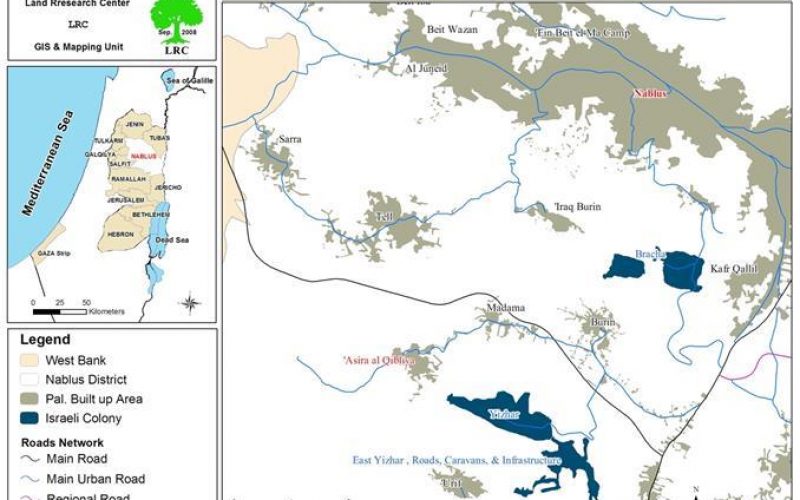 Violation: The uprooting of a number of olive trees and the burning of fields in the villages of Madama and Assira Al Qiblia.
Date: The 26th and 29th of December, 2010.
Violators: Colonists of Yetzhar.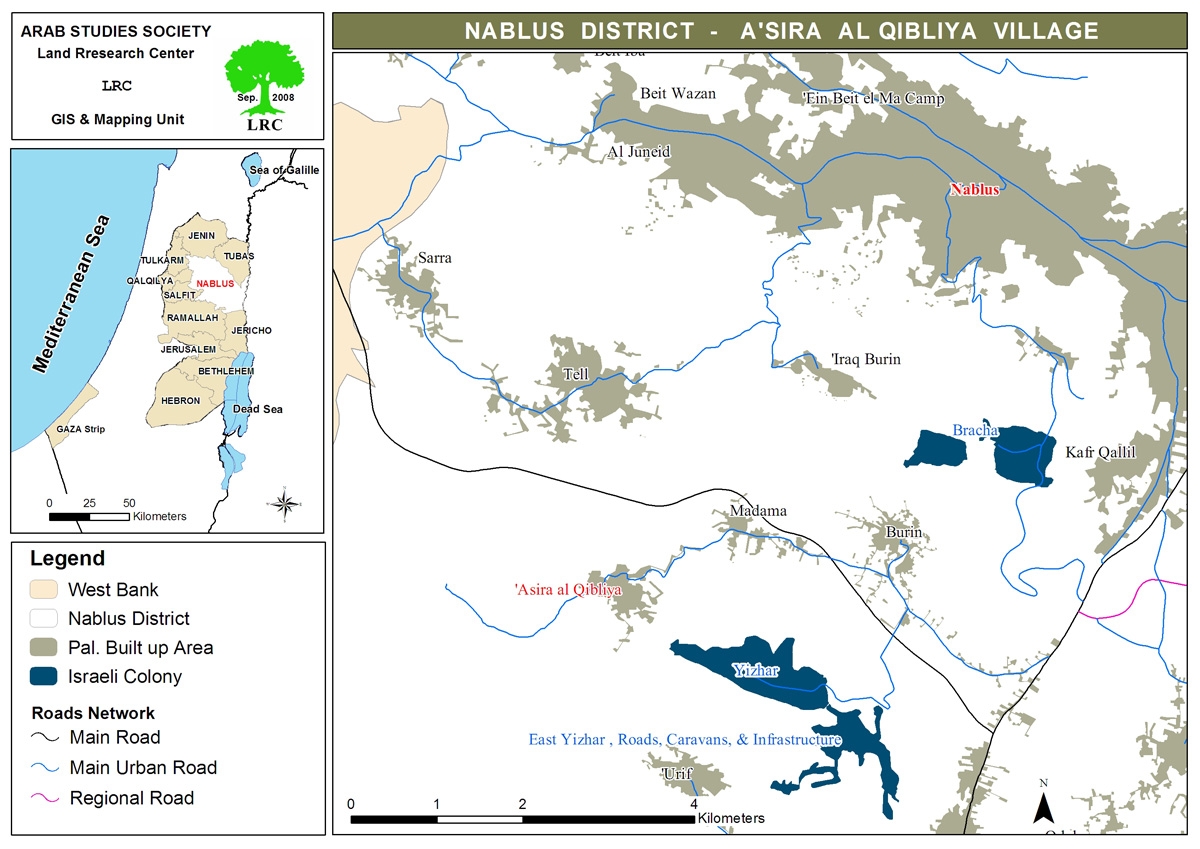 Details:
Ever since the establishment of the colony of Yetzhar in 1983 on the lands of the villages of Madama, Assira Al Qiblia, Burin, Huwwara and Orief, its colonists did not stop their attacks and violations against anything that is Palestinian. These colonists did not leave any destructive tool unused in their terror and war against the Palestinians; such tools included burning fields, cutting off olive trees, attacking Palestinian homes, stealing and killing of sheep in addition to confiscating water springs, stealing lands and physically beating (and even killing) Palestinian farmers and shepherds.
All of these violations and attacks were carried out under the watchful eyes of Israeli occupation forces who worked on providing full protection for the colonists while they were carrying out a multitude of attacks against the nearby Palestinians and their property.
On the 26th of December, 2010, a group of Yetzhar colonists uprooted 20 olive trees planted by Madama Palestinians in Parcel 4 in areas known as Al Hawakeer, Al Khasfah and Al Masha'a. The trees were one-year old and were planted in early December 2010. An additional 3 olive trees (age: 2years) and 4 almond trees (age: 5 years) were also uprooted while a number of agricultural walls were also damaged. It has to be pointed that the timing of the attack came in conjunction with the beginning of the olive planting season.
Other type of violations and attacks by the colonists have also continued unabated; for example, on the 29th of December, 2010, Yetzhar colonists cut down 44 olive trees (age: 15 years) in a fashion that rendered all of the trees useless. The damaged trees were located in Parcel 8 of Madama's southern lands. Upon clashes between the Palestinians of Madama and the invading colonists, the colonists burnt more than 20 dunums in the area surrounding the damaged trees.
In terms of the occupation forces, they have always played an assisting role for the colonists in terms of providing security for them as well as playing an active role in implementing their policies and goals. For example, throughout December 2010 Israeli occupation soldiers cut down and uprooted around 35 olive trees in Parcel 3 of Madama village which is located close to the by-pass road leading to the colony of Yetzhar. The following table lists some of the damages sustained by Madama villagers on the 26th and 29th of December, 2010:
| | | |
| --- | --- | --- |
| No. | Affected Farmer | Damages |
| 1 | Yousef Ahmad Ali Ziyada | 10 olive trees (age: 1 year) and agricultural walls. |
| 2 | Suad Abdullah Ziyada | 10 olive trees (age: 1 year) and 3 fig trees as well as agricultural walls. |
| 3 | Ameen Fayez Mohammad Nassar | 4 almond trees (age:5 years) |
| 4 | Mohammad Mustafa Qot | 40 olive trees (age:15 years) |
| 5 | Shaher Hussien Mustafa Qot | 4 olive trees were cut down |
| 6 | Multiple farmers | The burning of 20 dunums in an area known as Qattan Al Sawwan. |
| 7 | Jad Allah Nayef Nassar | The damaging of 35 olive trees by Israeli occupation soldiers located in parallel to the road leading to the colony of Yetzhar. |
| | TOTAL | 20 olive trees were cut down in addition to 44 olive trees (15 years old) were cutoff while 35 were damaged en route to the colony. 3 fig trees and 5 almond trees were cut while 20 dunums were burnt. |
Photos 1-7: Scenes of the damages sustained by the lands of Madama and
Assira Al Qiblia due to Israeli violations and attacks.
Assira Al Qiblia and the Colonists:
The village of Assira Al Qiblia has been targeted by colonists' attacks; on the 29th of December, 2010, colonists burnt 14 dunums of agricultural lands in Al Khasfa area of the village. The burning led to the partial damage of 23 olive trees most of them were 12 years old. The damaged trees were owned by Mr. Ahmad Mohammad Hamdan, Mr. Yousef Ali Asayra as well as Mr. Khaled Fahmi Makhloof. It is believed that the colonists have targeted the lands of the village partly because of the on-going agricultural projects implemented in a number of Palestinian villages in an effort to green Palestine and to stop the further expansion of Israeli colonies.