The Palestinian Olive Survival Battle
"Israeli Aggressions during the 2010 Olive Picking Season"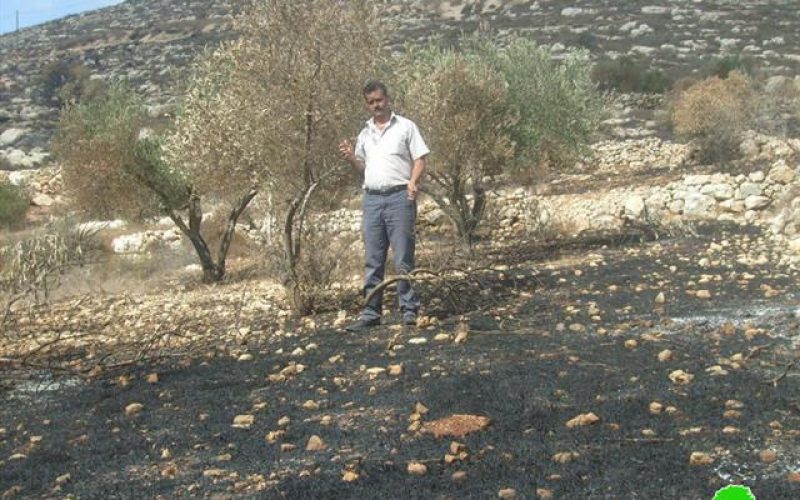 Preface:
Agriculture is considered a major pillar in the Palestinian economy through large contribution to the gross national income and providing hundreds of jobs beside its big role in food security. The olive field is supposed to be playing a major part in the agricultural development in the oPt; in addition to its symbolic and historical importance.
According to the Palestinian Ministry of Agriculture, 938000 dunums all around the West Bank are planted with olive trees especially in Nablus, Ramallah, and Salfit Governorates. The Palestinian olive oil occupies a share of 1% of the global production. The Ministry expected the production of more than 23800 tons of olive oil beside 11000 tons of pickled olives.
2010 Olive picking season September 1, 2010 – November 31, 2010:
It is known that the Israeli aggressions increase rapidly during this season; such aggressions include theft of crop beside destruction of olive fields. Based on the violations reports produced during this specific season; the 2010 season witness the most vicious attack since 5 years. Meanwhile, the Israeli colonial expansion have increased significantly; being fed by the Israeli racist policy and ideology. More than 63 violations were reported in the West Bank from September to November, 2010. The violations have taken various forms, nevertheless, they all had one objective which was sabotaging the olive picking season. The aggressions had taken place based on orders of one of Israel's most respected rabiis "Obada Yusuf" which were published using pamphlets distributed among the colonists communities all around the West Bank. The pamphlets called for expelling the Palestinians from their homes and preventing them from picking their olives. He legislated the destruction, uprooting, and burning of olive trees besides, he allowed stealing the Palestinians olive crops.
The following violations were reported:
33 yield theft cases: Kafr Kaddum village in Qalqiliya suffered 17 theft cases alone in addition to the theft of some agricultural equipment.

10 olive trees cutting cases: As Sawiyya, Salim, and Al Lubban Ash Sharqi villages suffered from cutting 70 olive trees. Moreover, hundreds of other trees were chopped down in many other areas.

Setting huge fields alight: 12 cases of fields deliberately burned by colonists were reported; most of them occurred in Al Lubban Ash Sharqi, Tal, and Far'ata villages.

2 chemical attacks: colonists had been using more advanced methods for destroying trees. They used some sort of chemicals that kill olive trees. Such attacks destroyed 480 olive trees in Ramallah Governorate.

Pumping sewage towards olive fields inflicted damage on 220 olive trees in Deir al Hatab.

Harassments and aggressions against farmers while working in their fields have been recorded regularly. Many farmers were prevented from reaching their fields, others were expelled.
All of these aggressions occurred concurrently with the plowing and leveling of olive fields located nearby Israeli colonies in the West Bank, especially after the expiry of the so-called moratorium period which started on November 25, 2009 and lasted for 10 months.
However, the Israeli obstacles did not prevent most of the Palestinian farmers from reaching their lands and picking their olive crops since the bond between Palestinians and their olives is stronger than they can ever imagine.
Table 1: damages inflicted on the 2010 olive picking season:
| | | | | |
| --- | --- | --- | --- | --- |
| Aggression | Victims | Area (dunum) | Damaged trees | Estimated loss (USD) |
| Burn | 71 | 115 | 2631 | 3582600 |
| Cutting, uprooting | 41 | 22 | 594* | 809200 |
| Theft | 109 | 356 | 3740 | 257094 |
| Chemical attacks | 13 | 20 | 480 | 672000 |
| Pumping sewage | 24 | 120 | 230 | 322000 |
| Total | 258 | 633 | 7635 | 5642894 |
*including 70 seedlings that were planted last year
Table 2: inflicted damages by location:
Governorate

location

Trees

Cutting, uprooting

Burn

Theft of crop

Poisoned

Damaged by sewage

Hebron

Yatta – Susiya

—

—

125

—

—

Bethlehem

Husan

—

180

—

—

—

Al Walaja

400

—

—

—

—

Jerusalem

At Tur

40

—

—

—

—

Ramallah

Turmus 'Ayya

40

—

—

100

—

Deir 'Ammar

—

52

—

—

—

Al Janya

25

—

200

—

—

Bitillo

—

—

70

—

—

Al Maghir

—

—

—

380

—

Salfit

Mas-ha

—

—

600

—

—

Kafl Haris

325

—

—

Qalqiliya

Kafr Kaddum

—

43

106

—

—

Kafr Kaddum – Al Habayel

—

—

250

—

—

Fer'ata

—

190

—

—

—

Fer'ata – Al Sateh

—

—

1180

—

—
Table 2, cont'd:
Governorate

Location

trees

Cutting, uprooting

Burn

Theft of crop

Poisoned

Damaged by sewage

Nablus

Jama'een – south part

6

—

—

—

—

Salim – Al Lahd

—

130

—

—

—

Tal – Qarn Shkeit

—

341

—

—

—

Jet – eastern part

—

24

—

—

—

Huwwara

—

37

—

—

—

Huwwara – Hawd al Naqara

50

–

—

—

—

'Awarta – north eastern part

—

87

—

—

—

'Awarta – Hawd al Kalab

7

—

—

—

—

Al Lubban ash Sharqi – southern part

—

47

—

—

—

Al Lubban ash Sharqi – Al Najma

14

—

—

—

—

Al Lubban ash Sharqi – Al Batin

—

—

24

—

—

Burin – Dar al Sabi'

12

—

250

—

—

Burin – Bab at Tina

—

—

275

—

10

Yanun – eastern part

—

—

17

—

—

Yanun – Bab al Waqf

—

—

300

—

—

As Sawiyya – eastern part

—

—

18

—

—

Tal – 'Imarat al Mansoura

—

1500

—

—

—

Deir al Hatab – Wadi al Jaghoub

—

—

—

—

220

total

594

2631

3740

480

230
Aggressions in pictures:
Olive fields set alight by Israeli colonists on October 21, 2010 – Al Lubban ash Sharqi – Nablus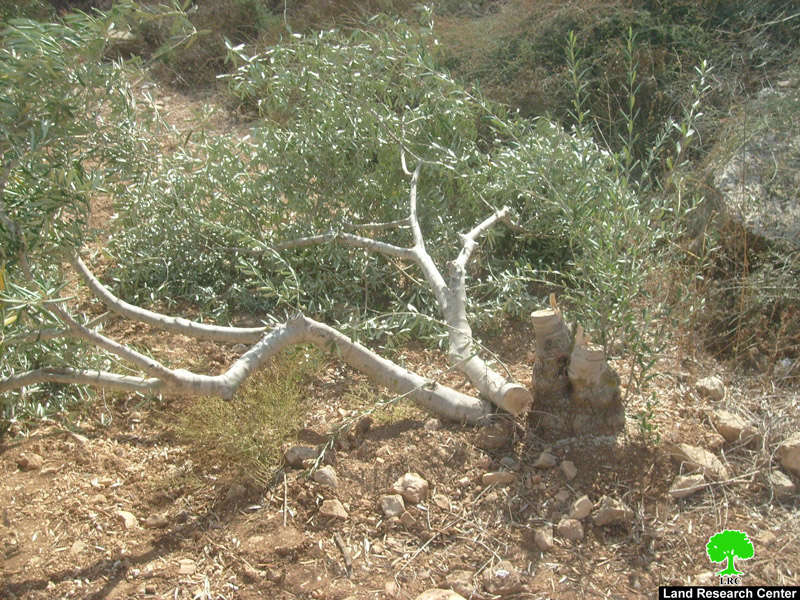 Olive trees cut down by Israeli colonists on October 2, 2010 – Al Lubban ash Sharqi – Nablus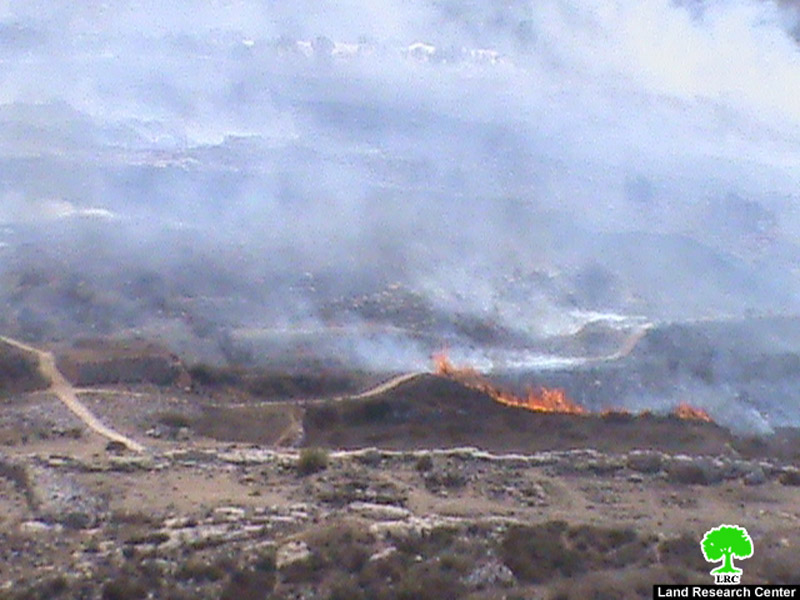 Tal field turned into ashes by Israeli colonists on October 11, 2010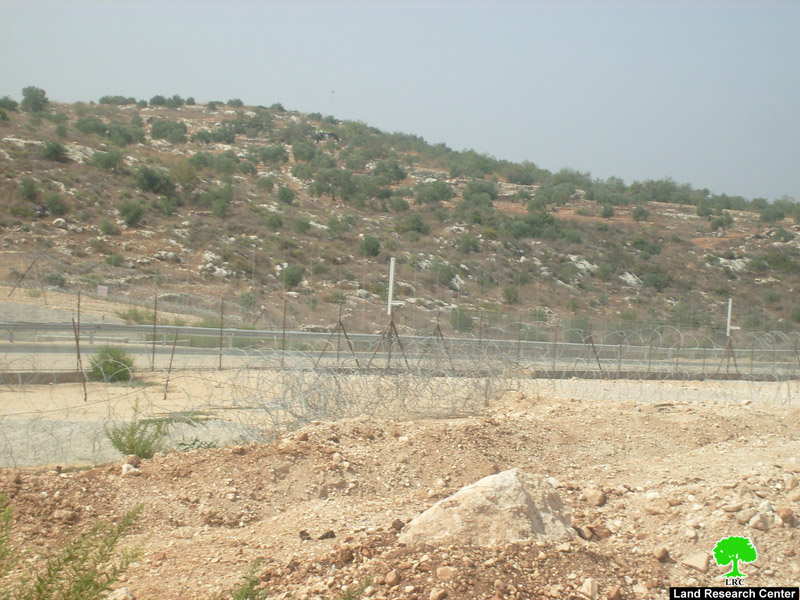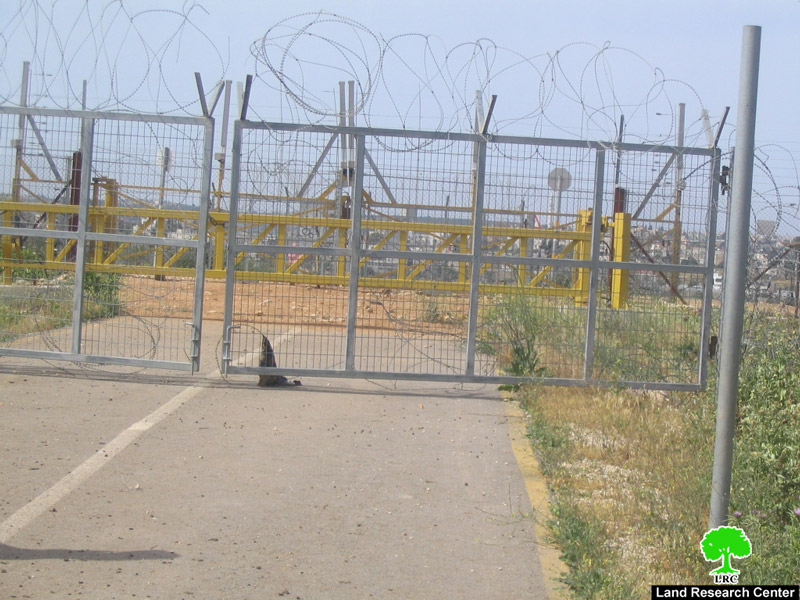 Segregation wall gate number 1534 located in Mas-ha village; more than 2200 Palestinian farmers were prevented from reaching their lands – Qalqiliya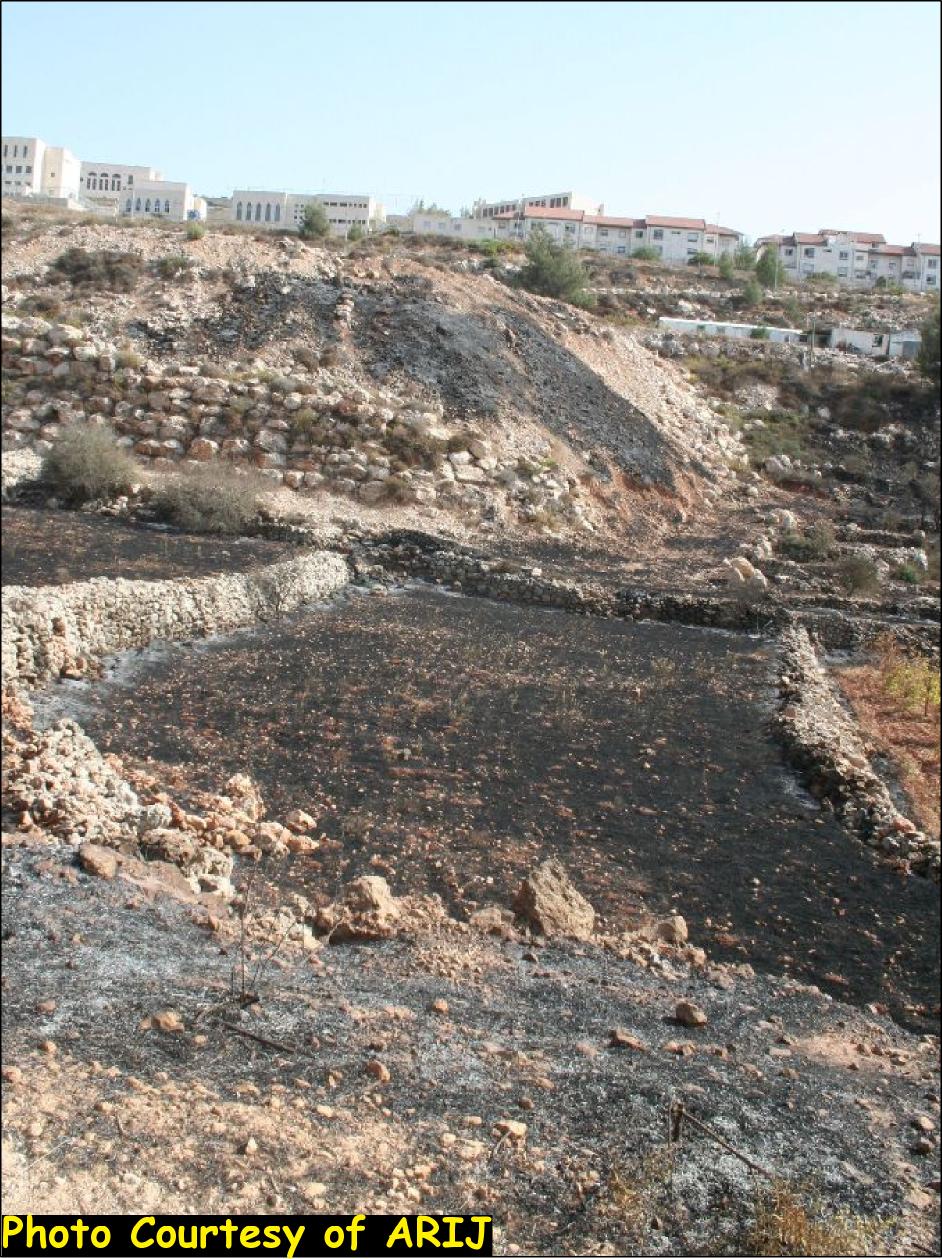 Bitar Elit colony overlooking burned olive fields on October 9, 2010 – Bethlehem
2 Israeli colonists trying to prevent Palestinians from reaching their fields – Fir'ata – Qalqiliya on October 15, 2010 – AP
Kadummim crawling towards olive fields in Kafr Kaddum – Qalqiliya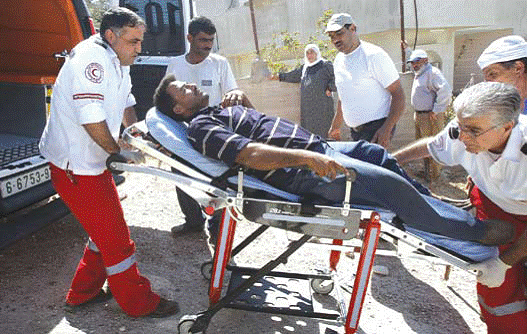 Red crescent staff moving one of the wounded in the clashes with the Israeli colonists
who were trying to steal the olive crop on October 20, 2010 – Barqa – Nablus – AFP