Israeli Occupation Demolishes Khirebt Tana Yet Again
Violation: The ploughing and destruction of 29 residential and agricultural structures as well as the school of the Khirbet of Tana.
Date: Wednesday December 8th, 2010.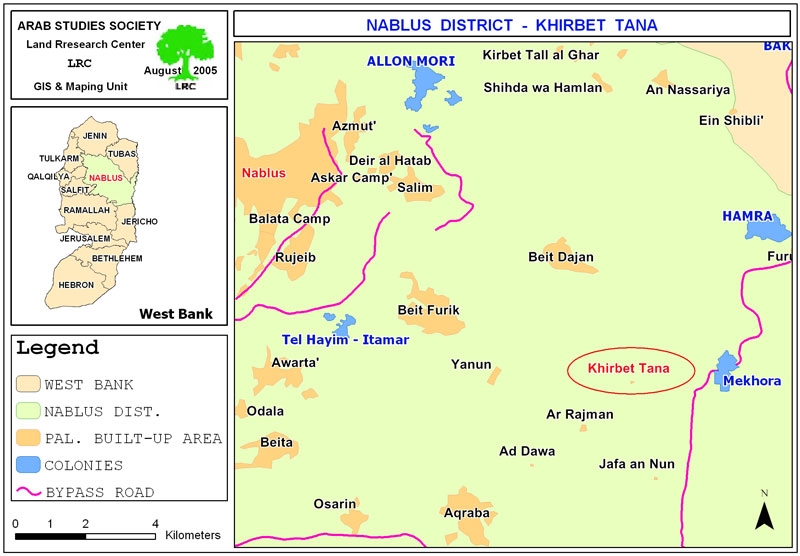 Preface:
Khirbet Tana is located 6 kilometers east of the town of Beit Furik and is considered to be a natural extension of the town. Its lands are located in Parcel 33, 34, 35, and 36 of Beit Furiks' lands. The population of the Khirbet used to plant its lands and graze their sheep in that area over the years due to its suitable atmosphere for such activities. However, the Israeli occupation has made it clear that controlling Palestinian lands (including Tana) is of utmost priority for its authorities. As such, Palestinian Bedouin communities (especially in the Jordan Valley) have become a direct target of occupation policies aimed at vacating them from their lands as a first step to gain control over it.
In terms of Khirbet Tana, it became a frequent target of Israeli cleansing policies over the past few years; it was destroyed a number of times as its structures became victim of occupation's bulldozers while its farmers and shepherds were chased off systematically of their lands on numerous occasions.
Violation:
At 6:00 AM in the morning of December 8th, 2010, Khirbet Tana had another appointment with destruction as three heavy duty Israeli bulldozers approached its houses from the eastern direction. The bulldozers used a road leading to the colony of Mikhora and started to destroy all structures in its path including houses and bruxes.
Photos 1-3: The debris of the demolition – Khirbet Tana in Nablus Governorate.
The bulldozers even destroyed the Khirbet's only school and left it in total ruin. Around 14 students from the Khirbet used to get their basic education (1st to 4th grade) in the said school.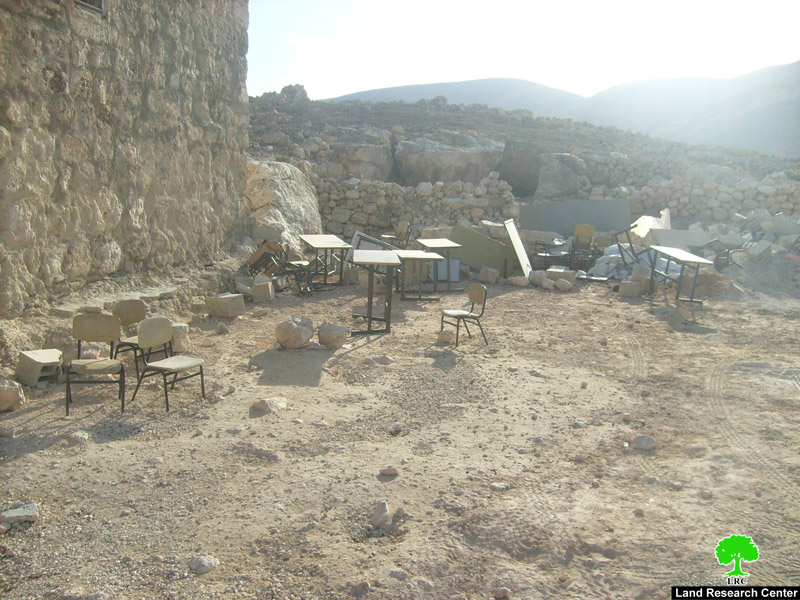 Photo 4: The school of Khirebt Tana – Destroyed.
Photo 5: Israeli occupation bulldozers destroying Tana – Pic by Ayman Nobani (WAFA).
The following table lists the victims of the most recent demolition and the damages they have suffered.
No.

Name

No. of Family Members

Damages

Notes

House

Brux

Taboun

Other

1

Mohammad Asa'ad Abdel Razzaq Hanafi

7

–

1

1

–

Targeted previously

2

Na'el Mohammad Asa'ad Hanafi

5

1

1

1

1 bathroom

Targeted previously

3

Wasef Abu Al Sa'oud Hanafi

7

2

–

1

–

Targeted previously

4

Fayez Yousef Mohammad Sa'adah

5

–

1

–

–

Targeted previously

5

Abdel Hafiz Hasan Hanafi

6

–

1

–

–

Targeted previously

6

Isma'eil Musa Issa Nasasrah

9

–

1

–

–

Targeted previously

7

Fursan Faris Hussein

9

1

1

1

–

Targeted previously

8

Fawzan Musa Issa Nasasrah

4

–

1

–

–

Targeted previously

9

Majed Afif A'aref Hanafi

5

1

1

–

–

Targeted previously

10

Radi Mahmoud Suleiman

5

1

1

1

3 water tanks

Targeted previously

11

Raed Afif A'aref Hanafi

6

–

1

–

–

Targeted previously

12

Mahmoud Ahmad Mahmoud Nasasrah

4

1

–

–

–

Targeted previously

13

Shaher Fayeq Taher Abu Heit

5

–

1

–

–

1st time demolition

14

As'ad Mohammad Ahmad Hanafi

8

–

1

–

–

1st time demolition

15

A'atef Hussein Ahmad Hanafi

7

1

1

1

–

1st time demolition

16

Najeh Sibti Yousef Khatatbeh

9

–

1

–

–

1st time demolition

17

The School

14 students and 2 teachers

2 classrooms and 3 bathroom units

Targeted previously

TOTAL

117

8

14

6

4 bathroom units and 2 classrooms
Source: Field work – Israeli Violation Monitoring – Land Research Center.
It is worth pointing out that most of the bruxes and housesshelters that were targeted during the demolition were built in 2005 with financing from the Palestinian Friendship Society in the aftermath of the demolition that took place in July 2005 under the pretext of being built in Area C "without a permit". The Khirbet was then re-built once again only to receive additional Stop Work Orders in 2007. At that point in time, the residents started to try to apply for permits from the so-called Israeli "Civil" Administration only to be devastated by the Israeli High Court's decision not to recognize the khirbet and to consider all of the structures "illegal". In the aftermath of the Decision, 30 structures were demolished in January 2010 while the last demolition took place in December 2010 leading to the razing of 29 structures in addition to the Khirbet's school.