Colonial Expansion amplified on Lands of Kafr ad Dik village
Violation: rapid increase in colonial expansion.
Location: Bedo'il and Eli Zahav colonies.
Perpetrators: Israeli colonists.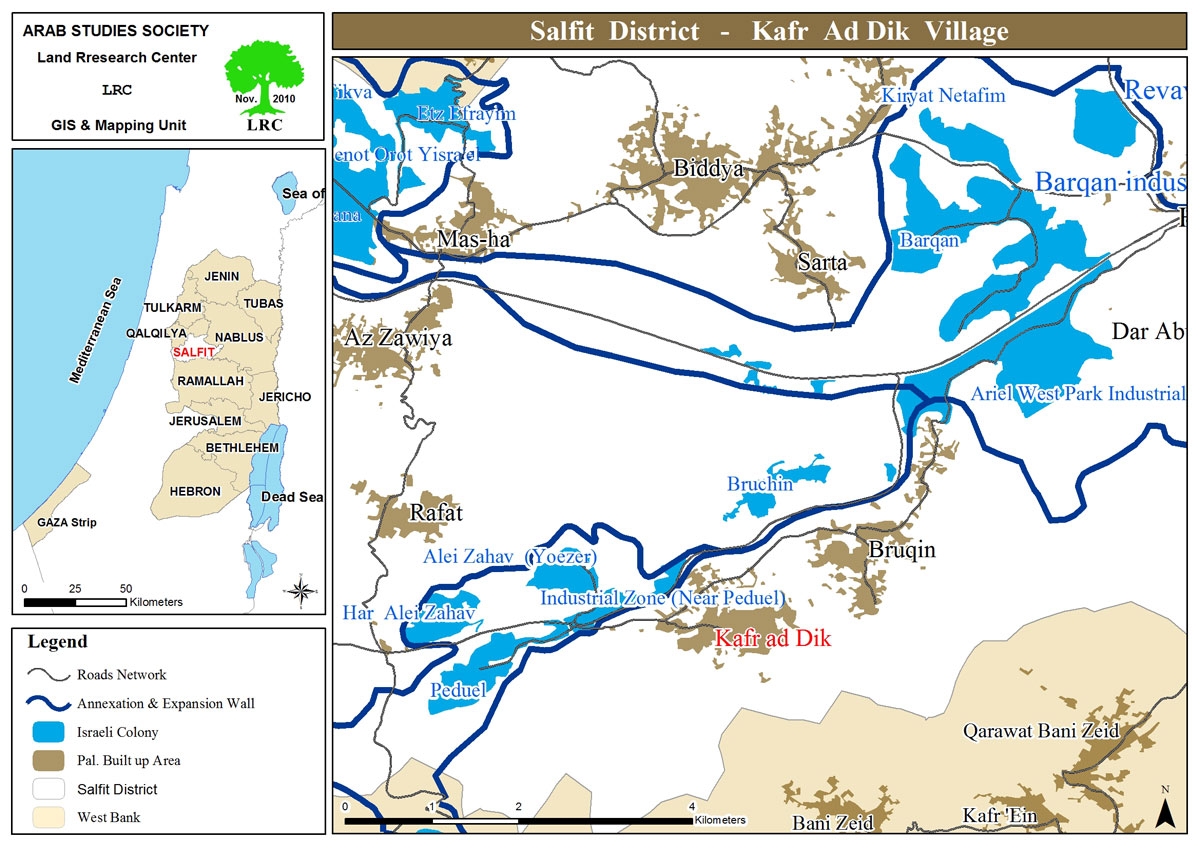 Details:
Kafr ad Dik is witnessing a race of taking over it's lands. It seems that colonists of Eli Zahav and Bedo'il are racing to seize as much land as possible from the village in order to use it for the rapid colonial expansion process.
Picture 1+2: Bedo'il expansion on Palestinian
lands
The northern part of the village had previously witnessed large scal plowing operation conducted by Eli Zahav colonists. The operation affected more than 100 dunums of AAbu Mazhar and Al Malsa regions.In addition, Bedo'il colonists are focusing on the western parts of the village. The colonists devoured all of the agricultural lands there. Ariel Sharon, the former Israeli PM, declared during the visit of the colony, located on a hill near the "Green Line", that this colony will stand forever and it will never be included in any compromise.
The former PM declaration was considered as a green light for the colonists to perform land grab and to expand the colony. Ten years after the declaration, the colonists plans are being carried out. Since the beginning of November, Israeli dozers have been rapidly plowing Palestinian lands in the northern and western parts of Kafr ad Dik. More than 120 dunums have already been plowed and prepared for receiving new colonial units.
It must be noticed that the Israeli colonization fever is being held in parallel with the demolition of numerous mosques, like Khirbit Yirza Mosque, and hundreds of Palestinian residences in the Jordan Valley, the Occupied City of Jerusalem, Hebron, and Jericho. In addition, the Israeli large scale expansion operations have also included agricultural fields and structures. All of these are don under the lame pretext of "no permit".The cancerous expansion of the colonies surrounding Kafr ad Dik had had dramatic effects on the village economy, not to mention the catastrophic destruction of the environment.
Colonies devouring Kafr ad Dik:
Bedo'il: it was established in 1984. it is now covering 537 dunums of built up area inhabited by 1088 colonists. 418 dunums were captured from Kafr ad Dik lands.

Bedo'il Industrial Zone: it was established in 1991. its total area is around 264 dunums all confiscated from Kafr ad Dik lands.

Eli Zahav: it was established in 1982. its total built-up area have reached 290 dunums inhabited by 424 colonists. All of the colony's structures are built over Kafr ad Dik lands.

Bruchen: established in 1999 to cover, so far, a built-up area of 265.5 dunums. 20 dunums are kafr ad Dik's.
Kafr ad Dik:
Kafr ad Dik has a strategic location. It is located 35 km to the south of Nablus city, 35 km to the north west of Ramallah, and 13 km to the west of Salfit.
It is bordered by Deir Ballout (west), Bruqin (east), Bidya (north), and Bani Zeid and Deir Ghassan (south). Its total area is 16000 dunums; however, the village has been isolated from its Palestinian surroundings by the Israeli occupation by-pass roads network and three colonies built over its lands. Thus, drastically affecting its organizational plan that used to cover 791 dunums. It must be known that the largest ground water pool is located beneath kafr ad Dik. It is inhabited by 5500 Palestinians, around 1000 households.
For more information on Kafr ad Dik please follow LRC's previous reports.