Jaber's Family lands are targeted by the colonists in Al Khader village
Violation: Israeli colonists aggress the owners of the land and demand them not to rehabilitate it.
Date: September 27, 2010 and October 10, 2010.
Location: Al Thagra, Al Khader.
Violators: Israeli colonists protected by Israeli Occupation troops.
Victims: Jaber family.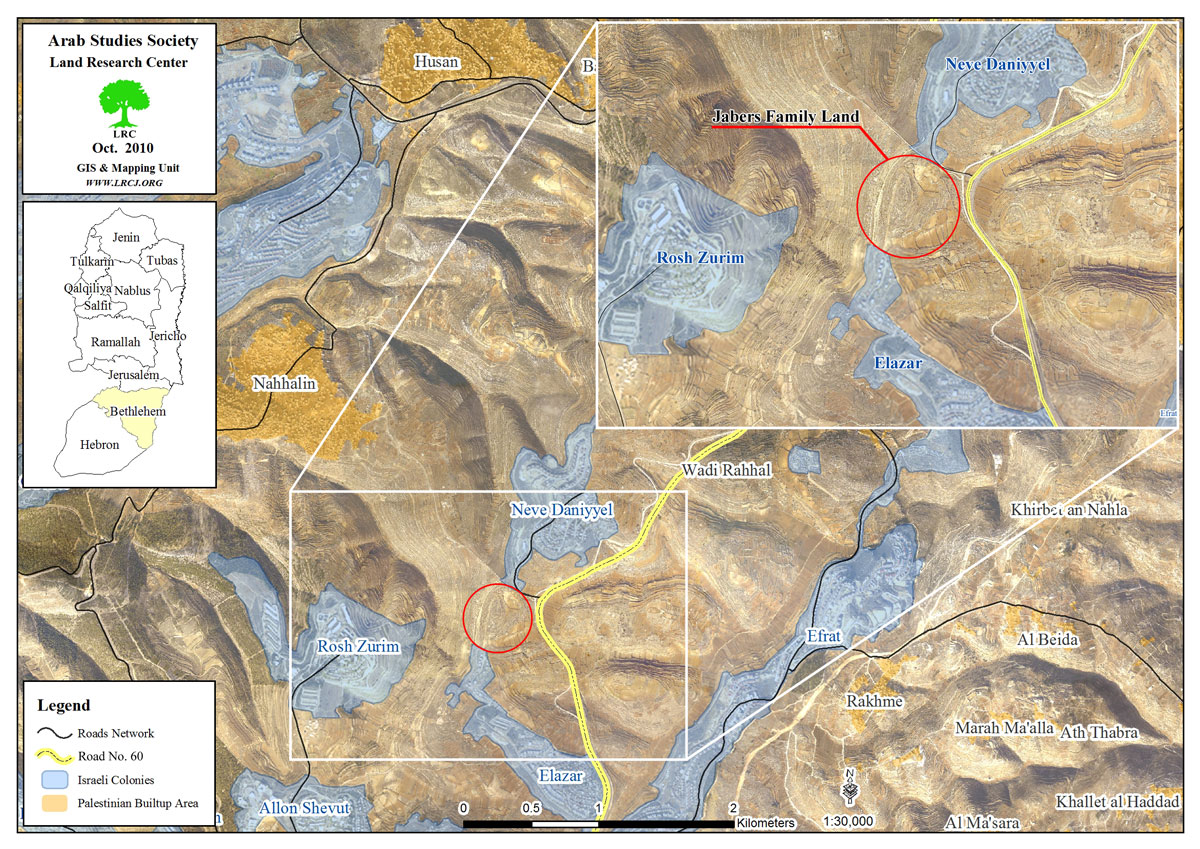 Details:
On October 10, 2010, tens of Israeli colonists prevented Islam Jaber from rehabilitating his land located in Al Thagra area in Al Khader, to the south of Bethlehem.
The Land:
The land is located in Al Khader village, southern Bethlehem, and nearby Neve Daniel colony. The land's total area is 156000 dunums owned by Islam Jaber and a number of his relatives. The owners have deeds issued during the British mandate on Palestine and proving the family's ownership. 60 dunums of the land is being exploited and the family is trying to rehabilitate the rest.
The land is surrounded by Israeli colonies:
Neve Daniel, North.

Elazar, South.

Rush Zerem, Betar, West.

Afrat, East.
Islam stated to an LRC observer: " We have been trying to rehabilitate our lands or even reach it since . We got a financial aid through the United Nations Development Program UNDP; as soon as we initiated the rehabilitation process, the colonists, accompanied by dogs, attacked us. We planted olives and they uprooted it, we built walls and they destroyed them, we tried to rehabilitate the land, they put us of and assaulted us! We have been trying to use our land ever since; we even filed a case at the Israeli Civil Administration, a case which was exhausting and costly. At last, we managed to prove our ownership.
Because of the financial difficulties we faced, we were not able to rehabilitate the land; however, we were keen to take good care of the already rehabilitated parts. I saved some money for my marriage; nevertheless, the land was more important so I used the money for the rehabilitation process. On September 27, 2010, I commenced the rehabilitation process, getting assistance from my mother, some workers, and a bulldozer. The Israeli colonists attacked us as soon as we started working. I had no choice but to call the Israeli Police. When they showed up they ordered everyone including me to clear the area.
The Police informed us that it is a Jewish holiday and that we should not work now. The police captain saved my phone number and told me that he will call me next Sunday and give me permission to start working. On Sunday, I waited for his call which never came, so, I decided to restart the work out of the believe that this is my land and I do not wait for permissions from anyone to rehabilitate my land! During the work, the bulldozer broke down for three days.
On October 10, 2010, more than 200 colonists attacked us and tried to kick us out of the land claiming that it is not ours! We did not comply and remained still until the police came. The Israeli Police urged me to be present in the Civil Administration as soon as possible. I met an Israeli officer, Moshe, who told me that I need a permit to work in my land. I replied sarcastically, how come? I do not understand? Do I need a permission to work in my land?
They ordered me to provide several documents, documents that is almost impossible to issue before presenting the documents to Beit El Military Court who will decide. It is possible that after providing the required documents that I simply do not get the permit??!!"