The Demolition of 9 Structures and Delivering Stop Work Orders in Khirbet Ein Al Hilwa
Violation: The demolition of 4 shelters, 3 bruxes, a bathroom and a warehouse. Also, Stop Work orders were distributed against 13 shelters and 12 bruxes.
Location: Ein Al Hilwa and Khirbet Al Farisiyya.
Date: 9th of August, 2010.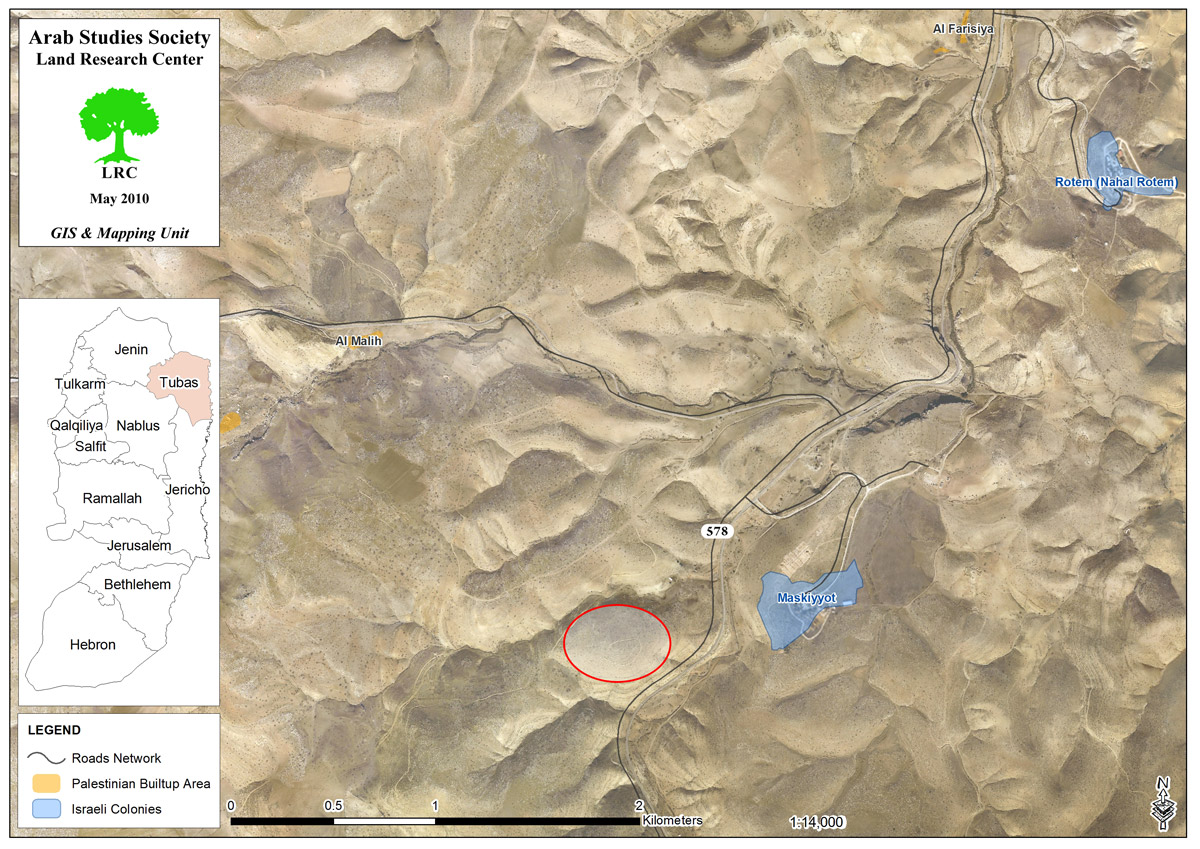 Details:
Khirbet Ein Al Hilwa witnessed on the 9th of August, 2010, an ethnic cleansing campaign carried by the Israeli occupation forces which aimed at vacating the Jordan Valley of any Palestinian presence to make way for further colonial expansion.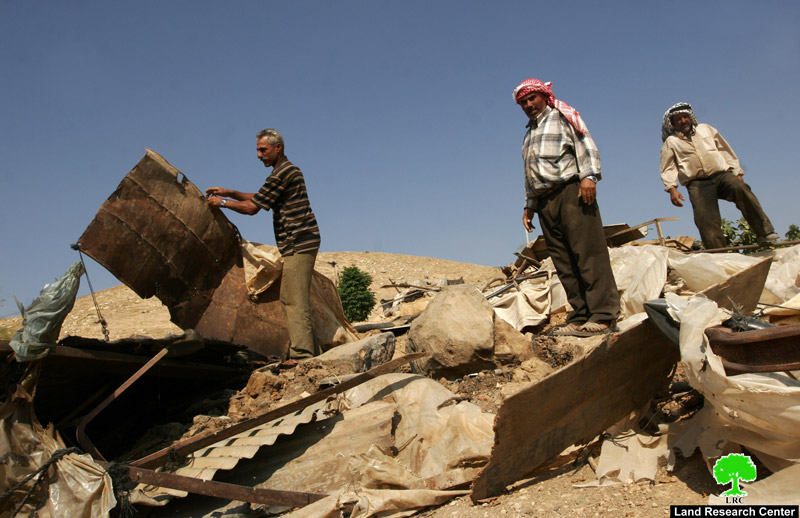 Pic.1:

Palestinians check the extent of the damage that befell them by the Israeli occupation forces – Ein Al Hilwa
Upon finishing the demolition campaign in Khirbet Al Farisiyya and the subsequent displacement of its inhabitants, Israeli occupation forces moved to another target with a large Palestinian population density which was Khirbet Ein Al Hilwa, located a mere 3 kilometers away from Al Farisiyya. Ein Al Hilwa was ravaged on the morning of Monday August 9th, 2010 as Israeli occupation forces surrounded the Khirbet and carried out a demolition campaign resulting in the destruction of 9 shelters and agricultural structures owned by members of Al Nawaja clan.
The following table lists the demolished structures and its relevant information:
Name

No. of Family Members

No. of Children

Demolished Structures

Houses

Bruxes

Other

Ahmad Mohammad Ismaeil Nawaja

11

6

2

2

One bathroom and a warehouse

Mohammad Ahmad Nawaja

7

5

2

1

TOTAL

18

11

4

3

Bathroom unit and a warehouse
It should be noted that during the demolition process, Israeli occupation forces delivered 4 residents of both Al Farisiyya and Ein Al Hilwa military orders calling for the dismantling of their residential structures within a period of 24 hours. Otherwise, the occupation forces would destroy the said structures as it did with other structures in Al Farissiya and, more recently, in Ein Al Hilwa. The following table provides additional information regarding these orders:
Name

Location

No. Family Members

No. of Children

Threatened Structures

Houses

Bruxes

Adel Ilayyan Zamel Daraghma

Ein Al Hilwa

11

7

2

3

Ali Anees Bani Oudeh

Ein Al Hilwa

3

1

1

2

Ali Zuhdi Abdullah Abu Muhsen

(4 families)

Al Farisiyya

25

10

8

5

Hussein Zuhdi Abdulah Abu Muhsen

Al Farisiyya

7

1

2

2

TOTAL

46

19

13

12
Khirbet Ein Al Hilwa, as well as the other 4 Bedouin communities located in Wadi Al Maleh (Al Farisiyya, Hammamat Al Maleh, Al Humma and Samra), has been the target of intense Israeli occupation pressure that rendered the life of its residents virtually impossible. The lands of Ein Al Hilwa cover an area of 3,000 dunums that extend until it reaches the boundaries with Jordan. The Israeli occupation forces have declared this area to be a "Closed Military Area" in which Palestinian presence is prohibited. In turn, such classification has negatively impacted the lives of the Bedouin communities living in the area as the population of Ein Al hilwa, for example, has dwindled down to only 250. This number is susceptible to decrease even further in light of the intense campaign of the occupation forces andor colonists against their presence in the area. Tactics used by the occupation forces included carrying out military trainings while surrounding the area with land mine fields and unexploded military objects. That is in addition to the demolition campaigns that are carried out more frequently in a direct attempt to stem Palestinian presence in the area. Israeli colonists are a major player in this scheme as incidents of land grab and theft of sheep and crops are frequent in the said area.
On Thursday the 29th of April, 2010, Israeli occupation forces delivered to the resident of Ein Al Hilwa a military order dictating that their area has been classified as a "Closed Military Area" into which Palestinian entry is forbidden including the Bedouin communities living in the "Area". This means that 3,000 dunums of the lands of the Jordan Valley face the danger of becoming "sterilized" of any Palestinian presence.
In terms of water availability, there is a spring located near the khirbet and is called Ein Al Hilwa Spring which used to provide ample quantities of fresh and cold water that satisfy the overall needs of the Bedouin communities there. However, the quantities provided by the spring nowadays have become very limited as the Israeli occupation has pumped and transferred large quantities of water from the springs (and others in the entire Jordan Valley) to serve the needs of the Israeli colonies spread throughout the area. In terms of Ein Al Hilwa spring, it was transformed into a pool in which Israeli colonists swim or take "ritual baths" while Palestinians living nearby are not allowed to reach it, let alone use it as a source of drinking water.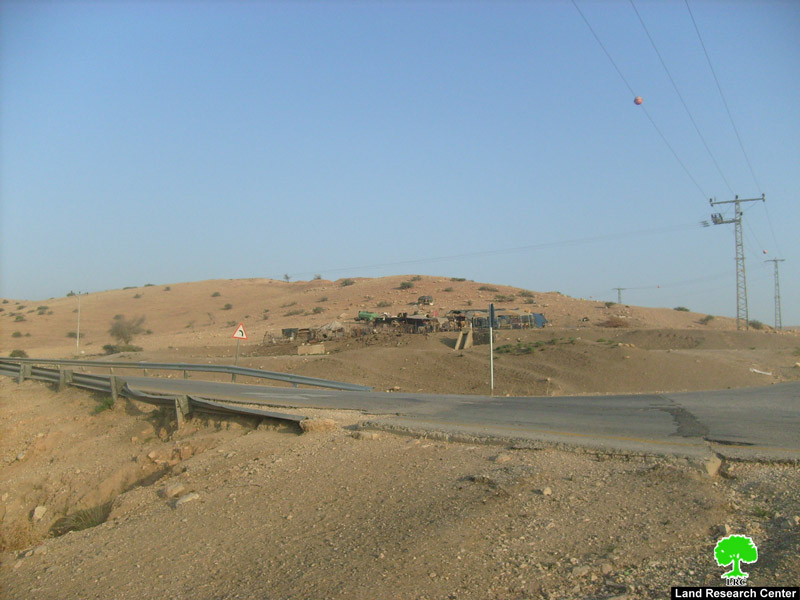 Pic.4:

A general view of Ein Al Hilwa