For the second time: Demolition Orders inSh'ab al Butum – Southern Yatta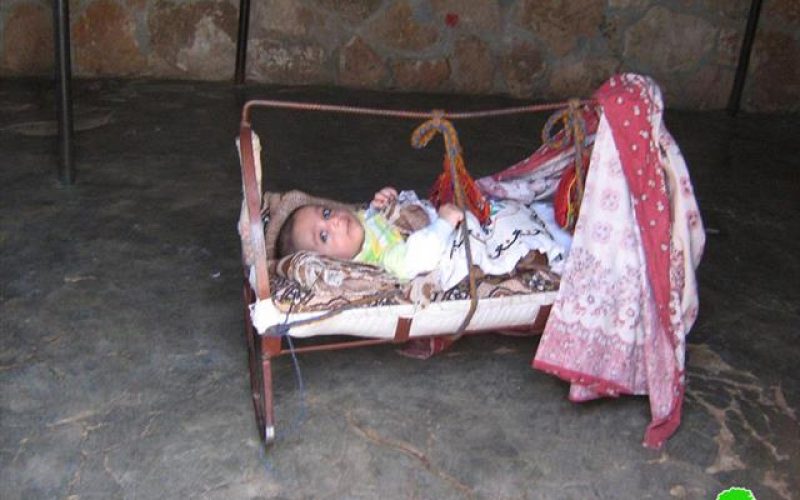 Violation: 19 demolition orders.
Location: Sh'ab al Butum – Hebron Governorate.
Date: May 25, 2010.
Victims: 'Izzat al Najjar, 'Izzat al Jabarin, and Hatem al Jabarin.
The Israeli Occupation Authorities handed a number of residents of Sh'ab al Butum 19 stop-work and demolition orders against 19 agricultural structures. The Israeli Occupation Authorities had previously handed other 16 on April 13, 2010.
According to the locals, the Israeli soldiers informed them that the demolitions are going to be carried out within a week which forced the victims to leave the area looking for another shelter. However, since the order is still pending execution, the owners went back to their tents and houses, anxiously waiting yet not hoping for the day the dozers appear.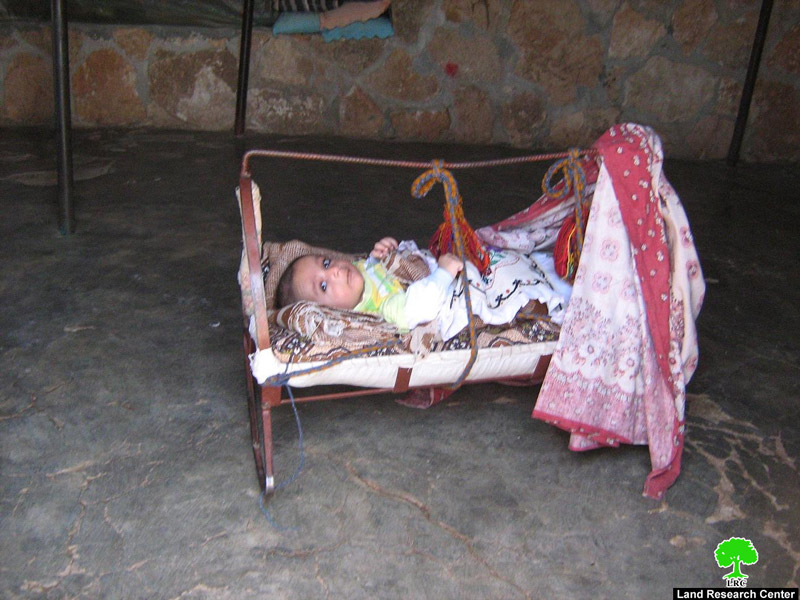 Picture 1: a child in the cradle waiting for deportation
The threatened structures belong to:
2- 'Izzat al Najjar: he received an order issued against a tent, barns, and caves with a total area of 300 m2. It is the second notification he receives though he received one on April, it included:
| | | | |
| --- | --- | --- | --- |
| No. | Structure type | Material and usage | picture |
| 1 | Tent | Stone and nylon, shelters 12 people | |
| 2 | Tent | Nylon, fodder reserve | |
| 3 | Barn | Nylon, used as a barn | |
| 4 | Bathrooms (2) | Cement blocks | |
| 5 | 5 | Cave | |
| 6 | Chicken hut | stone | |
| 7 | Stove | Mud, used for baking | |
| 8 | kitchen | Mud, daily usage kitchen | |
2- 'Izzat al Jabarin: received notifications against the following:
| | | | |
| --- | --- | --- | --- |
| No. | Structure type | Material and usage | picture |
| 1 | Tent | Mud and Nylon, shelters 17 people | |
| 2 | Tent | Mud and Nylon, fodder store | |
| 3 | barn | Mud and Nylon, used as a barn | |
3- Hatem al Jabarin: received notifications against the following:
| | | | |
| --- | --- | --- | --- |
| No. | Structure type | Material and usage | picture |
| 1 | Water tank | Old, used for drinking and irrigation | |
| 2 | Tent | Nylon, shelters 18 people | |
| 3 | Room | Cement blocks kitchen | |
| 4 | Barn | Stone | |
| 5 | Chicken hut | Stone | |
| 6 | Barn | Stone and Nylon, used for animals | |
| 7 | Barn | Nylon | |
| 8 | bathroom | Metal plates | |
Order 1-6

:

Photocopies of the military orders – no landlord

names
47 people living in continuous anxiety:
After being threatened of losing their lands which they have been using for a long time and have become used to the lifestyle they are leading, 47 people are now concerned about the dark future that is awaiting for them. For more information on Sh'ab al Butum, please refer to
LRC's report issued on April, 2010