The Israeli Violations of the Palestinian Environment in Beit Ummer Town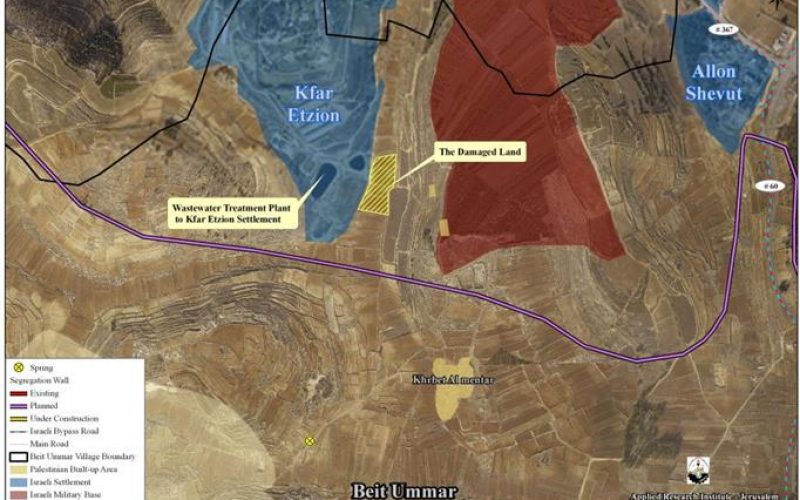 On April 22, 2010, the Israeli settlers of the Illegal Israeli settlement of Kfar Etzion had flooded 70 dunums of the most fertile agriculture lands of Beit Ummar town, north of Hebron Governorate, with wastewater, where they intentionally unloaded the wastewater treatment plant which is located in the nearby Israeli settlement to the adjacent Palestinian lands which are owned by Sabarneh family. The targeted lands which are located in Abu Shkheit area, northwest of Beit Ummar, are cultivated with Grape trees which became unfit for human consumption. See Map 1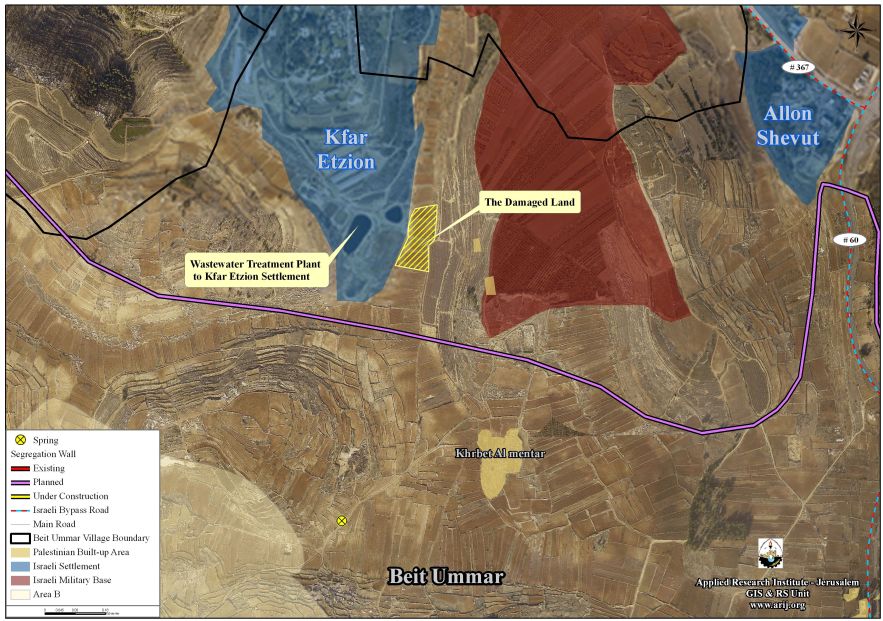 Map 1

: the targeted lands in Beit Ummer

Town
Mr. Nasri Sabarneh, the Mayor of Beit Ummar, as well as experts from the Palestinian Ministry of Agriculture – Hebron Directorate, went a field visit to the damaged lands and they estimated the losses for 2010 season reached 385,000 NIS ($105,000). Below are the names of the owners of the targeted lands:
1.
Mr. Mohammad Saber Ismail Sabarneh
2.
Mr. Khalil Saber Ismail Sabarneh
3.
Mr. Mustapha Saber Ismail Sabarneh
4.
Mr. Mohammad 'Odeh Ba'ran Sabarneh
5.
Mr. Ahmad 'Odeh Ba'ran Sabarneh
6.
Mr. Mahmud 'Odeh Ba'ran Sabarneh
7.
Mr. Hamid Yousef Mahmud Sabarneh
Photo 1 &
Photo 2
:
the damaged lands in Beit
Source: Photo Courtesy of Beit UmmerMunicipality
Photo 3 & Photo 4: Agricultural lands of the Etzion settlement that
are irrigated with treated wastewater
Map of the Targeted lands in Beit Ummar
Furthermore, and on April 28, 2010, a herd of Israeli settlers from the Illegal Israeli settlement of Karmi Tsur which is built on Beit Ummar and Halhul lands, had attacked 6 dunums- land owned by the local residents:. Mousa Younius 'Arar and his brother Issa.
Beit Ummar……..General Glance
Beit Ummar is one of the towns of Hebron Governorate, located 10 km north of Hebron city. The town is populated by 16,133 residents (2.5% from the total population of Hebron Governorate. (PCBS 2010).
Beit Ummar is bordered by Al-Khader village from the north, Halhul town from the south, Al 'Arrub refugee camp from the east, and Beit Fajjar town from its west.
According to the Oslo II Interim agreement of 1995, Beit Ummar town lands, as well as the rest of the Palestinian Territory were divided into areas A, B and C. In Area A, the Palestinian National Authority has complete autonomy over administrative and security issues, where in area B, the Palestinians have civil responsibilities; while in Area C, Israel has full control over the security and administrative issues. Table 1 clarifies the classification of lands of Beit Ummar:-
Table 1

:

Classification of Beit Ummar's Land According to Oslo II Interim Agreement of

1995

%

from the total

Town lands

0

0

45.5

13,600

54.5

16,354

100

29,954

Source

:

Geographical Information System- ARIJ

2010
Beit Ummar and the Israeli Occupation
Beit Ummar town has a long history of suffering from the Israeli colonial activities which targeted their lands from the year 1967 until now, where the town lost 25% from its total area (29,954 dunums) by building four Illegal Israeli settlements and the Apartheid Wall on its lands. See table 2 below:
Table 2: The

Illegal Israeli Settlements built on Beit Ummar's

Lands

285

729

1984

376

3300

1971

300

455

1967

902

332

1977

1863

4816

****

Source

:

Geographical Information System- ARIJ

2010
Moreover, and as a result of the building of Israeli Apartheid Segregation Wall in Beit Ummar, which stretches 7 km through the town's lands, 5657 dunums from the most fertile agriculture town lands has been totally isolated behind the Segregation Wall path, where the owners of these lands had deprived from their right to reach their lands and cultivate it unless issuing a special permit from what is so-called "Israeli Civil Administration" which is attached to the Israeli army, where their requests most often rejected.
To Conclude
The Israeli settlers of the Illegal Israeli settlements in all over the Occupied Palestinian Territory are escalating their systematic attacks against the Palestinian population in the OPT, under the protection of the Israeli Army Forces , destroying their lands and properties, in an attempt to push them toward forcibly displacement from their own lands. The Israeli settlers practices are contradict with the International law rules and conventions as follows:
Article 53 & 147 of the Fourth Geneva Convention indicated that: Extensive destruction and appropriation of property not justified by military necessity and carried out unlawfully and wantonly, is a grave breach of the Convention.

Art. 23 of the Hague Convention of 1907 also provides: In addition to the prohibitions provided by special Conventions, it is especially forbidden to destroy or seize the enemy's property, unless such destruction or seizure be imperatively demanded by the necessities of war;
Prepared by: