The Israeli Occupation Army demolished Three Houses and a Farm in Bethlehem and Salfit Governorates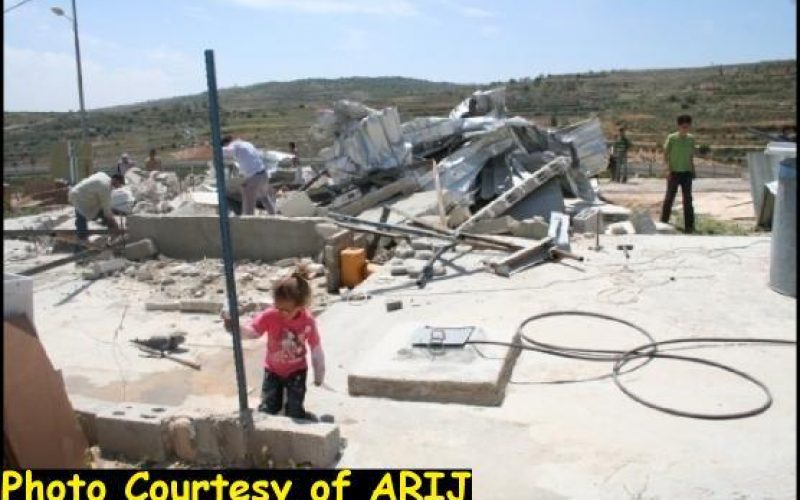 On April 14, 2010, the Israeli Army bulldozers demolished one house and a farm in Bethlehem Governorate and another two houses in Salfit Governorate.
In Bethlehem Governorate, the Israeli Army bulldozers, protected by the Israeli Occupation Forces, went into Abu Soud area in Al Khader town, west of Bethlehem city and demolished a Palestinian house owned by resident 'Ali Saleem Mahmud Mousa under security pretext (due to its close proximity to the Israeli Segregation Wall path).
An interview conducted by ARIJ field worker with Mr. Mousa indicated that his 100 square meters house was first built in 1988 and demolished for the first time in 2002. He again rebuilt the house in the year 2007.
Mr. Mousa added that in January 2010, the Israeli Army handed him a new demolition order for his house before coming to demolish it on April 14, 2010. Mr. Mousa's house was built on an area of 100 square meters with a total cost of 60,000 NIS. The demolished house was home to seven people who were left homeless following the demolition process. See Photos 1 to 4 & map 1
Photos 1 to 4: Seens of the dmeolition in Al Khader Village
Demolition in Jabal Harasa area east of Beit Sahour
On the same day, the Israeli Army occupation bulldozers demolished an under-construction farm in Jabal Harasa (Harasa Mountain) in Beit Sahour, east of Bethlehem city under the pretext of lacking building permit. The farm is owned by resident Omar Ribhi Barhoum Ayub and was built one year ago on a total land area of 1000 square meters (1 dunum). See the pictures of the farm before and after the demolition: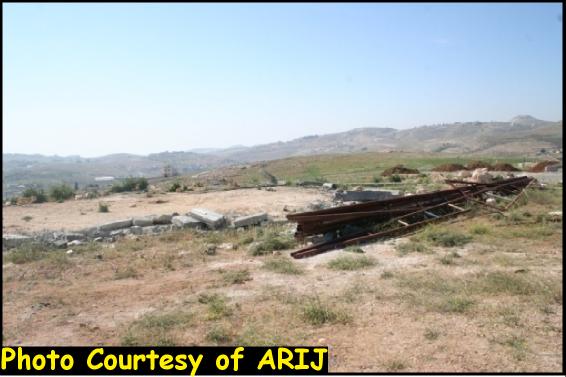 Photo 5: The farm before the demolition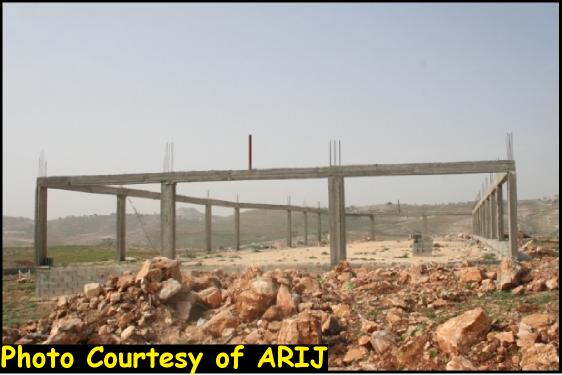 Photo 6: The farm after demolition
It is worth mentioning that on April 5, 2009, the Israeli Occupation Army along with the Israeli Civil Administration personnel handed over five Palestinian families' in Jabal Harasa area military warnings to demolish their structures under the pretext of lacking proper building permits. The farm of Mr. Omar was among the structures threatened of demolition that time. See Map 2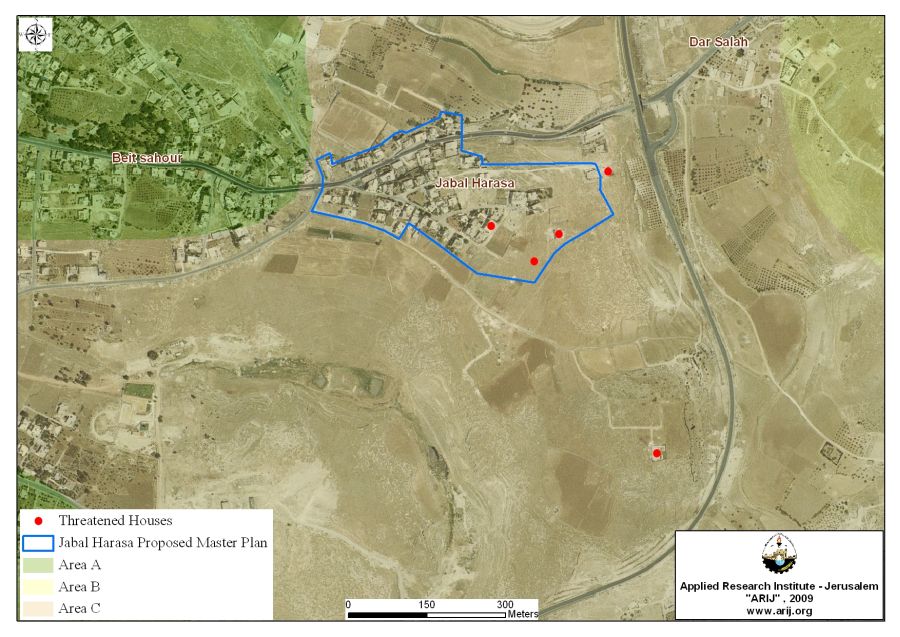 Map 2: Location Map of the threatened houses in Jabal Harasa
Beit Sahour, 2009
An Israeli Master Plan for Jabal Harasa Area
In 2008, the Israeli planning department operating within the Israeli Civil Administration issued exclusive master plans for 14 Palestinian villages located in areas defined under the Oslo Accord of 1995 as area C in the West Bank; Jabal Harasa was one of the villages. This shift in the Israeli civil administration policy came due to effective pressure practiced by the international Quartet and the Office of its delegate, Tony Blair. However, the proposed master plans but yet the proposed master plans aren't ratified by the Israeli authorities. See Table 1 & Map 3:
Table 1: Table of the proposed Master plan for Jabal Harasa – Beit Sahour

Master Plan Name

Proposed

Master plan Area / Dunums

Existing total Built-up Area/

Dunums

Built-up area inside the proposed master plan/

Dunums

Built-up area outside the proposed

master plan/

Dunums

Jabal Harasa

99

62

41

21

Source: ARIJ GIS Unit – 2010
Map 3: Jabal Harsa master plan
Furthermore, the Israeli Occupation bulldozers razed and demolished an under construction two-storey building owned by resident Maher 'Odeh and three green houses owned by resident Daoud Abu Ghannam in Haris village northwest of Salfit city under the pretext of lacking building permits. Houses in Haris village share the same fate as that house that was demolished in Al Khader village because they lie in close proximity of the Israeli Segregation Wall which isolates more than 90% of the village's area. See Map 2
Demolition in Haris Village
Furthermore, in the village of Haris, located north of Salfit city in the northern parts of the West Bank, Israeli bulldozers, protected by the Israeli Army Occupation Forces, demolished an under construction, two-story building owned by local resident Maher 'Odeh and three green houses owned by local resident Daoud Abu Ghannam under the pretext of lacking building permits.
Building in Area C…………… the never ending Suffering
The Palestinian residents living in communities classified as area C according to Oslo II Agreement of 1995, where Israel has full security and administrative control over these lands, are daily facing forced displacement from their own lands and their houses are being demolished by the Israeli Occupation forces because the so-called "Israeli Civil Administration" imposes burdensome conditions on Palestinian residents living in area C when they seek to build on their own lands. Their applications are often rejected but build up regardless. Their houses are then considered illegal and unauthorized according to the Israeli Occupation authorities and this normally means that their homes are subjected to demolition at any moment.
During the years of 2000 to 2009, there were more than 1900 submitted applications by Palestinians living in area C for building licenses to the Israeli Civil Administration. Only 105 (5.5%) building permits were approved. On the other hand, the Israeli civil administration demolished more than 1700 "illegal Palestinian structures" built in area C within the same period.
Conclusion
The Israeli systematic policy of demolishing Palestinian houses, especially those built in area C, aims primarily at emptying the Palestinian population from these areas and creating a voluntarily evacuation, while at the same time, expanding and intensifying the building of illegal Israeli settlements and outposts.
Under the Universal Declaration of Human Rights adopted and proclaimed by General Assembly resolution 217 A (III) of, December 10, 1948, Article 17 reads: 'No one shall be arbitrarily deprived of his property.' Which means it bans Israel from destroying or confiscating the property of the Palestinians at any case.'

Also Article 53 & 147 of the Fourth Geneva Convention of 1949 indicated that: 'Extensive destruction and appropriation of property not justified by military necessity and carried out unlawfully and wantonly, is a grave breach of the Convention.'

Moreover, Art. 23 of the Hague Convention of 1907 also provides: 'In addition to the prohibitions provided by special Conventions, it is especially forbidden to destroy or seize the enemy's property, unless such destruction or seizure be imperatively demanded by the necessities of war.'
Prepared by