The Israeli Bulldozers Ethnically Cleansed Khirbet Tana and Displaced its residents
Background
Khirbet Tana, a small Palestinian community located 6 kilometers to the east of Beit Furik village northeast of Nablus city and west of Mekhora settlement. It is inhabited by 56 Palestinian families with a total population of approximately 350 residents most of whom are actually farmers and herders of animals and who rely on the plenty of springs and water wells for their animals and crops as the area is rich of water resources. Families in Kherbit Tana live in small area houses build from stone or concrete blocks and covered with metal sheets. The Kherbit also has many caves which are used by residents to keep their livestock.
Khirbet Tana is bordered by Beit Dajan village from the north, the Illegal Israeli settlement of Gittit and Bypass road number 508 from the west, Beit Furik and Yanun villages from the east and Ar Rajman village from the south.
Ethnic Cleansing and Forced Displacement
The suffering of Khirbet Tana residents started back in May 2004, when the Israeli Occupation Army handed over residents of Tana Israeli military orders notifying them that their houses will be demolished under the pretext of lacking building permits in addition to their animal sheds and an elementary school built in the year 2001. , located in military area specified for the training of the Israeli Army.
Later on July 5, 2005, the Israeli Army Bulldozers guarded by dozens of Israeli Army jeeps staged into Khirbet Tana and started the demolition process which resulted in 14 residential houses, 18 animal sheds, 6 animals stores with many sacs of food for sheep
fodder stores and the only school in the area. See Map 1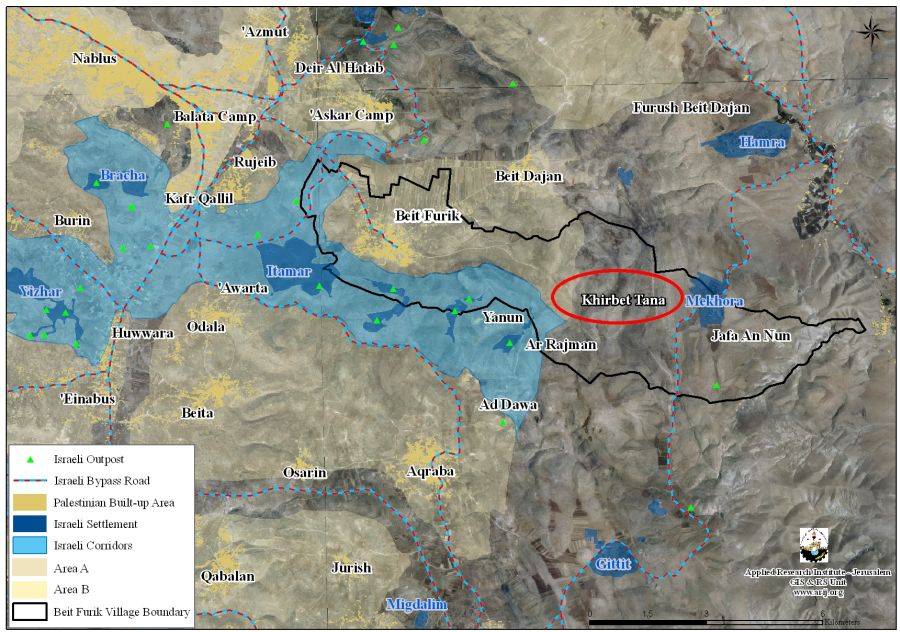 Map 1: Location of Khirbet Tana
Rebuilding Kherbit Tana
Following the demolition of houses and animal sheds, residents of Khirbet Tana had no choice but to build their houses and sheds again, because they have no other place to go except to their lands which they have ownership documents dated back to the Turkish Rule Times (Tabo). On May 2008, the Israeli bulldozers had again demolished their newly-built houses and animal sheds under the same pretext. Residents then filed their objections to the Israeli High Court of Justice following the demolition process, and on February 9, 2009, the court had issued its final, non-objectionable decision to demolish all the structures in Khirbet Tana and to evict all of its residents.
Accordingly, on January 10, 2010, the Israeli Army bulldozers again and without pre notification stormed Khirbet Tana and flattened all the 25 structures, residential structures, animal sheds, caravans, tents, and displaced residents. Details of the demolished structures are:
1. A 25 m² room and a 130 m² animal shed owned by Radi Mahmoud Hanani.
2. A 130 m² animal shed and a 25 m² room owned by Mahmoud Ahmad Nassasra.
3. A room and uprooted 25 fig trees owned by 'Abdel Qader Ibrahim Hanani.
4. Two rooms and a 150 m² animal shed owned by Majed 'Afeef Hanani.
5. A 25 m² room and a 130 m² animal shed owned by Fawzan Mousa Nassasra.
6. A 25 m² room and a 130 m² animal shed owned to Raed 'Afif Hanani.
7. A 25 m² room and a 130 m² animal shed owned by Ismae'il Musa Nassasra.
8. Two classrooms of the only elementary school in the village.
9. A 90 m² animal shed owned by 'Abdel Mahdi Ahmed Nassasra.
10. A 25 m² room and a 130 m² animal shed belonging to 'Abdel Hafez Hassan Hanani.
11. Two rooms and a 130 m² animal shed owned by Farsan Fares Hanani.
12. A 130 m² animal shed owned by Qussai Mustafa Hanani.
13. A 25 m² room and a 150 m² animal shed owned by Fayez Yousef Hanani.
14. Two rooms and a 130 m² animal shed owned by Khaled Mustafa Hanani.
15. A 25 m² room and a 70 m² animal shed Owned by Wasef Su'od Hanani.
16. A greenhouse and a tent owned by Muhammad Khashman Hanani.
The Geopolitical Status of Kherbit Tana
According to the Israeli-Palestinian Interim Agreement on the West Bank and the Gaza Strip, called 'Oslo II' which was signed on September 24, 1995, the Palestinian territory was divided into areas A, B and C. In Area A, the Palestinian Authority have complete autonomy over administrative and security issues; where in area B, the Palestinians have only civil responsibilities; and in Area C, Israel has full control over the area which constitutes 61% of the total West Bank area. Accordingly, Kherbit Tana is located within the area classified as 'C' and therefore any Palestinian building, construction and land utilization is forbidden in the area as it is compulsory for Palestinians to go to the Israeli Civil Administration in order to obtain building permits. Due to the rigid Israeli building license policy, the Palestinians went and built in area 'C' without licenses, to cope with the natural growth of the population.
To conclude,
At the time Israel escalated its demolishing policy against Palestinian houses located in Area C, the Israeli Occupation authorities are intensifying the illegal building in Israeli settlements and outposts throughout the Occupied Palestinian territory, particularly in East Jerusalem. Furthermore, the Israeli Civil Administration had imposed burdensome and discriminating requirements on the Palestinians asking for building permits to build in their lands located in Area 'C' like the case of Khirbet Tana and so Palestinians have no choice but to build without building permits to cope with their needs for housing.
The Israeli Army has no jurisdiction to force building and regulation law over the occupied Palestinian territory unless it has to do with security reasons. The fact of the matter is that Israel has been using the security pretext to justify all its illegal action in the occupied territory even if it violates – and it always do – the rights of the Palestinians to live, or the right to movement, among long list of other human rights violation.
The predetermined house demolition campaign carried out at the hands of Israeli Occupation Army flagrantly violates International Humanitarian Law, and the International Law Rules and Conventions and United Nations resolutions.
Article 53 of the Fourth Geneva Convention: Israel is prohibited to demolish Palestinian houses according to the Convention which provides that: 'Any destruction by the Occupying Power of real or personal property belonging individually or collectively to private persons, or to the State, or to other public authorities, or to social or cooperative organizations, is prohibited, except where such destruction is rendered absolutely necessary by military operations.

Article 147 of the Fourth Geneva Convention provides that: 'extensive destruction and appropriation of property, not justified by military necessity and carried out unlawfully and wantonly' is a grave breach of the Convention.

— The International Convention on the Elimination of All Forms of Racial Discrimination (1965) Article 5 provides that: 'States' Parties undertake to prohibit and eliminate racial discrimination in all of its forms and to guarantee the right of everyone, without distinction as to race, color, or national or ethnic origin, to equality before the law, notably in the enjoyment of the following rights: (e) in particular … (iii) the right to housing'.
In the year 2004 the United Nations Security Council called on Israel to stop demolition of Palestinian homes under Resolution No. 1544-(2004), the resolution states: 'The Security Council called on Israel to respect its obligations under international humanitarian law, particularly the obligation not to undertake home demolitions contrary to that law'.
::::::::::____
[1] The settlement of Mekhora was established in 1973 on lands of Beit Furik and Beit Dajan villages east of Nbalus city. The settlement occupies a total land area of 925 dunums (0925 km²) and is a home to 120 Israeli settlers.
Prepared by
The Land Research Center
LRC