Stop Work Orders Issued in Rujeib Village
Violation: Issuing 13 Stop Work Orders against residential and agricultural structures in Rujeib.
Location: south eastern part of Rujeib.
Date: November 15, 2009.11.23
Violators: Construction and Organization Committee in the Israeli Civil Administration.
Victims: number of Rujeib and surrounding areas residents.
On November 15, 2009,the so-called 'Construction and Organization Committee' handed residents of Rujeib and the surrounding areas 13Stop Work Orders justifying that by the fact that the structures are located in area classified 'C' according to Oslo Agreement and that the owners were not granted the permits needed for construction in such areas. According to the Orders, the owners have till December 16, 2009, the date of the hearing in Beit El court, to put the structures on the right track again by attempting to apply for the required permits, a complicated, time consuming, and costly process.
Table 1: The most resent wave of Stop Work Orders
No

Victim

Family Members

Area

(m2)

Number of structures

Structure Nature

Comments

1

'Ali Shara'na

6

150

1

Residential, one floor

2

Rasem Rawajba

1

120

1

Residential, under construction

Single

3

Ramez Rawajba

1

130

1

Residential, under construction

Single

4

Sa'oud Dwekat

4

150

1

Residential, one floor and a basement

5

Husam Dwekat

4

160

1

Residential, under construction

6

Najeh Dwekat

7

140

1

Residential, under construction

7

Rif'at Dwekat

10

140

1

Residential, under construction

8

Sufian Balhajawi

11

130

1

Residential

9

Jebril Balhawaji

6

130

1

Residential, inhabited

10

Ishaq Shehada

7

100

1

Chicken coop

11

Issa Dwekat

6

140

1

Residential, inhabited

12

Hani Rawajba

12

90

1

Residential, inhabited

13

Da'ood Rawajba

5

150

1

Residential, under construction

Total

80

1730

13
Hani Rawajbah (32) explained:' I spent more than eight years working in different fields until I became able to construct a two bedrooms house, one of them is still under construction. My family and I (12 members) live in one 12-m2 bedroom because the rest of the house is still not ready for use. Now, the house is threatened of demolition, meaning that my family and I are about to be homeless for no apparent reason.
Najeh Dwekat (61) said:' my children and I have been working for 6 years now attempting to save enough money to be able to build a house for my sons to get married in. We used all the cash we got in order to build this simple house. And now, we are about to lose it all and our dream of a dignified life is about to vanish in a time where there is no dignity at all'.
Jebril Balhajawi does not feel any better about the orders as he said:' my father was abruptly evicted from the village of 'Tabsar' back in 1948. Now 'Ra'nana' colony lies upon the ruins of the village. My brothers and I moved to Balata camp, then, and because of the difficulties of living there, my brother and I decided to buy some land in the nearby village of Rujeib to build a house in it. But its 'déjà vu', the Occupation intends to evict us once more'.
Mohammad Dwekat, president of Rujeib village council said:' since the arrival of the Palestinian Authority, no one has ever defined the boundaries of the village. As such, , the locals were expanding randomly around the village because of the lack of sites suitable for construction, mainly because the Occupation authorities confiscated large areas of the village for the sake of 'Etmar' colony and the by-pass road leading to Elon Moreh colony which the same reason for issuing Stop Work orders'.
Rujeib Village:
Rujeib is 3.5 away from Nablus city. Its total area is about 6675 dunums of which 724 dunums are the built up area. It's inhabited by 4202 people. The planted area in the village is around 4500 dunums, planted mainly with olive trees. Furthermore, 'Sahel Rujeib' is considered an important agricultural area planted with different types of pulses and vegetables and is considered a major income source for many of the locals. The rest is considered deserted lands, not feasible for agricultural purposes; it needs a lot of treatment and opening roads in order to convert into cultivated area.
The locals suffer from difficulties summarized by being incapable of reaching their lands located near Etmar colony which is located to the east of Rujeib and has devoured 169 dunums from its total area.
In addition, the by-pass road that passes near the south eastern part of the village and leads to Elon Moreh colony is considered a continues threat to the locals beside the fact that it has already devoured more than 300 dunums of fertile lands.
Etmar Colony:
The colony was established in 1948. Its built up area is about 3098 dunums inhabited by 557 colonists. See Map 1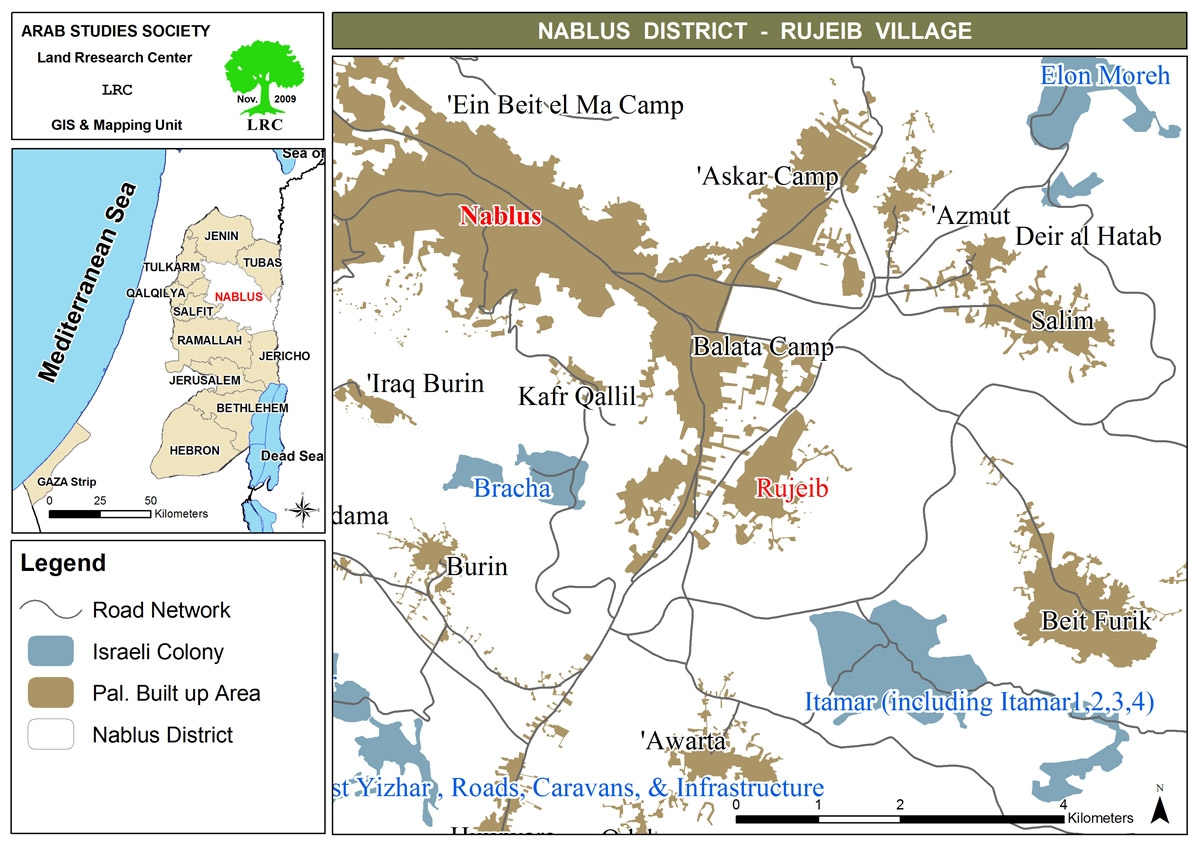 Map 1: Location of Etmar colony