After Nine Years of Suffering, the Israeli Occupation Authorities Remove Deir Razih Entrance Blockage
Occupation authorities reopened the entrance of Deir Razih village, located to the south of Dura in Henron Governorate after nine years closure.
On October 26, 2009 the village entrance was reopened after the removal the earth mound that was blocking the entrance by an Israeli army bulldozer. Relief could be seen on the faces of the locals. Ayman Amr, a resident of Deir Razih and a taxi driver said:' now, after the removal of the blockage, I can get home using my car which I used to park either in Dura or Tarrama and then walk home'.
'The residents of the village will be able to move freely towards Dura or Hebron city after nine years of imposed movement limitations' He added.
9 years seemed enough for the occupation authorities to understand the agony and suffering of more than 300 people who live in Deir Razih and make them consider opening the main entrance of the village.
Deir Razih:
Deir Razih is located to the south west of Hebron city; it is under the jurisdiction of Dura municipality. More than 300 people live in the village because most of the youngsters have moved out because of the blockage of the city entrance after the beginning of the second Intifada. Its total area is about 540 Dunums including residential areas. It's populated by Amr, Abu Arqoub, Hijja, Bado and Al Azazma clans. Most of its population depends on farming on their living.
The village affairs are run by a village council. There exist an elementary school, a mosque, a clinic, and an under construction kindergarten in the village. See Map 1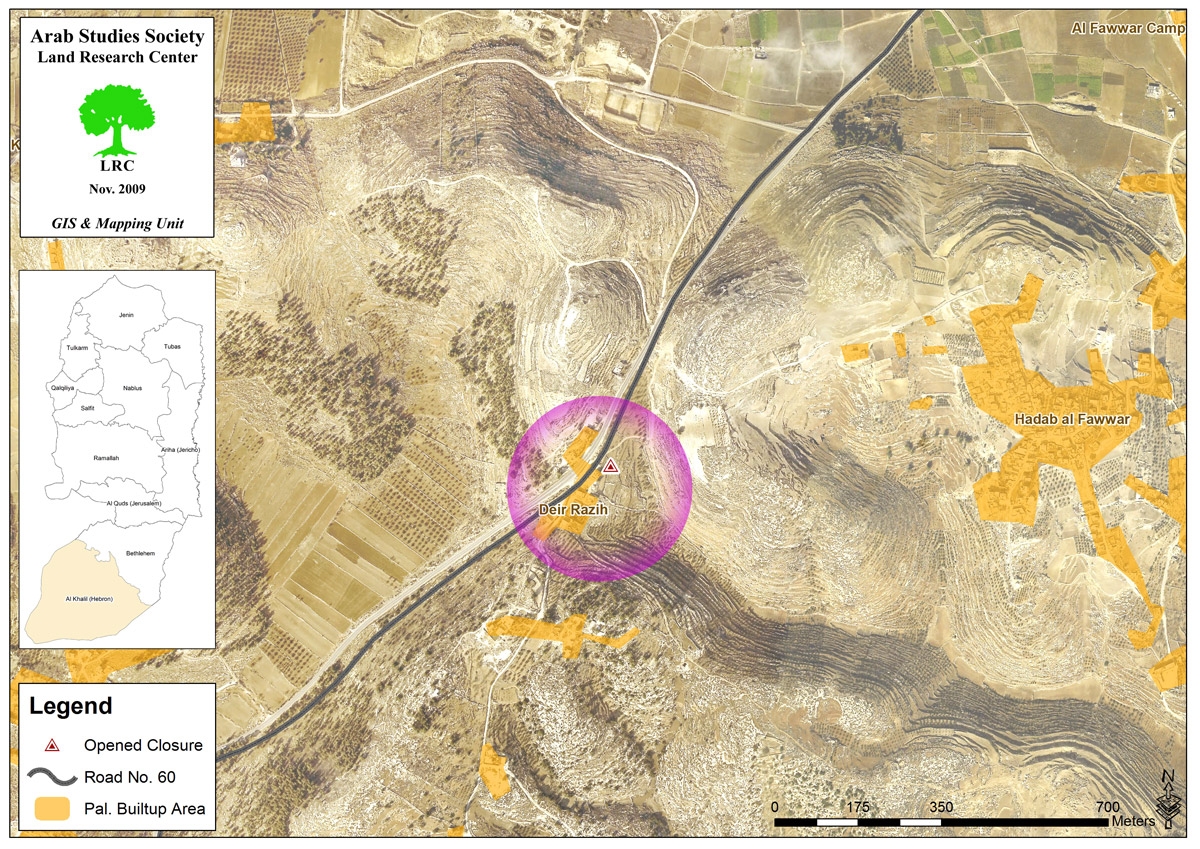 For further information on Deir Razih, please look at previous LRC reports.