The enduring annexation of Jerusalem – New Housing Units in Nof Zion settlement south of Jerusalem
A cornerstone was laid by right wing Israeli settlers on the 7th of October 2009 to mark the construction of a new settlement named Nof Zion next to the Palestinian neighborhood of Jabel Al-Mukaber. Extensive security measures were in place due to ongoing tensions in Jerusalem. The creation of a new settlement marked by the symbolic laying of a stone can only be seen as provocative given recent clashes and is consistent with the Israeli policy of ignoring the 'peace' process and deepening the annexation of Jerusalem. The new settlement is as illegal as all other 34 in East Jerusalem, clearly reflecting Israel's policy of unilateral action and colonization.
The stone was laid in Nof Zion, set on an area of 44 dunams located near the illegal settlement of East Talpiot. Construction of Nof Zion began in 2004 and was finished in 2008 with 91 housing units available to Jewish settlers. The 44 dunams of land where Nof Zion is situated are owned by Palestinian families but were confiscated by occupying troops in 1967. Indeed, in 2005 the families submitted an appeal to the Israeli high court of justice to prevent construction on their land, but it was rejected. New settlements contribute to creating facts on the ground and demographic barriers to Palestinian claims to Jerusalem as a future capital.
The housing units in Nof Zion are being advertised by Digal Investments & Holdings Ltd, a Tel Aviv based company, aimed at attracting largely rich foreign Jews. They are marketed in line with Israeli policy on Jerusalem which claims the city as the sovereign capital of Israel with Jews being historically 'entitled' to the land. East Jerusalem is internationally recognized as part of the Occupied Palestinian Territories and as such Article 49 of the fourth Geneva Convention prohibits that an 'occupying power shall deport or transfer part of its own population into the territories it occupies'. Article 174 also prohibits 'extensive destruction and appropriation of property not justified by military necessity and carried out unlawfully and wantonly'. See Maps 1 & 2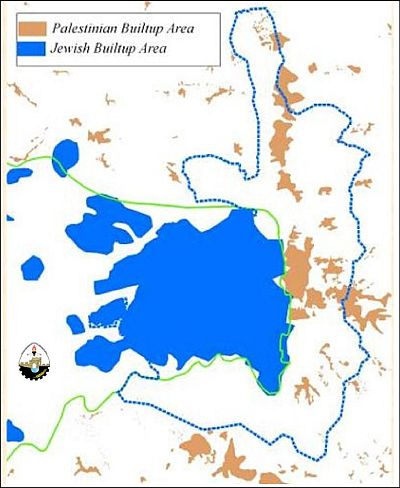 Map 1: Jerusalem in 1967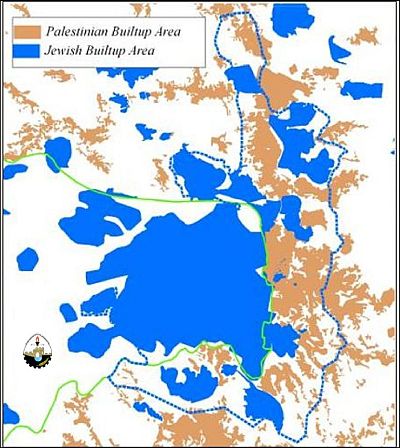 Map 2: Jerusalem in 2009
105 new housing units will be added to Nof Zion after the initial groundbreaking ceremony took place, attended by MK Uri Ariel (National Union), Rabbi Lau, a former chief Ashkenazi rabbi, and a large crowd of Jewish onlookers. A former Jerusalem municipal council member had described the project as 'non-ideological' and solely operating from a business perspective. However it is clear from data on Israeli settlement activity since 1967 that all settlements form part of a political objective to deepen the annexation of Jerusalem and undermine Palestinian claims for a capital. President Abbas has recently echoed this claim that the Israeli's are purposefully erasing Palestinian presence in the city by a process of 'judaization' and settlements are a core element of this process. This process is also consistent with documentation which shows how Jerusalem municipality zoning and planning policy from 1967 seeks to preserve a demographic balance of 70:30 Jews to Arabs. Indeed current demographics are nearly identical to this proportion with Palestinians forming 33% (250,000) and Israeli's 67% (500,000) of Jerusalem's population. 220, 000 of the Israeli population are settlers in East Jerusalem.
Since Prime Minister Netanyahu came to power in March 2009 he has approved 11,865 housing units in Israeli settlements. Of these settlements 73%, 8,623 housing units, were in occupied East Jerusalem. Additional units have been approved for Giv'at Ze'ev (76), Ramot (903), Oisgat Ze'ev (486), Ma'ale Gdumim (89), Kedar (6000), Jabal Al Mukaabi (63), Ash Sheikh (20), Bab Hatta (150) abd Ma'ale Hazeitim (104). This forms a line of settlements which surround the old city and effectively populates East Jerusalem with a large Jewish population. These planned units illustrate how the new settlement of Nof Zion is not an isolated, or solely commercial, settlement, but in fact forms part of a larger plan to consolidate annexation of Jerusalem. Indeed, Israeli Prime Minister Netanyahu has declared that Jerusalem is the united and sovereign capital of Israel and that Jews have the right to build as freely as they wish. This is however in contradiction to international law which recognizes East Jerusalem as occupied by Israel and proposals for 'peace' which would see Jerusalem as the capital of the Palestinian state.