House owner forced to knock down his house in Silwan village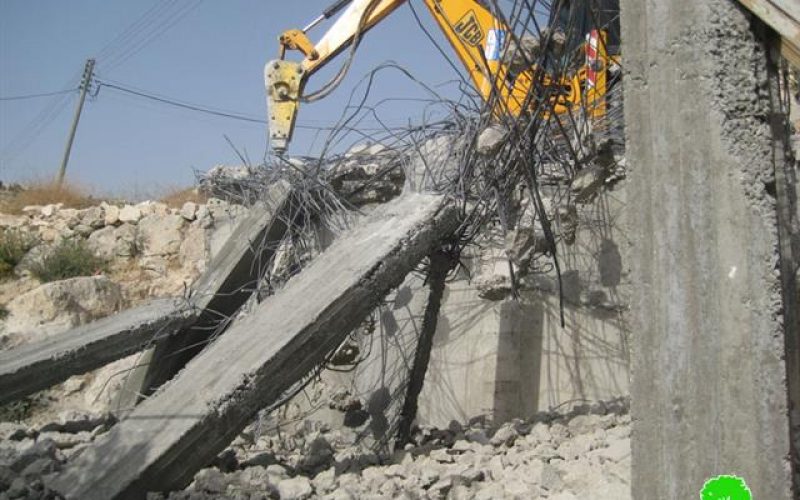 During last month, the Israeli municipality of occupied Jerusalem continued its policy of demolishing Palestinian houses in the city. A house owner was obliged to demolish his house by his own hands to avoid paying high demolition costs for the municipality squads. In addition, 54 housing units were notified for demolition, including three residential buildings in Beit Hanina north of the old city. The on going Israeli house demolition onslaught came after the Israeli minister of interior had cancelled the so-called Jerusalem 2020 planning scheme because it includes some construction plans for Palestinians in the city, although small in compare to the Jewish ones. The current right wing minister of interior is against having any construction plans for Palestinian Jerusalemites and is trying his best to minimize the Palestinian presence in Jerusalem as part of the Israeli all over policy of ethnic cleansing targeting, alike, Palestinians inside the green line and in West Bank and Gaza Strip.
(Photos 1+2: The Bulldozer hired by the Owner to do the demolition)
House demolished by owner
Mr. Abdul Naser Hamida, 40 years old, a father of eight, including five children, had his home notified for demolition on 5 January, 2009 for un-licensing. The house is located in the bridge area between the quarters of as Sala'a and Silwan behind the an Nur gas station not far from the south eastern corner of the old city of Jerusalem.
(Photos 3+4: the house before and after demolition)
At the beginning of 2008, Mr. Hamida had a new flat with a total surface area of 65 M2 built on top of his family's old house to reduce congestion. The flat was built of two bed rooms and facilities. In August, 2008, the family found a copy of a demolition order issued by the Israeli municipality stuck at her window. Afterwards, the family gave a power of attorney to lawyer Ibrahim Obaidat to defend her case in the court which held its session on 11 August. During that session, the previous demolition order was re-assured. On 5 January, 2009, the owner received a notification stating that he should get his flat demolished on his owner cost before 9 May, 2009, or wait for the municipality to get it demolished at the cost of 70000 NIS. Mr. Hamida decided to knock down his flat on 7 May, 2009 paying about 4000 NIS as fees.
In an interview with LRC field researcher, Mr. Hamida said: ' The suffering of having your house demolished by your own hands surpasses any other suffering. We spent about 55000 NIS to get that flat built, and that money was all we had earned. We are left with no house and destitute. Our hope for better future on our land has been killed by the Israeli authorities'.
Table 1: Summary of house demolition in Jerusalem – January – May 2009
| | | |
| --- | --- | --- |
| Month | # of demolished housing units | # of Family members |
| January | 6 | 40 |
| February | *11 | *71 |
| March | 9 | 62 |
| April | 4 | 23 |
| May | 1 | 8 |
| Total | 31 | 204 |
* One third of the demolished housing units is tents for as Sayaleh Bedouins who stay between Mt. Olives and Ezariya ( Bethany). See Map 1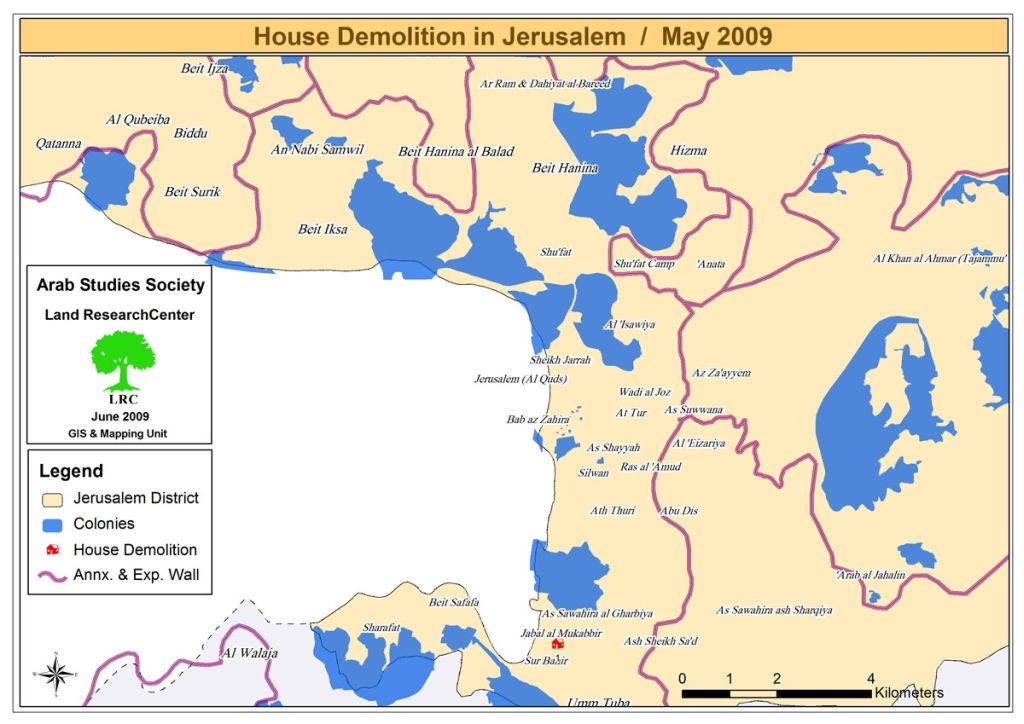 Related case studies:
5.
Israeli demolition campaign continued in Northern Ghor, Tubas Governorate, June, 2009.