Destruction of a pool and agricultural land in Al Buweira area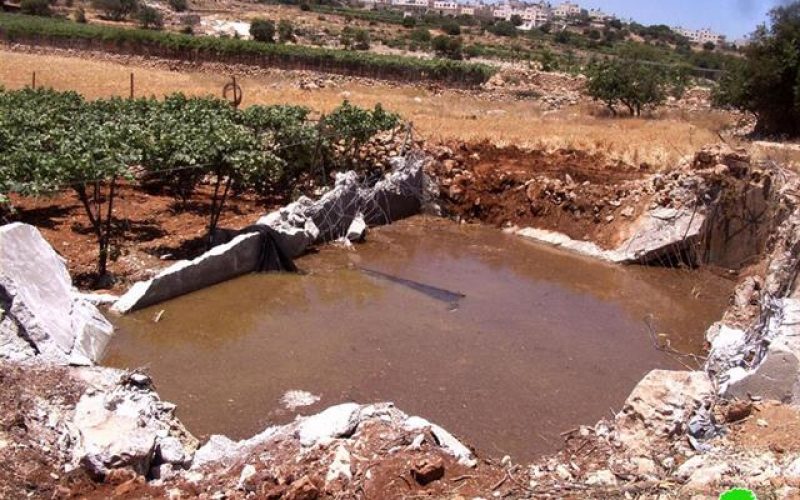 On 8 of June, 2008, Israeli bulldozers destroyed a pool and agricultural land owned by citizen Mohammed Radi Sultan in Al Buweira area north east of Hebron city. The pool was built at the cost of 10000 US dollars with a maximum capacity of 350 M3 . It was used for irrigating the fields through water harvesting at winter time.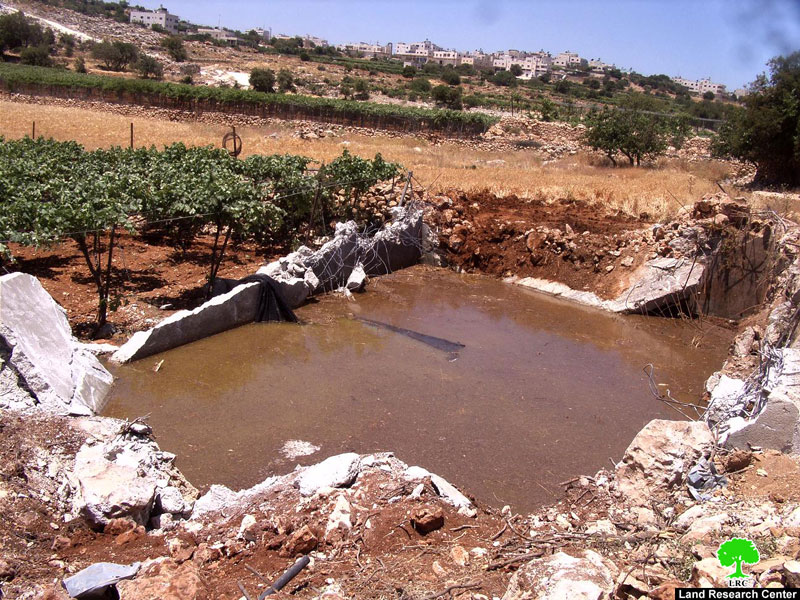 Photo 1: The pool after destruction
Al Buweira area is located at the northern edge of Kharsina ( Ramat Mamre) colony which is an expansion of the Kiryat Arba' colony, the first and most extremist one in the whole of the West Bank. The settlement of Kiryat Arba' and its northern neighborhood, Kharsina are the largest colonies in the governorate of Hebron with a total population of 7000 by the end of the year 2007 controlling an area of 4047 dunums as municipal area including 882 dunums built up area ( source: Foundation for the Middle East Peace-Washington) .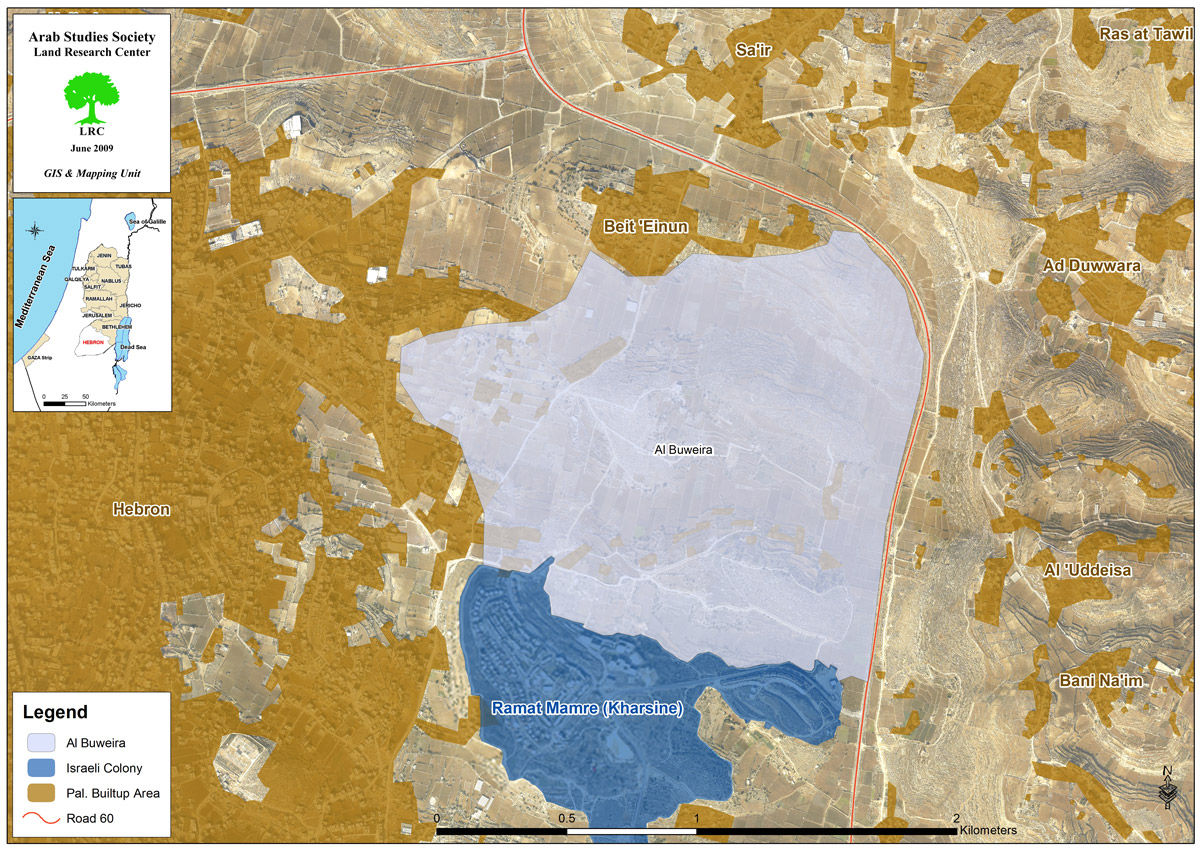 Photo 2: Location of Al Buweira, Hebron
On the same day, Israeli bulldozers uprooted a number of almond trees and destroyed wheat fields at the same area belonging to the family of Al Qaisi. Eyewitnesses told LRC field researcher that two bulldozers and a big hammer accompanied by army jeeps stormed the Al Buweira area at early morning hours and started to bulldoze the pool causing heavy damage to surrounding grape farms as a result of the ensuing flood. This situation will force the owners to get these farms re-ploughed before the imminent yield season which means further spending of money and effort.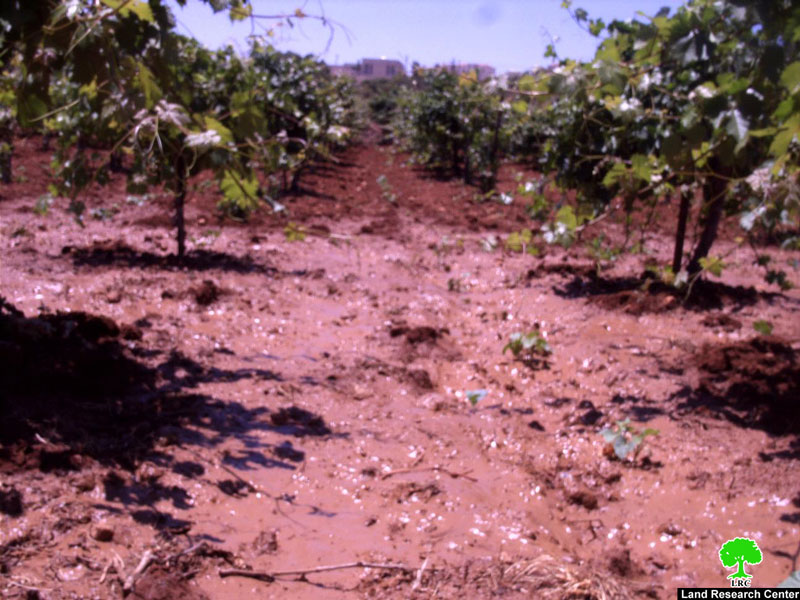 Photo 3: The flooded grape field in Al Buweira
Photos 4+5+6: Sabotage impact on Al Qaisi land
Eyewitnesses confirmed that the Israeli soldiers guarding the destruction squad prevented owners and farmers from approaching the scene. They, even, beat the owner Mohammed Sultan and his son Murad.
Mr. Sultan has the best quality of grapes in the whole district of Hebron, but, following this action he lost the only irrigational source for his fields which will negatively affect the quantity and quality of his products.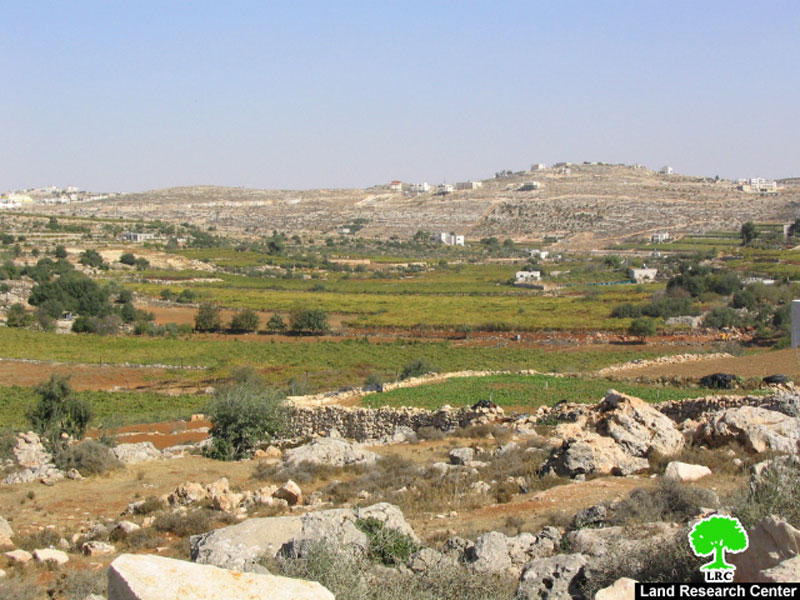 Photo 7: A general view of Al Buweira's fertile land
Previous warnings
At the beginning of this year the Israeli occupation authorities handed over a number of demolition orders against water pools in Al Buweira area, including Mr. Sultan's, under the pretext of un-licensing. This move has been viewed as an economic blow for the whole district because of Al Buweira's importance as a primary food basket due to its fertile land and proximity to Hebron city.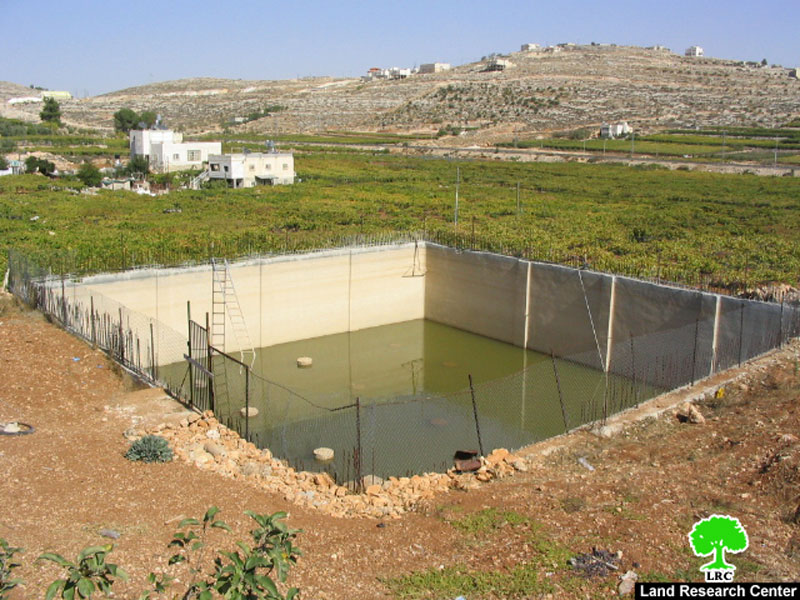 Photo 8: one of the notified pools that are waiting demolition
Mr. Sharif Da'na, whose agricultural land is adjacent to Mr. Sultan's land received a demolition order for a caravan ( mobile home) he had erected in his land for the use in winter and summer times. Moreover, he was, also, notified to get a terrace built around his land removed as soon as possible.
Photo 9+10: Mr. Da'na's caravan and terrace ordered to be removed
Settlers' violence
Since the establishment of Kharsina colony during the seventies of the last century Palestinian citizens have been facing daily attacks and harassment on their land, houses and property. Hundreds of dunums of fertile vine yard, peach and apple groves have been devastated or seized by the Wall when it was built there five years ago for future expansion of the two colonies. In addition, the settlers marked three hilltops out side the Wall as sites for future settlement building. The last military order was issued in 2004 stipulating the confiscation of land for the construction of a 6 km long road around the colony of Kiriayt Arba' to enlarge the 'security ' zone around it.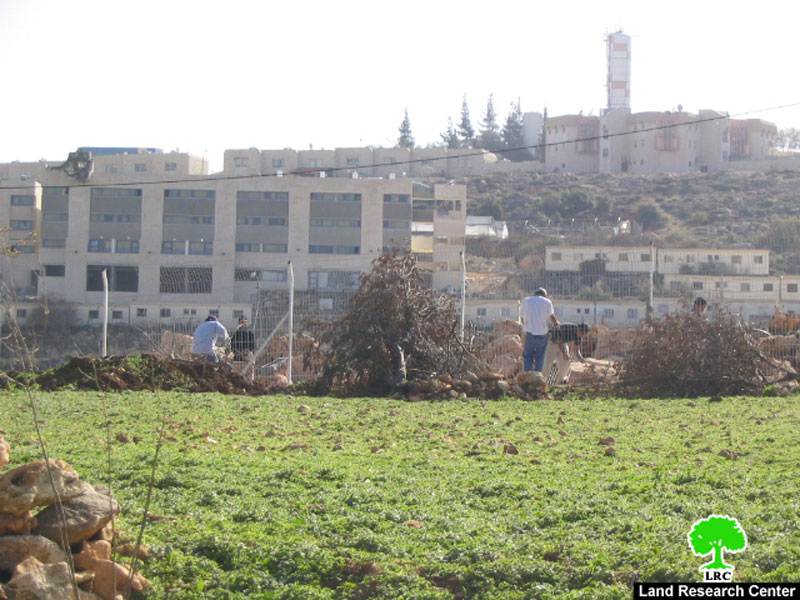 Photo 11: Al Buweira: Israeli settlers constructing the fence Wall inside Palestinian land in 2004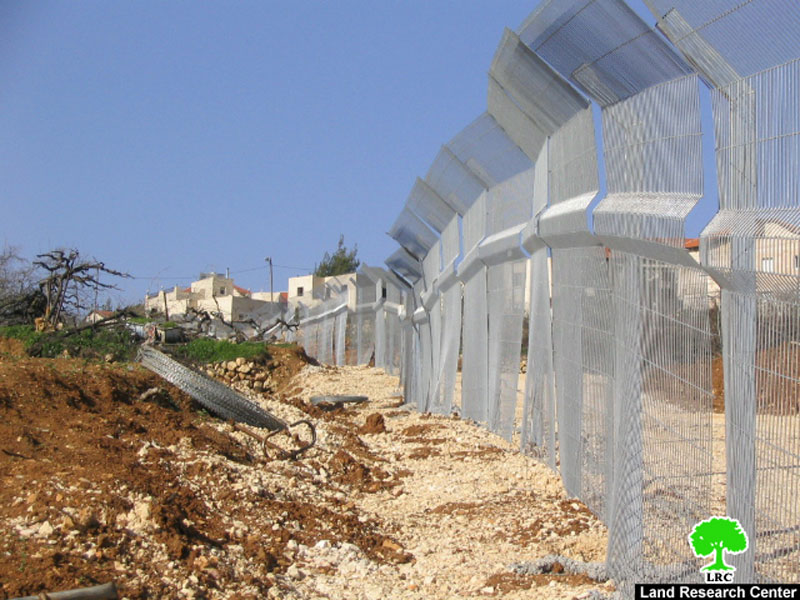 Photo 12: Al Buweira: The Wall under construction
Photo 13: Kharsina colony's homes appear inside the fence Wall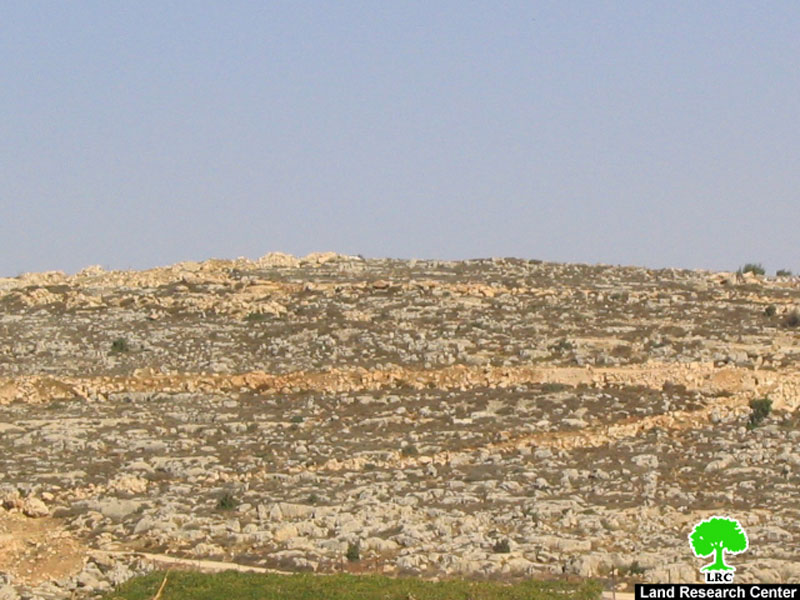 Photo 14: Al Buweira: One of three outside Wall hills marked for confiscation by settlers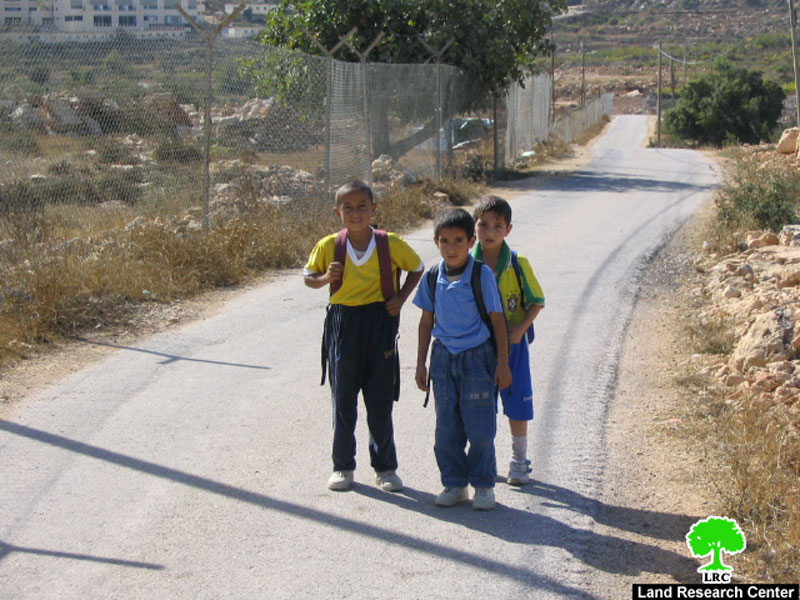 Photo 15: Al Buweira: Al Buweira: school children walking to their schools at the time of closure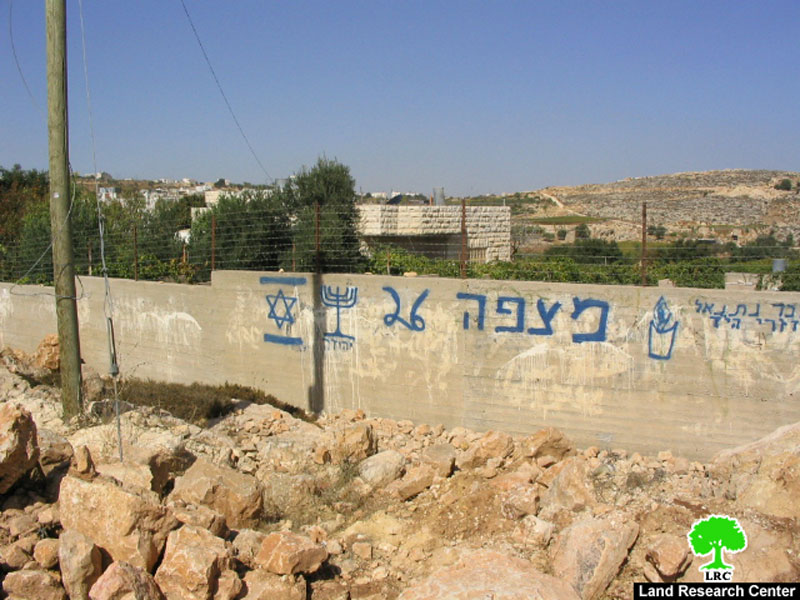 Photo 16: Al Buweira: a graffiti written on a wall which reads ' look

The only road that links Al Buweira area with the city of Hebron was closed for almost four years ( from 2000-2004) by a combination of earth mounds, road blocks and gates. No Palestinian traffic was allowed on this road during that period and the all the local community had to move on foot in and out of the area, including school kids.
Related case studies
• The Apartheid Segregation Wall Plan In Hebron Governorate: Dispossession of Land and Resources, March-2004
• Geopolitical situation Hebron Governorate, May, 2006.
Prepared by:
The Land Research Center
LRC