The Expansion of Annab Checkpoint on the Expense of Palestinian Agricultural Lands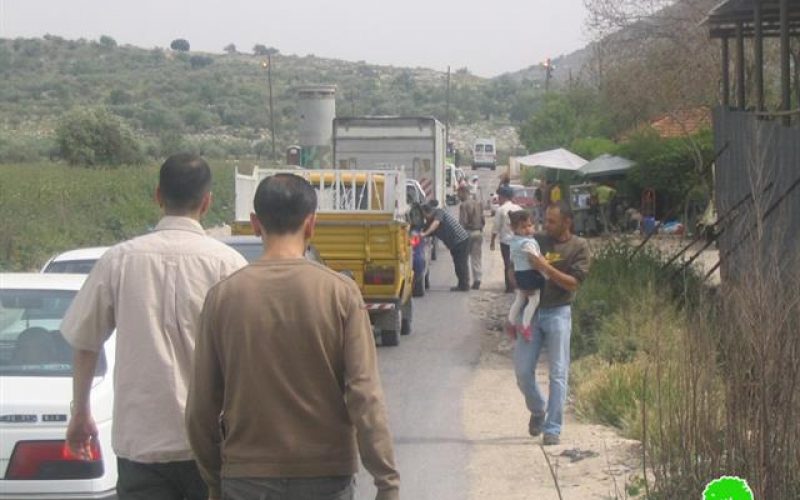 On the 21st of September, 2008, the so-called Absentee Property Custodian in the Israeli 'Civil Administration' confiscated 6.5 dunums from the village of Ramin located south of the city of Tulkarem. The confiscation of the land, which is owned by Mr. Abdulla Zeidan, came in the form of a military order number T/06/08 which cited the need to expand Annab checkpoint as a reason behind the confiscation. The checkpoint is located on the main Tulkarem-Nablus Road at a distance of 18 kilometers south of the City of Tulkarem.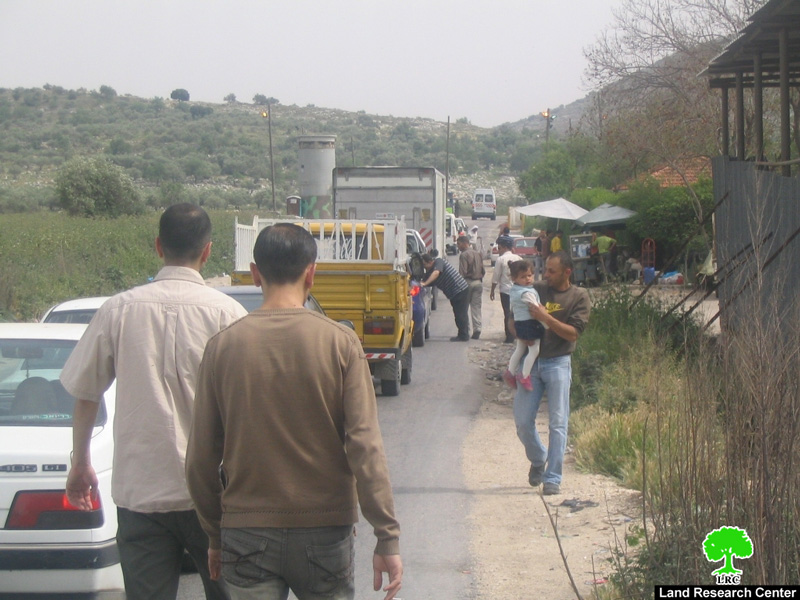 Photo 1: Annab checkpoint – Tulkarem
The confiscated lands are located in Parcel 1 in an area known as Hareeq Ibrahim right beneath the checkpoint. Currently, the land is planted with 10 olive trees. The occupation forces gave Mr. Zeidan a 10-day period to file an objection against the confiscation order in the so-called Civil Administration in Bet El.
The expansion of the said checkpoint takes place concurrently with similar checkpoint expansions in Huwwara (south of the city of Nablus), Beit Eiba (north of the city of Nablus) as well as the Container checkpoint (north of the city of Bethlehem). Expansion works at the said checkpoints included the plowing of additional lands located in the vicinity of the checkpoints while upgrading works (including placing cameras and watch towers) were undergoing unabated. The feverish rate of checkpoint expansions reveals the true intention of the Israeli occupation of entrenching its presence in the West Bank while isolating Palestinians and preventing their internal movement and communication. A recently-issued United Nation report has indicated that the number of closures and obstacles in the West Bank has increased by 7% to become more than 600. The increase came at a time when the Israeli government was claiming that it actually reduced the number of such closures and eased its grip on the West Bank.
On the other hand, Palestinian life became more difficult during the holy month of Ramadan due to the increased Israeli restrictions on the checkpoint erected between Palestinian cities and villages throughout the West Bank. These checkpoints impede Palestinian movement, be it vehicular or on-foot, and the checking measures carried out by the Israeli occupation soldiers are very degrading and humiliating (including lifting the shirts, waiting for long hours, etc). Its been reported that Palestinians have broken their fast at checkpoints almost on daily basis due to Israeli-caused delays.
Finally, it is worth pointing out that the Annab checkpoint was established by the Israeli occupation forces in 2003 as a method to isolate the city of Tulkarem from the cities of Qalqilia and Nablus.
Photo 2 & Photo 3: A copy of the confiscation order in Hebrew
Prepared by:
The Land Research Center
LRC