Israel continues to target the Palestinian Yatta Town time and again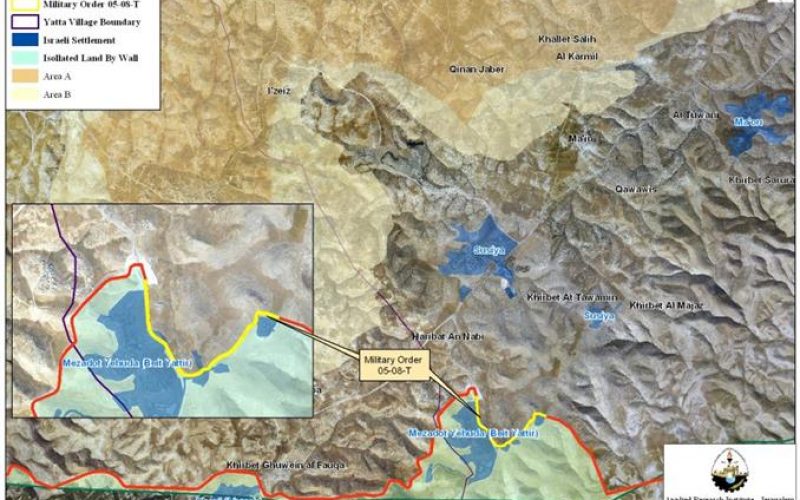 On July 17, 2008, the Israeli Army issued an official confiscation order holding number (MO 08-05-T) to build a part section of the Israeli Segregation Wall south of the Palestinian Yatta town. The order declared the confiscation of 22 Dunums; however, according to the analysis done by the GIS department at the Applied Research Institute-Jerusalem (ARIJ) of the maps delivered with the Israeli military order, shows that the total confiscated land included in this military order is 33 Dunums. More than that the construction of this part section of the Segregation Wall will ensure that the illegal Israeli settlement Mezadot Yehuda (Beit Yattir) is included within fully Israeli controlled territory. See Map 1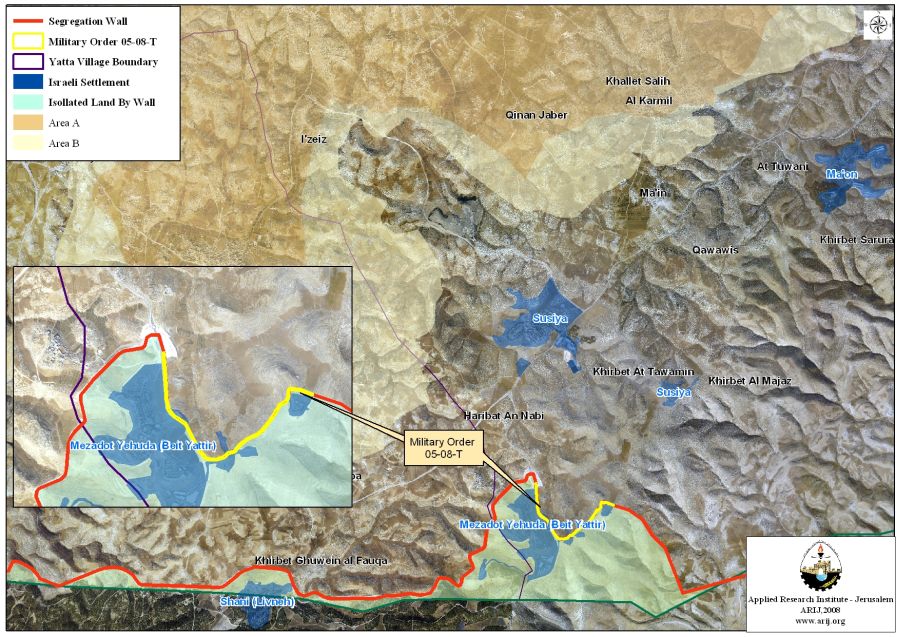 In addition to more than 2575 Dunums confiscated from Yatta's land for the construction of the Segregation Wall since the year 2005, Israel's hidden intentions of the Wall purpose became more and more evident that it exceeds the so-called and claimed security purposes of the Wall construction but more land grab, settlements' expansion, a perception that was noted by the Mideast Quartet in My 2008 when it expressed its concern over Israeli settlements irregular activities in the West Bank.
About Yatta
Yatta is a Palestinian Arab city located within the governorate of Hebron, south of Hebron city, north to Negev Desert. Prior to the 1948 war, Yatta total land area comprised 163.5 Km2. however, when Israel overshot the 1947 partition plan and occupied more land area than it was designated; more than 26% (43.5 Km2) of Yatta's land were snatched toward Israeli controlled territory. Today Yatta spread on 120.7 Km2 (73.4% of its original area). It has a total population of 62,234 including the villages of Yatta area according to the Palestinian Central Bureau of Statistics in the mid of 2006.
Yatta within the Political Context
The Oslo II Interim Agreement signed in September 1995 between the Palestinian Liberation Organization (PLO) and Israel, concluded the occupied Palestinian Territory to come under 3 different types of classifications (Areas "A," "B" and "C") designating varying levels of control. Such classification was also assumed for the Palestinian Governorates, towns, and villages. Consequently, every Palestinian community, including Yatta became disrupted and; physically separated from each other. Under the signed agreement, Yatta was fragmented to areas "A," "B" and "C." Table 1 illustrates the areas distribution with population distribution. See table 1.
Table 1: The Geopolitical Divisions on Yatta Town according
to Oslo II Interim Agreement of 1995
Area

Area in Km2

Number of

Localities

Area A

39..3

9

Area B

11.8

3

Area C

68.9

5

Nature Reserve

0.7

–

TOTAL

120.7

17
Source: ARIJ GIS Database 2008
Yatta has its share of the Israeli settlements program. Over the past four decades of Israeli occupation, four Israeli settlements were established on private Palestinian lands confiscate from Yatta's residents (see table 2). These Israeli settlements (population 1,838) sets today on a land area (7909 Dunums) almost equal the entire Palestinian built-up area of Yatta (8473 Dunums) where some 62,000+ Palestinian reside. Moreover, Yatta is clinched with more than 40 earth mound barriers, more than 15 road blokes, 8 road gates, 3 observation towers and one partial checkpoint that control and limits the freedom of movement for the population. See Table 2
Table 2: Israeli Settlements established on Yatta Town land
SettlementName

Pop.2006

Date

Area inDunums

Karmel

357

1981

1831

Susiya

700

1983

5224

Mezadot Yehuda (Beit Yattir)

431

1977

Ma'on

350

1980

854

Total

1838

7909
Israel is still resilient to its position with regard to the Segregation Wall in spite of all international calls for it to stop the construction and make reparation for all occurred damages. The landmark decision of the International Court of Justice (ICJ) that condemned this act of 'Demographic Separation' went with apathy by Israel, which yet continues to build the Segregation Wall confiscating and demolishing Palestinian property.
The ICJ called upon the Israeli government to remove the wall and compensated the Arab residents for any damage done: 'The Court finds that the construction by Israel of a wall in the Occupied Palestinian Territory and its associated régime are contrary to international law'.
::::::::::::___
Areas Definition in Oslo II Interim Agreement of September 1995
Area A: The Israeli army has pulled out fully and Palestinians hold all responsibilities for internal security and Public order.
Area B:
Palestinians have full control over the civil administration; Israel continues to have overriding responsibility for security.
Area C:
The Palestinians have responsibility for civil life such as economics, health, and education; while, Israel retains full control over security and administration related to the territory.
[2] Susiya and Mezadot Yehuda (Beit Yattir) are joined in one master plan area
Prepared by
The Applied Research Institute – Jerusalem