"Systematically Forced Displacement"
Eight Palestinian Houses Demolished in East Jerusalem during June 2008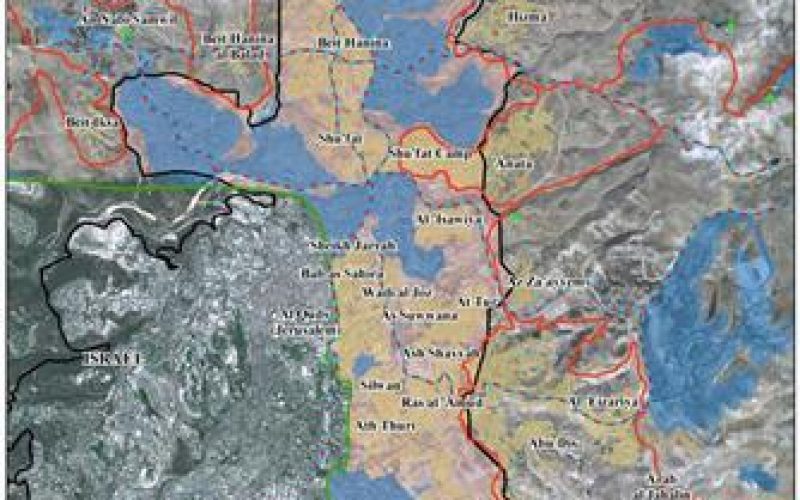 Overview
Over the past four decades of the Israeli Occupation of the Palestinian Territory, Israel has pursued a policy of forced eviction and demolitions of Palestinian houses in the West Bank, Gaza Strip, with particular emphasis in occupied East Jerusalem.
Following the outbreak of the second Palestinian Intifada (Al Aqsa Intifada) in September 2000, the Israeli Municipality of Jerusalem intensified its demolition campaign against the Palestinians' houses and reached unprecedented levels. Accordingly, from September 2000 until June 2008, 503 Palestinian houses were demolished in East Jerusalem, mainly for building without proper authorization.
At the same time that Israel escalated its demolishing campaign of Palestinian houses especially in the city of Jerusalem; the Israeli authorities intensified the Illegal building in the Israeli settlements and outposts throughout the Palestinian occupied territory, particularly in East Jerusalem, where Israel had declared, at the period followed Annapolis Peace Conference which took place in the United States in November 27, 2007 and May 2008 , a number of plans to build 23,653 new housing units in the Illegal Israeli settlements in Jerusalem.
Systematically ForcedDisplacement
From January 2008 until July 15, 2008, the Israeli authorities had demolished 37 Palestinian houses in East Jerusalem 8 of them demolished in June, and handed the owners of another 78 houses notifications informing them that their houses will be demolished under the pretext of being unlicensed. See Table 1 & Table 2
Table 1: The Palestinian Houses demolished and threatened to be demolished in East Jerusalem from January- June 2008

Month

No. of Demolished Palestinian Houses

No. Threatened Palestinian houses

January

3

0

February

7

1

March

4

2

April

4

0

May

6

27

June

8

25

July

5

23

Total

37

78

Source : ARIJ Database 2008
Table 2: Palestinian Houses Demolished in East Jerusalem in June 2008

Name of the Owner

Date of Demolition

No. Family Members

Location

Zeidan Ra'fat Al –Shwaeiki

5/06/2008

5

Beit Hanina

Faten Al -Ajrab

10/06/2008

10

Beit Hanina

Khamis Al- Tahan

10/06/2008

9

'Anata

Wa'el Al- Fakhieh

10/06/2008

6

At- Tur

Hujeij Family

11/06/2008

4

Beit Hanina

Ehab Zuhdi Fayyad At-Tawil

17/06/2008

7

Beit Hanina

Anwar 'Izzat 'Iseleh

17/06/2008

3

Ras Al-'Amoud

Al Ja'bary Family

17/06/2008

5

Beit Hanina

Kamil Al Sa'ou

3/07/2008

7

Beit Hanina

Muhammad 'Ali Naser

3/07/2008

5

Beit Hanina

NA

3/07/2008

8

Al-'Issawyieh

Khaled 'Adnan Yahya Al Sharabaty

8/07/2008

11

Wadi Al- Joz

Isaac Muhammad Mustafa

15/07/2008

9

Al- 'Issawyieh

Source : ARIJ Database 2008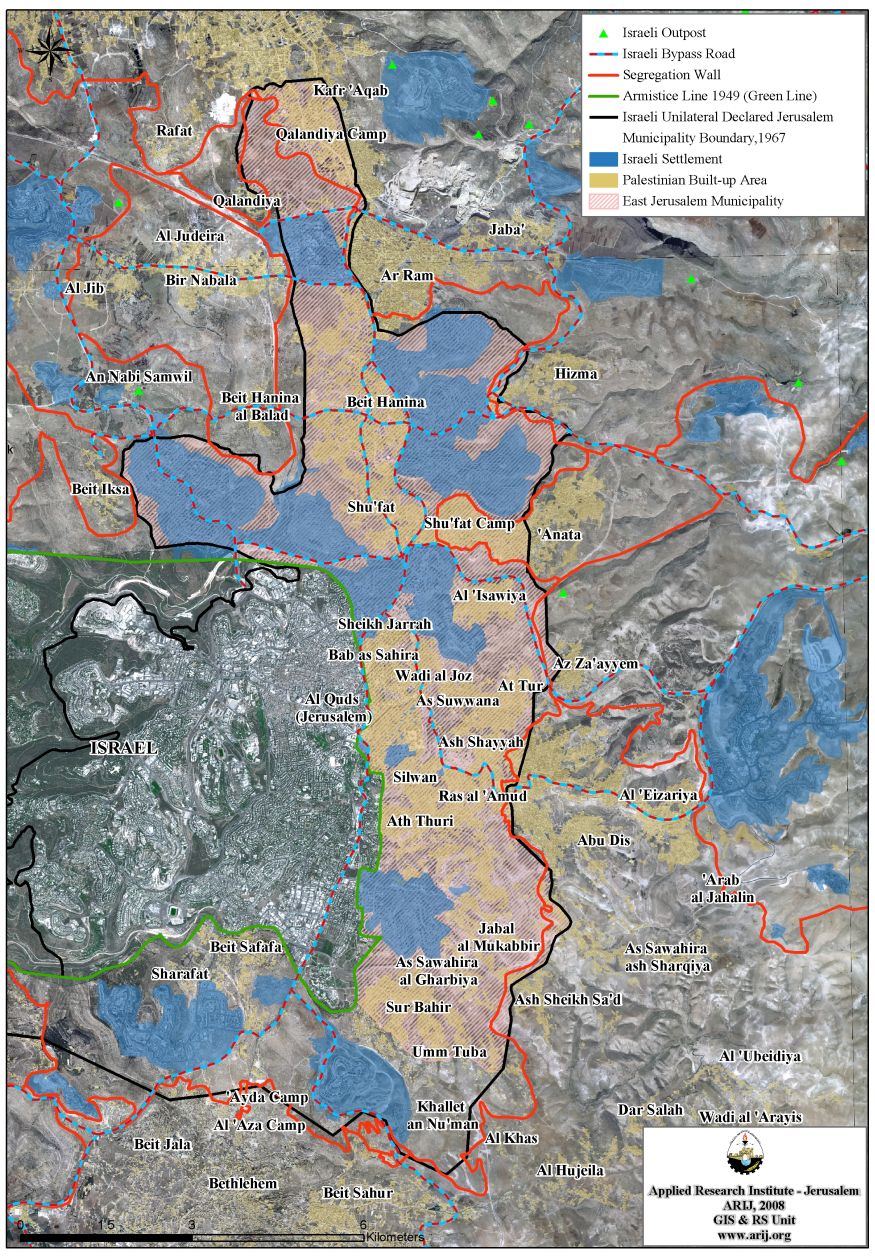 Nowadays, and due to incapacitating policies imposed by the Israeli municipality of Jerusalem on Palestinian Jerusalemites applying for building permits, thousands of Palestinian houses in the city of Jerusalem are built without permits, and thus classified illegal, which makes them subject to demolition at any time. Furthermore, Palestinians Jerusalemites are usually denied permits to increase the built-up areas, particularly within East Jerusalem. In other words, the Palestinians in Jerusalem are deprived by Israel from building and expanding and became marginalized in their city and homeland.
To Conclude
Israel continues to demolish Palestinians' houses in large numbers under Illegal justifications to serve their end purpose, to uproot and to drive out as many as Palestinians from their homes and lands to build more Illegal Israeli settlements, outposts, bypass roads, military bases.
These Israeli acts are imposing facts on the ground, are undermining the status of East Jerusalem to be the Capital for the future Palestinian state and are undermining the prospects for peace in the region.
Under the International law rules and conventions, the Israeli occupation is prohibited from demolishing and seizing the Palestinian houses and properties:
Article 147 of the Fourth Geneva Convention indicated that: Extensive destruction and appropriation of property not justified by military necessity and carried out unlawfully and wantonly. is a grave breach of the Convention.

Also Article 53 of the same convention provides that 'any destruction by the Occupying power of real or personal property belonging individually or collectively to private persons, or to the State, or other public authorities or social or cooperative organizations is prohibited, except where such destruction is rendered absolutely necessary by military operations.

Article 23 of the Hague Convention of 1907 also provide: In addition to the prohibitions provided by special Conventions, it is especially forbidden to destroy or seize the enemy's property, unless such destruction or seizure be imperatively demanded by the necessities of war.

Moreover, the Universal Declaration of Human Rights adopted and proclaimed by General Assembly resolution 217 A (III) of, December 10, 1948, Article 17 reads: 'No one shall be arbitrarily deprived of his property.' Which means it bans Israel from destroying or confiscating the property of the Palestinians at any case.
Furthermore, the International Convention on the Elimination of All Forms of Racial Discrimination (1965) Article 5 provides that 'States' Parties undertake to prohibit and eliminate racial discrimination in all of its forms and to guarantee the right of everyone, without distinction as to race, color, or national or ethnic origin, to equality before the law, notably in the enjoyment of the following rights: … (e) in particular … (iii) the right to housing'.
Prepared by
The Applied Research Institute – Jerusalem