Housing Rights Violations in Jerusalem during the First Quarter of 2008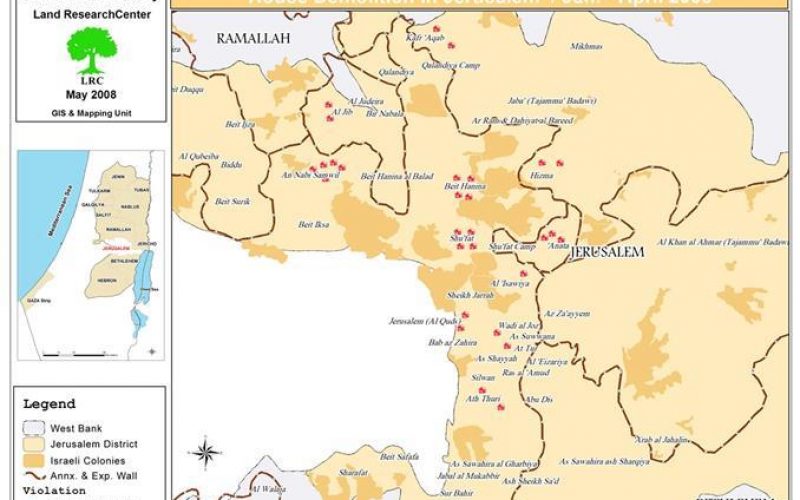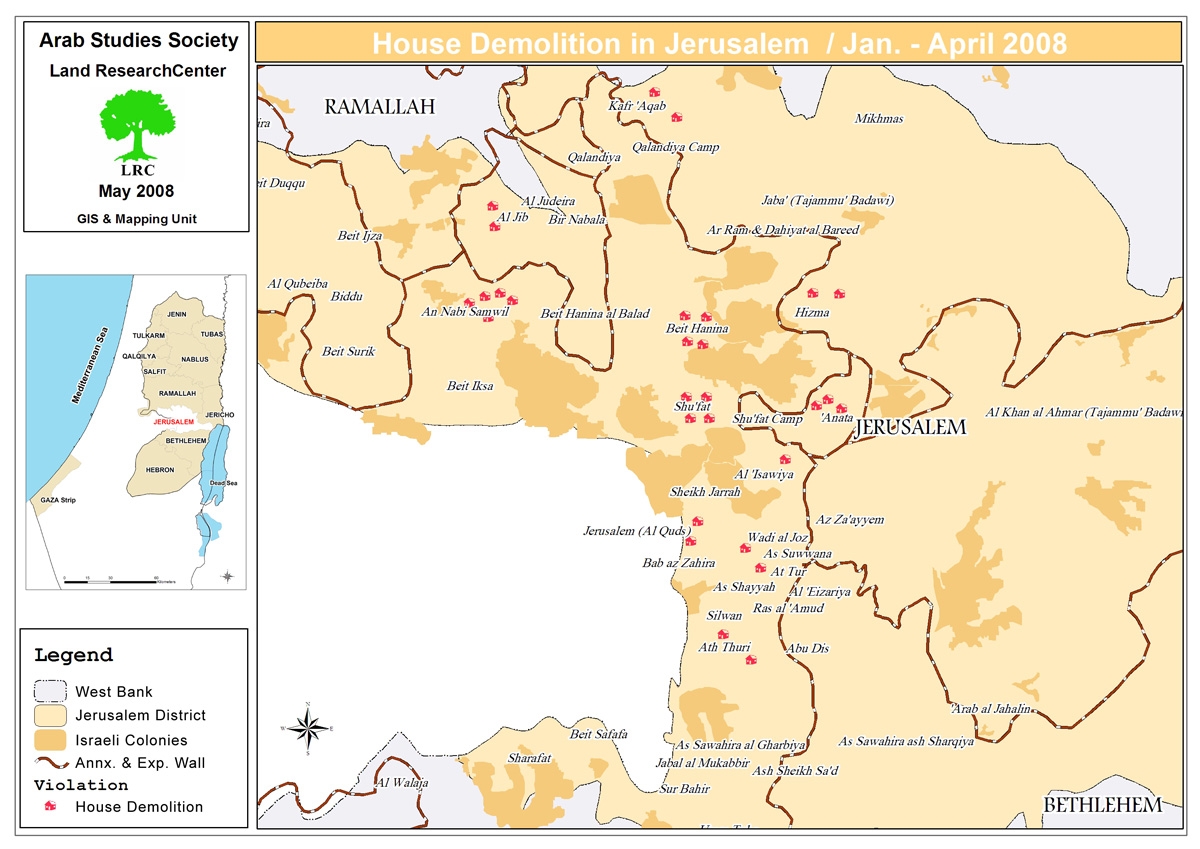 Introduction:
Jerusalem city suffers from acute housing problem that is becoming harder to solve as time passes by. Factors contributing to the crisis include a rapid population growth. However, the factor that contributes the most to the crisis is the Israeli occupation which confiscated more than 25 km2 of the lands of Jerusalem to be used exclusively for Israeli colonization activities. Israeli Occupation Authorities have been promoting the construction of Israeli settlements while on the other hand continued destroying Palestinian housing infrastructure and hindering development opportunities; at the time that the Jerusalem Municipality declares its plans to build thousands of housing units in Jerusalem settlements, it demolishes tens of Palestinian houses in Jerusalem under the pretext of "lack of permit," a permit that is never granted for Palestinians.
The Israeli Municipality of Jerusalem city follows a systematic policy of not issuing building permits to any Palestinian Jerusalemite. To achieve this, it places conditions that are impossible to meet in addition to classifying Palestinian lands and neighborhoods as "Green Areas" in which any kind of building is not allowed. The Municipality also provides Building Zones that are not sufficient to Palestinians.
Targeting Palestinian building areas in East Jerusalem by the Municipality and other occupation echelons is one mean Israel uses to minimize the number of Palestinians living in the city exemplified in the continuous policy of house demolition under fake legal due courses.
This report is designed to provide details on selected violations carried out by the Israeli official bodies against Palestinian Jerusalemites and their houses and shelters in Jerusalem City; During the period of January and April 2008, Israeli Occupation Forces have demolished 29 Palestinian houses in Jerusalem city and made 182 Palestinian, half of which are children, homeless. Moreover, 19 Palestinian houses were taking over by Israeli settlers; and 5 other houses were given demolition orders and are threatened of demolition. The following table lists the Israeli violations in the city during the aforementioned period:
| | | | | | |
| --- | --- | --- | --- | --- | --- |
| Violation by month | January | February | March | April | Total |
| House demolition | 12 | 7 | 5 | 5 | 29 |
| House demolition orders | 0 | 1 | 4 | 0 | 5 |
| Taking over Palestinian houses | 12 | 1 | 4 | 2 | 19 |
| TOTAL | 24 | 9 | 13 | 7 | 53 |
The following gives details on the reported violations:
A) The demolished houses in East Jerusalem during the reporting period:
Month

Name

Location

No. of Houses

January

Maher Yaseen Rajab

Khallet Al Sheikh – Kufr Aqab

1

Rateb Hasan

Khallet Al Sheikh – Kufr Aqab

1

Ibrahim Ahmad Abu Dahook

Nabi Samuel

5

Waddah Abu Dayya

Harat Al Khalayla – Al Jib

1

Mo'awiya Al Thabet

Al Sahel – Shufat

1

Mohammad Abu Zaki

Al Sahel – Shufat

1

Ra'ed Khader

Al Sahel – Shufat

1

Khalaf Id'eis

Al Sahel – Shufat

1

TOTAL

12

February

Mohammad Isma'eil Al Masry

Al Wad Neighborhood

1

Aa'isha Al Arameen

Wadi Al Joz

1

Waleed Nofel

Bab Hatta – Old City

1

Nidal and Shadi Mtoor

Wad Al Dam – Beit Hanina

2

Fayez Hasan Irshied

Al Thouri

1

Ahmad Abu Nab

Al Ashqariya – Beit Hanina

1

TOTAL

7

March

Na'eem Ahmad I'layyan

Al Tor St. – Issawiya

1

Rabee' Hamza Awad Allah

The New Neighborhood – Al Thouri

1

Mahmood Fawzi Ka'abneh

Wadi Al Jib – Al Jib

1

Noula Sa'eed

Al Qi'aan – Hizma

1

Azeeza Jaber

Near Al Mustaqbal School and Nursery – Hizma

1

TOTAL

5

April

Hasan Yousef Hamdan

Al Salam Neighborhood – Anata

1

Mohammad Hasan Hamdan

Al Salam Neighborhood – Anata

1

Khaled Shoman

Old Beit Hanina Road – Beit Hanina

1

Younis Mohammad Sbeih

Al Salam Neighborhood – Anata

1

Omar Arameen

Khallet Al Ein – Al Tor

1

TOTAL

5

GRAND TOTAL

29
B) The demolished house per location in East Jerusalem during the reporting period:
| | | | | | |
| --- | --- | --- | --- | --- | --- |
| Location | No. of Demolished Houses | No. of Rooms | Area in m2 | Family Members | No. of Children |
| Kufr Aqab | 2 | 3 | 380 | 11 | 5 |
| Nabi Samuel | 5 | 5 | 250 | 43 | 32 |
| Al Jib | 2 | 10 | 380 | 20 | 11 |
| Shufat | 4 | 20 | 600 | 32 | 17 |
| The Old City | 2 | 4 | 92 | 18 | 12 |
| Wadi Al Joz | 1 | 2 | 30 | 1 | |
| Beit Hanina | 4 | 9 | 580 | 14 | 10 |
| Al Thouri | 2 | 4 | 170 | 14 | 4 |
| Issawiya | 1 | | 250 | | |
| Hizma | 2 | 9 | 230 | 10 | 6 |
| Anata | 3 | 10 | 230 | 15 | 4 |
| Al Tor | 1 | 2 | 70 | 4 | 2 |
| TOTAL | 29 | 78 | 3262 | 182 | 103 |
C) House demolition orders issued by Israeli occupation Authorities against Palestinian houses during the first four months in 2008:
Month

Name of House Owner

Location

No. of Threatened Houses

February

Hamdi Arameen

Wadi Al Joz

1

TOTAL

1

March

Mohammad Al Fuheidat

Anata

1

Sari Fuheidat

Anata

1

Mahmoud Musa

Issawiya

1

Haroon Obeidat

Jabal Al Mukabber

1

TOTAL

4

GRAND TOTAL

5
D) Hostile takeover of Palestinian house by Israeli colonists during the first four months of 2008:
Month

Name

Location

No. of Houses

January

Hashem Al Salayma

Sheikh Jarrah

1

Silwan residents

Wad Hilwa

6

Silwan residents

Salodha

2

Silwan residents

Silwan

3

TOTAL

12

February

Abdel Mu'atee Abu Qtaish

Sheikh Jarrah

1

TOTAL

1

March

Abu Dheim family

Al Mukabber

1

Ali Ibrahim Salah

Beit Safafa

3

TOTAL

4

April

Sarandah family

Bab Al Silsilah – Old City

1

Al Turki family

Harat Al Wad – Old City

1

TOTAL

2

GRAND TOTAL

19
The following testimonies are provided by a number of affected Palestinians in Jerusalem city
Case 1: Shelter Demolition: The Removal of 5 Housing Structures North of Nabi Samuel:
Israeli occupation forces (including the Army, Border Police and Special Forces) forcibly removed five barracks that were shelter for five Palestinian families (43 individuals) from Abu Dahook tribe in An Nabi Samuel village southwest of Jerusalem city under the pretext of being close to the Israeli Segregation Wall. Of the affected Palestinians, Um Ahmad, the 52-years old, provided a testimony for the Land Research Center's field researcher during his visit to the area: 'In January 2008, the Israeli Occupation forces threw me and my children out of our "house". They also threw our belongings and beat my son Ahmad severely who came to give help. When I tried to intervene on his behalf, the soldiers beat me with the butt of a rifle on my chest. It still hurts'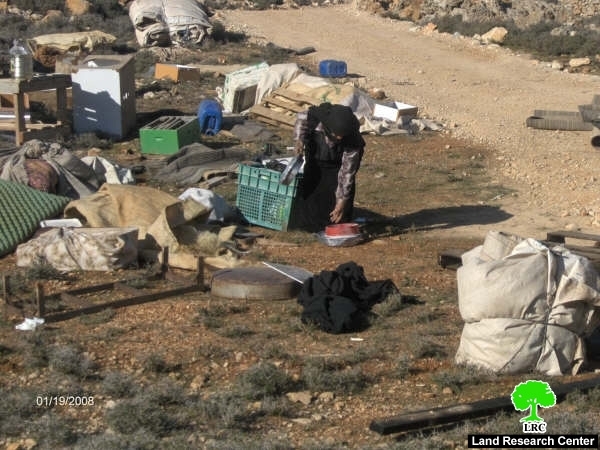 Umm Ahmad collecting what remained after the havoc Israeli occupation machinery caused
The family of Ibarhim Abu Dahook used to live here.
LRC's field researcher has already visited the family on November 26th, 2007 during which Mr. Ibrahim Ahmad Abu Dahook expressed the following: 'In January 2007, we were surprised by a group of Israeli surveyors from the Israeli Defense Ministry planning the route of the Wall close to our shelters. We objected the route and as a result the work stopped for four months after which it resumed right next to our baracks. On October 29th, 2007, an Israeli High Court decision to remove us from the area and destroy our shelters was issued. The decision also emphasized that we cannot live on the lands of Al Nabi Samuel due to the fact that it is located behind the Wall path. After the intervention of a number of national and international human rights organizations, the Israeli Military Commander of the West Bank told us that he personally will see to it that the Court's decision would not be carried out before finding what he called a "suitable solution." They have come back today and destroyed our shelters and even threatened the other nearby communities that their shelters will also be demolished and removed within a week. '
Case 2: Shelter Demolition: The American Nationally Does Not Stop House Demolitions in Jerusalem:
On April 8th, 2008 Jerusalem Municipality bulldozers razed down and demolished the house of Mr. Khaled Shoman located in the Wa'ar Abu Salah region of Beit Hanina.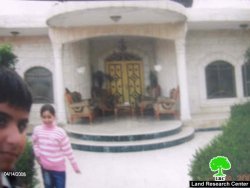 The house of Mr. Khaled Shoman before its destruction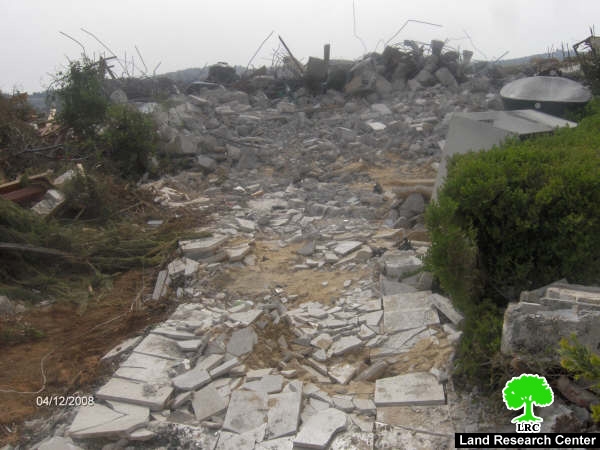 The remains of Mr. Shoman's house after it was demolished by the Israeli forces.
Mr. Shoman expressed the following to LRC's field researcher: ' I started the construction of the house in October 2001. We moved into our house in February 2002. However, on February 21st, 2002 I found a demolishing order thrown on the ground in the vicinity of the house. I took it to the Municipality and filed a request to get a building permit. My File number is 8733. I also hired a lawyer who went to the municipal court in an effort to gain a permit for the house. However, the Municipality insisted on demolishing my house. They have done so on April 8th, 2008. The determination to demolish my house was obvious; the Municipality has surveyed 500 dunums surrounding my house and left my 11-dunum piece of land without being surveyed. The Municipality also confiscated 8 dunums from my land to establish bypass road number 21. Moreover, I have offered the Municipality to pay a violation penalty instead of the demolition. They refused. I even offered to demolish the house myself, yet they have snubbed my offer. They insisted to demolish my house. The General Consuls of Australia, France and the United States witnessed the demolishing due to the fact that I hold an American citizenship. Even that did not spare my house. '
Case 3: Shelter Demolition Orders: The Ghost of Demolition Haunts Al Fuheidat House in Anata
Mr. Mohammad Al Fueheidat, a resident of Al Fuheidat Neighborhood in Anata town northeast of Jerusalem city, has expressed the following to LRC's field researcher: 'On February 29th, 2008 an Israeli military patrol came to our house and told us that we have to leave it as they want to demolish it. The pretext they gave was that our house is too close to the location of the military camp, the Wall and the Israeli by-pass road. We have lived in our land for hundreds of years. We've been present even before the Israeli occupation was and the settlements and the wall. Now, they want to demolish our house, What kind of logic is this???'
As for Umm Mohammad Al Fuheidat, she indicated the following: ' There is a deliberate targeting of our sons to force them to leave. Israeli occupation forces have been arresting our sons one after the other. Today, my cancer-stricken son lies in prison for no apparent reason what so ever. The Army opens fire towards us and our houses under the pretext of "training" five meters away from our houses. They force us to stay in our houses and order us not to move out. Moreover, Jews come flocking to buy our houses from us. For them, it is enough that they have confiscated 1500 dunums from our land. They want more. This is our land and we are NOT moving out. '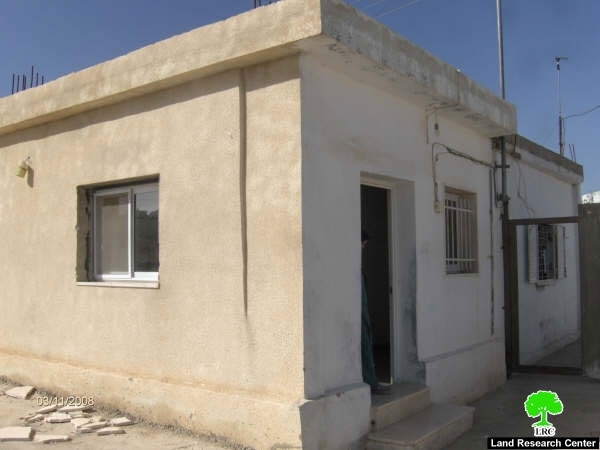 Al Fuheidat House east of Anata. A demolition order was issued against it.

Case 4: Shelter Overtake: The Israeli Court Decides the Eviction of Abu Qtaish Family from its House in Al Sheikh Jarrah.
On January 20th, 2008 the Israeli High Court issued its decision to evict Mr. Abdel Mu'atee Abu Qtaish from his house which he's been living in since 1967. The court gave Mr. Abu Qtaish a 45-day period before it carries out the eviction order. The court handed out it decision based on the claim that two Jewish families owned the land upon which the house was built. In addition to the eviction notice, the court ordered Mr. Abu Qtaish to pay a penalty of NIS 140,000. Mr. Abu Qtaish (45 years old) lives with his 7 family members, 4 of which are children. He gave the following testimony to LRC's field researcher: ' A Jewish family claimed that it owned the land. They have told my father before me that he has to leave the land. He told them that if they allowed him to go back to his house in Imwas (inside Israel), then he would think about it. They have thrown us out from our house in Imwas and now they want to throw us out of our house in Jerusalem!!! What justice is this????'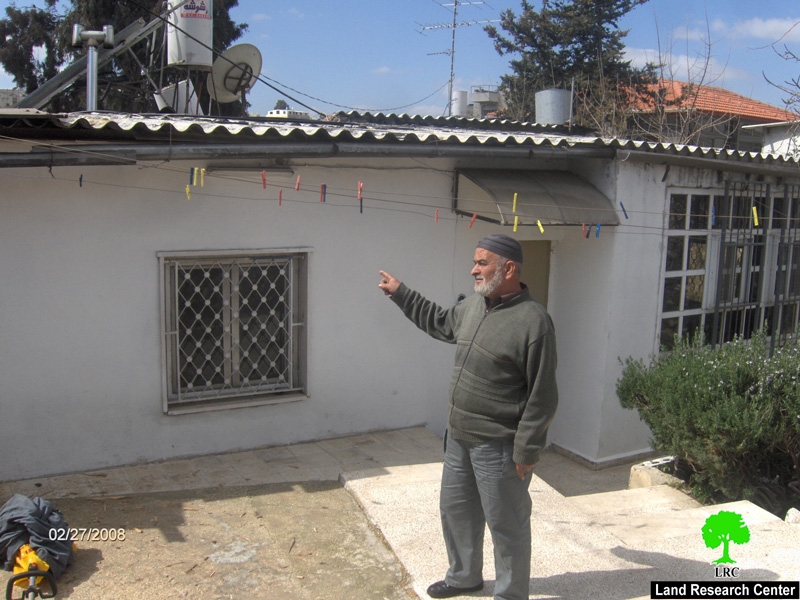 Mr. Abdel Mu'atee Abu Qtaish in front of his threatened house in Al Sheikh Jarrah
The Threatened house. Israeli hotels in Al Sheikh Jarrah appear in the background.
To Conclude:-
In the 60th anniversary of the creation of the State of Israel and the Palestinian Nakba, the Palestinians are building while the Israelis demolish. The Palestinians are thrown out of their houses and lands while the Israeli occupation brings more and more immigrants to replace those Palestinians. So, who would win; the will to live and build or the will of death and demolition?
Prepared by:
The Land Research Center
LRC