The Story of Munther Hamad's House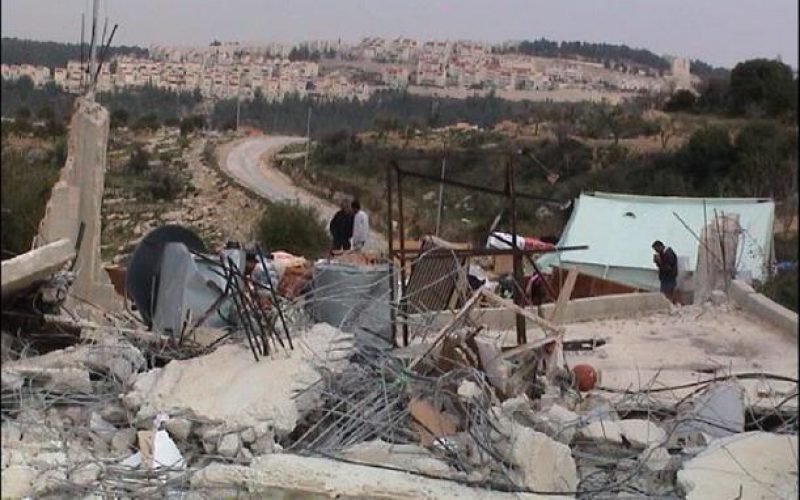 Abu Al Mu'tasem, Munther Mahmud Abdel Khader Hamad, 52 years old, elderly Palestinian born in the Jerusalemite small village of Deir Rafat, which had been depopulated by the Israeli Army Forces in the aftermath of 1948 war. Later on, Munther, along with his 7 member's family, had forcibly left their homeland of Deir Rafat and re-inhabited in Bethlehem area as many other refugees. This situation spanned until the year 1967, when Israel launched its aggression and occupied the West Bank and the Gaza Strip. Consequently, Munther's family had been forcibly displaced for the second time and the destination was to Al Salt city in the western hills of the Hashemite Kingdom of Jordan where they lived for six years until they returned to the West Bank in the year 1973 after the submitted a requisition to the Israeli ministry of Interior to.reunite with other members of their family.
Following the family return from Jordan, Munther had joined the industrial high school in Bethlehem and graduated in 1977, where he was certified as an electrician handyman and started to look for a work to support his family but his efforts were unsuccessful, which was attributed to the dominated economic depression in the West Bank area due to the Israeli prolonged occupation. Consequently, Munther was obligated to leave his homeland Palestine for a third time. This time his destination was the Libya where he worked for the German company of "BUHLER" producing fodders. He stayed in Libya for several years until the year 1982, when he returned to his family in Bethlehem and married, he then traveled again to Libya. During his residence in Libya Munther became a father of three children Al Mu'tasem (24 years old), Al Mu'taz (20) and Muhammad (10).
However, Munther's journey with suffering had no limits. When the PLO (Palestinian Liberation Organization) had signed the Oslo Agreement with Israel in September 13, 1993 the Political leadership in Libya expressed its disapproval with this agreement and decided to deport tens of thousands of the Palestinian families including Munther Hamad's family, and thus they were dramatically expelled and they went to Egypt then to Jordan then finally back to their occupied country. When Mr. Munther returned to the West Bank ,he started, like hundreds of thousands of Palestinians to work in the construction sector inside Israel, and for many years until the outbreak of the second Palestinian Intifada (Al Aqsa Intifada) in September 28, 2000, -when Israel had exponentially escalated its aggressions against the Palestinians and de facto imposed a disastrous security measures and restrictions on the Palestinian residents- restricting thousands of Palestinian workers from accessing their work inside Israel and the city of Jerusalem, turning them to become victims for unemployment, hence Munther was among them.
Munther and his family as well as hundreds of thousands of the Palestinian families had lived in an ever-ending suffering as a result of the Israeli restrictions and closures imposed on them, afterward Munther realized that he could not pay the rent for his house, and the idea to build his own house became a much easier choice than to continue paying rent, and he decided to build his own house on his one dunum piece of land in 'Ein Al Jweiza neighborhood in Al Walajeh village northwest of Bethlehem Governorate, which is owned by his wife.
In 2001, Munther had built his 120-m2 house with a total cost of 75,000 NIS (18,750 USD), but his happiness did not last long, where as two months later Munther was notified by the Israeli Interior Ministry that his house is set to demolish at anytime under the pretext of lacking building permits. Munther then appealed to the Israeli court in an attempt to cancel or postpone the demolition warning until he process the necessary papers and issue a license for the house. The Court rejected his appeal and instead, has asked him to pay a penalty of 100,000 NIS (25,000 USD) and a jail sentence if he fails to pay the penalty. The fact that Munther lost his job and became unemployed so he was sent to jail for 45 days, after which he was released, and in January 23, 2006, the Israeli Army's bulldozers had demolished his house and he became without home and shelter, in other words he became a refugee in his homeland and forcibly displaced for the fifth time in his life.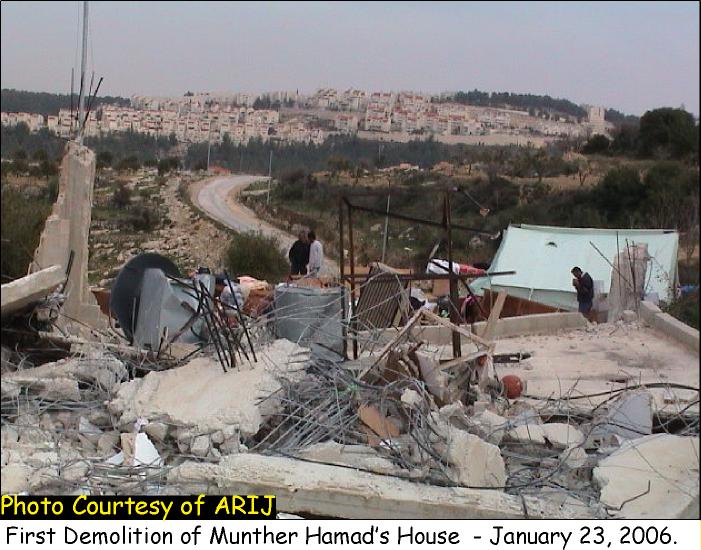 Following his release Munther had no choice but to build his demolished house and he did so, he built his house again with a total cost of 55,000 NIS (16,000 USD) and challenged the occupation powers and proved for them that his desire for life is stronger than their power and authorities, but unfortunately the Israeli Interior Ministry informed him again that his house will be demolished at anytime under the same aforementioned pretext and that is what happened, Munther's house had been demolished for the second time in December 12, 2006 , and again Munther Hamad had became homeless in the winter with his family.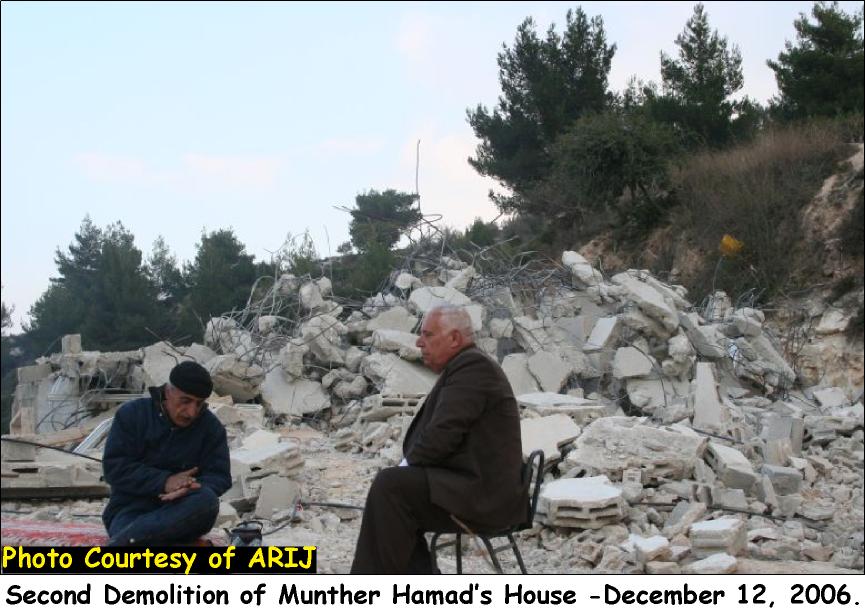 It seems that the suffering of Munther Hamad have no limits, two months after he had finished building his house for a third time (with a contribution of the Holy Land Trust Organization and the ICAHD "The Israeli Committee Against House Demolition", Munther was notified by the Israeli Ministry of Interior that his house falls under the demolition threat under the same pretext.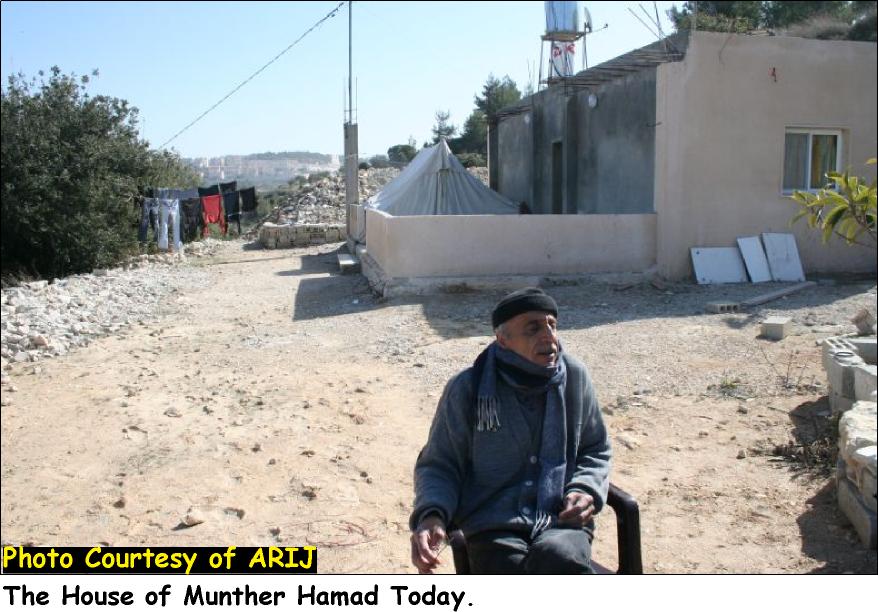 Ever-ending suffering …. Ever-ending Steadfastness
Munther Hamad , and as a result of the Israeli occupation of his country Palestine had spent his childhood and youth time suffering and traveling from a country to another seeking a stable calm life but he did not find it. The scene of the Israeli Army bulldozers demolishing his house, his dream still presents in Munther's memory every moment and he realize that his house is under threat of demolition and the execution will take place at any time, however he insists on staying in his house and land and not leave at any cost, with his ever-ending steadfastness against the Israeli Army's might and the longest occupation in recent history.
The Israeli house demolishing policy practiced against Palestinians in the occupied territory flagrantly violates all international law rules and human rights conventions, which only allows the demolition of houses when necessary for military purposes, some that Israel failed to prove every time they demolish a Palestinian home.
The following articles drawn from international law and human rights convention are constantly violated by Israel during the past four decades of their continuous occupation of the Palestinian territory:
Under the Universal Declaration of Human Rights adopted and proclaimed by General Assembly resolution 217 A (III) of, December 10, 1948, Article (17) reads: 'No one shall be arbitrarily deprived of his property.' Which means it bans Israel from destroying or confiscating the property of the Palestinians at any case.

Also Article (3) of the Universal Declaration of Human Rights states that 'everyone has the right to life, liberty and security of person'.

Article (13) states also that: Everyone has the right to freedom of movement and residence within the borders of each state.'

Article (25) states that: Everyone has the right to a standard of living adequate for the health and well-being of himself and of his family, including food, clothing, housing and medical care and necessary social services, and the right to security in the event of unemployment, sickness, disability, widowhood, old age or other lack of livelihood in circumstances beyond his control.
In addition, the Israeli practices violate:
Hague Convention IV (18 October 1907): Convention Respecting the Laws and Customs of War on Land: Article (23): 'To destroy or seize the enemy's property, unless such destruction or seizure be imperatively demanded by the necessities of war;'
Convention (IV) relative to the Protection of Civilian Persons in Time of War. Geneva, 12 August 1949, Article (53): Any destruction by the Occupying Power of real or personal property belonging individually or collectively to private persons, or to the State, or to other public authorities, or to social or cooperative organizations, is prohibited, except where such destruction is rendered necessary by military operations.
Article (147) of the Fourth Geneva Convention also indicated that: Extensive destruction and appropriation of property not justified by military necessity and carried out unlawfully and wantonly. is a grave breach of the Convention.
Prepared by
The Applied Reserach Institute – Jerusalem