The Israeli Army Bulldozers Demolish Two Palestinian Houses in Al Furdeis village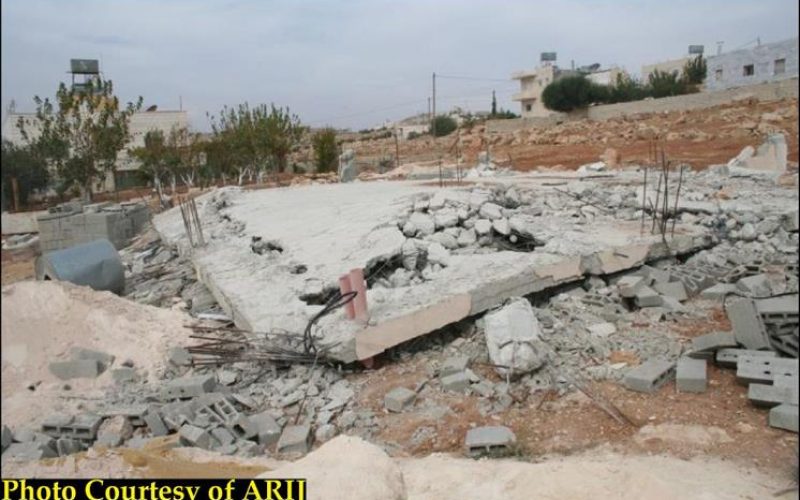 Last month, the Israeli Army's bulldozers raided Al Furdies village southeast of Bethlehem Governorate, and started to demolish the under construction houses of two of the local residents, Mr. Nasser Mousa Hamad Al Tineh and Mr. Fayez Daoud Hamad Al Tineh. The Israeli soldiers did not allow the owners anytime to take any action to get an injunction against the demolishing process.
In an Interview with ARIJ Fieldworkers, Mr. Nasser Al Tineh indicated that the construction work on both targeted houses was completed last year. The first house was a 100 meter square with a total cost of 17000 US dollars, the second house was 280 meters square with a total cost of 39000 US dollars. See Photo 1 & Photo 2 of Nassar's House
The Demolished Houses of Nasser & Daoud Al Tineh (Al Zir)
Mr. Nasser noted that both of the targeted houses received two Israeli military orders in November of 2006, holding numbers (140776 & 140777) notifying them that their houses will be demolished under the pretext of lacking building permits. Three months later, the owners of the targeted houses filed petitions to the Israeli court in order to halt the demolition order but their petition was rejected. See Map 1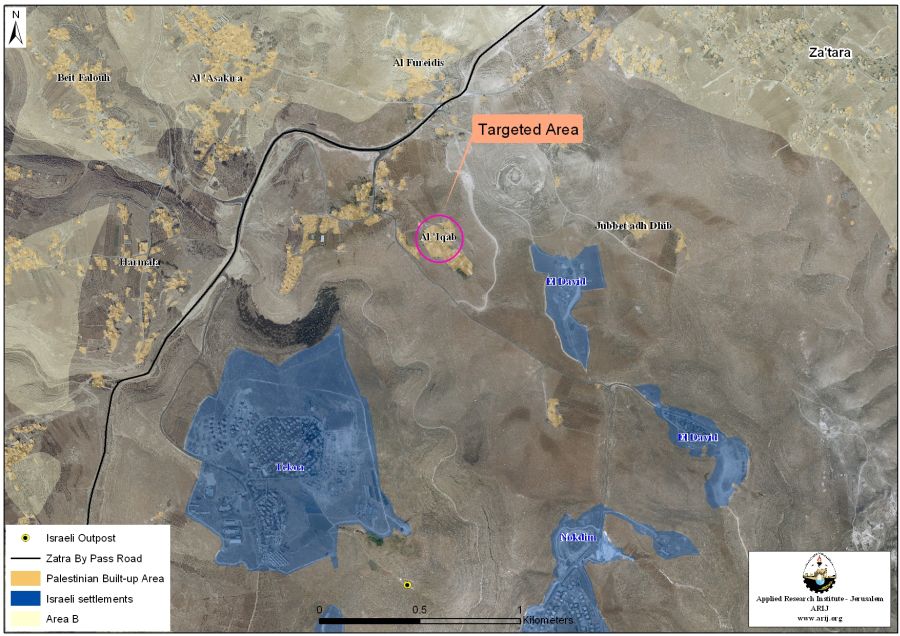 Location & Population
Al Furdies is a small Palestinian village, and one of the six small Palestinian villages/communities cluster that form Jannata Assembly, located southeast of Bethlehem Governorate.
Table 1: The six communities of Jannata Area

Community

Population

built-up area

Al Furdeis

716

323

Rakhma

927

269

Al 'Asakreh

1001

288

Harmallah

757

217

Beit Faluh

509

505

Abu Njeim

170

158

TOTAL

4669

1760
Conclusion
The Oslo II Agreement, signed in 1995 classified the West Bank territory into three different control areas; A, B and C, accordingly Jannata villages/ communities were classified as follows: Rakhma village lands is classified as Area 'A', which falls completely under full Palestinian control; Al-'Asakira (partially), Betfaluh, Abu-Njam and Furdeis are classified as area B, where the Palestinian Authority has full control over the civil administration and Israel continues to have overriding responsibility for security; as for Harmallah and parts of Al Asakira and Al Furdies, the lands there are classified as area C, where Israel retains full control, where the Palestinians must submit for a building license to the Israeli Civil Administration, which most often imposed a burdensome conditions, so the Palestinians will have no choice except to build without the proper authorization. However, the international law does not give the right to Israel as an occupying power to restrict building or utilization of land unless it is proven that such an activity done by those under occupation (the Palestinian in this case) compromises the security of the occupation power (Israel that is), which Israel failed to establish at any time.
According to the Fourth Geneva Convention, Israel, as an occupying power is prohibited to demolish Palestinian houses as stated in Article 53 of the Convention which states that: 'Any destruction by the Occupying Power of real or personal property belonging individually or collectively to private persons, or to the State, or to other public authorities, or to social or cooperative organizations, is prohibited, except where such destruction is rendered absolutely necessary by military operations.
Moreover and according to article XXXI of the 1995 Oslo agreement, Israel,is forbidden from building or planning to any project or settlements or any colonial expansion or any plan that lead to change the status of the West Bank and Gaza Strip. The article provides 'Neither side shall initiate or take any step that will change the status of the West Bank and the Gaza Strip pending the outcome of the permanent status negotiations'.
Also the International Convention on the Elimination of All Forms of Racial Discrimination (1965), Article 5 provides that: 'States' Parties undertake to prohibit and eliminate racial discrimination in all of its forms and to guarantee the right of everyone, without distinction as to race, color, or national or ethnic origin, to equality before the law, notably in the enjoyment of the following rights: … (e) in particular … (iii) the right to housing'.
Finally and under the Universal Declaration of Human Rights adopted and proclaimed by General Assembly resolution 217 A (III) of, December 10, 1948, Article 17 reads: 'No one shall be arbitrarily deprived of his property.' Which means it bans Israel from destroying or confiscating the property of the Palestinians at any case.
Prepared by
The Applied Reserach Institute – Jerusalem