The Israeli Colonization activities in the Occupied Palestinian Territory during the Third Quarter of 2007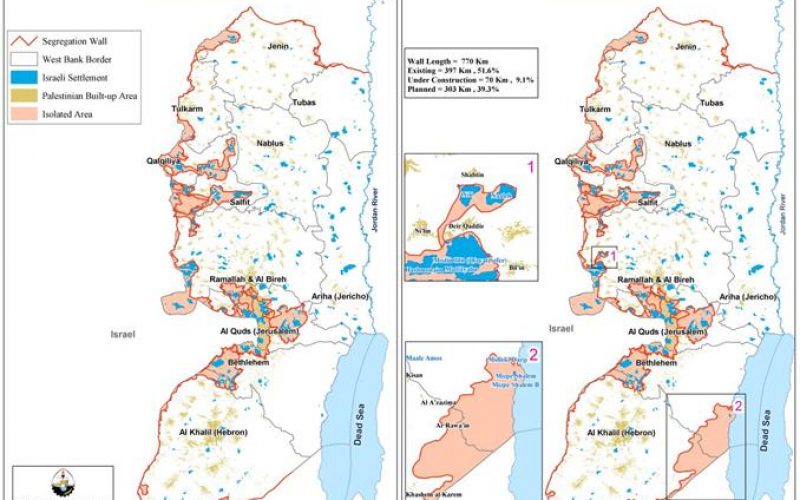 On 12 September 2007, the Israeli Ministry of Defense published on its website a new revised route of the Segregation Wall with changes in the Segregation Wall's length and lands isolated to what was published in April 2006. The updated map that was published in September 2007 was actually endorsed back to April 2007, but was only published on the website until that date.
According to the latest wall update, an increase of 28.5% (157.920 thousands Dunums) in the area slated for isolation between the 1949 Armistice Line and the line of Segregation Wall in comparison to 555 km² in 2006, where the total isolated area became 712,9 km² (712.9 thousands Dunums), 12.6% of the total area of the West Bank. In addition, the new route of the Segregation Wall showed an increase in the Segregation Wall's length by 9.5% (67 Km) to the 703 Km recorded in April 30, 2006, by which the new length of the Segregation Wall became 770 Km. See Map 1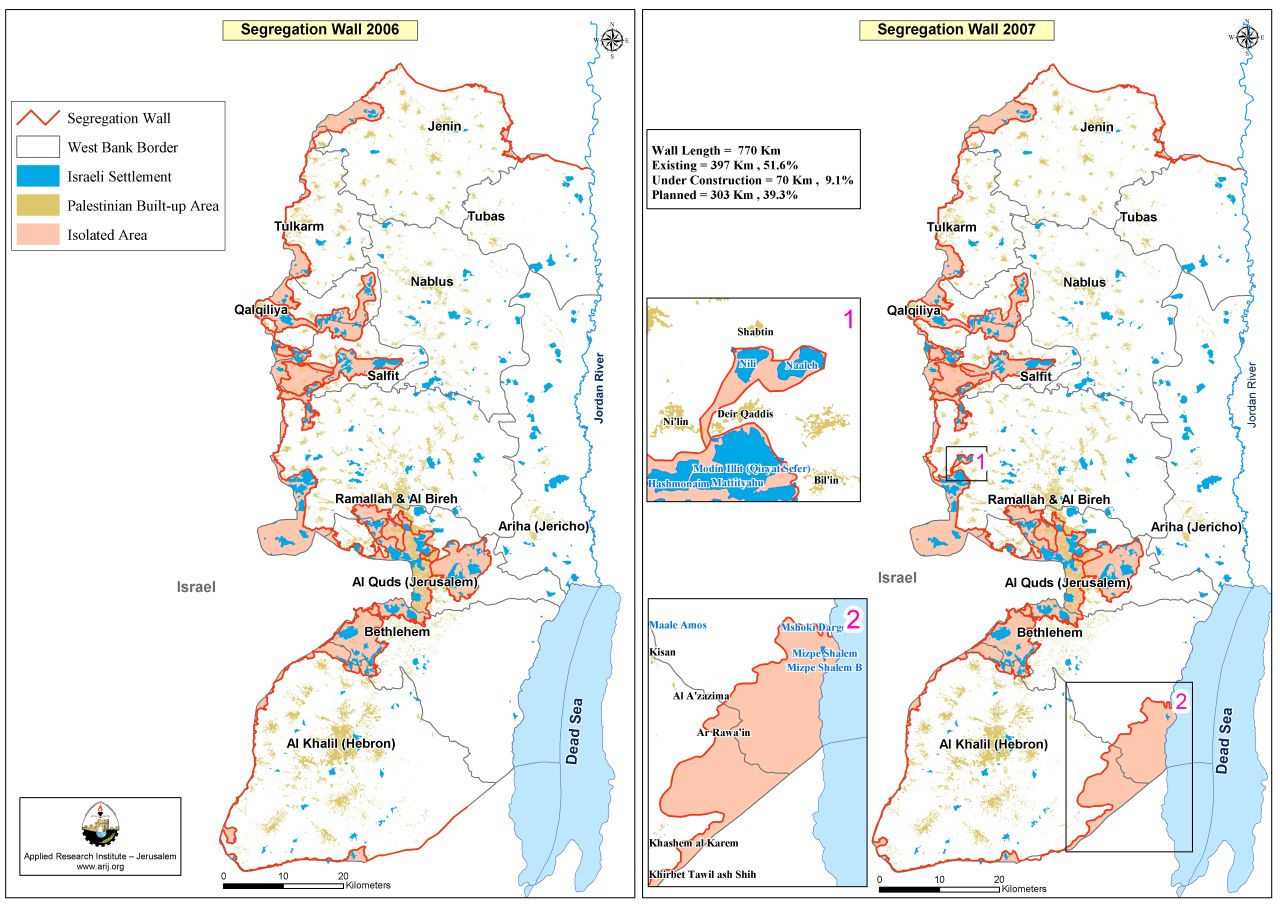 This report highlights the chronology of events concerning the Israeli Colonizing Activities in the West Bank, Jerusalem and the Gaza Strip that occurred during the months of July & August 2007. It describes and evaluates events and their effects on the Palestinian communities.
Israeli violations in Jerusalem Governorate – July 2007

Israeli violations in Jenin Governorate – July 2007

Israeli violations in Tubas Governorate – July 2007

Israeli violations in Bethlehem Governorate – July 2007

Israeli violations in Hebron Governorate – July 2007

Israeli violations in Tulkarem Governorate – July 2007

Israeli violations in Qalqilyah Governorate – July 2007

Israeli violations in Salfit Governorate – July 2007

Israeli violations in Nablus Governorate – July 2007

Israeli violations in Nablus Governorate – July 2007
Israeli violations in Jerusalem Governorate – July 2007

Date

Violation

Location

Violators

1-Jul-07

O_ Closing the permanent checkpoint near Jaba' village

Northeast of Jerusalem city

The Israeli Forces (IOF)

2-Jul-07

S_ Razing the 180 dunums of agricultural lands

Al Jeeb village northwest of Jerusalem city

The Israeli bulldozers

3-Jul-07

R_ Inaugurating new two-way, three-kilometer road leading to the Western Wall aimed at easing traffic congestion

Jerusalem's Old city

The Israeli authorities'

3-Jul-07

O– Breaking into the houses of Abu Salah under the pretext that the house is Jewish property

Beit Safafa, Jerusalem

The Israeli settlers and the IOF

3-Jul-07

P_ Plans to construct a major new bridge to the Mughrabi Gate

Adjacent to Jerusalem's Western Wall

The Israeli authorities'

17-Jul-07

S_ Razing lands around the military checkpoint of Shu'fat refugee camp

Northeast of Jerusalem city

The Israeli bulldozers

17-Jul-07

D– Demolishing a 160 m2 house of Nader as Sawwaf

Christian quarter, old city of Jerusalem

The Israeli authorities

18-Jul-07

D_ Demolishing the 70 m² house of Muhammad 'Eid Al Ja'bary

Tal Al Ful in Beit Hanina

The Israeli Forces (IOF)

18-Jul-07

D_ Demolishing the 100 m² house of Muhammad Mustafa Al 'Esawy

'Anata town

The Israeli Forces (IOF)

18-Jul-07

D_ Palestinian resident demolished his house by his own hands under the Israeli threats

Khalet Al 'Ein in At Tur

The Israeli Forces (IOF)

19-Jul-07

D_ Demolishing the house of Walid Khalil Mershid Al Rajaby (150 meters) and charged and charged him NIS 40,000

Beit Hanina

The Israeli bulldozers

26-Jul-07

P_ New plan to construct an iron gate

Al Magharba gate in Jerusalem

The Israeli committee for building and construction

27-Jul-07

O_ Charging the resident Omran Subhi Sa'ed Al Na'agy a penalty of $ 76,500 as an alternative for renting the two-storey house he is living in as the Custodian claims the ownership of the house

Bab Hatta neighborhood in the old city of Jerusalem

The Custodian of Absentee Law

29-Jul-07

S_ Confiscating 9 parcels of lands owned by Issa Al Hadad, Mahmud 'Atta Allah, Ahmad 'Atta Allah, Abu Wael Masuda, the Orthodox Monaster, 'Abasy and Hilwa Al Hussein, Abu Yasin Al Kurky, Mahmud 'Atta Allah and Fuad Siyam and also 150 dunums of lands owned by Salim Ramadan, Yasin 'Atta Allah, Amin Ramadan, Yas' Sha'ban, Al Jadwal, Al 'Alyout Mountain and Mahmud Ramadan

Silwan town

The Israeli authorities

30-Jul-07

O– An order to Jawad Siyaj to evacuate a store he owns after an Israeli settler under the name of Albert Yacofitsh presented a case claiming his ownership over the store.

The Chain gate, Old city

The Jerusalem magistrates Court

31-Jul-07

D_ Demolishing the fifth floor (260 m²) of the residential building owned by Khalawy Iskafy

Beit Hanina

The Israeli bulldozers

Israeli Violations in Jenin Governorate – 2007

Date

Violation

Location

Violators

11-Jul-07

O_ Taking over more than 10 houses and turned them into military watch points. Among owners known was Nabil 'Amir 'Abed

Kafr Dan village

The Israeli Forces (IOF)

15-Jul-07

O_ Constructing a checkpoint between Jenin city and the American University hindering students from accessing it

Jenin city

The Israeli Forces (IOF)

17-Jul-07

C_ Adding several numbers of caravans

Between Silet Al Dhahr town and Bizariya near Jenin- Nablus main road

The Israeli Forces (IOF)

17-Jul-07

O_ Taking over the house of Tareq Subhy Nemer Sbeihat causing severe damages to the properties

Rummana village northwest of Jenin city

The Israeli Forces (IOF)

30-Jul-07

O– Setting up a flying checkpoint and hindering Palestinian access

Kafr Ra'I village

The Israeli Forces (IOF)

Israeli Violations in Tubas Governorate- July 2007

Date

Violation

Location

Violators

2-Jul-07

O– Attacking a number of farmers and preventing them from harvesting their crops under the pretext that their lands is located in the vicinity of the Wall

Tubas city

The Israeli Forces (IOF)

13-Jul-07

O– Storming the village, preventing farmers from reaching their agricultural fields and confiscating some vehicles

Al 'Aqrabaniya village

The Israeli Forces (IOF)

25-Jul-07

O_ Restricting the Palestinian movement

Tayseer checkpoint in the northern valleys

The Israeli Forces (IOF)

28-Jul-07

O_ Detaining hundreds of Palestinian people

Al Hamra checkpoint southeast if Tubas city

The Israeli Forces (IOF)

29-Jul-07

O_ Confiscating agricultural tractor owned by Ahmad 'Abed Allah Hafez Bani Odeh

Al Hadidya helmet east of Tubas city

The Israeli Forces (IOF)

Israeli Violations in Bethlehem Governorate – July 2007

Date

Violation

Location

Violators

2-Jul-07

P_ Plans to construct new Israeli settlement

On Givat HaEitam hilltop near Efrat settlement

The local action committee's in Qiryat Arba' and the surrounding settlements

4-Jul-07

P_ Plans to establish 4 illegal outposts

On the hills surrounding Gush Etzion

The Israeli settlers in the West Bank

5-Jul-07

C+U_ Constructing new part of the Segregation Wall and caused the uprooting of hundreds of Olive trees

Beit Jala city near the Tunnel road

The Israeli Forces (IOF)

10-Jul-07

S_ Razing agricultural lands

On the northern entrance of al Walaja village near Beit Jala

The Israeli bulldozers

15-Jul-07

S_ Military notices stating the confiscation of vast areas of agricultural lands

Beit Jala city

The Israeli authorities

19-Jul-07

D_ Demolishing the 200 m² house with two caravans owned by Muhammad Hussein Al Kamel

Al 'Asakra village east of Bethlehem

The Israeli Forces (IOF)

19-Jul-07

O_ Searching houses, causing losses to the properties

Al Duha town west of Bethlehem city

The Israeli Forces (IOF)

24-Jul-07

S_ Orders to evacuate their 3000 dunums of lands and properties during 45 days claming that they are state land

Artas and Khalayel al Luz village's

The Israeli authorities

25-Jul-07

O_ Taking over the house of Odeh Al Hramy and turned it into military barrack

Abu Njaim area east of Bethlehem city

The Israeli Forces (IOF)

25-Jul-07

S_ Trying to take over lands in order to construct new outpost in the area

Artas village

Israeli settlers

Israeli Violations in Hebron Governorate – July 2007

Date

Violation

Location

Violators

1-Jul-07

D_ Notifying the resident Ibrahim Abu Shrar of their intention to demolish his agricultural nursery

Ifqeqis village southwest of Hebron city

The Israeli Forces (IOF)

1-Jul-07

S_ Notifying the resident Kazem Al Halaq to evacuate his 50 dunums of lands planted with Olive and Almond trees

Al Rehiya village

The Israeli Forces (IOF)

4-Jul-07

D_ Aggressing on the three Mosques (Al Haras, 'Abed El Hai Shahen and Al Sharabaty) causing damages t0 the properties

North of Hebron city

The Israeli troops

4-Jul-07

O_ Breaking into the society of deaf and hard of hearing causing severe losses

Hebron city

The Israeli Forces (IOF)

9-Jul-07

O_ Aggressing on the Palestinian houses and tried to uproot Olive trees in the area. Musa Muhammad Shanaran and Khalil Muhammad Al Herany were among owners known

Susiya village

The Israeli settlers of Havat Yaer

16-Jul-07

U_ Uprooting Olive and Almond trees in an attempt to confiscate about 30 dunums

Rabud village

The Israeli settlers of Otni'el

17-Jul-07

S+U_ Confiscating 30 dunums of lands and uprooting tens of Olive, Almond and Vine trees

Yatta and Karma villages

The Israeli settlers of 'Atna'el

18-Jul-07

O– Closing a commercial store owned by Jawdat Mahmud Hassouna

Hebron's old city

The Israeli Forces (IOF)

20-Jul-07

S+U– Setting fire into tens of dunums and uprooting 350 Olive trees owned by Ali, Hussein and Mohammed Manasrah, Ali Mohammed Musa and Ibrahim Ali Al Haj

Bani Na'im village

The Israeli settlers of Pene Hever

21-Jul-07

S– Renewing attempts to take over 150 dunums of land belonging to the family of Hoshiya

Yatta town

The Israeli settlers of Susiya

23-Jul-07

S_ Setting fire onto 7 dunums of lands and caused the damage of 70 olive trees and hundreds if Almond and Vine trees owned by the inheritance of Ratib Salem Abu Haykal

Tel Al Rumeida neighborhood

The Israeli settlers of Ramat Yashi

23-Jul-07

S_ Taking over 13 dunums of lands owned by Al Jabarin family and supplied the area with equipments in order to construct new outpost

Yatta town south of Hebron city

The Israeli settlers

23-Jul-07

O_ Closing the road leading to the Palestinian helmets and villages

Yatta town south of Hebron city

The Israeli settlers of Ma'on

24-Jul-07

O_ Searching houses and causing damages. Among owners known was Muhyi Al Batat

Karm Al Ashqar neighborhood

The Israeli troops

25-Jul-07

O_ Order to remove 10 kilometers from the Wall that has been constructed on road # 60 and pay NIS 30,000 to the landowners that has been affected by the wall

Yatta town south of Hebron city

The Israeli Supreme court

29-Jul-07

O_ Searching several numbers of commercial stores

Al Hawouz area south of Hebron city

The Israeli Forces (IOF)

29-Jul-07

O_ Erecting a checkpoint and restricted Palestinian access

Al Hawouz area south of Hebron city

The Israeli Forces (IOF)

Israeli Violations in Tulkarm Governorate – 2007

Date

Violation

Location

Violators

2-Jul-07

O_ Closing Al Nafaq checkpoint and detained Palestinian cars for hours which caused traffic jam

South of Tulkarm city

The Israeli Forces (IOF)

3-Jul-07

O_ Hindering and delaying Palestinian passage at the checkpoint

Al Kafriyat checkpoint

The Israeli Forces (IOF)

8-Jul-07

S– Setting fire into 160 dunums cultivated with olive trees and seasonal ground crops

Ramin village plain

Israeli settlers of Enav

10-Jul-07

O_ Closing Al Nafaq checkpoint and Jubara gate and hindered Palestinians from accessing in and out of the city

South of Tulkarm city

The Israeli Forces (IOF)

16-Jul-07

O– Setting up a permanent checkpoint at the entrance of the village to hinder Palestinian passage

Beit Lid village

The Israeli Forces (IOF)

23-Jul-07

O_ Erecting flying checkpoint and hindered Palestinian access to and from the city

On the junction of Fir'un village south of Tulkarm city

The Israeli Forces (IOF)

30-Jul-07

O_ Closing 'Enav gate and hindered Palestinian cars from accessing to and from the city claiming that the city of Tulkarm is a closed military area

On the eastern entrance of Tulkarm city

The Israeli Forces (IOF)

Israeli Violations in Qalqilyia Governorate – July 2007

Date

Violation

Location

Violators

1-Jul-07

O_ Closing the northern entrance of 'Azun 'Attma town

East of Qalqiliya city

The Israeli Forces (IOF)

12-Jul-07

D_ Demolishing a house, pool and Water tank which belong to 'Ali 'Awad Marab'a and Muhammad Hashim Marab'a

Ras Tira village northeast of Qalqiliya city

The Israeli Forces (IOF)

12-Jul-07

D_ Demolishing agricultural structures which belong to Zein Higawy and the inheritance of Safiya Basalat

Hijja village east of Qalqiliya city

The Israeli Forces (IOF)

12-Jul-07

D_ Demolishing the two-storey house of 'Abed El Fatah Rashid Bashir (360 m²)

Jinsafut village east of Qalqiliya city

The Israeli bulldozers

30-Jul-07

S_ Hedging with barbed wires thousands of dunums of agricultural lands

Al Marj area north of Qalqiliya city

The Israeli Forces (IOF)

Israeli Violations in Salfit Governorate – July 2007

Date

Violation

Location

Violators

5-Jul-07

O_ Hindering Palestinians aging less than 35 from accessing the checkpoint

East of Salfit city

The Israeli Forces manning Za'tara checkpoint

5-Jul-07

D_ Military orders to demolish seven houses belonging to Sa'ed Deeb Salem Kheir, Haytham 'Abed El Rahman 'Abed Allah, Nasr Suleiman Muhammad 'Abed Allah, 'Amer Yusif Mahmud 'Abed Allah, Hikmat Hussein 'Ali 'Abed Allah, Sameh Masoud Mashal and Muhammad Ibrahim Mahmud Isma'il

Deir Ballut town west of Salfit city

The Israeli authorities

8-Jul-07

D_ Military notices to 9 owners to stop constructing their houseswhich belong toMuhammad Yusif Qasem 'Ebaya, basel Mefleh Reziq Yasin, Najeh Ibrahim Khalil Yasin, Ayoub Hasan Ayoub, Mash-hour Shaher Muhammad Yasin, Zakariya Shaher Muhammad Yasin, Na'em Ahmad Musa Hussein, Jihad Mahmud 'Abed Al Fatah and 'Abed Allah Met'eb 'Abed El Qader 'Abed El Fatah

Yasuf town in Salfit

The Israeli Forces (IOF)

19-Jul-07

O_ Closing the gate of the wall and hindered landowners from accessing their lands

West of Al Zawiya village

The Israeli Forces (IOF)

19-Jul-07

O_ Freeing pigs on the agricultural lands

Salfit district

The Israeli settlers of Ariel

28-Jul-07

D_ Military notices to the residents Muhammad Hassan 'Abady, 'Ali Hassan 'Abady, Diab Mash-hour 'Asy, Amin Yasin Mir'y, 'Ayman Yasin Mir'y and Ahmad Ibrahim 'Asy to demolish their houses for not being licensed

Qarawet Bani Zeid town west of Salfit

The Israeli Forces (IOF)

29-Jul-07

C– Completing the fixing of a barbed wire fence and gate between the village and its agricultural lands adjacent to El Kana settlement

Az Zawiya village

The Israeli Forces (IOF)

Israeli Violations In Nablus Governorate – July 2007

Date

Violation

Location

Violators

2-Jul-07

E_ Trying to expand the nearby Huwwra prison

Nablus city

The Israeli administration of Huwwara military camp

3-Jul-07

O_ Restricting Palestinian movement on Al Bathan checkpoint and hindered access to and from Nablus city whereby several numbers of flying checkpoints were erected on the roads north, south and northwest of thecity

Nablus city

The Israeli Forces (IOF)

5-Jul-07

O_ Taking over several numbers of houses and turned it into military watch points and barracks among owners know was Jamal Hamad and also they took over Riham residential building

Nablus city

The Israeli Forces (IOF)

10-Jul-07

O_ Surrounding two Palestinian residential buildings and razed a wall that surrounds one of the buildings and forced all dwellers to evacuate their houses under the threat of weapons

Rafidya neighborhood west of Nablus city

The Israeli Forces (IOF)

17-Jul-07

O– Aggressing on the houses and causing damages to properties

'Awarta village

The Israeli settlers

18-Jul-07

O_ Closing Huwwara checkpoint and hindered people from accessing into or out of the city

On the southern entrance of Nablus city

The Israeli Forces (IOF)

18-Jul-07

O_ Hindering Palestinian students from Jenin, Tubas and the valleys from accessing the city of Nablus

Nablus city

The Israeli Forces manning Al Bathan checkpoint

19-Jul-07

D_ Demolishing the two-storey house of Al Natour family

Zawata village west of Nablus city

The Israeli Forces (IOF)

21-Jul-07

O_ Taking over Palestinian houses turning them into military posts

'Ein Beit Al Ma' refugee camp

More than 30 Israeli bulldozers

22-Jul-07

S_ Setting fire into more than 150 dunums of lands planted with Olives

Salem and Deir Al Hatab villages near Nablus

The Israeli settlers of Allon Moreh

22-Jul-07

C_ Supplying the evacuated settlement of Homesh with infrastructure in order to rebuild it again

North o f the West Bank

The Israeli settlers

22-Jul-07

O_ Aggressing on the Palestinian houses. Among owners known were Nizar Seif, 'Abed El Slama Salah and Faleh Ahmad Salah

Burqa village northwest of Nablus city

The Israeli settlers of Homesh

23-Jul-07

S_ Setting fire into vast areas of lands planted with Almonds and Olives

'Einabous village southeast of Nablus city

The Israeli settlers of Yizhar

29-Jul-07

O_ Clsoing Al Bathan checkpoint from both sides and hindered Palestinian from accessing into or out of Nablus city

Nablus city

The Israeli Forces (IOF)

30-Jul-07

D– Notifying Mohammed Hasan Abdi, Ali Hasan Abdi, Ziab Mashur Asi, Amin Yasin Mar'i, Ayman Yasin Mar'i and Ahmad Ibrahim Asi of the decision to demolish their 6 houses

Qarawet Bani Hassan village

The Israeli Forces (IOF)

31-Jul-07

O_ Closing Tel- Nablus road and hindered Palestinian movement

Nablus city

The Israeli Forces (IOF)

Israeli Violations in Ramallah Governorate – July 2007

Date

Violation

Location

Violators

3-Jul-07

O_ Restricting Palestinian movement on 'Atara checkpoint and prevented Palestinian under the age of 35 from access it

North of Ramallah city

The Israeli Forces (IOF)

13-Jul-07

C_ Trying to erect new outpost

Al Midya village near Ramallah

The Israeli settlers

17-Jul-07

O_ Closing the gate on the main entrance of At Tira village and hindered access to the village

Ramallah city

The Israeli Forces (IOF)

17-Jul-07

O_ Clsoing 'Atara checkpoint and detained people for hours

Ramallah city

The Israeli Forces (IOF)

18-Jul-07

C_ Constructing new gate

On the eastern entrance of Rantis village west of Ramallah city

The Israeli Forces (IOF)

29-Jul-07

O_ Erecting two temporary checkpoints

Northern entrance of Al Berieh city and on the entrance of 'Ein Yabroud village northeast of Ramallah city

The Israeli Forces (IOF)
Israeli violations in Jerusalem Governorate – August 2007

Date

Violation

Location

Violators

1-Aug-07

D_ Demolishing the third floor of a residential building owned by Talal Hamed Shweiky

'Ein Al Lu'lu'a neighborhood in Silwan city

The Israeli bulldozers

1-Aug-07

O- The house ofNawal Al 'Abasy's house is threatened to be demolished

Silwan city

The Israeli authority

1-Aug-07

O_ Aggressing on the house of Salah Abu Isma'il

Beit Safafa neighborhood south of Jerusalem city

200 Israeli settlers

3-Aug-07

R_ Erecting a new bypass road # 20 which will connect Pisgat Zeev and Neve Yacouv settlements with bypass road # 443 leading to Tel Aviv

Jerusalem city

Jerusalem Municipality

8-Aug-07

O– Attacking the house of Ali Ibrahim Salah under the pretext that the place is a Jewish ownership

Beit Safafa neighborhood

The Israeli Forces (IOF)

9-Aug-07

D– Demolishing an under construction house owned by Abdullah Al Jabi

Wadi Al Juz

The Israeli authority

12-Aug-07

R_ Erecting new highway that goes through the West Bank and Eastern Jerusalem

Jerusalem city

The Israeli bulldozers

12-Aug-07

C_ New constructions are taking place at the city of 'Mamilla which includes new buildings, hotels, restaurants and parking lots

Jerusalem city

The Israeli authority

12-Aug-07

P_ Plans to erect a new Israeli site which will contain parking lots and housing complex

Near Zion Gate inside the old city of Jerusalem

The Israeli authority

16-Aug-07

D_ Demolishing the 50 m² third floor of the three-storey house of Samir Al Rewaidy

Silwan city in the old city of Jerusalem

The Israeli authority

16-Aug-07

O_ Breaking into the house of Wafa Hilmi Al Ajlouny and caused losses to the properties

Az Z'ayem village east of Jerusalem city

The Israeli Forces (IOF)

17-Aug-07

D_ Military notice to resident Hassan Muhammad Hassan 'Atiq to demolish the second floor of his house (120 m²)

Bab Hatta in the old city of Jerusalem

The Israeli Army and Jerusalem Municipality

17-Aug-07

O_ Closing the entrance of Wad Abi Hindy with earth mounds

Abu Dis and As Sawahira Al Sharqiya cities

The Israeli bulldozers

20-Aug-07

S_ Plans totake over 30 dunums (7.5 acres) of land and to transfer it to the association without a tender

East Jerusalem

The Israel Lands Administration & Ateret Cohanim association

31-Aug-07

O_ Breaking into Al Hakawaty Theater

Jerusalem city

The Israeli Forces (IOF)

Israeli Violations in Jenin Governorate – August 2007

Date

Violation

Location

Violators

2-Aug-07

O_ Preventing Palestinian landowners from accessing their segregated agricultural lands behind the wall's path

'Anin village west of Jenin

The Israeli soldiers

12-Aug-07

O_ Searching a number of Palestinian houses and caused losses to the properties. Among the owners, the following was known: Munir Abu Bakr

Jenin city, Jenin refugee camp and Ya'bud town southwest of Jenin city

The Israeli Army

15-Aug-07

O_ Taking over two houses owned by Shadi and Raed Metany and turned them into military post after forcing all dwellers to leave the house

Ya'bud town southwest of Jenin city

The Israeli Forces (IOF)

17-Aug-07

C_ Constructing military tents and restricted access to and from the city

Eastern neighborhood of Kafr Dan village in Jenin

The Israeli Forces (IOF)

30-Aug-07

S_ Hedging with barbed wires some agricultural lands and hindered landowners from accessing them

Southwest of Jenin city

The Israeli Forces (IOF)

Israeli Violations in Tubas Governorate – August 2007

Date

Violation

Location

Violators

1-Aug-07

O_ Erecting temporary checkpoints

Wadi Al Far'a area south of Tubas city

The Israeli Forces (IOF)

6-Aug-07

O_ Military order to evacuate residents and announced the area as 'closed military area'

Al Hadidiyia Hamlet east of Tubas city

The Israeli Army

8-Aug-07

D_ Demolishing several numbers of stalls and agricultural pools

Near road # 90 in Bardala village in the northern valleys

The Israeli Forces (IOF)

8-Aug-07

D_ Demolishing a Palestinian barrack

Al Buqa'a plain east of Tubas city

The Israeli Forces (IOF)

13-Aug-07

D_ Demolishing barracks and caravans

Khirbet Humsa in Al Buqa'a plain

The Israeli bulldozers

14-Aug-07

D– Demolishing a number of sheds and barracks owned by Abdullah Hussein Basharat and Abdullah Hafiz bani Odeh

Tamun village

The Israeli Forces (IOF)

15-Aug-07

O_ Hindering Palestinian landowners from accessing their lands

Tayaseer checkpoint

The Israeli Army

18-Aug-07
O_ Detaining Palestinian residents in a small closed room
Al Hamra checkpoint
The Israeli Army

20-Aug-07

S_ Setting fire into Jader Mountain due to the military activities taking place by the Israeli Army in the area

East of Tubas city

The Israeli Army

21-Aug-07

O_ Surveying Al Hamamat and Wadi Wahish areas and the surrounding mountains

Wadi Al Maleh area in the northern valleys

The Israeli surveyors

21-Aug-07

O_ Military training activitiesandconstructing tens of tents and water tanks

East of Tubas city in the area extending from Al Soud wells to 'Ein Al Helweh

The Israeli Army

23-Aug-07

D_ Demolishing houses and confiscated water tanks

Khirbet Humsa

The Israeli bulldozers

24-Aug-07

D_ Two military orders handed to resident Na'ema 'Abed El Raziq and Sufian Sbeih to demolish their houses

Al 'Aqaba village east of Tubas city

The Israeli Army

28-Aug-07

O_ Hindering Palestinians from accessing the northern valleys area

Tayaseer checkpoint

The Israeli Army

Israeli Violations in Bethlehem Governorate – August 2007

Date

Violation

Location

Violators

2-Aug-07

O_ Searching the Islamic school, another Palestinian house and a factory owned by Issa Abu 'Aitta

Beit Sahour city

The Israeli Army

3-Aug-07

O_ Rejecting the appeals filed by residents and agreed on continuing the construction of the Segregation Wall

Umm Salmouna village

The Israeli Supreme Court

6-Aug-07

S_ Constructed tents and Tried to take over 400 dunums of lands

Khallet Al Quton area (Al Quton Hamlet) in Artas village

Tens of Israeli settlers

15-Aug-07

C_ Commencing the construction of the Segregation Wallwhereby, 2200 trees are threatened to be cut

West of Cremisan Monastery in Beit Jala city at borders with Al Walajeh village, from its eastern side

The Israeli bulldozers

23-Aug-07

S+ C_ Razing 10 dunums of lands in an attempt to construct a new military base

Near Za'tara bypass road east of Bethlehem city

The Israeli bulldozers

27-Aug-07

O_ Searching q number of Palestinian houses

Khirbet Al Deir village (Ad Deir Hamlet) south of Bethlehem city

The Israeli Forces (IOF)

Israeli Violations in Hebron Governorate – August 2007

Date

Violation

Location

Violators

1-Aug-07

O_ Setting fire into a building and two houses one of which belongs to 'Abed El Rahman Samouh

Hebron city

Israeli settlers

4-Aug-07

S– Renewing attempts to seize 10 dunums of land owned by the family of Nawaj'a

Yatta town

The Israeli settlers of Susiya

6-Aug-07

O_ Invading Al Aqtab Mosque causing damages to the properties inside

Old market in Hebron

Israeli settlers

6-Aug-07

O_ Aggressing on the Palestinian houses and caused damages to the houses of Kayed Mansour Al Ja'bary, Nasr Al Ja'bary, Basam Al Ja'bary, Muhammad Al Ja'bary and Rabi' Al Ja'bary

near the occupied Al Rajaby building in Hebron

Israeli settlers

9-Aug-07

O_ Forcing Jawdat Hasouna to close his commercial store under the pretext of being close to the Israeli outpost of Beit Rumano

Old city of Hebron

The Israeli Civil Administration

12-Aug-07

P_ Plans to construct a new outpost

Near Qiryat Arba' settlement

Israeli settlers

13-Aug-07

O_ Closing the Ibrahimi Mosque and hindered Palestinians from reaching it under the pretext of celebrating the first of September

Old city of Hebron

The Israeli Army

18-Aug-07

S– Constructing a tent inside 5 dunums of land owned by Abdul Karim Ibrahim Al Ja'bari

Hebron city

The Israeli settlers of Qiryat Arba'

23-Aug-07

O_ Aggressing on the Palestinian houses and causing loses to the properties. Among the owners, the following were known: Muhammad Rabi' Al Ja'bary, Ghaleb Mansour Al Ja'bary and Munther Al Ja'bary

Old city of Hebron

The Israeli settlers occupying Al Rajaby building

31-Aug-07

P_ Plans to take over 70 Palestinian buildings, lands and commercial stores under Israel's 1950 absentee property law

The area of Abraham Aveno settlement in the Old city of Hebron, the western triangle market and Al Rumeideh neighborhood in Hebron city

Israeli settlers

Israeli Violations in Tulkarem Governorate – August 2007

Date

Violation

Location

Violators

14-Aug-07

O_ Searching a number of Palestinian houses. Among the owners, the following was known: Mahmud Al Seways

Southern neighborhood of Tulkarm city

The Israeli Army

Israeli Violations in Qalqilyia Governorate – August 2007

Date

Violation

Location

Violators

6-Aug-07

O– Imposing more restrictions on the entry of Palestinian farmers to their lands separated behind the Wall

Jayyus village

The Israeli Forces (IOF)

13-Aug-07

S_ Razing 190 dunums of lands to erect a new military road

Kafr Qaddum village east of Qalqiliya city

The Israeli bulldozers

14-Aug-07

S– Setting fire to about 50 dunums of Palestinian lands destroying Olive and Almond trees which belong to Omer Ali Hamdan

Susiya area, az Zawiya

The Israeli Forces (IOF)

22-Aug-07

O_ Closing the northern entrance of 'Azun town and hindered Palestinian access into or out of the town

East of Qalqiliya city

The Israeli Army

27-Aug-07

O_ Hindering Palestinians from reaching their agricultural lands

'Azun 'Atma village

The Israeli Forces (IOF)

29-Aug-07

D- Demolishing three houses owned by 'Adel Al Haj Hassan, Reziq Al Qab'a and Qasem Hussein Harb

Qalqiliya city

The Israeli Forces (IOF)

Israeli Violations in Salfit Governorate – Augsut 2007

Date

Violation

Location

Violators

1-Aug-07

O_ Preventing vehicular and pedestrian movement

Za'tara checkpoint east of Salfit city

The Israeli soldiers

1-Aug-07

P_ Plans to transfer Ariel college into a university centre

Ariel settlement

The Israeli Prime Minister Ehud Olmert

19-Aug-07

S+U– Razing 6 dunums and uprooting 30 Olive and Almond trees

Haris village

The Israeli authorities

23-Aug-07

D_ Demolishing the two-storey house of Mahmud Mustafa 'Abed El Rahman 'Asi

Qarawat Bani Hassan west of Salfit city

The Israeli bulldozers

23-Aug-07

O_ Closing the only gate of Marda village and hindered Palestinians heading to their destinations

North of Salfit city

The Israeli Forces (IOF)

Israeli Violations in Nablus Governorate – August 2007

Date

Violation

Location

Violators

1-Aug-07

O_ Detaining Palestinians for hours

Al Bathan checkpoint northeast of Nablus city

The Israeli Army

1-Aug-07

O– Closing the road and preventing Palestinian access

Tel- Nablus road

The Israeli Forces (IOF)

3-Aug-07

O– Attacking people and properties causing moral and material damage

Burqa village

The Israeli settlers occupying the ruins of Homesh

8-Aug-07

E_ Expanding Huwwara prison

Nablus city

The Israeli authority

8-Aug-07

E– Beginning to enlarge the checkpoint by bulldozing land and putting more cement blocks

Beit Iba village

The Israeli Forces (IOF)

16-Aug-07

S_ Setting fire into 5 dunums of lands planted with 130 Olive treeswhich belong toHussein Qasem Hussein

Deir Al Hatab town east of Nablus city

The Israeli Forces (IOF)

16-Aug-07

O– Closing the road and preventing Palestinian access

Aqraba- Awarta road

The Israeli Forces (IOF)

18-Aug-07

O_ Evacuating by force the family of Sadiq Yousef Ahmad Mansour claming that the owner has no permit to live in his place

Kafr Qalil village

The Israeli Forces (IOF)

19-Aug-07

O-Closing the checkpoint and hindering access

Hawwara checkpoint

The Israeli Forces (IOF)

20-Aug-07

O_ Breaking into the lawyers office and caused severe damages to the properties

Karsou' building in Nablus city

The Israeli Forces (IOF)

21-Aug-07

S_ Hedging with barbed wires Salah El Din hilltop and constructed a military point

Near Bizariya village north of Nablus city

The Israeli Forces (IOF)

26-Aug-07

O_ Closing Beit Iba checkpoint and prevented Palestinians from reaching their destinations

At the western entrance of Nablus city

The Israeli Forces (IOF)

29-Aug-07

O_ Aggressing on Palestinian lands and set fire into Olive and Almonds yards causing losses and damages

Burqa village north of Nablus city

Israeli settlers of the evacuated Homesh settlement

29-Aug-07

D_ Demolishing several numbers of barracks owned by Basim Salem Ahmad and Wasif Mayada

Khirbet Al Taweel near 'Aqruba town southeast of Nablus city

The Israeli Forces (IOF)

29-Aug-07

C_ Constructing several numbers of tents

Khirbet Yanun in 'Aqruba town

Israeli settlers of Itamar settlement

30-Aug-07

O_ Relocating Al Bathan checkpoint and hindered Palestinian access to the city

North of Nablus city

The Israeli Forces (IOF)

Israeli Violations in Ramallah Governorate – August 2007

Date

Violation

Location

Violators

4-Aug-07

S_ Setting fire into tens of dunums of lands planted with Olives. Lands belong to Muhammad 'Abed El Hadi Samara, Ibrahim Ahmad Hassan and Rashid Muhammad Abu Rahma

Bil'in village

The Israeli Army

6-Aug-07

S_ Razing about 500 dunums of lands

Qarnet Abu Baki area in the western part of Al Mazra'a Al Qiblya town

The Israeli bulldozers
•Israeli violations in Jerusalem Governorate – September 2007
•Israeli violations in Jenin Governorate – September 2007
•Israeli violations in Tubas Governorate – September 2007
•Israeli violations in Bethlehem Governorate – September 2007
•Israeli violations in Hebron Governorate – September 2007
•Israeli violations in Tulkarem Governorate – September 2007
•Israeli violations in Qalqilyah Governorate – September 2007
•Israeli violations in Salfit Governorate – September 2007
•Israeli violations in Nablus Governorate – September 2007
•Israeli violations in Ramallah Governorate – September 2007
Israeli violations in Jerusalem Governorate – September 2007

Date

Violation

Location

Violators

3-Sep-07

D_ Demolishing the house of Mustafa Mahmud Al Sherif (180 m²)

Beit Hanina in Jerusalem city

The Israeli bulldozers

3-Sep-07

D_ Demolishing the house of Randa Musa Hamed Al Sherif (170 m²)

Beir Nabala town

The Israeli bulldozers

5-Sep-07

D_ Demolishing the two- storey house (300 m²) of Zakariya Al Natsha, the two- storey house and the farm of Jadu' Jhalil Qabu'a Kirshan

'Anata town

The Israeli bulldozers

9-Sep-07

O_ Aggressing on the house of 'Ali Muhammad 'Ayed 'Ibediya and caused severe damages

Imleson neighborhood south of Jerusalem

The Israeli troops

9-Sep-07

O_ Breaking into the village council of Beir Nabala and confiscated computers and files

Jerusalem governorate

The Israeli Forces (IOF)

11-Sep-07

C_ Approving the construction of the new bridge of Al Maghariba gate

Jerusalem city

The Israeli committee for planning and construction

11-Sep-07

D_ Demolishing the barracks and tents owned by Muhammad, Suleiman, Yousef, 'Ali, Yousef, Muhammad and Khalil Abu Dahouk

'Anata village northeast of Jerusalem city

The Israeli bulldozers

13-Sep-07

P_ Plans to construct a medical research center on 5, 2 dunums of lands. This centre will contain laboratories, library, meeting rooms and residential buildings

Western slopes of Olives Mountain in Jerusalem

The Israeli committee for planning and construction

13-Sep-07

O_ Plans to relocate the garages in the industrial zone of Tal Biyout to the area at the entrance of Pisgat Zeev settlement

Jerusalem governorate

Jerusalem and Ma'ale Adumim Municipalities

24-Sep-07

O_ Invading the two residential buildings (4 apartments) owned by Sinan Faraj and caused damages to the properties

Silwan in Jerusalem city

The Israeli Forces (IOF)

25-Sep-07

C_ Plans to construct 1,900 new apartments on 1,580 dunums

Isawiya town

Jerusalem Municipality

26-Sep-07

O_ Inaugurating an Israeli synagogue

Under Al Aqsa Mosque near the western wall

The Israeli authorities

Israeli Violations in Jenin Governorate – September 2007

Date

Violation

Location

Violators

2-Sep-07

O_ Erecting two temporary checkpoints

On the eastern entrance of Fahma village southwest of Jenin city, two near 'Aja village and the Arab- American University east of the city

The Israeli Forces (IOF)

6-Sep-07

O_ Surrounding the house of Ahmad Jum'a Abu Ghali and forced all dwellers to evacuate the house under the threat of weapons

Eastern neighborhood in Jenin city

The Israeli Forces (IOF)

16-Sep-07

O_ Taking over several numbers of houses and forced dwellers to evacuate the houses

Eastern neighborhood of Jenin

The Israeli Forces (IOF)

Israeli Violations in Tubas Governorate – September 2007

Date

Violation

Location

Violators

5-Sep-07

C_ Constructing hundreds of tents and started their military activities in the area

'Ein Al Hilwa, Al Maleh and Al 'Aqaba areas in the northern valleys

The Israeli Army

6-Sep-07

D– 32 demolition orders against the village's houses and institutions

Al Aqaba village

The Israeli authorities

Israeli Violations in Bethlehem Governorate – September 2007

Date

Violation

Location

Violators

1-Sep-07

R+ C_ Inaugurating 6 kilometers new bypass road and constructing several numbers of checkpoints and three military watch points

East of Bethlehem

The Israeli settlers

2-Sep-07

S_ Military order to confiscate 22 dunums

Al Khas and AL N'man villages near Mazmoriya commercial terminal

The Israeli authorities

11-Sep-07

D_ Demolishing two agricultural rooms and barracks (50 m² each) hich belong to Tayseer Abu Mifrih and 'Ali Muhammad Abu Mifrih

Rakhma village east of Bethlehem city

The Israeli Forces (IOF)

18-Sep-07

S_ Military order # (T/29/07) to confiscate 322 dunums of lands

Al Khadr and Artas villages

The Israeli authorities

30-Sep-07

S_ Taking over Khalet Al Qutin area

Wad Rahal village south of Bethlehem city

Israeli settlers

Israeli Violations in Hebron Governorate – September 2007

Date

Violation

Location

Violators

9-Sep-07

C_ Constructing new military watch tower

Farsh Al Hawa area in the western part of the city

The Israeli Army

10-Sep-07

O_ Surrounding Al Ansar Mosque and forced all to evacuate it

Al Salam Street in Hebron city

The Israeli Forces (IOF)

10-Sep-07

O_ Searching the house of Khaldoun Al Natsha and caused damages

Ras Al Jura area north of Hebron city

The Israeli Forces (IOF)

11-Sep-07

O_ Taking over Al Aqtab Mosque and started new constructions on its surface in order to expand the outpost

Old city of Hebron

The Israeli settlers of Abraham Aveno

11-Sep-07

O_ Breaking into the house of Nader Muhammad Sleimiya and caused damages to the furniture

Idhna town west of Hebron

The Israeli Forces (IOF)

12-Sep-07

S_ Razing lands between the settlements of Karmi Zur and Qiryat Arba' in an attempt to construct new electricity network

Halhul town

The Israeli bulldozers

17-Sep-07

O_ Military order to close the Ibrahime Mosque for 10 days due to the Israeli celebrations

Hebron city

The Israeli authorities

20-Sep-07

S_ Aggressing on the 500 dunums of the agricultural reserve owned by 'Arab Al Hathalin and caused loses and damages

West of Arab Al Ka'abneh southeast of Hebron city

The Israeli settlers of Karmel

25-Sep-07

C_ Constructing 20 kilometers electronic line containing cement bases and electronic towers

Bethlehem and Hebron governorates

The Israeli authorities

30-Sep-07

O_ Trying to take over Al Jumjoma Mountain (Jales Mountain)

Between Halhul and Sa'ir north of Hebron

More than 500 Israeli settlers

30-Sep-07

O_ Closing the Ibrahime Mosque

Hebron city

The Israeli Forces (IOF)

Israeli Violations in Salfit Governorate – September 2007

Date

Violation

Location

Violators

4-Sep-07

O– Setting up an army camp over Palestinian land near the Trans Samaria highway

Az Zawiya village

The Israeli Forces (IOF)

13-Sep-07

O-Setting up a military barricade at the main entrance to the village and hindering Palestinian access in and out of the village

Marda village

The Israeli Forces (IOF)

17-Sep-07

O– Breaking into the offices of the Red Crescent Society after exploding main entrance and inflicting heavy damage inside

Deir Istiya village

The Israeli Forces (IOF)

23-Sep-07

O– Attacking agricultural fields and causing heavy damage to them

The springs area, Salfit city

The Israeli settlers of Ariel

24-Sep-07

O– Storming the family house of Ahmad Najih Al Khufash and the family house of Abdul Qader Abu Hajala carrying out tight searches and turning every thing upside down

Marda and Deir Istiya villages

The Israeli Forces (IOF)

Israeli Violations in Nablus Governorate – September 2007

Date

Violation

Location

Violators

4-Sep-07

O– Storming the village, beating citizens and damaging vehicles and properties

Al Bathan village

The Israeli Forces (IOF)

5-Sep-07

O_ Setting fire into three- storey house owned by Abu Ghush family causing severe loses

Nablus and Balata refugee camp

The Israeli Forces (IOF)

5-Sep-07

O– Detaining vehicles and delaying passengers under the pretext of security

Za'tara military checkpoint

The Israeli Forces (IOF)

5-Sep-07

O_ Breaking into Yazur charity committee and confiscated all files and documents

Balata refugee camp east of Nablus city

The Israeli Forces (IOF)

6-Sep-07

O_ Hindering Palestinians under the age of 35 years old from accessing the checkpoint and also hindered residents coming from the northern governorates from reaching Ramallah city

Huwwara checkpoint

The Israeli Forces (IOF)

10-Sep-07

O– Closing the checkpoint and preventing Palestinian passage under the pretext of security

Beit Iba military checkpoint

The Israeli Forces (IOF)

12-Sep-07

S– Planting more than 1000 Olive trees and proving them with irrigation systems

The Palestinian land around Allon Moreh settlement

The Israeli settlers of Allon Moreh

16-Sep-07

O– Closing the three military checkpoints and hindering Palestinian access

Hawara, 'Awarta and Za'tara checkpoints

The Israeli Forces (IOF)

20-Sep-07

O_ Invading 'Ein El Ma' refugee camp closed all entrances of the camp with earth mounds and took over houses turning them into military posts

Nablus city

The Israeli Forces (IOF)

21-Sep-07

D_ Demolishing the houses of Amjad, Samer, Ahmad and 'Abed Allah Mabrouk

'Ein Al Ma' refugee camp

The Israeli Forces (IOF)

22-Sep-07

O_ Freeing pigs on the Palestinian agricultural land causing severe loses to the lands

Springs area in Salfit

The Israeli settlers of Ariel

22-Sep-07

O_ Causing severe damages to the five- storey building owned by Abu Naser Mabrouk and took over houses turning them into military barracks. Among owners known were Bardiya Abu El Rish and 'Abed El Fatah Abu 'Abiya

'Ein Al Ma' refugee camp

The Israeli Forces (IOF)

24-Sep-07

O_ Searching the residential buildings of Druza, Abu Mighly and Kusa destroying properties and causing damages

Amman Street and Ras Al 'Ein neighborhood

The Israeli Forces (IOF)

Israeli Violations in Ramallah Governorate – September 2007

Date

Violation

Location

Violators

4-Sep-07

O_ Ordering the re-routing of 1.7 kilometers section of the Segregation Wall

Bil'in village

The Israeli High Court of Justice

15-Sep-07

O_ Erecting temporary checkpoints and hindered Palestinian access from north of the West Bank to its central

Jenin- Ramallah road

The Israeli Forces (IOF)

18-Sep-07

O_ Taking over the two- storey house of Muhammad Ahmad Zeidan and turned it into military barrack

Deir Istya village

The Israeli Forces (IOF)
Source: compiled from local newspapers, interviews and field surveys.
•S = Seizure; i.e. confiscation, eviction, occupation and any sort of asset grabbing
•E = Expansion; i.e. any increase in land occupied by Israelis.
•C = Construction; i.e. any increase in Israeli built-up areas.
•R = Roads; i.e. any increase in the road network.
•D = Demolition; i.e. any destruction of Palestinian
•ssets.
•U = Uprooting, Destroying, Spraying trees.
•P = Plans
•O = Other
Prepared by
The Applied Research Institute – Jerusalem (ARIJ)

&
Land Research Center – Jerusalem (LRC)