Israeli Settlers Set Fire to Palestinian Agricultural Lands in the Village of Tequ' in Bethlehem Governorate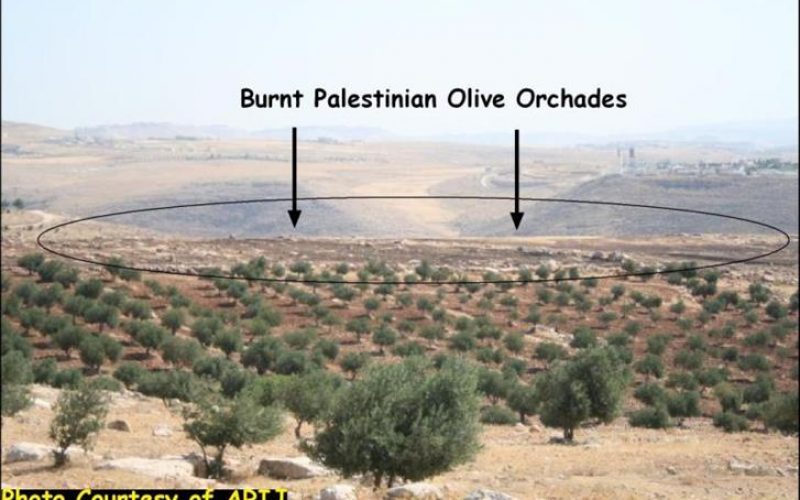 On June 25, 2007, a group of Israeli settlers from Tekoa settlement south of Bethlehem city set fire to more than 300 dunums of Palestinian agricultural lands planted with Olive trees in an attempt to expand the area of the settlement. The targeted lands were owned by local residents from Tequ' village and were cultivated with more than 400 Olive trees which were completely burnt. See Photos 1& 2
Mr. Nu'man Jabrin, head of Tequ' village council, said that in 1997 some settlers from Tekoa settlement and under the protection of Israeli Army had set-up a number of caravans on the nearby hilltops in the vicinity of the burnt fields claiming that the occupied hilltops are situated within Tekoa settlement master plan. These lands are classified as Areas 'C' (Areas under the full Israeli Control) according to Oslo II Interim Agreement that was signed in September 1995. The Israeli Army demands Palestinians to apply for a permit license at the Israeli Civil Administration, which is an Israeli Army's branch that deals with population under the Israeli occupation. Palestinians' applications at most times take longer times that expected to be processed by the Israelis, and are often met with rejection for not fulfilling the conditions imposed by the ICA to issue a permit license. The international law forbids the Israeli Army to have jurisdiction over the quality of life of those under occupation unless it is necessary for security purposes. The Israeli Army However, use the security as a pretext to impose its well and jurisdiction over the occupied territory.
Mr. Jabrin also added that there were no military orders stating the hilltops were to be confiscated for Israeli construction purposes or even military purposes. In addition, local landowners did not receive any warning stating any kind of confiscation. Furthermore, from 1997 to the present landowners have had difficulty reaching their lands for cultivation purposes, and many times settlers of Tekoa settlement attacked them while collecting the harvest while the Israeli Army stood by for the protection of the Israeli settlers. Photos 3, 4, 5 & 6 show the Israeli caravans that were set-up on the hilltops around the targeted lands.
Recent Israeli violations against land and people in Tequ' village
July 1, 2005 The Israeli Army gave military warnings to two residents in the village to demolish their houses under the pretext of 'building their houses without licenses since the houses in question are located in Area 'C', which falls utterly under Israel civil administration, even though it is not to the Israeli Army to give building permits there. The threatened houses belong to Sami 'Ali Hassan Al 'Rouj and 'Emad 'Ali 'Issa Jabrin.
April 23, 2006 Three residents of Tequ' village received military orders to stop construction work at different home locations under the same pretext. The residents are Ateyya Abed Subeh, Ali Ahmad Hussein Suleiman, and Habes Ibrahim Suleiman.
July 1, 2006 The Israeli bulldozers backed by Israeli troops stormed Tequ' village destroyed two barracks owned by Khalaf Ahmad Hamad Al Baden and Hamad Ahmad Hamad Al Baden, under the same pretext.
September 12, 2006 Three sheds (used for animal husbandry) were demolished by the Israeli bulldozers under the pretext that these sheds were built without licenses and their existence is therefore illegal. The demolished sheds belong to Khalil Safi Ahmed Ta'mare and Ibrahim Khalil Safi Ta'amreh. Five other residents from the village received military notices against a number of Palestinian structures (three houses, two barracks, and two rooms), under the same pretext. The residents were Eyed Ibrahim Safi Jabril, Da'oud Mustafa Safi Jabril, Yasser Khalil Mustafa Jabril, Ali Khalaf Mohammad Jabril and Salem Rashid 'Awed Allah Abu Mefreh.
September 26, 2006 The Israeli occupation army handed out resident Ali Ahmad Musalam Brejaya a military warning to demolish his house under the pretext of being unlicensed.
November 26, 2006 Israeli Army entered Tuqu' village and distributed a military warning to Khaddar 'Abed Allah Al 'Amour to demolish his home under the pretext of being constructed without a license.
December 1, 2006 Israeli Army threatened to demolish another Palestinian home owned by Khalil Musa Khalil Al 'Amour, under the same pretext.
December 27, 2006 Another military warning was handed to resident Ali Ahmad Musalam Brejaya to demolish his home claiming it was built without license.
Beginning of 2007 The Israeli authorities handed out two military notices to residents of Tequ' village, to demolish their standing residential homes. The residents who received notices of demolition were 'Adel Ahmad Suleiman Al Sha'er and Ibrahim Suleiman Hammed Al Sha'er. Photos 1, 2 and 3 show some of the threatened houses in Tuqu' village
Tequ' Village: Location & Population
The village of Tequ' is located some 8 km to the southeast of Bethlehem city. It is part of 'Arab El Ta'amreh village cluster which occupies a total land area of 217,636 Dunums and includes the villages of Umm 'Asla, Khirbet ad Deir, Khallet al Haddad, Khallet al Qaranin, Ash Shawawra, Za'tara , Beit Ta'mir , Tequ' , Al Manshiya , Al Khushna , Jubbet adh Dhib , Al Fureidis , Al 'Asakira , Al 'Iqab , Harmala, Beit Falouh and Al Halqum. The urbanized area of the village sits on 899 Dunums and is a home to 6,669 inhabitants according to the Palestinian Central Bureau of Statistics – 2006. See Map 1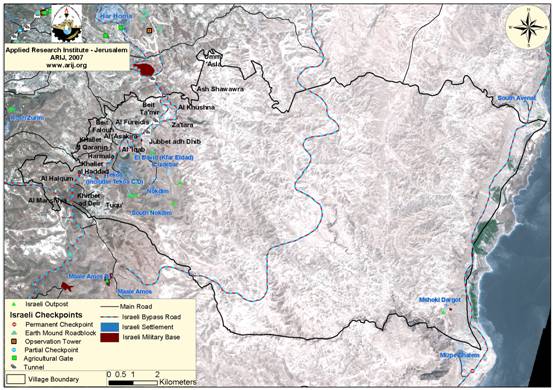 The Israeli Colonization Activities within 'Arab El Ta'amreh Village Cluster
The village cluster of 'Arab El Ta'amreh has always been a target of the Israeli colonization activities after the Israeli occupation of the West Bank and the Gaza Strip in 1967. Since then, four Israeli settlements were established on lands confiscated from that area, which occupies today 1,803 dunums. Table 2 details the five Israeli settlements and the area occupied.
Table 2: Israeli Settlements Established within the Village Cluster of 'Arab El Ta'amreh
| | | | | |
| --- | --- | --- | --- | --- |
| Israeli Settlement | Date of Establishment | Population 2005 | Area in Dunum Inside Village Boundary | Area of the Master Plan (in dunums) |
| El David (Kfar Eldad) & Izdebar | 1,999 | 210 | 217 | 427 |
| Nokdim | 1,982 | 745 | 396 | 666 |
| Tekoa (including Tekoa C,D) | 1,977 | 1310 | 1,071 | 1,970 |
| Mshoki Dargot | 1,991 | 30 | 77 | 77 |
| Total Area | | 2,295 | 1,803 | 3,140 |
Source: ARIJ GIS Database 2006
In addition to settlements, eight Israeli outposts were established on lands of 'Arab El Ta'amreh during the period between 1996 and 2003. Table 3 lists these outposts with the available data
Table 3: Israeli Settlement Outposts Established on Lands Within 'Arab El Ta'amreh
No

Closest Mother Settlement

No. of Structures

Outpost Name

Date of Establishment

Status

1

El David (Kfar Eldad)

18

Ma'ale Rehavam

Feb 2001 – Nov 2002

Outpost

2

Tekoa

10

Tekoa B & C

1996-

Feb 2001

Inside Colony Border 2002

3

Kfar Aldad

12

Kfar Aldad Farm

1996-

Feb 2001

Inside Colony Border 2003 (Kfar Eldad farm)

4

Tuqu

2

Tuqu' D

Feb 2001 – Nov 2002

Inside Colony Border 2002

5

Tekoa

1

South east Tekoa

1996-

Feb 2001

Outpost 2000

6

Nokdim

20

South Nokdim

2002 –

June 2003

Seems to be colony Jan 2004

7

Nokdim

0

South East Nokdim (construction)

1996-

Feb 2001

Outpost 2000

8

Mshoki Dargot

7

South

Mshoki Dargot

2002 –

June 2003

Outpost
Source: ARIJ GIS Database 2006
Israel's Settlement Program under International Law
The aggression against lands of Tequ' village for expansion purposes among others, is one form of the Israeli violations carried out either at the hands of Israeli settlers or army in the Occupied Palestinian Territory which aim at strengthen the Israeli existence in the territory while ignoring the needs of Palestinians to expand and prosper. Such actions are a clear violation of the United Nations Security Council resolutions, international laws, human rights and international conventions, especially
UN Security Council Resolution 242 (1967) which calls for 'the withdrawal of all Israeli armed forces from territories occupied' in the 1967 war.

The UNSCR 242 effectively outlaws Israel's 40-year occupation of the West Bank (including East Jerusalem) and the Gaza Strip.
The principles of Resolution 242 are re-confirmed again in Security Council Resolution 452 (1979) which calls upon 'the Government and people of Israel to cease, on an urgent basis, the establishment, construction and planning of settlements in the Arab territories occupied during the 1967 aggression, including Jerusalem,' the Security Council Resolution 446 (1979) which '[d]etermines that the policy and practices of Israel in establishing settlements in the Palestinian and other Arab territories occupied since 1967 have no legal validity and constitute a serious obstruction to achieving a comprehensive, just and lasting peace in the Middle East'. This was endorsed further through the Security Council Resolution 465 (1980).
Israel's settlement program policy also stands as an explicit violation to the Fourth Geneva Convention and is widely condoned by the international community. In addition to violating almost all the articles within the international law among other; as to destruction of civilian property, Israel's program of populating the settlements with Jewish citizens violates Article 49 of the Geneva Convention, which states that 'the occupying power shall not deport or transfer parts of its own population into the territories it occupies.'
Related Case studies:-
Prepared by
The Applied Research Institute – Jerusalem
ARIJ