Uprooting of Trees in the Vicinity of Rachel's Tomb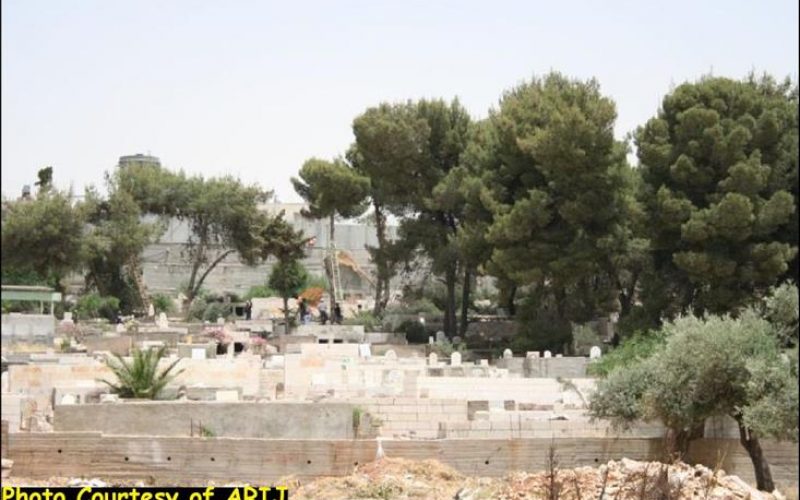 On June 6, 2007, the Israeli Army established a security perimeter around the Islamic cemetery adjacent to the Rachel Tomb area, and declared it a closed military area. The Islamic Cemetery falls under the jurisdiction of the Islamic Waqf, which is responsible for all Islamic religious sites. The Israeli Army started without prior notification an operation that lasted three days to uproot the Pine trees inside the cemetery in order to establish a buffer zone between the cemetery and the adjacent Israeli Apartheid Segregation Wall in the area. More than that, the Army aims to eliminate any link between the Islamic Cemetery and the Tomb area. See Photos below
Pictures of the Uprooting in the Cemetery
It is worth mentioning that this is not the first timethe Israeli occupation perpetrated desecration against the sanctity of the Muslim cemetery. On July 19, 1999 a Jewish contractors protected by the Israeli Army demolished the northern part of the Islamic Cemetery near Rachel's to reinforce the Israeli military installation in the area. See Map 1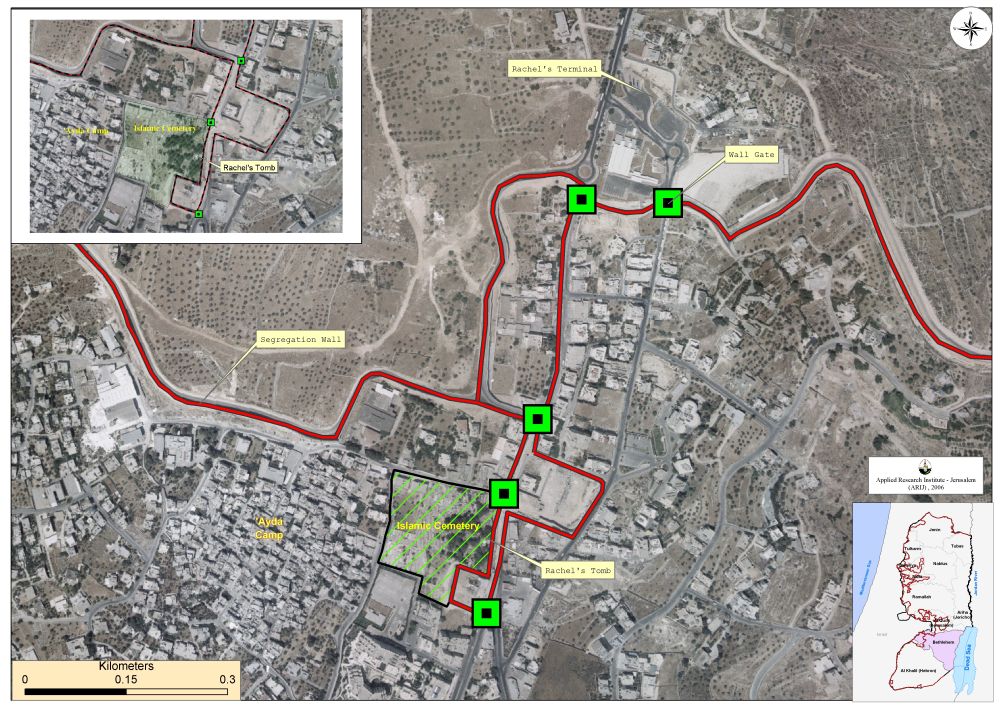 Map of the Rachel Tomb Area
The Status of Rachel Tomb Area
In September 2002, the Israeli government approved to keep Rachel's Tomb under the Israeli control by including the Tomb within the Apartheid Segregation Wall. However, the Islamic Cemetery area, which is traditionally correlated with the Tomb area, was kept out of the Segregation Wall.
The location of the Tomb area became a major and controversial issue for Bethlehem city and Governorate as a whole. The Israeli Army cutoff the traditional link between Bethlehem and Jerusalem, when the road linking the two cities was closed in a permanent manner in 2002 with concrete blocks under the pretext of protecting the Tomb area. The Tomb area was also used by the Israeli Army as a pretext to establish the security perimeter around the vicinity of the Tomb where Palestinian houses became isolated and restricted in movement of their residents to other places. Moreover and more significantly, the Tomb area was the reason under which the Israeli Army set the route of the Segregation Wall at the northern entrance of Bethlehem as it is today, and where residents of Bethlehem lost accordingly more than 3000 Dunums of empty lands set for expansion of the already limited built-up area of the city.
To Conclude
The Israeli Army insist on violating the International law rules, even more it insist that it wants to isolate all the Palestinians, even the dead ones. The Israeli Army has proven repeatedly that it will commit any sacrilege under the security pretext; this time by uprooting trees in a holy site to establish a security buffer zone even if it meant violating all humanitarian law.
Prepared by
The Applied Research Institute – Jerusalem
ARIJ