Israeli commences the construction of the Segregation Wall north of Beit Jala City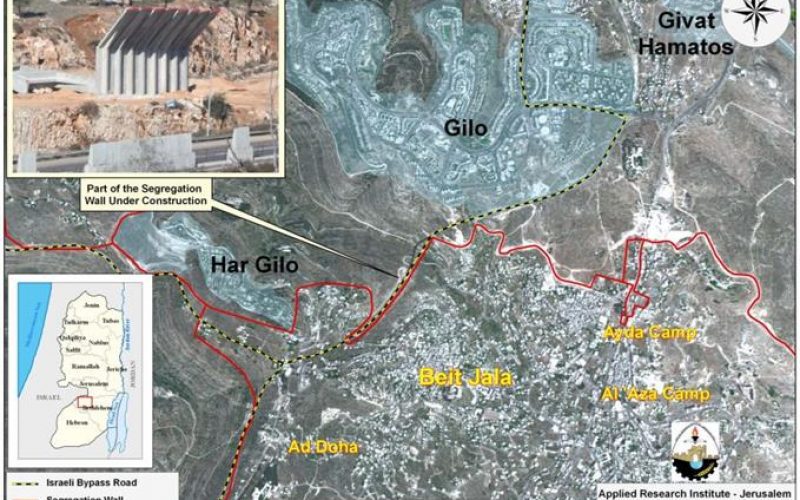 The Israeli occupation bulldozers commenced last month 2007 the construction of the Segregation Wall north of Beit Jala city at the time when its residents were celebrating Christmas Time. Constructions included the addition of several cement blocks to the area close to the Tunnel Road.
According to the Israeli revised wall map, which was published on the Israeli Defense Ministry website on 30 April 2006, the wall will extend a total of 10.5 kilometers along the city's northern and western peripherals. So far, 3 kilometers of the Wall stretch has been completed so far on lands of the city. Once completed, the wall will isolate some 45 % of the city's total land area (6457 dunums) including the lands where Gilo (Est. 1971) and Har Gilo (Est. 1972) settlements are set today on 1430 dunums. While the rest of the isolated lands (2808 dunums) are agricultural lands and (1003 dunums) and open spaces areas (1216 dunums) are set for future expansion plans for the city's built-up area. See Map of isolated area in Beit Jala, including Gilo and Har Gilo settlements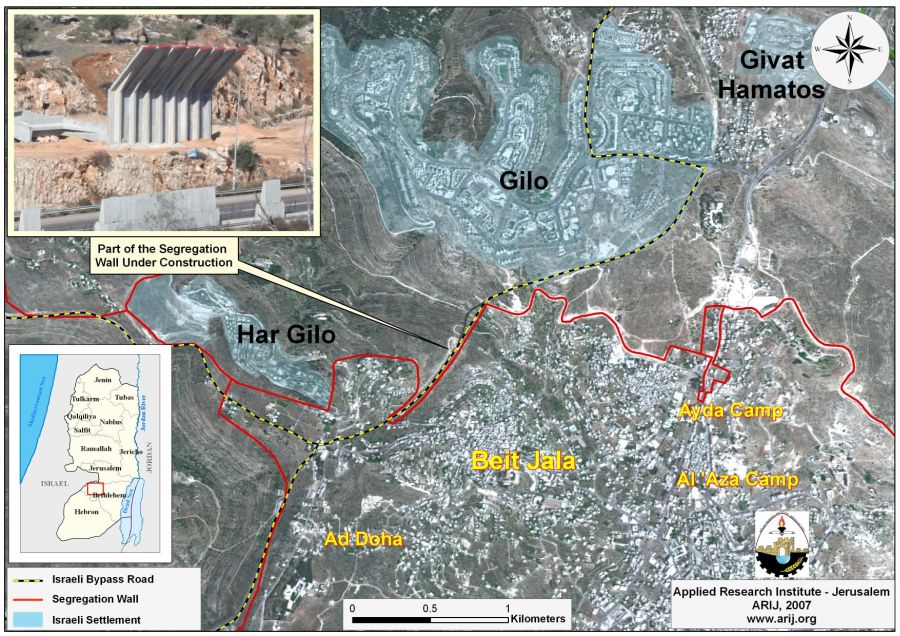 Route of the Segregation Wall in Beit Jala city:-
The Segregation Wall extends from Beit Jala northern lands, stretches west towards Gilo settlement, continues until it reaches bypass road 60 (the tunnel Road ). This section of the Segregation Wall stretches a length of 3.6 kilometers, comprising about 34% of the total wall length in Beit Jala city. Another wall section extends from the northwestern parts of Beit Jala (from bypass road 60, the tunnel section) and runs west, south of Har Gilo towards Al-Walajeh village where it cuts through the northern lands of the village.
The Israeli Occupation Army started back in June of 2006; procedures to set the path of the Segregation Wall according to the plans set and consequently uprooted more than 100 fruitful olive trees in the area where the Wall is set to run. Overall, the Israeli Army issued 16 military orders against Beit Jala in order to plan, confiscate and build the Segregation Wall, which started to shape as of 2002. The Segregation Wall will directly affect more than 150 residents of Beit Jala; they are the people who own the lands where the Wall is set to run and the owners of the isolated lands behind it.
Prepared by
The Applied Research Institute – Jerusalem
ARIJ