The Israeli Colonization activities in the Palestinian Territories during the 3ed quarter of 2006
(July to September) 2006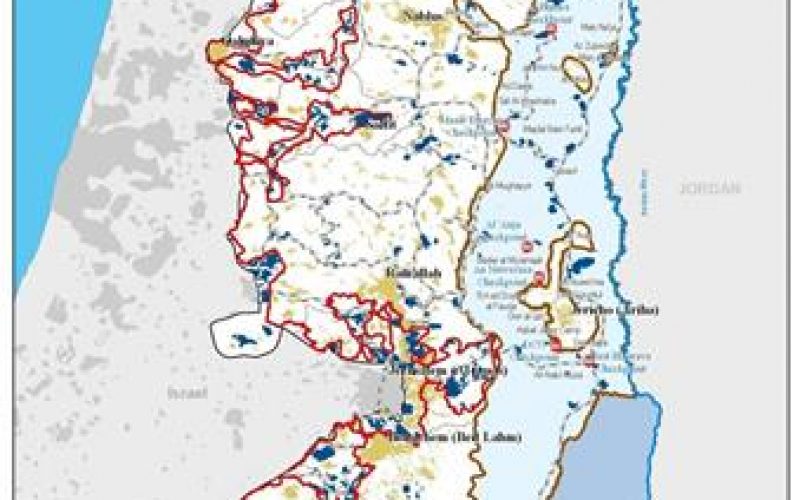 This report highlights the chronology of events concerning the Israeli Colonizing Activities in the West Bank, Jerusalem and the Gaza Strip that occurred during the months of July & September 2006. It describes and evaluates events and their effects on the Palestinian communities. See Map 1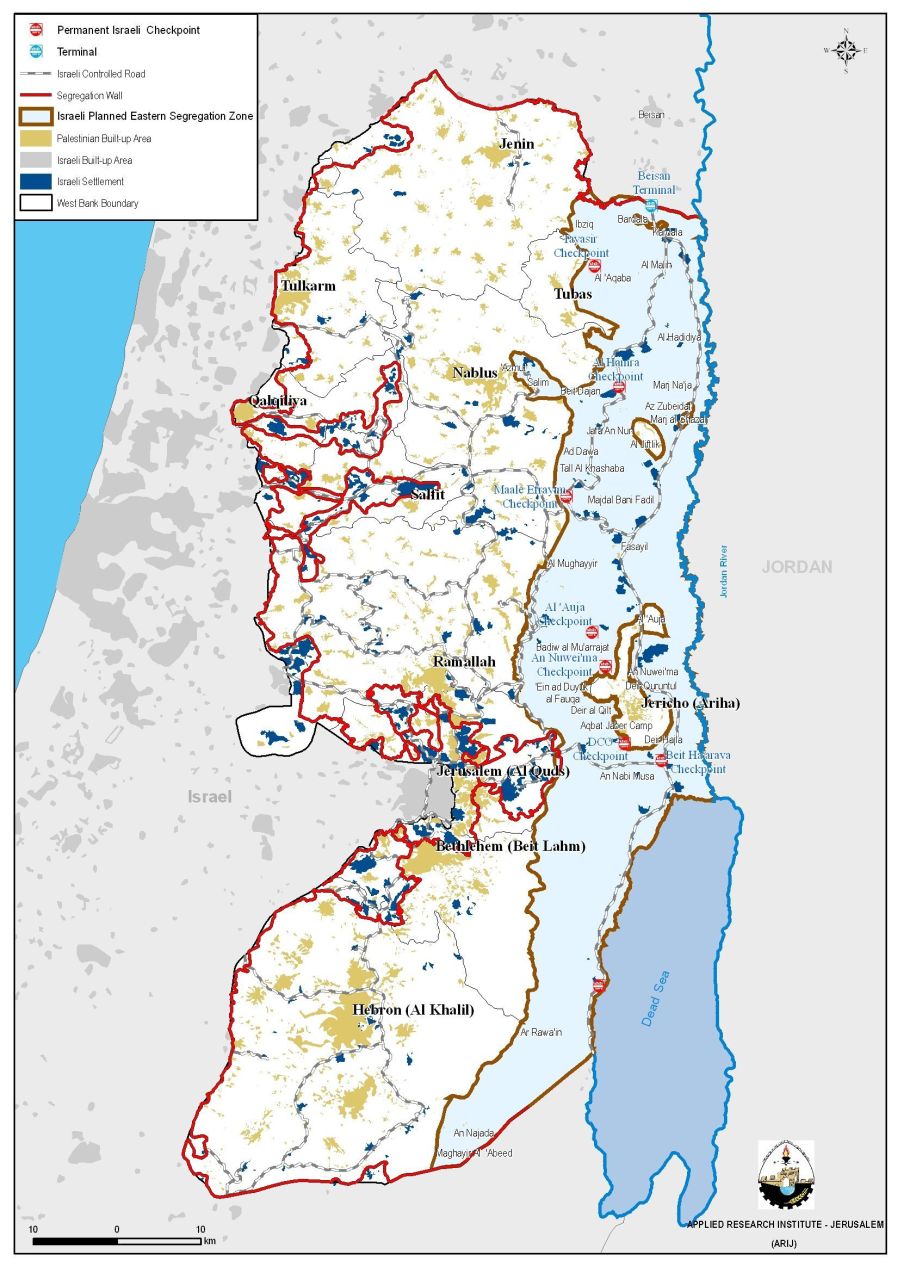 Governorate

The Israeli Violations in the West Bank During the month of July 2006

Bethlehem
Date
Violation
Location
Violators
01-Jul-06
D_ Aggressing on three charity committees causing severe damages to the properties
Bethlehem city and Al Tequ' village. Click to read related cases
The Israeli Forces (IOF)
23-Jul-06
O_ Setting fire into the some parts of Abu Ghneim Mountain
Near Har Homa settlement north of Bethlehem city.
The Israeli Forces (IOF)
24-Jul-06
U_ Uprooting 65 Olive trees planted in three dunums of lands owned by Judeh El 'Araj
Ras Beit Jala city. click here for related cases
The Israeli bulldozers
Tubas Governorate
Date
Violation
Location
Violators
01-Jul-06
S_ Military orders to confiscate hundreds of dunums of lands
Khirbet Samra near Tubas city
The Israeli authorities
04-Jul-06
C_ Constructing a fence around a military base and erecting several numbers of trenches
Thaghret Al Siwan area east of Tubas
The Israeli Forces (IOF)
04-Jul-06
O_ Hindering Palestinian landowners from accessing their lands
Near the settlements in the northern valleys. Click here for related cases
The Israeli settlers of Salit and Mechola
09-Jul-06
O_ Surveying vast areasof lands
Near 'Atouf village in Al Beqa'a plain east of Tubas city.
The Israeli Forces (IOF)
20-Jul-06
O– Starting to operate the magnetic gates and surveillance cameras at the checkpoint
Hamra checkpoint. Click here for related cases
The Israeli Forces (IOF)
23-Jul-06
S_ Razing areas of lands
Near Tayasser checkpoint 5 kilometers to the east of Tubas city.
The Israeli Forces (IOF)
Salfit Governorate
Date
Violation
Location
Violators
01-Jul-06
O_ Closing the main entrances with cement blocks and hindered access
Bidya and Qarawat Bani Hasan towns west of Salfit city. Click here for related cases
The Israeli Forces (IOF)
09-Jul-06
O– Closing the village entrances with earth mounds and big rocks
Bruqin & Kafr Ad Dik villages.
The Israeli Forces (IOF)
Hebron Governorate
Date
Violation
Location
Violators
02-Jul-06

O_ Military order to confiscate 25 dunums of agricultural lands planted with Almonds and Olives owned by Suleiman Mahmud Al 'Adam

Hebron city

The Israeli Forces (IOF)

02-Jul-06

S+U_ Razing lands and uprooting trees in order to construct a fence around Karme Tzur settlement

Hebron city

The Israeli Forces (IOF)

05-Jul-06

D_ Aggressing on the barracks, tents and properties owned by 'Aziz Shanaran

Wadi Al Rakhem area

The Israeli settlers of Susiya

05-Jul-06

S+U_ Aggressing on 70 dunums of Palestinian lands and causing severe damages to the Olive, Vine and Almond trees. Lands belong to Muhammad, 'Abed Allah, Hamad 'Abed El Hamed Al Sleiby and Fathi Ahmad Al Sleiby. Click here for related cases

Beit Ummar town
The Israeli settlers of Beit Ayen
06-Jul-06
C_ Constructing new housing units
Near Al Shuhada Street in the old city of Hebron.
The Israeli Forces (IOF)
06-Jul-06
S– Military order to confiscate 45 dunums near road No. 60 for the construction of a military camp. Click here for related cases
Yatta
The Israeli Forces (IOF)
06-Jul-06

U– Setting fire to an olive orchard destroying 15 trees

Tel Ar Rumaida neighborhood

The Israeli settlers of Tel Ar Rumeida

09-Jul-06

O_ Hindering the farmers Hasan Muhammad Salem Ghatasha and Ibrahim Hasan Ibrahim Khrais from accessing there 100 dunums of lands

Beit Ula village west of Hebron city

The Israeli Forces (IOF)

09-Jul-06

R_ Renewing the erection of the 500 meters road connecting Qiryat Arba' settlement with the prayers road leading to the Ibrahime Mosque on the lands of Sa'ed Da'na, Musa Jaber and Jamal Abu Is'ifan

Hebron city

The Israeli settlers accompanied by the IOF

10-Jul-06

O_ Military warnings to renew the closure of more than 1000 commercial stores and 21 streets

Old city of Hebron
The Israeli authorities
10-Jul-06
O_ Taking over the house of Ibrahim Shehda Manasra and turning it into military barrack
Bani N'am town
The Israeli Forces (IOF)
11-Jul-06

D_ Aggressing on the houses of Rateb Yousif Al Jabour, Suleiman 'Awad Al Joundy, Mahmud 'Ali Hwaysha, Mahmud Mansour Fensha and Makhamra family, causing severe damages to the properties

Yatta town south of Hebron city
The Israeli Forces (IOF)
11-Jul-06

S_ Military order to confiscate 25 dunums of lands which belong to Abu Sabha family in order to construct new military camp

Yatta town south of Hebron city
The Israeli Forces (IOF)
19-Jul-06
O– Closing all entrances and exits between As Simiay village and As Samu' town with cement blocks and earth mounds
As Simiay and As Samu' villages
The Israeli Forces (IOF)
20-Jul-06

S_ Razing lands planted with Almonds, Figs and Olives

Northwest of Al Ramadin village south of Hebron city
The Israeli bulldozers
27-Jul-06

O– Erecting 4 metal gates at the main entrances to Tarqumiya and Idhna villages

Tarqumiya and Idhna villages
The Israeli Forces (IOF)
30-Jul-06

D_ Military warnings to demolish the houses of Isma'il Ibrahim Al 'Adra & his two sons (the area for each house is 100 m�²), Raed Al 'Mour (90 m�²), Muhammad Mahmud Abu Qabeita and 7 barracks owned by Ahmad 'Abed El Fatah Nimr (each barracks have an area of 800 m�²)

Al Derat, Al Rafay'a and Imnazil villages east of Yatta town to the south of Hebron city

The Israeli authorities
Jenin Governorate
Date
Violation
Location
Violators
04-Jul-06
O_ Taking over several numbers of houses and turned them into military posts
Jenin city
The Israeli Forces (IOF)
06-Jul-06
O_ Taking over several numbers of houses and turned them into military posts
Jenin city and camp
The Israeli Forces (IOF)
07-Jul-06
D_ Demolishing the house of Naji Taher Qabaha and handed military warnings to demolish some agricultural barracks owned by Fayez Khalil Mas'oud
Tura Al Gharbiya
The Israeli Forces (IOF)
11-Jul-06
S_ Setting fire into hundreds of dunums of lands planted with Olives. Lands belong to Suleiman Daoud 'Abady, Naser Mas'oud Qabaha, Khalid Mas'oud Qabaha, Zuhair Fathi Zeid, Jamal Ahmad Zeid and Kamal Ahmad Yousif Zeid
Tura Al Gharbiya town in Jenin
The Israeli Forces (IOF)
23-Jul-06
U_ Military warnings in order to uproot hundreds of Olive trees on the both sides of the road from Kafret triangle to Harmesh settlement
Ya'bud town
The Israeli authorities
Nablus Governorate
Date
Violation
Location
Violators
03-Jul-06
O– Attacking Palestinian properties and inflicting heavy losses
Beit Furik village
The Israeli settlers of Itamar
04-Jul-06
O_ Taking over several numbers of houses and turned them into military barracks, among the owners known was Hadad's family
Nablus city
The Israeli Forces (IOF)
10-Jul-06
O_ Taking over the two residential buildings of Mtaw' and 'Abas Qadery with the houses of Rawhy Abu Salha, Mustafa Al Dabdoub and Abu Ibrahim Jaber and turned them into military barracks
Nablus city
The Israeli troops
12-Jul-06
D_ Dynamiting the house of Nimr Muhammad Jawabreh turning it into a heap of rubble
'Asera Ash Shamaliya town north of Nablus city
The Israeli Forces (IOF)
13-Jul-06
S_ setting fire into three agricultural fields destroying hundreds of Olive and Almond trees
'Einyabus village
The Israeli settlers of Yizhar
18-Jul-06
O_ Taking over Nablus Municipality building and turned it into military post
Nablus city
The Israeli Forces (IOF)
Jerusalem Governorate
Date
Violation
Location
Violators
04-Jul-06
P_ Plans to rebuild the two Israeli synagogues (Tav'orta Israel and HaHorba) which will cost at least NIS 60 millions. Click here for related cases
Old city of Jerusalem
Jerusalem Municipality and the Israeli company for developing the Jewish neighborhood
06-Jul-06
O_ Charging the resident Munther Qassem Al 'Esawy NIS 300,000 as a penalty for not having building permits. Click here for related cases
Jerusalem city
Jerusalem Municipality Court
08-Jul-06
P_ Plans to construct a 35 meters height pole with cameras.
Road Bar Kokhba Street near Dekalim School in Jerusalem
The Israeli authorities
10-Jul-06

S_ New orders to confiscate more lands in order to expand the boundaries of the existing Bedouin village and build new neighborhoods.

Abu Dis town
The Israeli authorities
11-Jul-06
D_ Demolishing the 80 m² house of Muhammad Hussein Shamasneh
Qatanna village to the northwest of Jerusalem city. Click here for related cases.
The Israeli Forces (IOF)
12-Jul-06
D_ Demolishing 25 meters of the wall that surrounds 'Anata secondary school
'Anata town
The Israeli bulldozers
19-Jul-06
R_ Erecting a road near the industrial zone in Beit Hanina
Near 'Arab Al Ka'abneh tribe
The Israeli Forces (IOF)
21-Jul-06
O_ The houses of Raed Hoshiya & brothers, Tawfiq Al Ghazawy & brothers, Fatima Hoshiya, Al Jabreny family and 'Abe El Qader Jabrinare threatened of demolition
Al Tur and Beit Hanina
The Israeli authorities
27-Jul-06
O_ The four- storey building owned by Mahmud Muhammad Al 'Amas is threatened of demolition
Sur Bahir neighborhood
The Israeli Forces (IOF)
27-Jul-06
S_ Razing vast areas of lands
Abu Dis town
The Israeli bulldozers
31-Jul-06
C_ Decision to construct a temporary fence
Al Sheikh Sa'd and Jabal Al Mukabbir neighborhoods
The Israeli Supreme Court
Qalqilyia Governorate
Date
Violation
Location
Violators
27-Jul-06
D– Demolishing the house of Mohammed Hussein Qadumi
Kafr Qadum
The Israeli Forces (IOF)
Governorate

The Israeli Violations in the West Bank During the month ofAugust 2006

Nablus Governorate

Date

Violation

Location

Violators

01-Aug-06

S_ Planting tens of dunums of agricultural lands and hedged them with barbed wires

Qaryout town between Nablus and Ramallah

The Israeli settlers of Illit

02-Aug-06

S_ Taking over more than 1000 dunums of lands

Deir Sharaf town

The Israeli authorities

02-Aug-06

C_ Finishing the construction of the 2.5 meters heights and 500 meters length wall

On the main road of Jenin- Nablus

The Israeli Occupation Forces (IOF)

09-Aug-06

D_ Aggressing on the three- storey house of Shaker 'Abed El Latif Abu 'Ayash, causing severe damages

Balata refugee camp

The Israeli Occupation Forces (IOF)

12-Aug-06

C_ Constructing an iron gate with cement blocks

On Tulkarm- Nablus road

The Israeli Occupation Forces (IOF)

13-Aug-06

S_ Continued razing lands in order to erect 1.5 kilometers length and 15 meters width road around the nearby settlement of Sheve Shomron

Deir Sharaf village west of Nablus city

The Israeli bulldozers

14-Aug-06

D_ Demolishing a house and a barrack owned by Al Nadi and Al Sa'di families

'Askar refugee camp

The Israeli Occupation Forces (IOF)

15-Aug-06

O_ Taking over the house of Ghazi Daoud Salim Shehada and turned it into military post

Huwwara town south of Nablus city

The Israeli Occupation Forces (IOF)

17-Aug-06

S_ Razing lands

Near Qussin- Beit Iba road west of Nablus city

The Israeli bulldozers

26-Aug-06

D_ Demolishing the three- storey residential building

Tal'et Aswa area north of Nablus city

The Israeli Occupation Forces (IOF)

Nablus Governorate

Date

Violation

Location

Violators

02-Aug-06

O_ Aggressing on the Palestinian properties and lands and set fire into huge amounts of hays

The Israeli settlers

07-Aug-06

O- Closing the entrance to the village and preventing people from entering or exiting

Tamun village

The Israeli Occupation Forces (IOF)

13-Aug-06

O_ Hindering the landowners from accessing their lands

Al Beka'a plain east of Tubas

The Israeli Occupation Forces (IOF)

20-Aug-06

C_ Adding new caravans in the eastern part of the settlement

Northern valleys

The Israeli settlers of Mechola

26-Aug-06

C_ Reinforcing Al Hamra checkpoint by adding new cement blocks and military watch towers.

Central valleys

The Israeli Occupation Forces (IOF)

Date

Violation

Location

Violators

19-Aug-06

R_ Started erecting the one kilometer length and 50 meters width colonial road.

The Israeli bulldozers

28-Aug-06

S+R_ Military warnings to the families of Sbeih, Al Zeir and Al Kamel in order to confiscate 6 dunums of agricultural lands to erect new bypass road connecting Tequ' and Har Homa settlements

Harmala and Al 'Asakreh villages east of Bethlehem city. Click here fpr related cases

The Israeli Occupation Forces (IOF)

Tulkarem Governorate

Date

Violation

Location

Violators

03-Aug-06

S- Setting fire to 3000 dunums of lands cultivated with Olive trees

Far'un village

The Israeli Occupation Forces (IOF)

07-Aug-06

S_ Setting fire into 100 dunums of lands planted with Olives. Lands belong to Riyad Al Haj Salem, Ahmad 'Abed El Fatah Omar, Jamal 'Abed El Majed Omar, 'Abed El Rahem Omar, Rashed Al Hatab, 'Abed Allah Attiya and 'Abed Allah 'Abed El Majed Omar

Fir'un town south of Tulkarm city

The Israeli Occupation Forces (IOF)

12-Aug-06

C- Constructing an iron gate at the main road between Nablus and Tulkarm

Nablus- Tulkarm main road

The Israeli Occupation Forces (IOF)

13-Aug-06

D_ Razing the road connecting the cities of Tulkarm and Qalqiliya and surrounded the area with barbed wires and Iron Gate

Wadi Al Teen area

The Israeli bulldozers

14-Aug-06

O- Blocking the eastern entrance of the village with earth mounds and rocks

Ramin village

The Israeli Occupation Forces (IOF)

17-Aug-06

S_ Military order # (T/ 90/ 2004) to confiscate vast areas of lands. Lands belong to the inheritance of Amin Nimr Al Sewas, the inheritance of Fathiya Amin Nimr Al Sewas, Hasan 'Abed El Qader 'Edwan and Bahiya Mahmud Da'na

The Israeli authorities

26-Aug-06

U- Uprooting hundreds of olive trees around Enav settlement

The Israeli Occupation Forces (IOF)

27-Aug-06

S_ Surveying vast areas of lands planted with Olives and owned by the inheritance of Rabah Al Haj Musa

Al Wa'ra Al Shamiya area in Al Ras village south of Tulkarm city

The Israeli surveyors

Jenin District

Date

Violation

Location

Violators

03-Aug-06

D_ Demolishing the house of Yousif Nazal

Qabatiya town near Jenin city

The Israeli Occupation Forces (IOF)

05-Aug-06

O+U- Preventing farmers from reaching olive orchards separated behind the Wall and distributed notifications of tree uprooting for security claims.

Zaboba, 'Anin and Ifreiha villages

The Israeli Occupation Forces (IOF)

09-Aug-06

C_ Constructing new military watch point

On a mountain located between 'Araba town and Fahma village southwest of Jenin city

The Israeli Occupation Forces (IOF)

30-Aug-06

U- Uprooting dozens of olive trees owned by Sabri Farid Abu baker and Jamal Abdul Rahman Al 'Ater

Zaboba village

The Israeli Occupation Forces (IOF)

Qalqilyia Governorate

Date

Violation

Location

Violators

09-Aug-06

S_ Military order # (T/62/06) to confiscate 8 dunums of lands in Blocks 4, 11. Lands belong to the inheritance of Ahmad Helal, Muhammad Masalha and Ahmad 'Awad

Kfar Laqif and Hija villages east of Qalqiliya city

The Israeli authorities

12-Aug-06

S_ Razing 25 dunums of lands planted with Olives which belong to Ghazi Jabr and Ahmad Qadura

Kafr Laqif village

The Israeli bulldozers

16-Aug-06

S_ Razing 550 dunums of lands which belong to the families of Eadwan, Swedan, Abu 'Amra, Qadura, 'Awad and 'Asaf

Kafr Laqifm 'Azun and Deir Istiya villages east of Qalqiliya city

The Israeli bulldozers

Hebron Governorate

Date

Violation

Location

Violators

05-Aug-06

S_ Military orders to confiscate 85 dunums of lands planted with Olive and Almond

Beit 'Awa town

The Israeli authorities

08-Aug-06

D_ Aggressing on the two- storey house of Yunis Khalil Ibrahim Zein, causing severe damages

North of Yatta town

The Israeli Occupation Forces (IOF)

09-Aug-06

C_ Constructing at least three cameras in a military watch point

Northern entrance of Hebron city

The Israeli Occupation Forces (IOF)

09-Aug-06

Wadi an Nasarah neighborhood

The Israeli Occupation Forces (IOF)

14-Aug-06

O_ Tens of settler families settled in the Israeli outposts such as Abraham Abeno, Beit Ramano and Ramat Yashi

Center of Hebron city

Israeli settlers

15-Aug-06

S_ Razing about 100 dunums of land to the west of Nigohut colony for the enlargement of Mitspe Lackish colonial post

The Israeli settlers of Metzpe Laqish

17-Aug-06

S_ Military order # (T/ 20/ 901) to confiscate 1100 dunums of lands which belong to the families of 'Akel, Al Duda, Al Sa'di, Abu 'Ayash, Ikhlil and Al Wahdan

Halhul, Beit Ummar and 'Al 'Arub north of Hebron city

The Israeli authorities

22-Aug-06

D_ Causing sever damages to the commercial stores in Khan Shahin market

Old city of Hebron

The Israeli Occupation Forces (IOF)

22-Aug-06

O_ Taking over the house of and turned Ahamd Hamid Jaber it into military post

Wadi an Nasarah neighborhood

The Israeli Occupation Forces (IOF)

23-Aug-06

O_ Taking over the house of Khalil Abu Rajab Al Tamemi and turned it into military post

Near the Ibrahime Mosque

The Israeli Occupation Forces (IOF)

24-Aug-06

S+U_ Razing vast areas of lands and uprooting Olive trees planted in 6 dunums of lands which belong to Mahmud Nuh 'Akel and 'Ali 'Akel

Beit Ummar and Halhul towns north of Hebron city

The Israeli bulldozers

27-Aug-06

O_ Aggressing on the Palestinian houses, causing severe damages to the properties. Among the owners known was 'Adnan Rashed Abu Hamdiya

Abu Sneineh neighborhood in Hebron city

The Israeli Occupation Forces (IOF)

29-Aug-06

O_ Aggressing on Al 'Anwar Art & Cultural center, causing sever damages to the properties

Dura town south of Hebron city

The Israeli Occupation Forces (IOF)

30-Aug-06

O_ Taking over the house of Al Najy family and turned it into military barrack

Al Hawouz area in Hebron city

The Israeli troops

30-Aug-06

U_ Uprooting tens of Olive trees owned by Muhammad Ahmad Nasr, Muhammad Jabr Al Nawaj'a, Muhammad 'Eqab AlNawaj'a and Nasr Al Nawaj'a

East of Yatta town

The Israeli settlers of Susiya

Jerusalem Governorate

Date

Violation

Location

Violators

07-Aug-06

S_ Confiscating 128 dunums of lands in order to transfer the checkpoint in the area into a terminal. Click here for related cases

Hizma town

The Israeli Occupation Forces (IOF)

08-Aug-06

D_ Demolishing three residential buildings each composed of two floors. Buildings belong to Abu 'Arafa family

Bab El Hawa area in Beit Hanina

The Israeli Occupation Forces (IOF)

10-Aug-06

O- Halting construction in a residential building comprised of 13 flats with a total area of 1560 m2 under the pretext of endangering the security of Rekhis Shu'fat settlers. The under construction building is owned by 'Awad Abu Iqweider, Isa Hammad and 'Abeer Abu Khudeir

The Israeli authorities and Reckhis Shu'fat settlers

14-Aug-06

P_ Two new Israeli plans done by Al 'Ad committee and the Israeli land authorization

Silwan and Al Sheikh Jarah areas

Jerusalem Municipality

20-Aug-06

S_ New military order in an attempt to confiscate 10 dunums of lands which belong to Suleiman Muhammad Al Dajany and Abu El Waled Muhammad Al Dajany

Main entrance of 'Anata town

The Israeli Ministry of Defense

24-Aug-06

D_ Demolishing the two houses (300 m�²) of Hani and Essam Muhammad Zahayka

Jabal Al Mukkabir southeast of Jerusalem city

The Israeli Occupation Forces (IOF)

25-Aug-06

O_ Exchanging parts of the cement blocks constructed in 'Anata secondary school with barbed wires

'Anata town

The Israeli Occupation Forces (IOF)

Salfit Governorate

Date

Violation

Location

Violators

02-Aug-06

O- Blocking the entrances to the two villages with army barricades and preventing Palestinian movement

Kafr Ad Dik and Bruqin

The Israeli Occupation Forces (IOF)

02-Aug-06

O- Continuing archeological diggings at the historical site and stealing a lot of archeological findings and artifacts

Khirbet ash Shajara, north of Salfit city

The Israeli authorities

19-Aug-06

O- Dismissing farmers from their lands separated behind the Wall under the pretext of security

Masha, Az Zawiya, Deir Ballut, Rafat & Bidiya

The Israeli Occupation Forces (IOF)

23-Aug-06

O- Closing the entrances to the two villages and preventing Palestinian movement

Bruqin & Kafr Ad Dik villages

The Israeli Occupation Forces (IOF)
Governorate

The Israeli Violations in the West Bank During the month of September 2006

Bethlehem Governorate
Date
Violation
Location
Violators
02-Sep-06
O_ Announcing Rachel's tomb as an Israeli area which belongs to Jerusalem Municipality. Click here for related cases
Bethlehem city
The Israeli authorities
05-Sep-06
O_ Taking over five houses owned by Malah and Al 'Awdy families
Al Duha town west of Bethlehem city
The Israeli Forces (IOF)
05-Sep-06
S_ Military order to confiscate 152 dunums of lands in order to construct a terminal in the area
Umm Salmuna village to the south of Bethlehem
The Israeli Chief Commander Yaer Naveh
12-Sep-06

S_ Military order # (T/77/06) to confiscate 102 dunums of lands

Al Khadr and Artas villages west of Bethlehem city near road #60

The Israeli Chief Commander Yaer Naveh
12-Sep-06
D_ Demolishing a 120 m² building and 180 m² barracksowned byKhalil Safi Al Badan
Tequ' town east of Bethlehem city. Click here for previously written cases
The Israeli Forces (IOF)
13-Sep-06
D_ Demolishing the 150 m² house of Munther Darwesh
Za'tara village
The Israeli Forces (IOF)
Jerusalem Governorate
Date
Violation
Location
Violators
04-Sep-06

C_ Tenders to construct 690 new housing units, of which 342 units to be built in Betar Illit settlement and the other 348 units in Ma'ale Adumim. Click here for related cases

Jerusalem city
The Israeli Ministry of Housing and Construction
13-Sep-06

P_ Plan to implement 15 proposals under the slogan of 'Developing the basin of the old city'

Old city of Jerusalem
Jerusalem Municipality
14-Sep-06

C_ Constructing a railway station

Between Jerusalem city and Tel Aviv
The Israeli authorities
21-Sep-06
D_ Partially demolishing the 160 m² house owned by Isma'il Amin Shqerat
Al Swahra Ash Sharqiya
The Israeli bulldozers
23-Sep-06

O– Inaugurating a new archeological and historical site under the bases of the Al Aqsa Mosque

The Israeli authorities
Jenin Governorate
Date
Violation
Location
Violators
02-Sep-06
U_ Uprooting hundreds of Olive trees
Zabuba village west of Jenin city
The Israeli Forces (IOF)
06-Sep-06
C_ Constructing new military watch point on a mountainous hill overlooking Kafr Ra'i and Fahma villages
Southwest of Jenin city
The Israeli Forces (IOF)
11-Sep-06
O_ Hindering the Palestinian landowners from accessing their lands
Ya'bud village
The Israeli Forces (IOF)
11-Sep-06
D_ Demolishing a 150 m�² poultry farm owned by Tariq Qabaha and his brother
Tura Al Gharbiya village to the southwest of Jenin city
The Israeli Forces (IOF)
26-Sep-06
O_ Hindering the Palestinian landowners from accessing their lands
'Anin village
The Israeli Forces (IOF)
Hebron Governorate
Date
Violation
Location
Violators
03-Sep-06
S– Causing damage to 25 dunums of lands owned by the families of Higa and 'Awawda
Dura and Adh Dhahiriya towns
The Israeli Forces (IOF)
04-Sep-06

O_ Taking over several numbers of houses, causing severe damages to the properties. Among the owners known were Falah Mustafa Naser El Din and Akram Mesk

Hebron city
The Israeli Forces (IOF)
06-Sep-06
R+U_ Erecting a colonial road near Qiryat Arba' settlement and uprooted 20 Olive trees which belong to Abu Is'efan, Jaber and Da'na families
East of Hebron city
The Israeli bulldozers
16-Sep-06
C_ Rebuilding the dismantled Susiya outpost on lands owned by Al Hadar family.

Yatta town south of Hebron city, 1.5 kilometers to the south of Susiya settlement. Click here for related cases

The Israeli settlers
18-Sep-06
R_ Erecting new colonial road on lands owned by Hasan, Muhammad and 'Ali Mahmud 'Abed El Majed Al Tal
Wad Al Khalil area southeast of Adh Dhahiriya town
The Israeli settlers of Tina
27-Sep-06

O_ Taking over the house of Munther Ahmad Jaber and turned it into military post

Hebron city
The Israeli Forces (IOF)
27-Sep-06

O_ Taking over four houses and turned them into military barracks. Houses belong to Taleb Hussny Abu Rajab Al Tamemi, Shaher Al Tamemi, Khalil Abu Rajab Al Tamemi and Basim Suleiman Abu Isnaneh

Hebron city
The Israeli Forces (IOF)
27-Sep-06
S_ Razing 65 dunums of lands owned by the families of Sultan, Al Ash-hab, Al Ledawy and to a Palestinian housing complex
Al Bueireh area north of Qiryat Arba' settlement
The Israeli settlers of Qiryat Arba'
Tulkarem Governorate
Date
Violation
Location
Violators
05-Sep-06

O_ Closing gate # 708 on the Segregation Wall and hindered farmers from accessing their agricultural lands behind the wall's path

Southwest of Far'un village in Tulkarm

The Israeli Forces (IOF)

13-Sep-06

O_ Closing Khirbet Jubara and Kafr Sur gates and hindered landowners from accessing their lands

Tulkarm governorate
The Israeli Forces (IOF)
Qalqilyia Governorate
Date
Violation
Location
Violators
11-Sep-06
D_ Military warning to demolish the construction equipment store owned by 'Abed El Rahim Sa'sa'
Qalqiliya city
The Israeli Forces (IOF)
13-Sep-06
C_ Constructing water pipes and electronic poleson Palestinian landsin order to supply Mitan outpost
Kafr Thulth village
The Israeli settlers of Mitan and Karne Shomron
17-Sep-06
O_ Taking over the house of 'Adnan 'Abed El Mahdi 'Ali and turned it into military post
East of Qalqiliya city
The Israeli settlers of Kidumim
18-Sep-06
C_ Military order to construct 4500 meters part of the Wall
'Azun 'Atma village south of Qalqiliya city
The Israeli authorities
Salfit Governorate
Date
Violation
Location
Violators
08-Sep-06
O_ Closing the only Iron Gate on the main entrance of Marda village
North of Salfit
The Israeli Forces (IOF)
21-Sep-06
S_ Military warning to take over the one dunums and 200 m² of land owned by 'Atta Ibrahim 'Abed El Raziq
Deir Istiya village
The Israeli authorities
21-Sep-06
S_ Military warning to confiscate 40 dunums of lands owned by Najwa Zeidan
Deir Istiya village
The Israeli authorities
22-Sep-06
O_ Closing an Iron Gate and hindered residents from accessing in or out of the village
near Qarawat Bani Zeid village
The Israeli Forces (IOF)
22-Sep-06
C– Tenders to construct 88 housing units
Ariel settlement
The Israeli authorities
26-Sep-06
O_ Hindering the landowners from accessing their agricultural lands behind the wall's path
Al Zawiya, Mas-ha and Rafat villages
The Israeli Forces (IOF)
Nablus Governorate
Date
Violation
Location
Violators
18-Sep-06
S_ Setting fire into 200 dunums of lands
Burin & Huwwara villages
The Israeli settlers of Yizhar
28-Sep-06
D_ Destroying the entrance doors of hundreds of commercial stores, causing severe losses
Balata refugee camp in Nablus
The Israeli Forces (IOF)
Tubas Governorate
Date
Violation
Location
Violators
14-Sep-06
R_ Erecting new colonial road in order to connect the two settlements of Mechola and Sal'it together
Northern valleys east of Tubas
The Israeli Forces (IOF)
19-Sep-06
O– Confiscating 4 tractors and imposing heavy fines on their owners
Kardala and Bardala villages. Click here for related cases
The Israeli Forces (IOF)
Israeli Violations in the Gaza Strip during the Months of July & September 2006
Israeli Violations in the Gaza Strip during the Month of July 2006

Date
Location
Owner
Violation
Area/ dunums
01-July
Al-Zohour neighborhood in the north of Rafah
Sameeh Ibrahim Duhair
D_ Demolishing two greenhouses. Click here for related cases
Two greenhouses. Neighboring houses and offices of al-Amal Handicapped Rehabilitation Society were damaged
â??Abasan village, east of Khan Yunis
Al-Shami, 'Asfour and Al-Madani families
S_ Razing at least 110 donums of agricultural land planted with olives and vegetables
110 dunums
02-July
Shiekh Radwan neighborhood in the north of Gaza City, and al-Tuffah neighborhood in the northeast of the city
D_ Demolishing two sites of the Executive Force of the Palestinian Ministry of Interior. Click here for related cases
Two sites
Gaza city
D_ Demolishingthree houses. Click here for related cases
Three houses
03-July
Al-Nada housing project in the northern Gaza Strip
D_ Partially destroying a flat. Click here for related cases
A number of other flats were damaged
04-July
Northern Gaza Strip town of Beit Hanoun
Al-Masri family
S_ Razing areas of agricultural land
Razing lands
Center of Gaza City
D_ Destroying the Islamic University
Islamic University
East of Beit Hanoun
S_ Razing areas of agricultural land
Razing lands
Shurrab area in the northeast of Beit Hanoun
Mahmoud Majdi al-Masri and Mazen Mohammed Shabat
O_ Transferring the two houses into military posts. Click here for related cases
Two houses
06-July
'Oraiba area in the northwest of Rafah
D_ Destroying the Ali bin Abi Talib Street. Click here for related cases
Ali bin Abi Talib Street
El-Farahin are in Greater Abasan, east of Khan Yunis
S_ Razing agricultural lands and greenhouses
Razing lands and greenhouses
Khan Yunis city
D_ Destroying 3 houses.
Three houses.15 people became homeless
Khan Yunis city
S_ Razing 27 dunums of agricultural land that included 6 green houses. Click here for related cases
27 dunums. Destroying irrigation networks, 2 agricultural watering pools, and 3 agricultural structures
08-July
Al-'Israa' neighbourhood in the west of Beit Lahia
D+ S_ Partially destroying hundred houses, razing at least 50 dunums of agricultural land. Click here for related cases
Destroying hundred houses and 50 dunums. Destroying the fence of a cemetery and damaging many civilian vehicles
El-Nahda neighborhood in El-Shoka village, east of Rafah
Abu Mo'ammar, El-Hissi, El-Farra, Abu Dakka, Abu Sâ??neima, and El-Dabari clans
S+D_ Razing and destroying agricultural land and chicken farms
Razing land
09-July
On the southern entrance Beit Hanoun town
D_ Destroying Beit Hanoun bridge.
Bridge
Zaitoon Quarter in Gaza City
Zarandah clan
D_ Destroying a metal works facility. Click here for related cases
Metal works facility. Nearby houses sustained damages
12-July
Jabalia town
Nabil Abdel Latif Abu Salmeya
D_ Destroying the 2-story house built on 200 square meters. Click here for related cases
2-story house. Extensive damage was inflicted on 15 houses surrounding the targeted house
13-July
Wadi Al-Salqa village, east of Deir Al-Balah
Abu Al-â??Ajeen, Nattat, Abu Mughassib, Al-Farra and Muhareb families
S_ Razing at least 65 dunums of Palestinian agricultural land planted with fruitful trees
65 dunums
Wadi Al-Salqa village, east of Deir Al-Balah
D_ Partially demolishing 8 houses
8 houses
14-July
Central Gaza Strip

D_ Destroying a bridge that links Nusseirat refugee camp with Al-Mughraqa and Al-Zahraaâ?? areas

A bridge
Al-Qarara village, east of Khan Yunis
Abu 'Eid, Abu Sawawin, al-Astal, al-'Abadla and Abu Haddaf families
S_ Razing at least 100 dunums of agricultural land planted with olives, palms and vegetables
100 dunums. Destroying some irrigation networks
Northern Gaza Strip
Al-Jaml family
D_ Damaging 4 houses
4 houses. 22 residents of these houses were forced to leave
15-July
Sheikh Radwan neighbourhood in Gaza City
D_ Destroying the building of the Palestinian Ministry of National Economy
A building
Central Gaza Strip
D_ Destroying a bridge that links Al-Boreij refugee camp with Juhor al-Dik area. Click here for related cases
A bridge
Al-Daraj neighbourhood in the centre of Gaza City
Saâ??ad Al-Yazji,
D_ Destroying the 3-storey building. Click here for related cases
3-storey building
17-July
Southern Remal neighborhood in Gaza City
D_ Destroying the Palestinian Ministry of Foreign Affairs building in the Government Buildings Complex
A building. Extensive damage was inflicted on a large number of nearby houses
21-July
Al-Maghazi refugee camp
D_ Destroying 4 houses and 9 others were partially damaged
4 houses destroyed completely+ 9 partially damaged
Al-Maghazi refugee camp
Ahmed Hassan â??Abdul Jawad
D_ Destroying asewing workshop
Sewing workshop
Al-Maghazi refugee camp
S_ 200 dunums of agricultural land were razed. Click here for related cases
200 dunums
24-July
Al-Mashtal Street in the northwest of Gaza City
Mohammed Hisham al-Sheikh Deeb
D_ Destroying a 4-storey house. Click here for related cases
4-storey house
Al-Zaytoun neighborhood in the south of Gaza City
Quraiqeâ?? family
D_ Destroying 20-square-meter agriculturalroom. Click here for related cases
Agriculturalroom
Al-Shojaeya neighborhood in the east of Gaza City
Omar Mohammed al-Mamlouk
D_ Destroying 200-square-meter, two-storey house. Click here for related cases
Two-storey house
Al-Shojaeya neighborhood in the east of Gaza City
Al-Mamlouk family
D_ Destroyinga house
A house
25-July
Gizan Al-Najjar area in the southeast of Khan Yunis
Salah Saleh Al-Shaâ??er
D_ Destroying240-square-meter, 3-storey house
3-storey house. 7 neighboring ones were severely damaged
al-Brazil neighborhood in the south of Rafah
Naji Qeshta and Abu Zaid family
D_ Destroying4 houses and a factory
4 houses and a factory
East of Al-Maghazi refugee camp
Serhi Salama Abu Mandil
S_ Razing a 7-dunum area of agricultural land planted with tomatoes
7 dunums.Destroying a n irrigation store and a water tank
26-July
Gaza Strip
Al-Sourani, Al-Jadba and Al-Shurafa families
S_ Razing large tracts of agricultural land
West of Jabalya
Yousef Ibrahim Al-Nijma
D_ Destroying200-square-meter, two-storey house.Click here for related cases
Two-storey house.5 neighboring houses and a mosque were damaged
Tal Al-Zaâ??tar neighborhood in Jabalya
Jihad Khaled al-Kahlout
D_ Destroying170-square-meter, two-storey house
Two-storey house. Number of neighboring houses were damaged
27-July
Al-Twam area, west of Jabalya
Talal Abu Safiya
D_150-square-meter, two-storey house
Two-storey house. 7 people were forced to evacuate the house
Al-Tuffah neighborhood in Gaza City
D_ Destroying 8 houses completely and 16 others partially
8 houses completely and 16 others partially
Al-Tuffah neighborhood in Gaza City
S_ Razing 80 dunums of agricultural land planted with citrus and olives
80 dunums
Al-Tuffah neighborhood in Gaza City
D_ Destroying abiscuits factory
factory
28-July
Al-Shouka village, east of Rafah
D_ Destroying number of houses
Houses. Electricity was cut off
Um Al-Nasser village, north of Beit Lahia
Mohammed Abu Rashed
D_ 140-square-meterhouse
House, 5 people became homeless
Jourat Al-â??Aqqad area in the center of Khan Yunis refugee camp
Khalil Ahmed Abu Daoud
D_ Destroying 200-square-meter, two-storey buildingwith other two houses
200-square-meter, two-storey buildingwith other two houses. flat and a workshop were destroyed
Dimra Street in the north of Beit Hanoun
D_ Partially destroying the 140-square-meterhouse
140-square-meterhouse
29-July
Al-Salam neighborhood in the south of Rafah
D_ Destroying an agricultural room
Agricultural room
Al-Fukhari area in the southeast of Khan Yunis
S_ Razing 100 dunums of agricultural land
100 dunums
Al-Amal neighborhood in the north of Beit Hanoun
D_ Destroying 4 houses
4 houses
30-July
Northern areas
D_ Destroying 2 houses
2 houses
Al-Saftawi neighborhood in the west of Jabalya town
Anwar al-Sharif
D_ Destroying 150-square-meter house
House. 3 neighboring houses were severely damaged
Southeast of Beit Hanoun town
Ata Kamal al-Shanbari
D_ Destroying 360-square-meter, 3-storey house
3-storey house. 4 families were forced to leave
Al-Ghoboun area in the north of Beit Lahia
Wajeeh Noâ??man Subeh
D_ Partially destroying the 90 square-meter house
House
31-July
Sheikh Radwan neighborhood in Gaza City
Mohammed â??Arafat Abu Hassira
D_ Destroying the 3-storey house
3-storey house

Israeli Violations in the Gaza Strip during the Month of August 2006

2 August
Block 5 in al-Boreij refugee camp in the central Gaza Strip
Marwan Hamam
D_ Destroying 180-square-meter house
House. 4 neighboring ones were damaged
04-Aug
Block I in Al-Shati refugee camp, west of Gaza City
Omar â??Arafat al-Khatib
D_ Destroying a house
House
5 August
East of Rafah
O_ Taking over a number of houses and transformed them into military posts
Houses
6 August
Al-Shouka village, east of Rafah
Yasser Mahmoud â??Abdul â??Aal
D_ Destroying the 350-square-meter house
House
Al-Shouka village, east of Rafah
S_ Razing 20 dunums of agricultural land
20 dunums
07-Aug
Al-â??Atatra area, west of Beit Lahia
Khaled Mohammed al-Shurafa
D_ Destroying the 500-square-meter, two-storey house
House. Two neighboring houses were severely damaged
10-Aug
Martyr Bassel Naâ??im Street in the northern Gaza Strip town of Beit Hanoun
Subhi Hussein al-Kafarna
D_ Destroying the 220-square-meter, two-storey house
Two-storey house. Three families became homeless
Gaza city
Mohammed â??Abdul Fattah Abu â??Amsha
D_ Destroying the 200-square-meter, 4-storey house
4-storey house. Six families became homeless
11-Aug
Jabalya refugee camp in the northern Gaza Strip
Naâ??im Deeb Taha Fool
D_ Destroying a store
Jabalya refugee camp in the northern Gaza Strip
Jameel Khalil al-Habeebi
D_ Destroying a two-storey house
two-storey house. Causing severe damages to three neighboring houses
12-Aug
Southeast of Rafah
S_ Razing large areas of agricultural land and destroyed a number of greenhouses
14 August
Al-Shouka village, east of Rafah
Ghazi â??Aashour
O_ setting fire into a house
House
Center of Jabalya village in the northern Gaza Strip
Mohammed Jouda â??Awni Maâ??rouf
D_ Destroying the 100-square-meter, two-storey house
Two-storey house. 11 neighboring houses were damaged
15 August
Center of Beit Hanoun town in the northern Gaza Strip
Mohammed Hussein Mohammed â??Ouda
D_ Destroying the 350-square-meter, two-storey houses
Three families became homeless
16-Aug
Sheikh Nasser area in the east of Khan Yunis
Abdul Hadi Hassan Radwan Sha'at
D_ Destroying the 180-square-meter, 3-storey house
3-storey house
Beit Hanoun town
Al-Zaâ??anin family
S_ Razing areas of agricultural land planted with citrus
Al-Qutbaniya area
O_ Ordering the residents of 15 housesto evacuate them for demolition
15 houses
â??Asqoula neighborhood in the east of Gaza City
Mohammed Mousa Shaâ??ban
D_ Destroying a two-storey, uninhabited house & a workshop
Two-storey house & a workshop
18-Aug
Al-Daraj neighborhood in the center of Gaza City
Samneer Ayoub Ayoub
D_ Destroying a 70-square-meter workshop
Workshop. Two neighboring houses were severely damaged
20 August
Qouz al-Hamam area in the east of Deir al-Balah
Yahi Khamis al-Louh
D_ Destroying a house
House
21 August
East of the northern Gaza Strip town of Jabalya
Hashem Mohammed â??Asaliya
D_ Destroying 320-square-meter, two-storey house
Two-storey house. Two neighboring houses were damaged
22-Aug
Al-Shaboura refugee camp in Rafah
Mansour Ahmed Abu Humaid
D_ Destroying 260-square-meter house
House. 5 neighboring houses and offices of al-Shalah Islamic Society were severely damaged
Khuzaâ??a village, east of Khan Yunis
Abu Rujaila, Qudaih and Sadiq family
S_ Razing 20 dunums of agricultural land planted with olives and vegetables
20 dunums
25 August
Northern Gaza Strip town of Jabalya
Abdul Rahman Salem Thabet
D_ Destroying 220-square-meter, 4-storey house
Four-storey house. 3 neighboring houses were severely damaged
Northern Gaza Strip town of Jabalya
Ziad Mohammed Tamboura
D_ Destroying 240-square-meter, 3-storey house
Three-storey house. 3 neighboring houses were severely damaged

Israeli Violations in the Gaza Strip during the Month of August 2006

2 September
Al-Amal neighborhood in the northeast of Beit Hanun
D_ Demolishing 9 houses
9 houses
Al-Tawam neighborhood in the west of Jabalaya
Mousa â??Eissa al-Seelawi
D_ Demolishing 180-square-meter, two-storey house
Two-storey house. Two neighboring houses belonging to the families of Sabbah and Abu Haya were destroyed
3 September
Jabalya town
Masâ??oud, al-Batash, Junaid, al-Najjar, Drdouna, al-Zain, al-â??Ajrami, Nabhan, al-Shannat and Hammouda families
S_ Razing 50 dunums of agricultural land planted with citrus
50 dunums
4 September
Jabalya refugee camp
Khalil Dib Abu Fool
D_ Demolishing 140-square-meter, asbestos-roofed house
House
Um al-Wad area in Khuzaâ??a village, east of Khan Yunis
Eid Hamad Qudaih
S_ Razing areas of agricultural land and greenhouses
9 September
Khuzaâ??a village, east of Khan Yunis
Abu Rouk family
D_ Destroying a cemetery
Cemetery
Khuzaâ??a village, east of Khan Yunis
Kamal Jebril Abu Rujaila
D_ Destroying 100-square-meter, asbestos-roofed house
House. Displacing 3 families
Khuzaâ??a village, east of Khan Yunis
S_ Razing151 dunums of agricultural land planted with olives, palms, fruits and vegetables
Razing151 dunums. Destroying 23 greenhouses and 4 agricultural pools
11 September
Abasan village, east of Khan Yunis
Abu Taâ??iya and al-Daghma families
D_ Destroyingtwo houses
Two houses. Displacing 24 people
Abasan village, east of Khan Yunis
Abu Daqqa family
D_ Damaging an under-construction house
House
Abasan village, east of Khan Yunis
S_ Razing 79 dunums of agricultural land planted with olives, vegetables and palms
79 dunums. Destroying a well and a number of irrigation networks
12 September
Southwest of Gaza City
Abdul Rahman al-Ramli
D_ Destroying 170-square-meter, two-storey
Two-storey house. Number of neighboring houses were severely damaged
East of Deir Al-Balah
Ashraf Rajab Fattouh
D_ Destroyinga house
House
East of Deir Al-Balah
Abu Safiya, Ben Saâ??id, Abu Hamam, al-Telbani, al-Musaddar and Abu Matwi families
S_ Razing 50 dunums of agricultural land
50 dunums
East of Deir Al-Balah
Ouda â??Abdullah Ben Saâ??id and Jalal Furaih al-Musaddar
D_ Destroyingtwo wells
Two wells
East of Deir Al-Balah
Ouda â??Abdullah Ben Saâ??id
D_ Destroying300-square-meter farm
Farm. Damaging two others belonging to Ashraf Fattouh and â??Abdul Hai Salem Saâ??id.
15 September
Near the Egyptian border, south of Rafah
Khaled Hamdan Qeshta
D_ Destroying220-square-meter, 3-storey house
3-storey house. Displacing 5 families and 8 neighboring houses were severely damaged
16 September
Erez industrial zone to the north of Beit Hanoun
D_ Demolishing at least 30 factories and workshops
30 factories and workshops
18 September
Al-Shouka village, east of Rafah
Sakta Mohammed Al-Rumailat
D_ Demolishing 270-square-meter, two-storey house
Two-storey house. Displacing 6 families
20 September
Al-Shouka village in the east of Rafah
Fathi â??Abdul â??Aziz Jaradat
D_ Demolishingtwo houses
Two houses. Displacing 2 families
21 September
Um al-Nasser village, northeast of Rafah
D_ Demolishing13 houses
13 houses. Displacing 15 families
22 September
Al-Shouka village, east of Rafah
Akram Mohammed Jarad
D_ Demolishingtwo houses and a room
Two houses
23 September
North of Beit Lahia town in the northern Gaza Strip
Al-Ghoul, Al-â??Akka and Khudair families
S_ Damaging areas of agricultural
26 September
Near Salah Al-Din Gate on the Egyptian border, south of Rafah
Sami Salem al-Shaâ??er
D_ Demolishing200-square-meter, uninhabited house
House
27 September
Al-Fukhari area in the southeast of Khan Yunis
â??Arafat Mohammed Al-â??Omour
D_ Demolishing190-square-meter house
House
Al-Fukhari area in the southeast of Khan Yunis
Hassan Mohammed Al-â??Omour
D_ Demolishingahouse
House
Al-Fukhari area in the southeast of Khan Yunis
S_ Razing 5 dunums of agricultural land planted with vegetables and olives
5 dunums
28 September
Egyptian border, south of Rafah
Sabri Suleiman Buraika
D_ Demolishing450-square-meter house
House. Displacing 5 families & the neighboring house of Kamel Khalil Buraika was severely damaged
29 September
Al-Amal neighborhood in the west of Khan Yunis
Subhi â??Abdul Qader Killab
D_ Demolishing-storey apartment building
Building.Displacing 6 families
Source: compiled from local newspapers, interviews and field survey.
S = Seizure; i.e. confiscation, razing, eviction, occupation and any sort of asset grabbing
E = Expansion; i.e. any increase in land occupied by Israelis.
C = Construction; i.e. any increase in Israeli built-up areas.
R = Roads; i.e. any increase in the road network.
D = Demolition; i.e. any destruction of Palestinian assets.
U = Uprooting, Destroying, Spraying trees.
P = Plans
O = Other.
Prepared by
The Applied Research Institute – Jerusalem (ARIJ)
&
Land Research Center – Jerusalem (LRC)