Increase of Palestinians suffering at Israeli checkpoints
" The case of Jama'in village "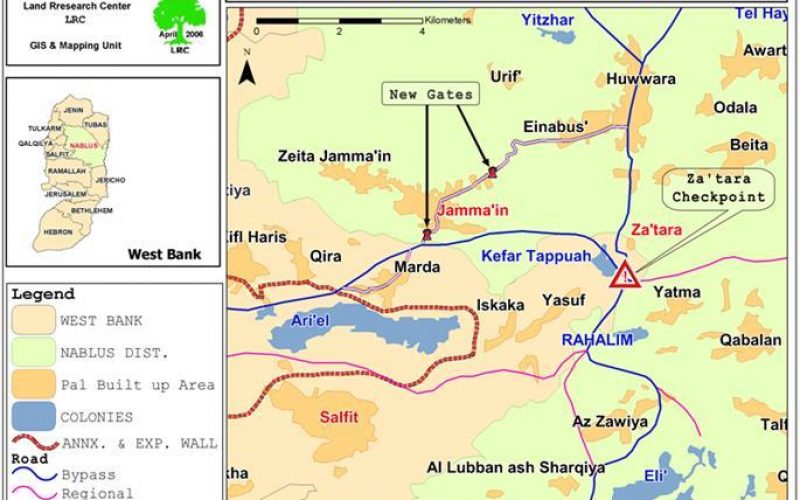 As part of the on going Israeli policy of closure, separation and repression the Israeli army strengthened its measures on all checkpoints in the occupied West Bank, including the Za'tara ( Tabuh ) checkpoint which is located 9 km to the south of the city of Nablus on road number 60 connecting between the northern and southern mountainous heart land of the West Bank. In other words, this checkpoint is a major crossing point between the northern and southern governorates of the West Bank, on one hand, and between the western and eastern governorates, on the other hand. See Map 1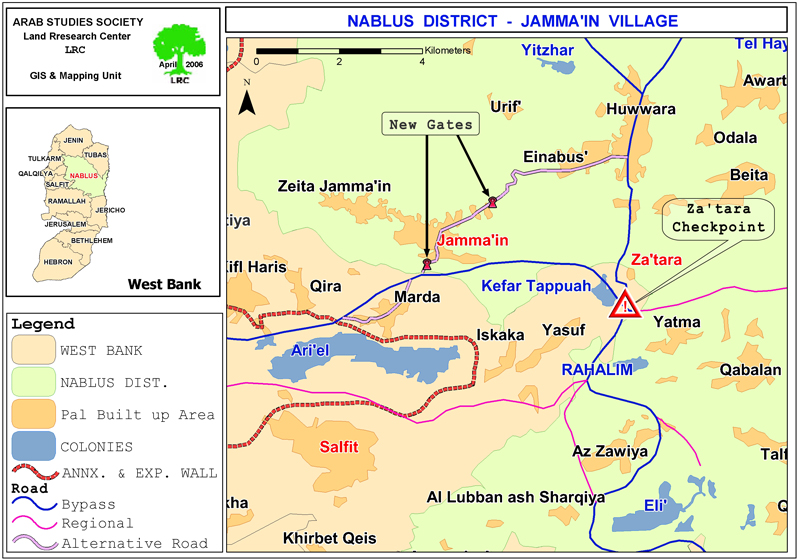 Map 1: Location of Jama'in village with the two iron gates and the
Za'tara crossing on road No. 60), Photo courtesy of LRC
The Za'tara ( Tabuh ) checkpoint has been established over lands confiscated from the village of Hawara, Nablus district and the village of Iskaka, Salfit district.Israeli repressive measures at this particular checkpoint include lengthy hours of checking, turning people back, especially the Tulkarem, Qalqiliya and Jenin passengers who lack passing permits, and arresting of passengers for any small reason.
To avoid this, passengers are forced to use the only available alternative road to reach their destination which is the Hawara – Jama'in road. This road is very dangerous as it is narrow, curvy and passes through a complex of stone quarries and mountainous areas. In addition, it takes longer time than the original road through Za'tara junction. See Photo 1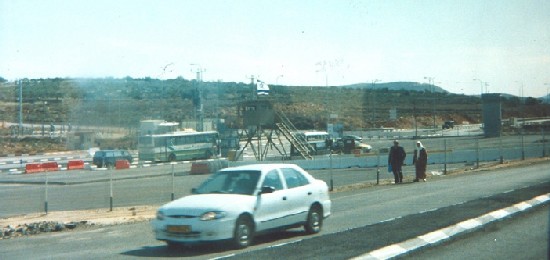 Photo 1: The Za'tara ( Tabuh ) crossing point )
Photo courtesy of LRC
Two iron gates
Even, the Israeli occupation forces didn't let this option work, as they erected two iron gates at the eastern and western entrances to Jama'in so as to command the Palestinian movement on this local alternative road. Israeli soldiers very often close these two gates and halt all Palestinian movement on this road adding more hardships and suffering to passengers and to local citizens of Jama'in alike.
Road Barrier
Apart from this, the Israeli occupation forces erected last February a road barrier along the Trans Samaria highway No. 5 which passes in Jama'in's southern land area. As a result, hundreds of dunums of agricultural lands ( Jama'in total land area is 17823 dunums of which 1358 dunums are built up area) have been separated behind the road and owners' access denied.
Wild pigs
To add to the Palestinian misery, the Israeli occupation forces and authorities brought into the area quite many wild pigs which are dangerous to agriculture and people of the area.
Despite all complaints and protests against their presence, the Israeli authorities refused to listen, claiming that these animals are of extinct species and shouldn't be killed or extracted from the area.
Prepared by
The Land Research Center
LRC