State Vandalism: Israel Disrupts Nature in Al-Walaja Village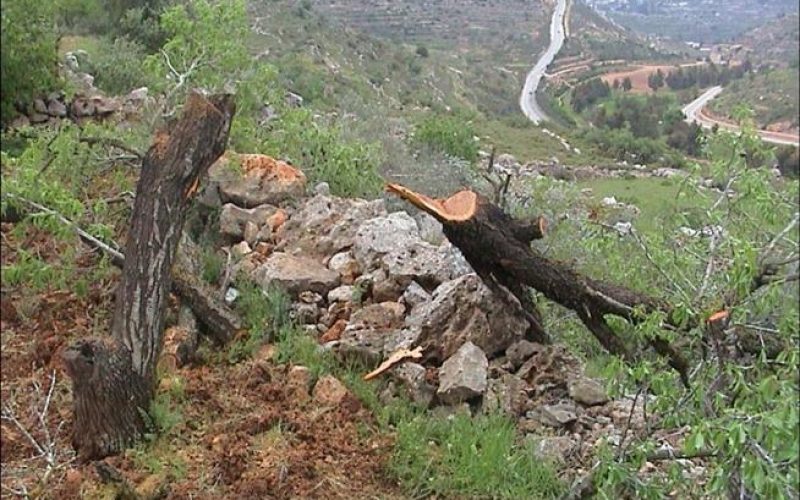 With the first light break on Monday, April 4, 2005, the residents of Al-Walaja village (located 8 Km in the western rural areas of Bethlehem district) found themselves facing dozens of Israeli men storming onto their fields with chainsaws to cut down the trees. The reason that they used the chainsaws to cut down the trees is that the residents of Al-Walaja obtained an Israeli court order that forbids any party to uproot trees under any circumstances. As a result of this act, more than 300 trees were cut down and part of the Green Cover that belonged to the village for decades, long before the establishment of the Israeli State, only to be replaced with hard barbwire fence, which the Israelis started to slot in where the trees exist for years. See Photo 1, Photo 2 and Photo 3, and
The taskforce and those who were in-charge did not present Al-Walaja residents with any official papers to tell them the reason for this vandalism, nor of the party responsible for such actions. The only thing the hired-hands kept saying 'this is for the Wall, 'go ask them' they were referring to the infamous Segregation Wall and pointing to couple of Israeli border police vehicles parked on the side of the bypass road. As an occupation, the Israelis did not have to answer or justify any of their actions as long as the raison is security. See Photo 4, , photo 5 and Photo 6.
The Segregation Wall, under construction along the western borders of the occupied West Bank territories, has been carried out under security pretext; including that planned to cut through Al-Walajah village. A considerable portion of Al Walajah village lands (1680 Dunums) out of the village's boundary area (4417 Dunums) is to be included within the Israeli Municipality of Jerusalem which unilaterally annexed that same area along with two other areas (Bir O'na in Beit Jala and Al-Nu'man village near Beit Sahour) in 1981 to its illegal proclaimed boundaries. The remaining 2737 Dunums of Al-Walajah village lands will also fall within enclave created by the Segregation Wall under Israeli jurisdiction but on the Palestinian side of the 1949 Armistice Line better known as the Green Line. See Map of Al Walaja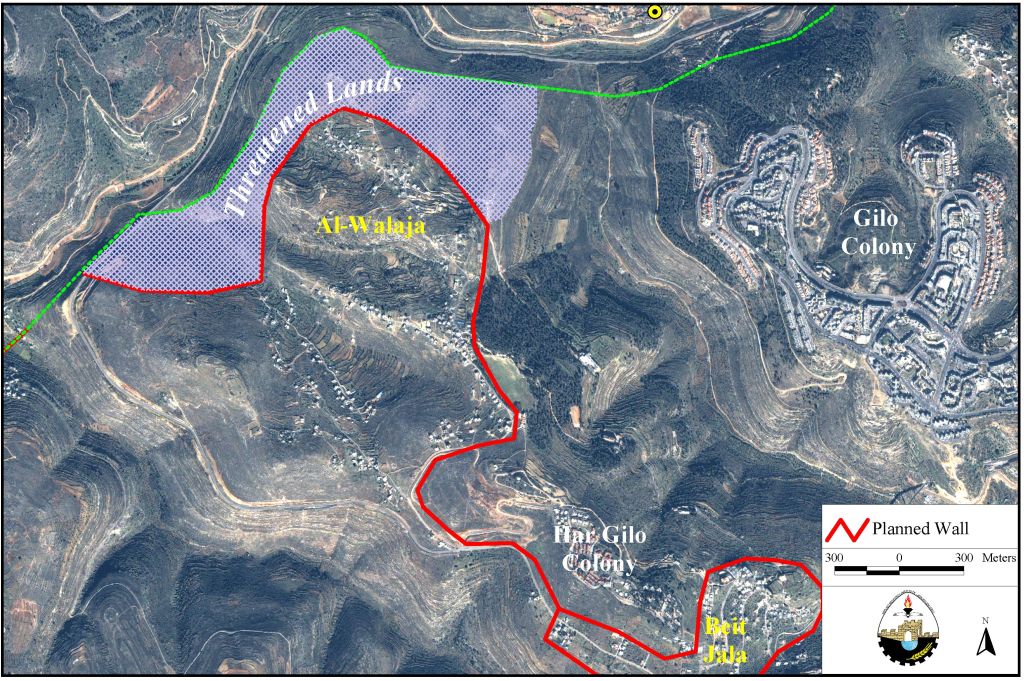 It is not legal
Israel's war on the Palestinian nature, particularly trees started with the Israeli occupation of the Palestinian territories in 1967 where the Israeli Army uprooted and damaged millions of trees over the past 38 years of occupation. Since January 2004 to February 2005, the Israeli Army and settlers uprooted more than 131,500 trees (ARIJ Database) in occupied West Bank and Gaza territories. Trees uprooting falls within the illegal act category in different treaties and pacts as to the following:
The Hague Convention
Under international law, destruction or seizure of enemy's property must be justified temporary and restricted to military necessity. Israel has failed to submit any evidence to such necessities; thus, constitute a direct violation of article 23of the Hague Convention. Since the Israeli actions are not limited to a certain area but carried out in full length across the occupied territories, which make its bearings permanent and thus should be made the subject of legal proceedings.
Laws and Customs of War on Land (Hague IV); October 18, 1907
1- Article 23: To destroy or seize the enemy's property, unless such destruction or seizure be imperatively demanded by the necessities of war,
2- The Fourth Geneva Convention of 1949: Property destruction and seizure is not only condemned and forbidden under the Fourth Geneva Convention but constitute a war crime under the convention and the protocols. Article 33 in the convention prohibits any form of collective punishment, which invalidate the Israeli Segregation excuse as a 'security fence' as it condemns the entire Palestinian population. Article 53 of the convention stipulates that any destruction made by the occupying power to the personal or state property of the occupied party must be so under absolute necessity of military purposes. However, Israel did not constitute proper evidence that the destruction of property (houses, trees, lands, etc) is for military necessities. Article 147 of the same convention concluded that any damage of property carried out by the occupying power without the proper justification is a grave breach of the Convention and thus constitute a war crime.
3- Fourth Geneva Convention of August 12, 1949,
Article 33:
No protected person may be punished for an offence he or she has not personally committed. Collective penalties and likewise all measures of intimidation or of terrorism are prohibited.

Reprisals against protected persons and their property are prohibited.
Article 53
Any destruction by the Occupying Power of real or personal property belonging individually or collectively to private persons, or to the State, or to other public authorities, or to social or cooperative organizations, is prohibited, except where such destruction is rendered absolutely necessary by military operations.
Article 147
Grave breaches to which the preceding Article relates shall be those involving any of the following acts, if committed against persons or property protected by the present Convention: willful killing, torture or inhuman treatment, including biological experiments, willfully causing great suffering or serious injury to body or health, unlawful deportation or transfer or unlawful confinement of a protected person, compelling a protected person to serve in the forces of a hostile Power, or willfully depriving a protected person of the rights of fair and regular trial prescribed in the present Convention, taking of hostages and extensive destruction and appropriation of property, not justified by military necessity and carried out unlawfully and wantonly.
The Worst is yet to come
Israel's plans for Al-Walajah involve more devastation than what already happened. Israel is planning to encircle Al-Walajah, with the Segregation Wall after extracting Ein- Al-Jowizeh neighborhood (north of Al-Walajah) and demolishing more than 70 houses exiting in that neighborhood (20 already demolished). The Segregation Wall will also cut the residents of their agricultural lands, which constitute the sole income for many of them, in addition to denying them access to areas designated for future expansion of the build-up area of the village. Furthermore, once the Segregation Wall encircles Al-Walajah, the residents will no longer be able to access Bethlehem district unless they cross couple of checkpoints, one of which already exists.
Prepared by:
The Applied Research Institute – Jerusalem